Too often abused by governments and corporations in the deflective strategy of greenwashing, the concept of "sustainability" has now become a paradox. This movement to save the planet is all too often reduced to corporate marketing, designed to save profit margins. 
To continue to rely solely on the current systemic misapplication of sustainability to create a sustainable future is now unsustainable in the timeframe that we have. 
Sustainability needs a reboot.
Introducing "Restrainability"
Restrainability is the ability to hold back. 
Initially, practising restraint can feel like taking a negatively focused decision to stop doing something or to do something less. It can create a sense of a lack – of compromise; instead of feeling we are practising restraint, we feel we are self-constraining. 
Often a lack of restraint is associated with the quick win; the shortest possible route to a desired goal requiring the least effort. But this often exacts a higher price for others and the environment around us. 
Grasping at all the resources creates a shortage for others; hoarding all the food lets others go hungry; overcharging creates a lack of affordability; hogging the conversation denies others the opportunity to speak; taking all of the money means others have nothing to spend.
The ability to restrain saves resources, allows space for future generations to make use of them and enables the land to recover from our over-cultivation of it and even thrive in unexpected ways, offering undreamed of opportunities for the next generations. Nature will often create a surprising response to our continued restraint by diversifying in all kinds of unpredicted ways. 
Making way for another literally makes "way," which is a kind of resource in itself as we consider alternative ways of fulfilling a need that is no longer being met by our lack of restraint. 
However, when taking place in a wider culture focused on growth, resource hoarding and profit maximisation, restrainability is viewed as a problem behaviour; a spoiler of growth and maximisation.
The Irony of 'Growth' 
A stronger North means a stronger Britain.

We need to grow the economy and I want the North to be at the heart of our economic growth. pic.twitter.com/eTYbRxsqTx

— Rishi Sunak (@RishiSunak) June 11, 2023
Borne from the Industrial Revolution that began in 18th century Britain, free market capitalism generated what economists ironically call "growth."
Restraint is often forced upon people who have less in society, making the aspirational culture of "growth" even more desirable. In a culture of grasping and greed, this can be problematic and shape a generation that feels it is falling short.
Although this "growth" brought prosperity and alleviated some poverty globally, it also cultivated a consumerist culture with an insatiable appetite of demand, dependent on finite supplies, for which the Earth pays the ultimate price. The monster became too big for its legs, and we were too busy feeding it to notice. 
With scientists issuing a "final warning" on the climate crisis with greenhouse gas emissions pushing the global temperature to the brink of the 1.5 °C threshold  before the Earth becomes inhabitable, human habits of consumption are not showing any impactful change in response to this apocalyptic threat.
One study finds it would take on average over five Earths to support the American consumption rate of the human population, despite the fact that 80% of the world's natural resources are used by only 20% of the population.
Whilst each person in the UK consumes about 15.3 tonnes of material each year (the global average is 12.2 tonnes per capita), countries like Ghana are experiencing "environmental catastrophe" from the Global North's dumping of textiles in their country, to the point that turtles are deterred from their habitats by the beach-detriment with corals dying from leaching dyes.
Serious! What can we do about the alarming plastic waste that's destroying Ghana's coast lines? Fishermen send me pictures everyday of how they are finding it increasingly difficult to even make a living from polluted catch.
This is this morning in Kormantse, Central Region. pic.twitter.com/gi5xyefm95

— Barbara Eyeson (@BarbaraEyeson) June 8, 2023
Indeed, by the year 2100, it is predicted that 17.6% of species will be extinct, generating the scientific belief that humans are causing Earth's sixth mass extinction due to overconsumption and pollution. 
Meanwhile, the human population has doubled and our demand for consumer material has grown six times over 50 years, the same amount of time that wildlife populations have declined by about 69%. 
"Growth" gilded with sustainability is not working: even the World Bank agrees! 
What About Degrowth?
Does "degrowth" offer a way forward? There are people who believe sustainability to be a lost cause, beholden to global capitalism; going so far as to say that the UN ought to dispose of the United Nations' (UN) Sustainable Development Goals (SDGs) in their perceived "failure" to be met in the promised timeframe.
However, is it not more so that there needs to be a better equilibrium – or even – equanimity? As André Reichel, Professor for International Management and Sustainability at the International School of Management (ISM) notes: 
"[S]ustainable development as an ethical system, can supply the degrowth discourse with a necessary infusion of a global ethical orientation … Sustainable development is not the bogey(wo)man to blame for upholding the economic growth paradigm, it rather enables degrowth and its activists and researchers to connect to existing debates under the framework of sustainable development."
Equanimity is the deepest manifestation of restrainability as it strikes a gentle, assured and flexible balance between these polarised extremes. Equanimity is the middle way that is able to swing when needed like a strong pendulum that can find its still point, in a way that settles chaos into a living, free order.
Further, in the current climate crisis, restraint is being urged by pressure groups, scientists, governments and even global organisations. It is framed as a generalised call to cease, desist and cut down. The paradox of this is that, set within the context of climate emergency, restrainability is framed largely negatively. 
Equanimity is both balance but also a longer term balancing of balancing that becomes unbalanced by being too dogmatic, fixed and un- or over-restrained! 
Indigenous Cultures of Restraint
There are cultural and religious values in different indigenous societies where restrainability is a positive virtue, which we quote with humbleness and a respect for their value. 
The ability to restrain as a thing in itself is therefore not necessarily on a narrative line of cutting down and negating abundance. Wasting nothing can be an affirmative thing because one celebrates what is there and not the lack. True restraint can be experienced as the most abundant thing one can do.
Emotional restraint can be seen as a virtue, for example in Australian Aboriginal culture where emotional restraint is key to making mindful decisions that keep the community safe, secure and thriving:
"Deep Listening in community leadership involves taking the time to develop relationships and to listen respectfully and responsibly. It also means listening to and observing oneself," writes Laura Brearley, an Associate of the Global Cities Research Institute at RMIT University.
For Robin Wall Kimmerer, as a member of the Potawatomi Nation, the "Honorable Harvest" is observed, in which it is the principle to "take only what is given, to use it well, to be grateful for the gift, and to reciprocate the gift." 
She goes on to explain the "gift economy" which she describes as "goods and services not purchased but received as gifts from the earth." As opposed to something that is "free of charge" from the perspective of a private property economy, gifts come with a "bundle of responsibilities" and reciprocity attached. Kimmerer describes participating in this economy as having generated within her "self-restraint." 
She explains further the "fundamental nature of gifts: they move, and their value increases with their passage," musing: 
"If all the world is a commodity, how poor we grow. When all the world is a gift in motion, how wealthy we become."
Meanwhile, in many South American countries, Indigenous values have been reclaimed and built on, that similarly challenge the capitalist paradigm of individual rights.
For example, in Ecuador, the concept of Sumak Kawsay, also known in its Spanish name, "Buen Vivir," is rooted in the worldview of the Quechua peoples of the Andes, which describes a community-centric, ecologically-balanced and culturally-sensitive way of living life.
Buen Vivir's principles are not mutually exclusive to market capitalism, but modify the premise of "supply and demand," building in the importance of restraint. Similarly to a "gift economy," Buen Vivir places weight on responsibility, and incorporates environmental and social costs into the final price, so as to pay the "real value" of products.
As of 2008, Ecuador adopted a new constitution that incorporated some of the principles of Buen Vivir, with Bolivia following suit in 2009.
However, these principles have been neglected by the Ecuadorian government due to the nation's economy becoming heavily reliant on natural resources and borrowing for mining development, sparking nationwide protests in 2022, with Ecuador's main Indigenous People's confederation, Confederación de Nacionalidades Indígenas del Ecuador (CONAIE), now looking to nullify a presidential decree that would help unlock a string of projects detrimental to the environment.
One year after the historic national strike, Indigenous and environmental groups in Ecuador marched today to present the anti-mining popular mandate to authorities across the country. Pictures from today's march in Tena in the Ecuadorian Amazon. #EcuadorLibreDeMinería pic.twitter.com/VM1yQJiOsO

— Angelica Bernal (@angelicabernalg) June 14, 2023
Despite the political negligence of Ecuador's constitution, the very fact of the Ecuadorian people having something concrete built into their national identity to hold their government to, is a huge step forward, already miles ahead of most other countries.
What Progress Is the West Making so Far?
 With the pandemic, we saw what a Western culture of restrainability may look like, as online and offline trends of domestic sustainability took hold of people adapting to a slower pace of life. 
Trends such as "slow living" and "cottagecore" (popular with Generation Z) spiked in popularity, encouraging people to live "intentionally," reconnect to the Earth and restrain from "throwaway culture." 
Of course, it helped that people had the time for this, which highlights the problem with the current work-week and the work-culture of entitlement to people's time. However, there is a current growing resistance to "Industrial Revolution-style ways of working" as Natalie Campbell, co-chief executive of Belu Water puts it.
"De-influencing" has also taken hold of TikTok, which discourages people from partaking in mass consumerism, and instead supports a circular, affordable and sustainable fashion economy; an economy of "restrainability," if you will.
As the Gen Z demographic dream of a utopian escape from a consumerist hellscape, there is perhaps a seed sown here.
---
---
Another area of human activity in which restrainability could have the most impact would be in the field of technology. Practising restrainability is already something Generation Z is doing, as demonstrated in adopting more simple devices with the wish to reduce screen time.
 But this may just be an interesting quirk in a field in which a lack of restraint in the form of digital addiction causes all kinds of well documented health problems.
This does not even begin to touch on the problem of the impact of both technology manufacture and use on our environment. The exponential rise in the use of generative AI, for example, is already exacting an enormous environmental price which will only get worse without restrainability.
Nature Takes Its Course
The pandemic also saw a rise in British people taking an interest in nature. Whereas a 2017 RSPB "Birdwatch" survey found that of 2,000 adults, half couldn't identify a house sparrow and a quarter could not recognise a blue tit or starling, the pandemic sparked a boom in bird watching that has continued beyond the pandemic.
Further, a small but mighty cultural movement has burgeoned in the UK through British nature writer and Fellow of Emmanuel College, Cambridge Robert Macfarlane and British artist Jackie Morris' award-winning "The Lost Words" Book. 
Created as an act of protest against the Oxford Junior Dictionary systemically removing words associated with nature since 2007, the book is full of acrostic "spells" designed to be spoken or sung, and images, to conjure these "lost words" back into the mind and mouths of children (and adults).
"We've got more than 50% of species in decline. And names, good names, well used can help us see and they help us care. We find it hard to love what we cannot give a name to. And what we do not love we will not save," writes Macfarlane, highlighting the correlation between overconsumption and loss.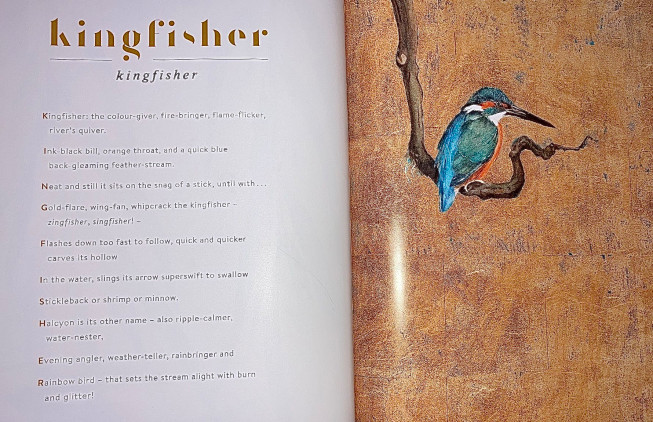 In the Photo: The Lost Words Book: Kingfisher. Photo credit: Clare Dawson (article author).
The book snowballed in influence across the country with multiple campaigns succeeding in raising money to donate the book to thousands of schools, hospices and care homes. The book has since generated sequels, soundtracks and even a musical. 
However, perhaps the most impactful result of this movement was the fact that teachers incorporated the book into their lessons, with help from Literacy and English Adviser Eva John who formatted the book to be an "Explorer's Guide" for educators to encourage "stimulated reading."
One teacher documents their students' response to this kind of lesson format:
"During this week, there was heart-breaking news about Sudan, the last male northern white Rhino, who had died in Kenya. This sad event served as another rallying cry for the children. Many of them had watched the programme about Sudan's life and had imagined if the word rhinoceros was also removed from the junior dictionary, then Sudan would have died in vain. Using the iPads, the children worked in pairs to plan their own lost word spell."
This is a really beautiful thing. As I push on with our next book this gives me the hope, the courage and the inspiration to continue. The writing, the paintings, just wonderful. @RobGMacfarlane our Lost Words leads such a rich life. I wonder how The Lost Birds will fly. https://t.co/lZS7cxbs14

— Jackie Morris (@JackieMorrisArt) June 10, 2023
"The Lost Words" is a beautiful and much-needed protest to the push by the UK government to tailor education even more rigidly to economic growth: "If we are going to grow the economy not just over the next two years, but the next 20, we simply cannot allow poor numeracy to cost our economy tens of billions a year," says UK Prime Minister, Rishi Sunak who proposes to make A level maths compulsory.
Further, the movement taps back into an Indigeneity to place in Britain that we started to lose in the wake of the Christian Institution that forbad nature worship. For example, the "spells" follow in the footsteps of the Old English Exeter Riddles (c.700 AD) that similarly honoured and deeply empathised with the perspectives of other-than-human-beings:
Ic on wonge aweox,   wunode þær mec feddon

hruse ond heofonwolcn,   oþþæt me onhwyrfdon

gearum frodne, þa me grome wurdon,

of þære gecynde þe ic ær cwic beheold,

onwendan mine wisan,   wegedon mec of earde,

gedydon þæt ic sceolde   wiþ gesceape minum

on bonan willan bugan hwilum…

I grew up on a grassy plain, dwelled where the soil and the clouds of heaven fed me; until those who were aggressive to me seized me, wise in years, from the native land where I was once sustained in life,
perverted my nature, uprooted me from my homeland,
ensured that I must, against my creation, 

sometimes bow to a killer's will…

(Translation by Clare Dawson, article co-author.)
This pain the riddler felt for the tree carries through to the present day as HS2, the high speed railway line being constructed to increase regional "growth" in the name of reduced carbon emissions, "rips" through the British countryside, to the protest of local and national people. HS2 Ltd's biodiversity-loss calculations are found to be severely underestimated and error-ridden by the Wildlife Trust.
The latest challenge to the railway line include Buckinghamshire Council slapping the HS2 workers with an order banning them from felling ancient woodland in Buckinghamshire.
Yet, with such loss comes much love, as there has also been a resurgence of interest in the conservation and preservation of ancient British Rainforests. Also known as Atlantic woodland, these are found in areas with high "oceanicity," where rainfall and humidity nurture a unique habitat of oak, ash, hazel, birch and pine, netted with an abundance of lichens and mosses, supplying rich habitats to a diversity of species.
Thanks to industrial projects such as HS2, woodlands like these have been decimated over thousands of years, leaving only 1% of them left across Britain whilst once, they covered a fifth of our land.
However, the Wildlife Trusts have implemented an Atlantic rainforest recovery programme to restore these ecosystems with the Isle of Man's Creg y Cowin and Bryn Ifan near Wale's Llyn Peninsula to be the first. 
Such love for the land carries over to the subject matter of land privatisation. After the right to wild camp was lost in England and Wales due to a wealthy (London) landowner successfully winning a case against Dartmoor national park (where the right to wild camp was protected), the Right To Roam movement rose to a crescendo as ire over a whopping 92% of uncultivated English land being off limits to the public, came to a head:
"Our right to be in nature should not be the plaything of the landowning elite. It is not something to be stripped away by legal theatrics, nor negotiated for a doff of the cap. It is our collective inheritance; a birthright which brokers our connection to the land and the stars," said the Right to Roam campaigners in an advertised protest event. 
The movement is looking to extend the Countryside & Rights of Way Act in England to reclaim public access to open space. It is also a call to private landowners for the restrainability of their entitlement to our shared national heritage.
With common love for our land, and our empathy for other-than-human beings intact, the practice of restrainability will be rooted in a new-found gratitude for sustainable abundance, to be found in the spaces that our restraint makes. 
This kind of perspective-taking will also enable us to take our place back in the ecosystem, where we contribute as reciprocal participants of nature once more. 
If We Give Restrainability a Future, It Can Give Us One!
Showing restraint opens space, space that would not have existed had you not restrained. 
By exercising restraint, we open space for innovation; stepping back creates space for someone to step forward, giving others the space to learn as we restrain our answers in favour of their questions. Restraining our staring can be an invitation for the shy to look up. Restraining our pushing creates the invitation for others to push us in ways that may enrich us.
After a while, restrainability does not feel like holding anything back at all but simply going forward in the right way, as we learn to get the measure of things, to enjoy not wasting and to sense the just-rightness of reality.
What went "before" us in time, meaning behind us in time, were cultures and practices that were more restrained, intact in the ecosystem and which therefore enabled us to survive and even thrive because we did not plunder all of our resources.
We now need to put those practices and that wisdom "before" us – where "before" means "in front of us" – and apply restrainability as a positive step forward.
---
Editor's Note: The opinions expressed here by the authors are their own, not those of Impakter.com — In the Featured Photo: Hands cradling a seedling in soil. Featured Photo Credit: Noah Buscher.