For over 20 years, Hartman Deetz, enrolled member of the Mashpee Wampanoag Tribe in Massachusetts, has been active in environmental and cultural stewardship, which is rooted in his Native Wampanoag traditions that encompass Earth as a living being. 
Hartman most recently came to Plymouth, UK as creative director and cast member of "We Are The Land," as well as an event speaker and performing member of Wampanoag Nation Singers and Dancers in Plymouth Theatre Royal's Wampanoag Nation Takeover in April this year, to belatedly commemorate the 400th anniversary of the Mayflower.
As a Native American Cultural Consultant for the Charles River Watershed Association, Hartman brings ecological knowledge and Wampanoag cultural values to the Association's work.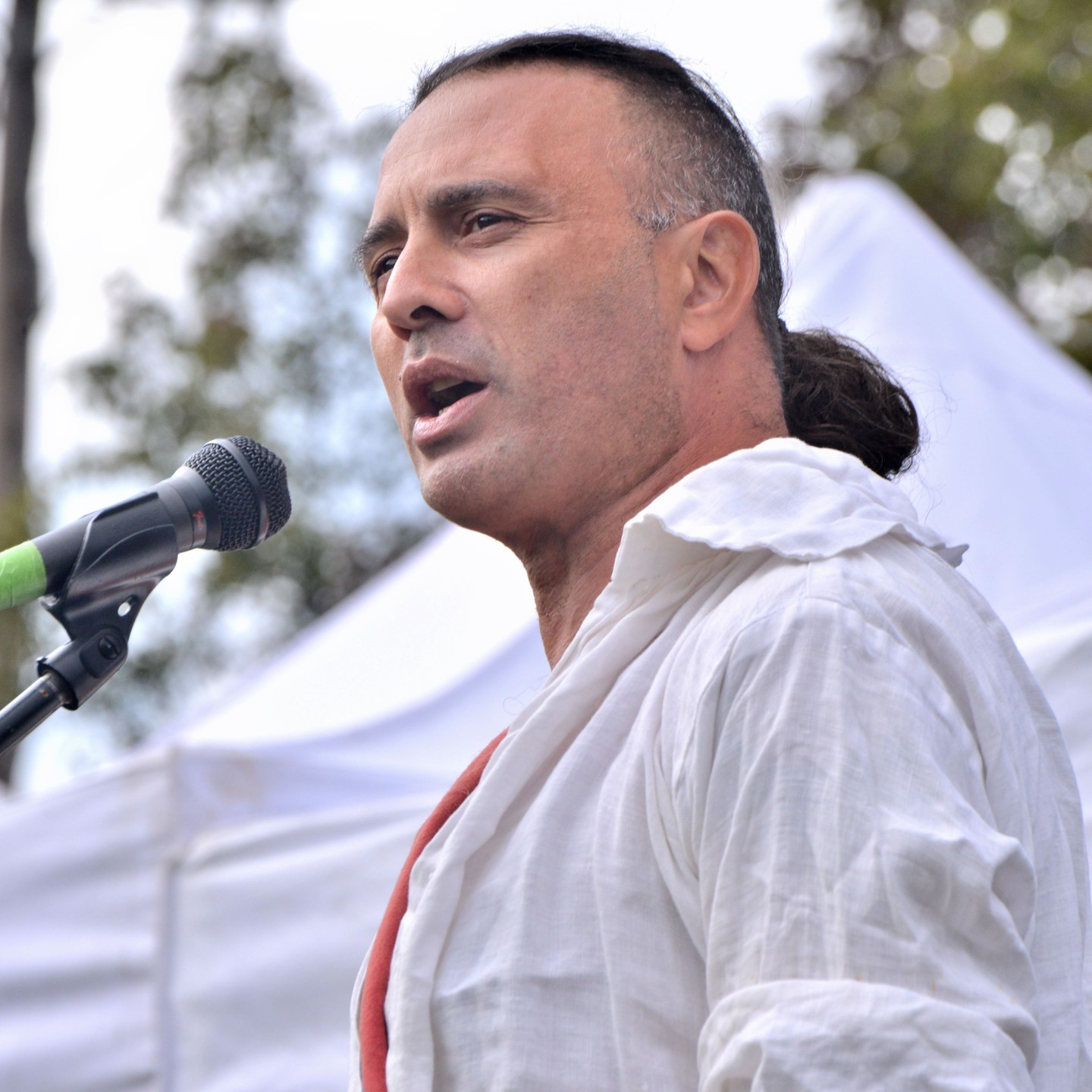 Hartman is also a Language Apprentice in the Wôpanâak Language Reclamation Project, founded in 1993 by Wampanoag language revivalist, preservationist, and Massachusetts Institute of Technology (MIT) Scholar in Algonquian Linguistics, Jessie Little Doe Baird. 
Hartman is featured in an award-winning documentary about the project's origins by Anne Makepeace. The last Wôpanâak speaker is estimated to have died over a century ago, due to linguicide by English colonisation, but the film shows the Wampanoags' path to revitalising their native tongue.
Spending decades refining his skills in traditional Wampanoag arts, drawing on his cultural and ancestral heritage, Hartman is also the founder of Ockway Bay Wampum, named for Ockway Bay in Mashpee, where his Grandfather, Russell "Fast Turtle" Peters took him to dig Quahog clams. The business specialises in creating wampum jewellery created traditionally with locally sourced materials. 
Wampum is cut from Quahog clam shells that are striped purple and white. They were once used by the Wampanoag, in the shape of tubular beads, as a form of exchange, imbued with a complex, sacred value, before English colonists imposed on them a capitalist system of economic corruption. 
"The Wampum bead was more than just a bead, it was also a promise, a memory, a sacred language of the past and future." 
– Ockway Bay Wampum.
Impakter spoke with Hartman to find out more about his work and how his Wampanoag cultural values inform his advocacy, activism, artistry and worldview.
Firstly, congratulations on raising a new Mashpee Wampanoag Chief ( in Wampanoag–Sontyum) – Chief Earl "Chiefy" Mills Jr. 
Hartman Deetz: Yes, he's well deserved of it. I'm happy he was willing to take it. He's been asked a number of times in life about being the next chief and he's always been like, oh no, don't make me chief. In spite of him saying that, he's always shown leadership. He's always been a person to do the work of the people's concerns, the people's needs. That humbleness and that humility is something that I think we want to see in a leader. We don't want to see the guy who's always like, "Hey, it should be me. I'm the guy." If that's how you're acting, chances are, [they] might not be a good fit. [He has] a deep knowledge too, as far as our histories and our traditional ways, our spiritual teachings, which is great, you know? I've learned so much from him through the years.
How does your Native heritage shape your work with the Charles River? (Quinobequin is its original Wampanoag name)
Hartman Deetz: It shapes my whole worldview. So, just in thinking about the river in regards to the fish coming up the river, I think that there's just a different way of looking at the fish fundamentally when you think about them as your relatives and their needs as living beings trying to access their river. It's not just like fish are a commodity because fishermen like to fish. It's not "oh well the river should be there for our enjoyment as human beings." [The] outlook of the whole ecosystem [is] that all these things need to function for all the life that's there. That's pretty fundamental to the starting point.
These things are all in balance and they all help each other. Whether it's the fish bringing nutrients up the river from the oceans — when they collapse and die, when they reach the pond after they spawn — that's an important food source for a lot of different animals that are around the river, that are in the water as well, [like] snapping turtles that don't come out to the ocean. They live their lives in these ponds. The coyotes and the fisher cats and the other things that live along the edge of the water, you know, the herring are important to them too. The soil nutrients that go into the water that feed the trees … it's absolutely all interconnected. That's a part of the worldview built in.
Do you think the Charles River will ever be granted legal personhood, like the Whanganui River in New Zealand and Lake Erie in Ohio? 
Hartman Deetz: I mean, I would hope so. I think all of our rivers and waterways should have that right. You know? [Clean drinking water] is such an important resource for life on the planet. And of course where you find clean water is in our ponds, our rivers, our streams, our lakes. This is where you've got fresh potable, drinking water, drinkable water and it's a dwindling thing in the world supply. We've already seen wars and conflicts begin to happen over the resource of water so that people can have water to drink. You know, the crazy economic rush to capitalise on water is a part of what we see as a reality as well; with bottled water and the buying and selling of water as a profitable commodity. And that of course means that it's going to be something that people are going to try to monopolise on if we don't look at it as a human right, as a natural right, as a right to life itself. [Human] rights need to be extended to the whole fabric of life.
What is your approach to your work with the Charles River Watershed Association as a Native American Cultural Consultant?
Hartman Deetz: I am supposed to give cultural context to the work that they're doing, and that could be talking about the importance of the herring in the whole food chain system, and what that means to the health of the water overall.
One of the projects that's being proposed is a dam removal – the Eagle dam in Wrentham. If that dam is successfully removed, which we believe it will be, because it's old and has … a lot of lack of maintenance, it will most likely reveal cultural sites. We've been telling the locals [that] we can take it out in a strategic way, or it can come down on its own and be disastrous. It's probably better to do it methodically and with some thought ahead of it. There's a number of archaeological sites right in that area, so we want to start to consider the impact to those archeological sites as well once those changes are made.
These efforts are done in an equitable way that doesn't continue to dispossess and damage the cultural history of native people. For a long time [in the environmental movement] there's been a willingness to ignore the history and the culture of the indigenous people on the land who've maintained it.
You'll see that with the national parks in the United States, a lot of them forcibly removed native villages too. [They] find a great natural area and yet – why is it great? Because the people there had maintained it. 
How is the water quality in Mashpee?  
Hartman Deetz: The amount of overdevelopment of houses along the edge of the water [and] the leaching fields for their sewage is a problem because they can only handle so much. Even when they're able to deal with their natural function, it's fine, but anything can get overloaded. 
The other thing that we see that has a big impact are golf courses that have been put up around these developments where they want to have lush green grass everywhere. Usually that means chemical fertilisers, so then nitrogen levels in the water are through the roof and aren't able to filter.
Ockway Bay, where my grandfather taught me how to shellfish … you go there now and the signs are saying no shellfishing because it's contaminated water. You can't eat the clams there. And there are still proposals to develop more [houses] along the water. They want more development when we're already seeing that this caused an issue; impacted the ability of the fish to live, then of course all the birds that eat those fish [and] everything that comes to the estuary. [All] life is affected. We can read the signs as human beings, but the Heron aren't reading those signs; the Osprey aren't reading those signs. They see a body of water and they see the clams and they go for them. They just continue to function as they always have because those contaminations are unseen. 
So the idea that we can still squeeze in another 400, 4,000 more units along the edge of the water is seen as a reasonable idea, and the idea that we might choose to try to put a stop to that – we're [being seen] as the unreasonable ones who are trying to stop progress. You know, it's the words they like to use. Progress. 
What is the Wôpanâak Language Reclamation Project?
Hartman Deetz: It's a project that started in 1993, I believe. Jessie Little Doe started to pursue, looking at what we had on record, how we might see this return as a spoken and used functional language for people. It took a long time for some of the fundamental groundwork to get done. Kathleen Bragdon and Ives Goddard are linguistic scientists who have done a lot of translation work of old historic documents. There is a huge volume of historic documents written by Wampanoag people from the 1600s, 1700s, and early 1800s in the forms of wills, deeds and letters, but also the whole Bible. The first book printed in North America was the Bible in Wampanoag. I don't know that [Bragdon and Goddard] translated the Bible itself. They probably referred to it as a very well-known [text], [that] they used in the means of translating the historic record. So that's what there was to work on when Jessie showed up.
The idea of using it as a spoken language or anything like that seemed beyond reach for some people. But [Jessie] really dug in, grabbed the bull by the horns and started taking on the work of doing it. She put together a grammar and is about to publish a dictionary. [She] came up with a teachable system of lesson plans and curriculum development and different teaching methods to help people use and speak the language, which is of course what we ultimately need.
The translation can be reduced to mathematics, even code breaking. To breathe life into a language is a whole different thing. I got involved in the year 2000. It's something that's been hugely rewarding and fulfilling for my life. I didn't understand how much cultural information is embedded within a language. You really have to start thinking about how you structure your sentences and where you place your words, where the emphasis is, the actual names for things and how they're devised and what they are.
The literal translation of a name for a thing can give you some insight to a view of the world that's other than the one that you've always thought in. The bumblebee is the one who moves about the earth. Our word for horse (which was brought over with colonisation) is the one who continually does you the favour to lift you upon his shoulders. What a recognition of the relationship that this animal has with people! It's doing you a kindness rather than a tool to be used and put into service for your needs. 
There's a fundamental difference in speaking about your creator or the land as inseparable from you, that you're not separate from these things; that you are a part of these things and they're a part of you; it's built into the language. [The] focus is the relationship. I can't say a mother; I have to say my mother. Or your mother; I have to say my friend. Or your friend. Because you can't be a friend,  you can't be a mother, you can't be a father, [or] a brother without being that to somebody else. The other end of the relationship is built right into the language.
---
---
What Is the vision for the future of the Wôpanâak Language Reclamation Project? 
Hartman Deetz: We are at a bit of a point where we are in flux. The children learning is great and it's an ambition that we really want to pursue. [But] we kind of jumped the gun. We rushed forward to try to accomplish something that we weren't quite ready to accomplish, in that, we started a preschool with the intention of it being a full immersion elementary school for the kids. However, after trying to put it into practice, we came up against the very real brick wall of – do we have the capacity to actually create that environment for these kids?
We have a number of fluent speakers. They're adults. Some of them are willing and interested in being teachers and some of them are trying to pursue other things. Some of them are skilled and capable of being teachers and others – that's not necessarily the talents that they have. A reality became clear that we need to step back as a language program now and refocus on creating enough fluent adults to be able to do that work because we don't have the depth of people to be able to provide that.
We just realised as a language program, we have to boost our capacity, and that means focusing on learners like me, increasing my fluency, increasing people that are high or intermediate speakers to bring them to full fluency so that we can have the capacity to do a full immersion. Preschool or elementary school will probably be maybe another decade or two until we have that kind of capacity.
The school itself still wants to continue to be a school for our kids. I think that the need of our kids to grow up and have us as the people [to] take on the responsibility of educating our kids is really important. Wampanoag language lessons will be a part of their curriculum. But they're going to get math and other subjects in English; that way they'll be able to compete, function and interface with the world and not be left behind in some of these other important aspects. But in spite of it being taught in English, we're still trying to instil the values and the cultural things that are important to us in the way that we teach the kids. Or, I should say now they teach the kids because now we're separating into two.
I saw you being interviewed about your experience protesting the Dakota Access Pipeline, standing with the Standing Rock Sioux Tribe. What has your experience of being a frontline activist been like?
Hartman Deetz: I've had to slow down. Taken enough lumps at this point. I've had a couple of rests and as you know [with] the authoritarian mood in this country, what we're seeing now is a real willingness to not just prosecute, but persecute activists, especially if you have any kind of record whatsoever. So the idea of being able to stand up in front lines and risk arrest, it was not as big of a deal because I felt justified and right in what I was doing. Now there are chances of them trying to attach terrorism charges. It's really getting ridiculous here in this country. 
I grew up in the Bay area of California and it's the culture [that's] always been very ready and willing to jump into riotous protest. I've seen more than my fair share of riots. I've always felt that these things can be anticipated and expected when certain behaviours occur. I was at the Occupy Oakland protests and they shot a man, Scott Ferguson, in the head with a tear gas canister and damaged his head. And that incited a riot. It's not a surprise when people start getting attacked, they're probably gonna fight back. You see enough of these patterns where you see these things happen and the official narrative is always that the protestors did this, that, or the other. But, every riot I've seen, [has been] started by police violence. 
Ockway Bay Wampum and
"The Beads That Bought Manhattan"
In 2019, Ockway Bay Wampum partnered with Divest Invest Protect and The North American Indian Center of Boston (NAICOB) to launch the education series "The Beads That Bought Manhattan," which revitalises indigenous pre-colonial law, customs and economic systems, using Wampum as a medium through which to decolonise value, wealth and trade.
Wampum beads were also historically woven into belts that often acted as a bond between people or a treaty between Tribal Nations, made symbolically manifest.
As part of the "The Beads That Bought Manhattan," Hartman helped create a wampum belt that celebrates the United Nations' Declaration on the Rights of Indigenous Peoples (UNDRIP) adopted in 2007.
The belt features 46 beads to represent the Declaration's 46 articles as a modern-day "treaty" between nations, intended to draw attention to Indigenous People's ongoing fight for their rights in the US and around the globe.
Next Tues, 10/12, join Hartman Deetz (Mashpee Wampanoag) and Michelle Cook (Dine') to celebrate their project on the UN Declaration on the Rights of Indigenous Peoples which is currently on view in the Cohen Gallery. For more deets: https://t.co/8v8XhovZ5a pic.twitter.com/A8dEZDWWYj

— BrownArtsInstitute (@BAIBrownU) October 7, 2021
How would you describe Ockway Bay Wampum and what motivated you to create the wampum belt to celebrate UNDRIP?
Hartman Deetz: It is my arts education business, a family business with my kids also learning wampum. 
The belt we made is on the UN Declaration on the Rights of Indigenous Peoples (UNDRIP) which is a universal framework establishing the individual and collective rights of Indigenous people  and applies to Indigenous people of Africa, Asia and Europe as well. The US was the last nation in the world to ratify the Declaration as well a short list of other colonial nations..
The UNDRIP was chosen because it is a treaty between nations devised by tribal people. My ambition in taking on the work of creating wampum belts is to enshrine modern treaties of indigenous people in this ancient form of legal documentation and treaty ratification. The next belt I am looking for funding to create will be the "Indigenous Women of the Americas Defending Mother Earth Treaty."
We have ancient legal traditions but are a modern people that continue to have the right to exercise our sovereignty and self-determination in the ability to pursue treaty-making for mutual aid, and support for the benefit of our tribal citizens. 
Is there any progress being made towards Indigenous Peoples being recognised as international leaders and included at the table in important global conversations?
Hartman Deetz: Certainly there's a real hesitation to give any legitimacy to traditional native leadership because much of this capitalist colonialist western system built on dismissal of the traditional authority of Indigenous Peoples and governances. As long as they can continue to agree amongst themselves that this is okay and acceptable, it keeps them empowered. 
As soon as you start to legitimise the knowledge, the authority and the presence of indigenous people and their leadership, governance, knowledge and understanding, it delegitimizes the foundation of the western system that we're living in. So all of the systems rely on that staying in place. They cannot afford to give any legitimacy to native people. So what we have to do is instead of turning to those same colonial systems to save us, we need to build systems amongst ourselves that can save us.
The machine that is devouring our world isn't going to suddenly help us to defeat it. It's not gonna give us the tools to exorcise itself. So we have to understand that working in collaboration with it is not an effective solution. We have to start to build a fundamentally alternate system from the ground up. That's a lot of hard work, so the more that we continue to turn [to] these systems, the more time we've wasted on not building the actual alternative systems that will be able to replace those. I think that's where our work should be directed. Because of course they aren't going to destroy themselves. It's just not how anything functions. It's what John Trudell said: "It's our destiny to starve the beast." 
We just have to stop taking part. It is difficult because the realities of these systems have an impact on our daily lives. They embed themselves in so much of the whole world, and yet we have to remove ourselves physically, economically and politically because our presence and our existence in them is what gives them power. That's a big shift and it's a tall order to ask for. But we have to start somewhere.
---
Editor's Note: The opinions expressed here by the authors are their own, not those of Impakter.com — In the Featured Photo: Planet Earth printed on raised human hands. Featured Photo Credit: Stokpic.