Not long ago, we reported on the Climate Summit held in New York City on 21st of September 2014.  For the event – "The People's Climate March" –  the artist duo of Reese and Ligorano had prepared an ice installation with the word " The Future". And, as intended, the installation melted away. However, we were deeply moved by that strong message, so we decided to catch up with Marshall and Nora. We asked them a few questions and of course, we got carried away.
Q. How did you become partners in life and partners in Art?
M- Reese– I started out as a poet and writer in the mid- late 70s.  While studying for a year abroad in Holland, I began doing small press publishing, with a first publication done in Utrecht. When I moved to the United States, I ended up in Baltimore where I met other writers and engaged in print projects. That is where I met Nora. Eventually we both worked together in a collective of artists doing performances and print projects. Nora made large books that were part of the collaboration.
R- Ligorano-I started off as a painter and I was focused on color. I was really interested in textures and in German Expressionists. I went to the Maryland Institute College of Art where I got my degree. When I graduated my mother told me to find work.  So I sold some paintings, but I also found other work, aside from working at a deli. I found a job as a book conservator at John Hopkins University (in the only program in the U.S. on book conservation at that time).  That is when I really started to work with three dimensional objects and I moved away from painting. I met Marshall then because we worked in this collective, and I moved from working with painting onto hand making slides for projections. I started working more with projections, performance and time-based works. Then I had a Fullbright scholarship to live in Spain to do research in design arts. We moved to Spain together and started to collaborate in 1982 in performances pieces.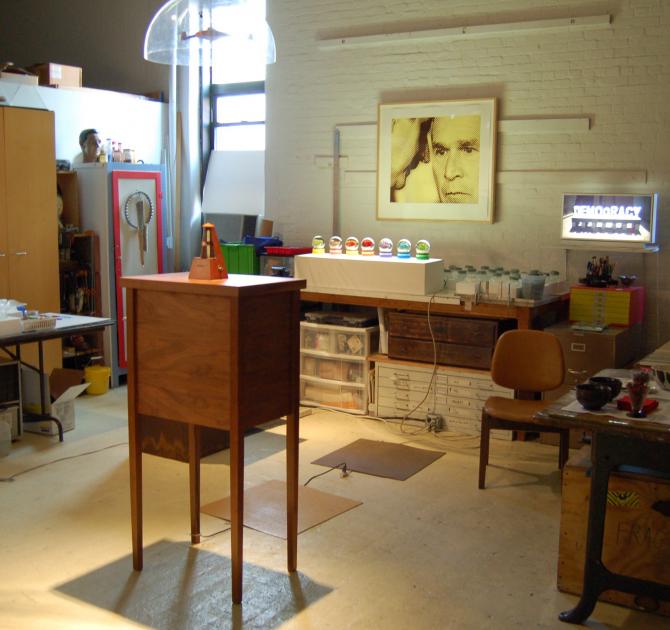 Q. What is your favorite place to hang out? What do you like to do for fun?
R- We pretty much work all the time.
L- That is not true. We just got back from a trip in Cadaques which is an absolutely amazing place. For me, my favorite things to do with Marshall are to travel, to look at art, to eat and cook; cook and eat.
Q. How do travels and food inspire your work?
R- Nora is a great cook. I think the way she cooks with different types of ingredients and spices is similar to the way she uses materials for her work. She likes to combine recipes and ends up with hybrid dishes. When we lived in Baltimore, before we left, we had this incredible garlic soup Nora had made for which she could never trace back the recipe. It came from so many different sources. I think a lot of what she does is to make hybrids from different types of materials and processes and a lot of what we do is combining many different types of art forms. That is probably the common thread in everything since what we do is very different. We make large-scale ice sculptures that highlight political and social events and they all have all of these different components. We also make fiber optic tapestries that are woven-sculptures with light. Earlier on, we made sculptures with video elements inside them – video screens inside books and clocks.  We always make a combination of different forms. We produce a lot of editions and we publish them out of my small press publishing and Nora's hand-made bookmaking.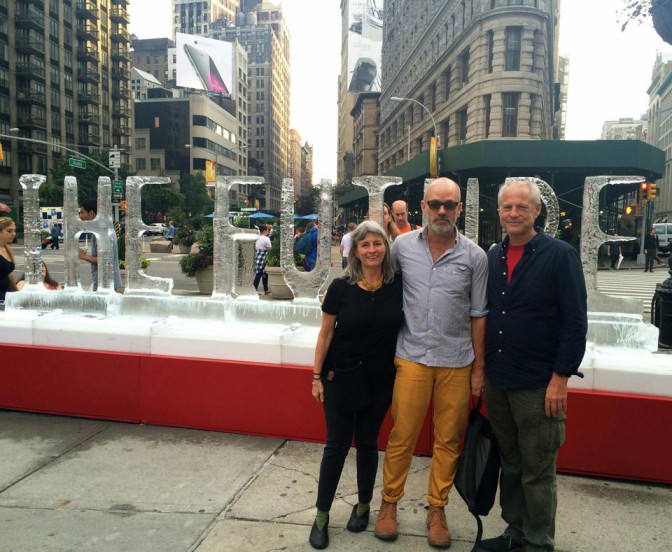 In the photo:  Nora Ligorano, Michael Stipe and Marshall Reese
 Q. What motivates your art? Why are you so political and why have you focused on that aspect of art?
L- I would say that having been into German Expressionism and what was behind their work as they built their canvases and imagery etc. marked me.  I think the beginning was my waking up to this and saying " OMG, I live in a political world." I realized I had to look at things in a different way. Marshall has been an incredible inspiration for me in framing things and looking at things critically. We do this body of work (I hate putting labels on things) but it is in the realm of social art, social change and commenting on political systems or structures or the deterioration of certain things we were taught while growing up. We thought we were "living" the American dream but in fact that was not real – there is no Easter bunny either. I think that exploring the reality we live in is something that is quite personal but I also think it has a broader scope.  This is certainly something that drives me.
R- I think that from very early on I was interested in the intersection of politics and art.  As artists, we are affected by both other art around us and by the political circumstances around that art. I think that art is not only for art's sake. It can also be a symbolic tool to encourage people to think, take action and create change.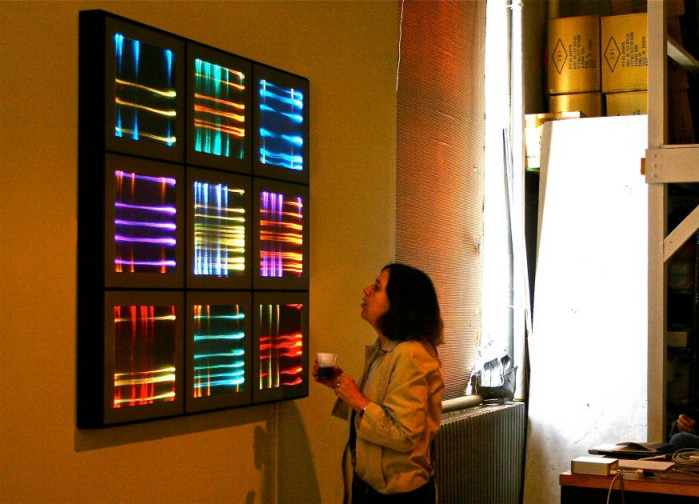 Q. We found you because of the ice sculpture you did. What other mediums do you use? What other mediums do you work with aside from ice?
L- Marshall is a video editor by trade, thus, we are able to do single channel videos. We always factor videos into the work that we do. We also have a body of work that is made of woven fiber optics and the fiber optics are illuminated through RGB LEDs that can change to almost any color. These then are connected to the Internet where we are actually taking data and using that to make patterns that change over time. We are currently making two pieces that will be shown in San Francisco. The project is called I•AM•I and it's based on a quote by Gertrude Stein: "I am I because my little dog knows me." We are taking data from trackers that people are wearing in the U.S. to measure their activities and which are really popular.  The one we are using is Fitbit and we are quantifying the information. We are making patterns, colors and transitions through the information that we are able to take out of that tracker and showing it onto our tapestries. To go back to the ice sculptures, those sculptures are more than statically putting several large thousand-pound blocks of ice in a public space. The ice sculptures also result in time-lapse videos, still photography, the street theater around it and they also stream live on Internet.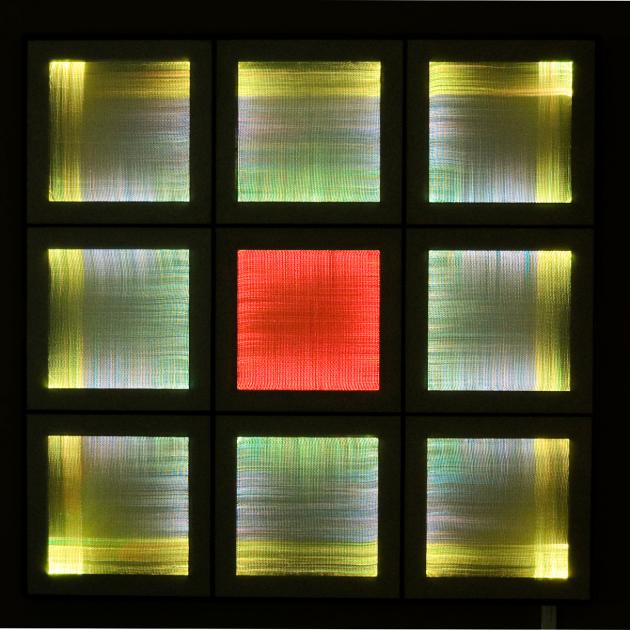 Q. Do you only show your work in public spaces?
 R- No, we also show our work in galleries and museums. We make both inexpensive and expensive art work because we want people to have as much of it as possible. We want to offer it and share it with as many people as we can. We are showing in Catharine Clark Gallery San Francisco, we show our prints at Jim Kempner Fine Art in New York and it's also for sale in places like Printed Matter and The New Museum Store and some other museum shops as well.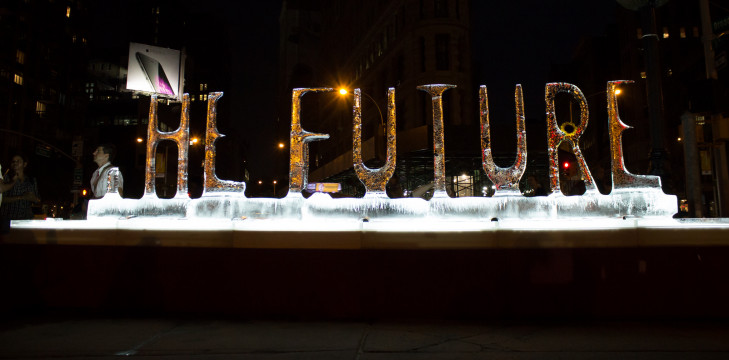 Q.You are also very interested in the pacing of time and the changing of things as well as on climate change. Why did you select climate change as a major cause to portray through your art?
R-I think a unifying element in our work is that our objects always change, the fiber-optic tapestries will never be the same at any given moment. We've also make lenticulars  – which are an edition work and those will always change depending on the vantage point of the viewer. Also our mirror pieces will always change depending on who is looking at them or passing through them. Another example, are the snow globes that also move when you shake them.
L- Well for one thing and this is a real honest answer, when I learned that the climate change march was happening in New York City, I thought ice was the perfect material that matched the cause. Marshall and I had talked about this in the past. We thought of ice as a material to be used for global warming. Then, we thought that it was maybe too literal. But the more we talked about it, we concluded that if the words we used were the right words and if the phrase was open enough and inclusive, ice, as a medium, could create a very potent and solid artwork. That's the back story on it. We were approached by someone to really seriously consider the climate march as a place where it would be relevant to put this type of work.  As soon as we came up with the word, we were on. However, our further development will be to release another time lapse video of it. There are still two other parts of the project that are coming out. As I said these ice sculptures are more than the melting of ice.In addition, we have also filmed and interviewed people asking them about the sculpture, how they feel about it and how they relate to the issues around it – how global warming affects them. We will create a 5 minute video of these interviews as part of the changing piece.
………………………………………………………………………………………………………….. Related articles :
OCEANA CEO – ANDY SHARPLESS INTERVIEW
article by 
Anne-Hélène d'Arenberg
"BE COURAGEOUS BECAUSE COURAGE IS CONTAGIOUS" – INTERVIEW WITH DAVIDE DORMINO
article by

Monica Isaza
…………………………………………………………………………………………………………..
Q. Ice is impermanent. Do you use the concept of impermanence as a way to connect to your audience?
L- Well yes, to answer the second part of your question. Ice is a really a sexy material precisely because it melts and erodes. It is subject to atmospheric elements. If it is hot outside it will melt faster and even faster if its humid. If it is a cold day it could be up for a month and if it is freezing it could go on even longer. What will actually happen to the sculpture is out of our hands. Somebody can fall into the sculpture, which actually happened before. Somebody broke the world democracy once, and they were very drunk, so that makes sense. When and if this happens, we actually do not have any control.  The people really have to be part of the sculpture. They have to touch it, they have to drink it, they have to be part of it. It really creates a sense of community. That is what makes the work amazing. Watching people interact with the ice.
R- Ice also goes through an incredible transformation. When we put it out, it is very solid and then over time the letters fracture; they get smaller and I think people really connect to it. Ice sculpture is a very popular type of art form. At some point, people have come in contact with it at Bar and Bat Mitzvahs or weddings, for instance. Yet our point about it is not that we want it to last. We want it to really disappear. The duration can vary, we don't care about the duration, but we do want to see it diminish and I think people really connect to that.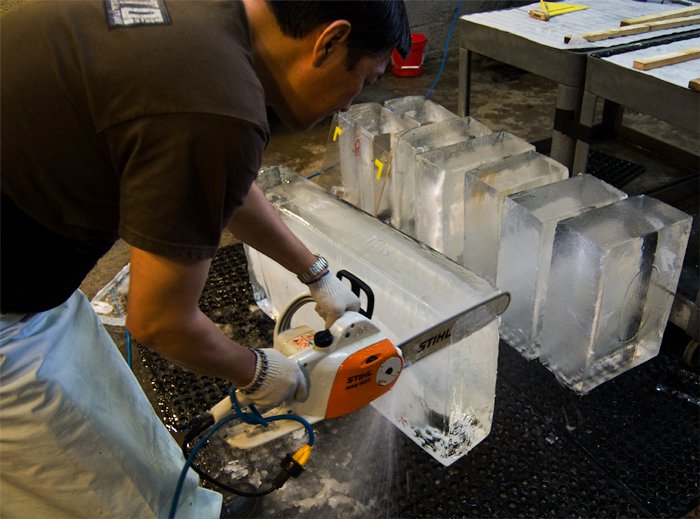 Q. Tell me about how the whole idea for your ice sculptures started…
M- It was in 2006. We were doing an edition called "Line Up" which depicted the Bush administration as criminals in mug shots. We did these mug shots at first in 2004 as a postcard book, when no one was thinking of the Bush administration in those terms. In 2006 somebody wanted to buy these in a bigger format. We started creating a limited edition, but digital prints had not become so popular as an art activity. We were trying to figure out the right format to use and asked advice from a gallery director and he agreed to publish them as  digital prints. When I was leaving the gallery, the gallery director leaned over the balcony and asked me "do you and Nora do garden sculptures?" Nora and I were doing political artwork and video installations and I thought to myself,  "Garden sculptures? What?" I went home and told Nora.  And she said, "Why don't we do an ice sculpture?" It seemed like a really great idea and we decided it would have to be a word, and it would have to be the right word and "democracy" seemed like the word to use at that point. That was in the 3rd anniversary of the Iraq war.
We did the Democracy ice sculptures in 2008 at the political conventions in Denver and St. Paul, during the Barack Obama and John McCain presidential election. After 8 years of the Bush administration and the introduction of the Patriot Act, there was a real change waiting to happen in international affairs and certainly in the way American people related to government. People started seeing the changes that had taken place in democratic institutions and I think the Democracy ice sculpture really resonated. Then, shortly after that, we did the "Economy" ice sculpture on the anniversary of the Great Depression, just after the real estate bubble burst, after all of the bailouts and Lehman Brothers went bust. That piece deeply resonated with people and the press because what it did was to reveal an artist's point of view on current events. I think that is how most of the public relates to the piece. We are not telling people what to think, there is an openness to the ideas and the process.
 L- There is kind of a great fusion between Marshall and I because I am such a materials person and I really do think in terms of materials, color and form. Marshall, on the other hand, really thinks language. This seems to be a nice platform for us to collaborate.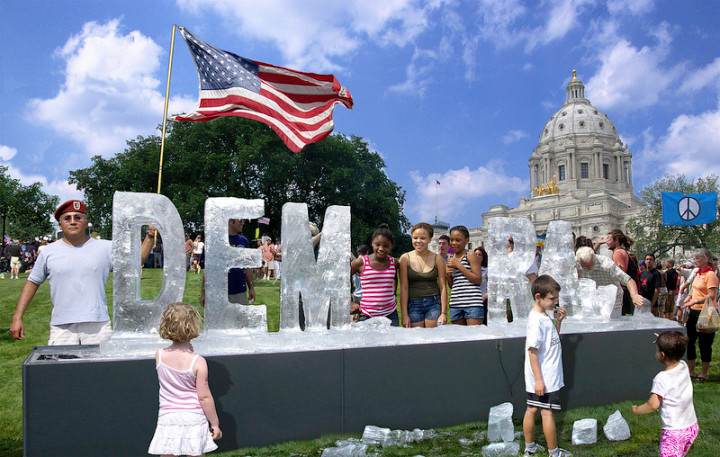 Q. How do you impact society or the world with your art?
 L- Well, it's a labor of love, I can tell you that. I think that one thing we are trying to ultimately do with this work is to speak not only to the event itself, but to what happens around it: the more press it gets, the more it gets photographed, the more it gets disseminated. For us when the press speaks through our work using an image of the melting ice sculptures, we feel that our work is making an impact. It is a solid impression that is lasting and that's what we are interested in.
R-I feel like when you do political art work you do want it to resonate somehow, so to get some sort of press reaction is good. I mean, in the beginning, it just kind of happened. In 1992, we used humor to do an edition series called "Pure Products of America". They were kind of weird objects that somehow we thought reflected American political thoughts. We made a Bible belt which you wore with a Jesus belt buckle, and that was a reference to the marketing of religion and evangelicals in the U.S. This was the first time we realized there was a connection between media attention and what we were doing. Also, using some humor was a great way to address more serious issues. We also created the first underwear with a political message. We came up with the idea of  making underwear for men and women with the image of the Republican Speaker of the House Newt Gingerich on the crotch.  And this was more about reproductive rights.  Others later created underwear with Bush's name on it, but our work predated that by 10 years.
Q. Can art change the world? Can art have an impact on big issues and increase awareness?
L- I totally believe that. I would not do it if I didn't think that it worked through all of the collective actions of all of these different artists working in different ways. I think that it brings awareness to issues from a completely different angle. I believe that it can change the world.
R- I agree with Nora. I think that art can be a symbol for greater changes. One of the emotions or  responses that is lacking is empathy with other people. Like The Future ice sculpture really created a sense of empathy for people to see the future disappearing in front of their eyes. It created a connection to a bigger issue. So hopefully it will help symbolize the need to do something about global warming.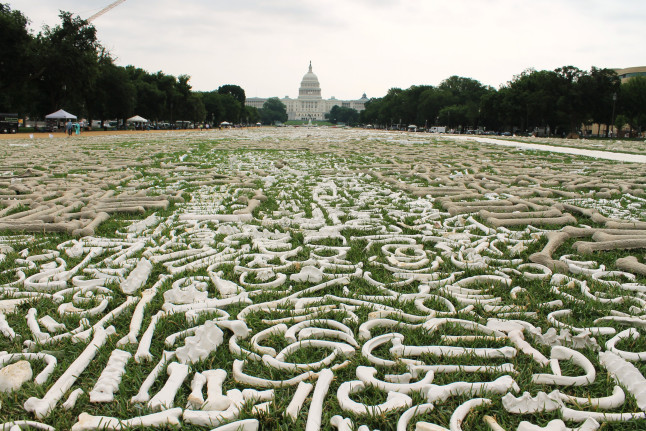 In the photo: A Million Bone – Washington DC National Mall Gallery
Q. Who are some of the artist or influential people that have inspired or or shaped the way you make your art?
L- Joseph Beuys' idea of social sculpture is something that gives us a big broad base from which to work from. His work has always been an influence. Not that it comes out literally in our work but it's always there in the air. We are very supportive of other artists working in the same way, like the Yes Men. I just met this woman in a panel the other day who made this amazing project called "A Million Bones" which was exhibited in the Mall in front of the Capitol in Washington D.C. There is also, Steve Lambert, Hans Haacke, Mark Rothko and Anni Albers amongst others, but you know we are also influenced by music, dance and performance and theater work. It varies and it's broad.
Q. What sort of dance theater inspire you…. which musicians?
R+L- William Forsythe, Merce Cunningham. At one point early on Robert Wilson was important just formally he was really interesting to us in terms of stage and lighting. Peter Brook always was a big influence. In music, Steve Lacy, Morton Feldman.
Q. Do you put music on when you work?
R- Not so much these days… A good thing about NY is that we still have a couple of good radio stations like Columbia University radio.
L- It depends for what. I can't write and listen to music anymore, but I can build and make things and listen to music. I like a lot of world music and I like to listen to Democracy Now – Amy Goodman. Sometimes we have to switch it off but she is an inspiration; she is really committed.
Q. Blood sweat and tears….
R- We never make anything that is easy. We make it look easy but it is all really complicated. Public space has changed. It is one of those things with the Patriot Act and with security that has definitely changed since 2001. And on top of that, there is less public space and it is all more privatized. You can see it on all of the sports stadiums or big theaters they are all sponsored and patronized by big corporations.
L- The background story on everything is ages' long. The main thing is getting permits for these ice sculptures. We both have gotten grey hair and there is a reason why. Even when you think something is a public space, such as a sidewalk or pedestrian triangles- like those we have in NY- they are not. And you find out that there are permitting fees everywhere.We found this out with our last piece the Future ice sculpture that  we were going to put in front of the Flatiron building.  The permit was $6000. That  honestly made me work every single day for about a month in order to get all of the permits and break through the red tape. All to be able to site the work there and raise the money with foundations and others to pay the fees. We didn't even find the status of the permits until a week before we showed the piece. You can imagine the heart attack. In this process nothing is ever hypothetical. It is all about working a strategy of how to get what you need because there is a lot of red-tape involved. I am absorbing  the information that I learned from these experiences and taking it to the next projects.
Wow, $6000 for a permit! And learning about it only a week before showing the sculpture…This really requires courage and dedication. Thank you for talking to us and giving us such precious insights into the way you work, the challenges you face, the dreams you have.