Uniqlo's philosophy is based on timeless basics that survive trends and last for years. Sorted in attractive colour gradients, the brand proposes a modern approach to fashion through a simplified wardrobe that satisfies our everyday needs. From that perspective, it is hard to associate the brand with other fast fashion giants. But, is Uniqlo as sustainable as it claims to be?
Uniqlo was founded in 1949 by Tadashi Yanai in Ube, Yamaguchi, as a subsidiary company of Fast Retailing. When the company name was associated with fast fashion and faced controversy, Yanai corrected:
Our mission is to create clothes that are non-disposable, long-lasting, and which function as perfect components, providing the ultimate in everyday wear. That is our approach to sustainability.
That approach was promoted through a large-scale immersive exhibition, The Art and Science of LifeWear: New Form Follows Function, held at the Somerset House during the London Design Week 2019. The highly attended event aimed to showcase Uniqlo's sustainable LifeWear concept as "simple, high-quality, everyday clothing with a practical sense of beauty and designed to make everyone's life better."
Despite the efforts, the Impakter Index has just given Uniqlo a C rating, which means Uniqlo is "mediocre" on the front of sustainability. How exactly did that happen?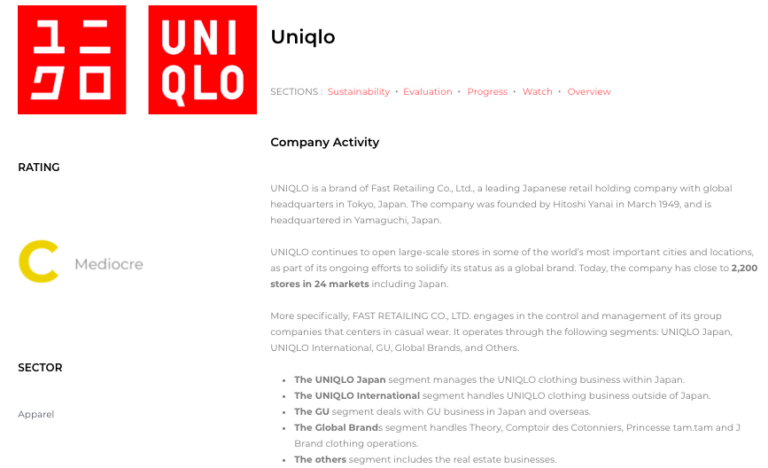 Whilst the green claims are strong, the supply chain behind Japan's favourite brand tells another story.
Typical fast-fashion business models are based on copying the latest catwalk creations at affordable prices within a two-week turnaround. Uniqlo, however, proposes a forward-thinking strategy based on two key points: 
technical

, focusing on quality materials; and 

design

, focusing on consumers'

needs

rather than short-term

trends

. 
This means, for example, that when your faux-leather Zara trousers might only last a season, your Uniqlo acrylic-woolen underlayer can hardly get out of style. That philosophy in itself proves to be more sustainable than Uniqlo's competing giants. Or at least, that's the marketing strategy.
---
---
According to the Impakter Index team report, Uniqlo also presents itself as fully committed to sustainability through the publishing of annual reports which includes clear Corporate Social Responsibility (CSR) objectives. In fact, the brand has developed ambitious recycling initiatives and responsible procurement strategies such as the following:
Using fibers made from

recycled PET bottles

to produce its Dry-Ex pieces.

Attempting to eliminate

single-use plastics

from its supply chain, such as using paper instead of plastic bags. 

Collecting used Ultra Light Down items from customers, which will be extracted and turned into new products.

Inviting customers to bring any unwanted Uniqlo clothing to its stores to be recycled and donated to

UNHCR

. 
From a social perspective, as of 2019, Uniqlo also demonstrated its ethical commitment through notable achievements including:
Increasing the percentage of

women

in management positions 38.4%.

Employing people with

disabilities

, accounting for 5.02% of Group employees in Japan, far exceeding the statutory requirement (2.2%).

Employing 105 refugees in seven countries.

Reaching a 31.6% reduction in

CO2 emissions

, compared with 2013, per unit of floor area.

Donating 36.57 million items to 72 developing nations.
However, the brand's sustainability measures are not as transparent as they seem. 
Uniqlo has been under fire after the Jaba Garmindo scandal in 2015, when two Indonesian factories closed down overnight without paying legally required severance payments as well as several months of wages to 2,000 workers, 80% of whom are women. 
According to the Clean Clothes Campaign, whose members filed the complaints against Uniqlo, the workers are owed a total of US$ 5.5 million. A modest sum compared to Fast Retailing's annual revenue of $5.96 billion, and Yanai's personal fortune estimated at $31.9 billion (2020), making the CEO one of the wealthiest individuals in Japan.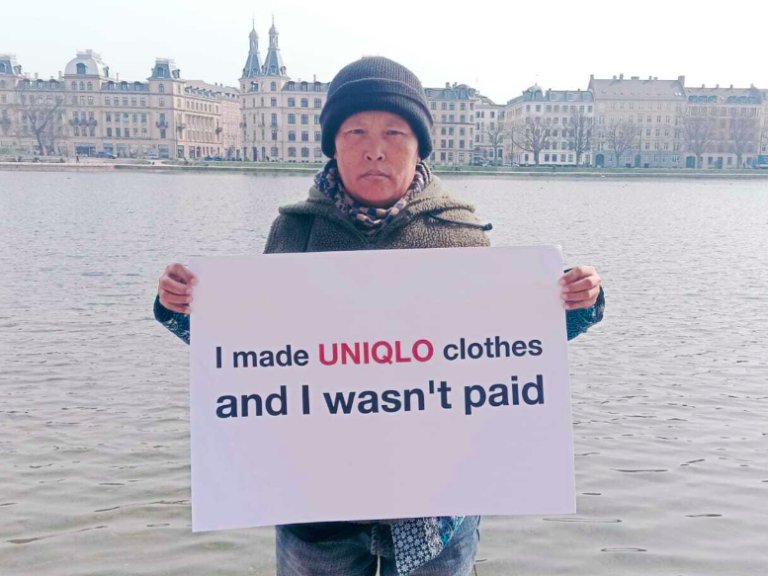 According to War On Want and SACOM, investigations of two Chinese Uniqlo factories in 2016 led to catastrophic discoveries of human rights abuses, from excessive and unpaid overtime to chemically hazardous workplace environments. The undercover investigators found that during the peak season, workers had to soak their swollen feet in hot water to relieve pain and fatigue, and were forced to work overtime because their wages fell well below the minimum wage for the region.
Despite Fast Retailing's claim that it takes the "utmost care to protect the health and safety" of workers, SACOM found that they were subject to "working conditions which included extremely high temperatures, unsafe facilities, no protective gear, poor ventilation with high cotton dust levels in the air, the use of toxic chemicals and high risk of electricity leakages," making it clear that Uniqlo was far from the ethical brand it tries to portray to the public.
The rising concerns over Uniqlo's human rights abuse has even led customs officials in the United States to refuse entry to some of the imported shipments of the brand's latest clothing line. In January 2021, the Port of Los Angeles blocked a shipment of cotton garments from Uniqlo, citing an order that prohibits the import of cotton and cotton items produced by the Xinjiang area of China, due to the widespread use of forced labor in the region. According to the customs agency, "Uniqlo has not provided substantial evidence to establish that the entities within the XPCC that processed that cotton into the subject goods did so without the use of forced labor", adding that documentation provided by Uniqlo afterwards contained "numerous deficiencies, like illegible purchase contracts, an outdated code of conduct letter and unsigned, undated, and generally illegible China customs declarations."
Uniqlo made a start with animal welfare by banning the use of angora, shearling, and fur. The brand was certified by the Responsible Down Standard for their procurement, yet continues to produce leather and cashmere clothing without providing traceability to the first stage of production. Once a highly expensive commodity, Uniqlo's cashmere items can be found at 79.99$. The rising demand for a material increasingly hard to produce, due to the desertification of native grasslands, is adding enormous pressure on both the animals and the environment, a crisis that major cashmere producers like Uniqlo choose to ignore.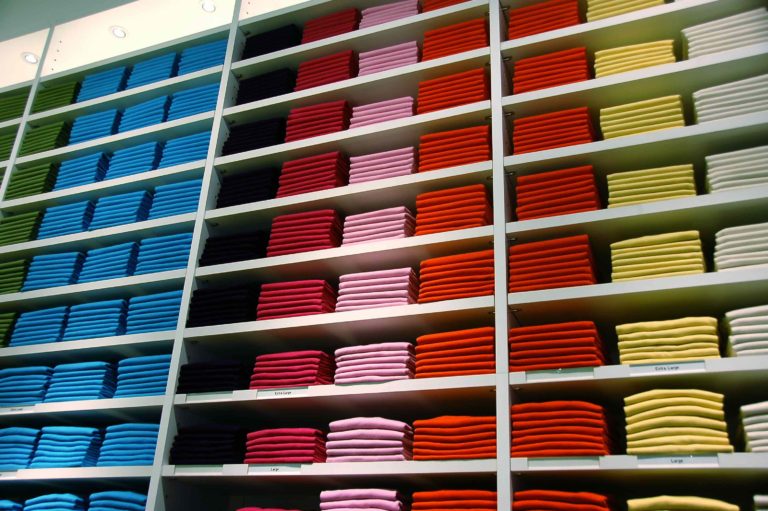 Uniqlo relies on a fast fashion business model based on maximising profit at the planet and people's cost, yet refuses to admit it. And whilst the timeless basics and quality materials are unarguably examples to follow by other industry leaders, Uniqlo has still a long way to go towards sustainability.
This article was updated on May 27, 2021.
---
Editor's Note: The opinions expressed here by Impakter.com columnists are their own, not those of Impakter.com. — In the Featured Photo: A Uniqlo logo. — Featured Photo Credit: Hao Wen.
Sources:
Uniqlo Impakter Index Report

, Sagarika Deshmukh, 2020

Exposing Uniqlo's abuse on Chinese garment workers

,

War on Want & SACOM, 2016

Reasons why Uniqlo is a Fast Fashion brand

, Alex Assoune, Panaprium

The Art and Science of LifeWear

, Uniqlo, 2019

Uniqlo Dismisses the idea that it's fast fashion through the concept of LifeWear

, Ann Binlot, ForbesLife, September 2019

Former Uniqlo garment workers attend flagship store opening in Denmark to highlight Uniqlo's wage-theft

, Clean Clothes Campaign, 2019

The Cashmere crisis in the Himalayan ice desert

, BBC, March 2020