According to Brand Finance's annual report 2020, Louis Vuitton and Gucci are two of the most popular and valuable luxury fashion brands in the world. According to criteria from WWD, the report bases its evaluation assessment across the brand's overall value, as well as their influence in shaping consumers' choices, marketing investments, familiarity, loyalty, staff satisfaction, and corporate reputation.
A 2018 study from the consulting firm Quantis revealed that the apparel and footwear industries were responsible for an estimated 8.1% of the global greenhouse gas emissions in 2016. In addition to this, a study from the consultancy Interbrand found that luxury fashion was the fastest-growing retail sector of 2018. With this research in mind, it is apparent that brands such as Louis Vuitton and Gucci hold a high level of power and responsibility to mitigate the negative impacts associated with luxury fashion. 
That said, have either of these brands adopted sustainable fashion practices that lead the way within the industry, using their power to promote ethical and environmental values like other brands have done (such as Hugo Boss and Mango)? Or do they fall short of leading the way within luxury sustainable fashion?
Is Gucci sustainable fashion?
Gucci is a luxury brand of the fashion house founded in 1921 by Guccio Gucci in Florence, Italy. Its product lines range from handbags, ready-to-wear, shoes and accessories, makeup, fragrances, and home decoration. Gucci is a subsidiary of the fashion conglomerate Kering. Kering, a global Luxury group, manages the development of a series of renowned Houses in Fashion, Leather Goods, Jewellery, and Watches. Under the new vision of creative director Alessandro Michele, the House has redefined luxury for the 21st century, further reinforcing its position as one of the world's most desirable fashion houses.
In line with the brand's code of conduct as well as the code of conduct of the Kering Group, Gucci is committed to implementing a Culture of Sustainability and to raising awareness within the Gucci system. This includes all parties with a legitimate interest in, as well as any that are affected by its activities; such as employees, shareholders, customers, suppliers, local communities, NGOs, trade associations, and trade unions.
In 2004, Gucci was one of the first companies in the fashion industry to commit towards Corporate Social Responsibility. In addition, Gucci has contributed over $10 million to UNICEF during an eight-year partnership production cycle. The impact is apparent through their figures, reducing their combined impacts by approximately 39% and GHG emissions by 37%, a +166% increase of green energy use between 2017 and 2019, and having regenerated 307 tons of textile waste with Greenline between 2015 and 2019.
How sustainable is Louis Vuitton?
Similar to Gucci, Louis Vuitton began tracking their carbon footprint in 2004. A report identified the three main sources contributing to greenhouse gases originated from raw materials, energy, and transportation. For this reason, Louis Vuitton decided to focus their sustainability efforts in those sectors, accelerating the adoption of recycled materials and sustainable fabrics.
Founded in Paris, France in 1854, Louis Vuitton originally started by crafting leather goods. Over the past 166 years, the brand has developed into a multi-billion dollar company that ranges from accessories, to shoes, and to clothing, operating in 62 countries. The monogram label LV is one of the most highly recognised brands across the globe. 
Moët Hennessy Louis Vuitton SE, commonly referred to as LVMH, is a French luxury conglomerate formed from the 1987 merger of the renowned fashion house Louis Vuitton and wines and spirits company Moët Hennessy. As an LHVM label, Louis Vuitton is committed to the conglomerate idea of sustainability. 
Additionally, Louis Vuitton partnered with UNICEF in 2016 to support children in need. Louis Vuitton launched a new version of its Silver Lockit with colour bracelets, available in Louis Vuitton stores worldwide and online, in an effort to continue raising awareness and funds for children affected by conflict, raising $6 million.
---
---
Other highlights include the use of gold for Watchmaking and Jewellery collection that is fully certified by the Responsible Jewellery Council since 2012; their shopping bags and boxes that are 100% recyclable; their perfume bottles that are refillable and 96% of materials used for main events and installations in 2019 were either reused or recycled.
Although the company knows where their main sources of greenhouse gas production are originating (workspaces and production), they have no concrete policy within these areas to mitigate their climate impact contributing to global warming. As a result, their approach to sustainability could be deemed more as greenwashing, rather than facing their consumption and supply chain head-on.  
Gucci, however, has made significant progress in terms of reducing their carbon footprint and incorporating renewable energy, assessing both direct and indirect social and economic environmental impact along their entire supply chain. However, they do not explicitly align their initiatives with the UN Sustainable Development Goals and there is room for improvement in the specificity and clarity of their future targets.
What are both Gucci and Louis Vuitton doing to make fashion more sustainable?
In order to find an answer, the brands can be directly compared using the Impakter Sustainability Index. The research compiled by the Impakter Index Team provides a clear overview of both brand's sustainability practices, goals, and achievements, spanning from the end product back to its supply chain. The Index reveals that Gucci holds three more certifications than Louis Vuitton: LEED, ISO 14001, ISO 45001, ISO20121, SA8000 Standard, RJC certification compared with LV's HQE, LEED and BREEAM. 

Gucci considers sustainability to be the engine of a process of continuous improvement that contributes to the strengthening of economic performance and the control and mitigation of business risks. In 2011, Gucci introduced a new type of product packaging made with FSC-certified materials, and since 2017, all of their paper and cardboard packaging has been FSC-certified. In addition to this, they saw an increase in 20% use of electric or hybrid cars in their fleet in 2019.
Louis Vuitton CO2 compensation projects
Between 2013 and 2019, Louis Vuitton started 45 projects in regards to their greenhouse gases, which contributed to the company reducing their energy consumption by 29%. The brand also has targets for certifications for 2025 as stated in their Environmental Responsibility Report 2019.
So is Louis Vuitton sustainable?
However, Louis Vuitton's parent company LVMH has done minimal work for animal welfare as they're consistently using exotic animal products.

Despite their multiple industry certificates, listings, and awards, Gucci does not explicitly align their initiatives with the UN Sustainable Development Goals, evidenced through the Index analysis.
Although it may seem that Gucci is underachieving due to a lack of alliance with the SDGs,  it is evident that they are still making positive changes within their company structure, although they would benefit from positioning their goals in line with relevant SDG's.
Gucci's carbon offsetting projects
That said, through initiatives such as Gucci's global offsetting portfolio of REDD+ (reducing emissions from deforestation and forest degradation). This project ensures that their ongoing commitment helps reducing the brand's environmental footprint, while also creating a positive economic and social impact for local communities and helps protect wildlife and its habitat. In direct contrast, although they lack transparency in their sustainability initiatives, Louis Vuitton has received numerous listings and awards and also has some industry-related certificates.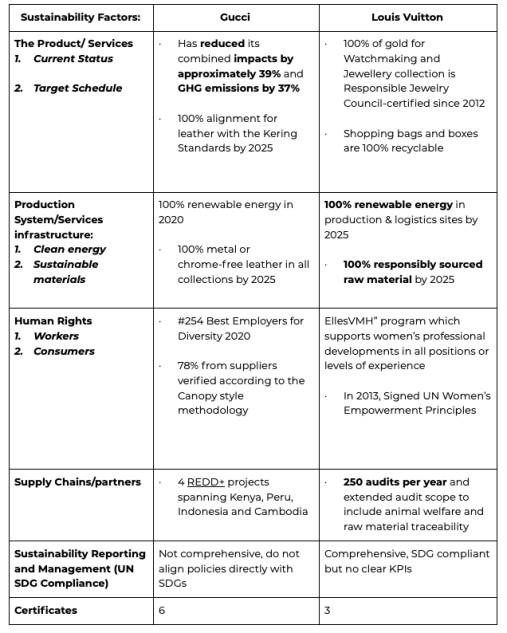 So is Gucci sustainable?
While Gucci has made great strides towards sustainable fashion, there is still room for improvement in the specificity and clarity of their future targets and have therefore been awarded a 'C'. In order to increase transparency and make their sustainable practices more evident to consumers, investors, and corporations, the company would do well to conform more consistently with the SDGs.
Final answer: Gucci is more sustainable than Louis Vuitton
Louis Vuitton has outlined plans to push the company towards sustainable fashion, however, little policy has been made in areas of concern that have been acknowledged by the company. Actions need to be taken before Louis Vuitton can claim their brand as actively striving towards sustainability and reduce its negative impact on the environment. Due to the minimal progress, Louis Vuitton has been given a 'D' rating.
While both fashion brands certainly have much more work to do before they can be considered as agents of sustainability, the answer to the "is Gucci sustainable" question is "not yet, but it's improving", wehereas the answer to "is Louis Vuitton sustainable" is more of a "not yet, and they're not doing enough".
Their policies have enacted more active change and their future goals seem to be more defined and achievable than Louis Vuitton.
Of course they're not as bad as Shein (with its forced labor accusations) but more can be done by both brands, and given their powerful influence within society and the fashion industry, it is rather disappointing that more has not yet been done and that they're somewhat guilty of sending mixed greenwashing signals.
On the flip side, there are a lot of young luxury sustainable brands that have worked hard to certificate their efforts and that try to couple environmental awareness with luxury. You can discover them on our ECO marketplace.
---
Editor's Note: The opinions expressed here by Impakter.com columnists or contributors are their own, not those of Impakter.com. — In the Featured Photo: Gucci and Louis Vuitton storefront. Featured Photo Credit: Julien Tondu & Christian