Distinguished today for its lavish handbags and perfumes, Chanel has been a luxury icon for decades. Founded by Gabrielle "Coco" Chanel in 1910, the brand first gained tremendous traction out of a small shop in Paris and ever since has continued to break barriers in the world of high fashion. 
There is no doubt that Chanel is globally recognized and renowned for their role in the provision of haute couture. But what about its role in the provision of a sustainable society? Chanel is certainly not the first brand to reevaluate its environmental impact, as leading designers are now considering their eco-footprints in everything from production to highly attended shows such as Paris Fashion Week. 
Over the last decade, Chanel has made an effort to vocalize their sustainability agenda. The luxury brand has recently backed several climate change initiatives as well as brought in qualified experts to lead sustainability ambitions, including the newly appointed Kate Wylie as Chanel's Global Chief Sustainability Officer. Wylie also serves as the Global President of the brand's charitable foundation, Chanel Foundation, which aims to rectify gender inequality and empower young women on an international scale. 
Clearly, Chanel is making a point to increase their positive influence regarding their societal and wider environmental impact. However, despite such auspicious evidence, the brand has been given a C (mediocre) on the Impakter Index (as seen below). Thus, this article aims to explore why the luxury icon is rated only subpar.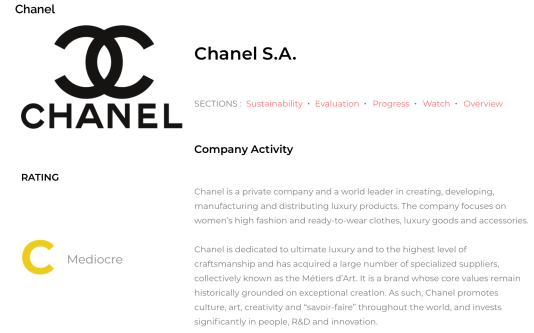 As the Index Report states, Chanel occupies a unique position in the fashion industry and hopes to further their focus on long-term sustainable development. The brand primarily aims to deliver towards a low-carbon future by addressing the critical issue of climate change. With this in mind, in 2020 Chanel published CHANEL Mission 1.5° as a way to align with the 2015 Paris Climate Agreement targets aimed at limiting average global temperature increases to 1.5° Celsius.
The mission encourages the company to reduce its carbon footprint in its operations and supply chains, and includes goals such as reducing emissions across CHANEL by 50% by 2030, in addition to transitioning to 100% renewable electricity by 2025. Moreover, the company aims to reach 97% renewable electricity by the end of 2021 and has since joined RE100 as a means of accomplishing this. 
---
---
The Index Report additionally covers Chanel's commitment to accelerating their progress through the balancing of residual carbon emissions and financing of climate change adaptation initiatives. The brand has since invested in nature-based solutions, such as forest, mangrove, and peatland restoration projects. Additionally, Chanel supports organisations that follow the International Carbon Reduction and Offset Alliance (ICROA) principles. As well as aiding financing adaptation strategies for vulnerable communities through initiatives like the Landscape Resilience Fund. 
Thus, third-party cooperation is the status quo for Chanel when it comes to their sustainability agenda (as seen in the image below from the Mission 1.5° Report). One example is Chanel's membership in the Fashion Pact, a global coalition of fashion and textile industry brands committed to common environmental goals. Chanel also has several third-party certifications as well; including LEED and BEPOS (the French certification for positive energy constructions) which indicate the company's devotion to efficient and eco-friendly infrastructure.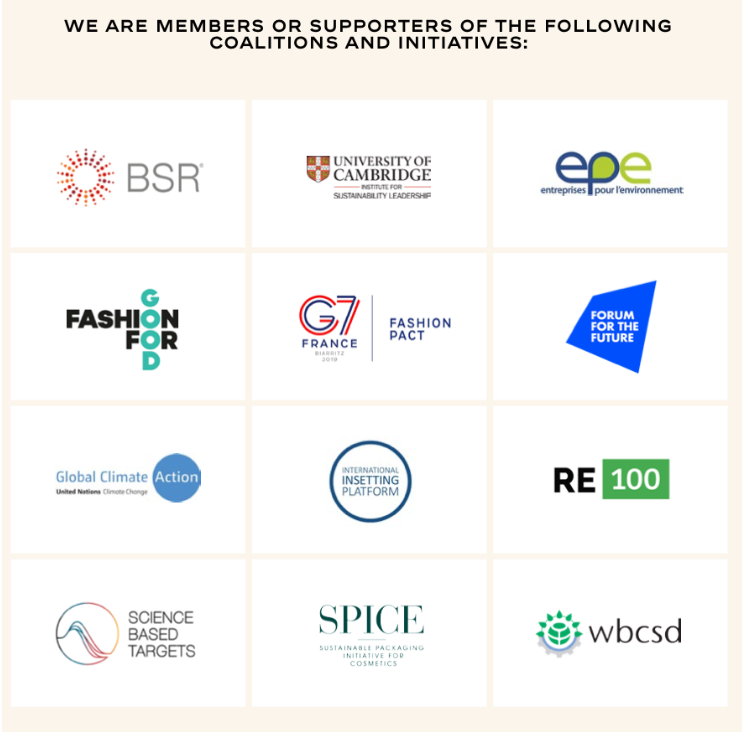 Chanel has also made some small but valuable headway in the sustainability of their products. According to the Index Report, in 2017 Chanel launched the Gabrielle Chanel fragrance in a glass bottle which has a 40% lower carbon footprint than the standard 50ml perfume bottle. Further, in 2019, Chanel founded perfume fountains in some (number unspecified) of their standalone boutiques where empty perfume bottles can be refilled. 
Chanel's Progress: Going Beyond the Standard in Sustainability?
Chanel has undoubtedly made sustainable objectives a strategic priority. Therefore the question still remains: why is Chanel's impact rated only mediocre? Well, as the Impakter Analyst team identifies, Chanel struggles to keep their supply chains transparent and environmentally conscious. Thus, despite their significant progress in reducing their carbon emissions and implementing renewable energy, the brand's use of unsustainable materials and uncertain supply chains means there is still much work to be done. 
For example, many, if not the majority, of Chanel's products are still made with single-use plastic and animal leather products. As their Mission 1.5° Report outlines, the company has a "good understanding" of the supply chain for their core raw materials but for others, they are still "working to improve traceability." Chanel has said they opt to use leather that exists as a by-product of the food industry, however, this cannot be guaranteed, nor is it a long-term solution. 
Therefore, if Chanel can improve their supply chain transparency and the sustainability of the materials used within their products, the luxury brand could be on the way to a higher Index grade. But given the data analysed on Chanel's current performance, a C rating on the Impakter Index is well justified. 
For now, Chanel will have to continue their progress to maintain a positive, improved, and beyond the standard impact on the environment around them. Only then may Chanel be known for sustainability in the same iconic way as their products are known amongst high luxury fashion. 
---
Editor's Note: The opinions expressed here by Impakter.com columnists or contributors are their own, not those of Impakter.com. — In the Featured Photo: Vice President, Kamala Harris, visits Guatemala. Featured Photo Credit: Wikimedia Commons.