Vice President, Kamala Harris, recently ventured on her first foreign trip to Guatemala to confront the root causes of migration flows from Central America. As food insecurity, corruption and natural disasters in Central America prevail, many decide to embark on the tedious path to the United States. But the solution is simple: small businesses and investment.
---
Growing up in Honduras, I remember feeling safe walking through the city or riding the bus to the central market. Few neighborhoods were off-limits. The country was poor, but it did not seem dangerous. Today, entire parts of Tegucigalpa are riddled with violent crime, and economic activity increasingly includes gang-related "war taxes." With widespread food insecurity, corruption, and worsening natural disasters, the Honduras of my childhood has all but disappeared.
In this context, it's no wonder that so many people risk the perilous journey to the US. In March and April of this year, the number of migrants detained at the US southern border reached a 20-year high. Recognizing this, the Biden Administration has proposed a $4 billion investment in Central America to tackle the root causes of migration. On her first diplomatic trip to Guatemala last week, Vice President Kamala Harris talked about helping would-be migrants "find hope at home."
This is a welcome change from recent years of immigration policy dedicated entirely to border security and deterrence. But to be successful—not to mention sustainable—US investment in Central America must be targeted. Thankfully, proven solutions exist: in the form of small businesses.


In the US, we often say that small businesses are the backbone of the economy. The same is true in Honduras and throughout the region. In particular, small agricultural enterprises like coffee cooperatives are singular economic drivers in their communities—and they urgently need investment. The World Bank has found that growth in the agricultural sector is up to four times more effective at reducing poverty than growth in other sectors.
Roughly a third of Central America's population is dependent on agriculture, but their livelihoods are dangerously vulnerable to shocks, whether it be a global pandemic or a natural disaster. Yet when farmers are affiliated with a thriving cooperative, which connects them to international markets, their incomes are higher and more stable.
That's not all. During the last year, these small agricultural businesses held their communities together in the face of calamity—a skill that the Biden Administration would do well to recognize in its quest to tackle migration at its roots.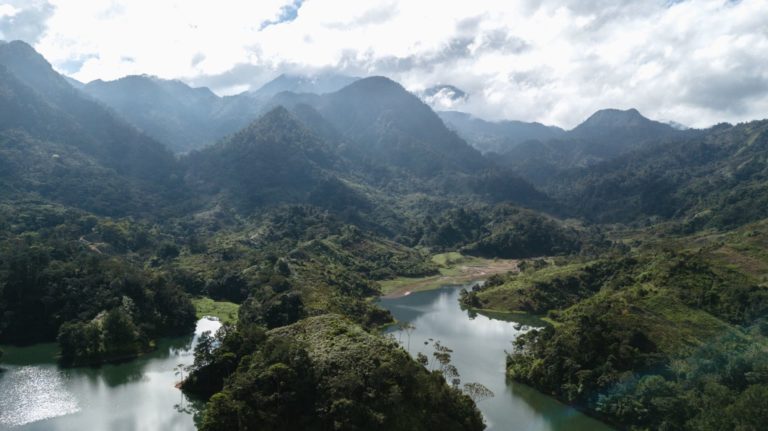 Take AMPROCAL, an all-women coffee cooperative in Ocotepeque, Honduras. Last March, as the world was pummeled by COVID-19, AMPROCAL sprang into action to protect its members. The harvest had recently ended, so farmers already had incomes in their pockets; but the price of staple goods had doubled, a shock that could drive families to migrate. AMPROCAL's leaders feared food shortages in a prolonged pandemic. But they could not rely on the government, which has long neglected assistance and infrastructure to remote villages. Their solution? In addition to providing sanitizer, soap, and face masks to members, AMPROCAL distributed vegetable seeds throughout the community, ensuring long-term food security during the uncertainty of last year.
Or consider the power of Montaña Verde, another coffee cooperative 160 miles away in San Luís Planes. In November, two hurricanes hit the Honduran countryside in as many weeks. Bridges were washed out, ripening coffee was knocked from trees, and farmers scrambled to salvage their harvest. "We are having to fix the small roads into the farms ourselves, there's no help from the government," Dilma Chávez, a farmer-member of Montaña Verde explained at the time. Fortunately, the cooperative was there to assist farmers with urgent challenges, like combating destructive crop diseases that were exacerbated by the heavy rains. With this support, local families can count on a successful harvest this year.
---
---
What do these two businesses have in common? What has enabled them to strengthen the resilience of rural families, even as consecutive disasters strike? The answer is simple: investment. AMPROCAL and Montaña Verde were both able to access loans and training, making them resilient to these challenges—resources that too many small agricultural businesses lack.
While investing in agricultural businesses is a proven model for addressing rural poverty, it is getting nowhere near the support needed to be truly transformative. The global financing gap for rural enterprises stands at more than $100 billion. But properly targeted, a strategy to build incomes and resilience in-country could ultimately stem forced migration and save the US billions of dollars. Accordingly, this week, USAID launched a $39 million public-private partnership to support entrepreneurship in Guatemala. Vice President Harris has also called on the global business community to deepen investment in the region, prompting big-name corporations like Mastercard and Nespresso to announce new commitments. Many of these commitments focus on small business growth and success—and more such investments are urgently needed.
With just a portion of the Administration's proposed financing, businesses like AMPROCAL and Montaña Verde—and the hundreds of small agribusinesses in the region that lack investment—could improve the livelihoods and resilience of millions. By investing in this proven, locally-driven solution, we can ensure that would-be migrants have at home what all of us desire: opportunity.
---
Editor's Note: The opinions expressed here by Impakter.com columnists or contributors are their own, not those of Impakter.com. — In the Featured Photo: Vice President, Kamala Harris, visits Guatemala. Featured Photo Credit: Wikimedia Commons.