---
Kenyan Initiative Links Presenters to Local Extension Officers
Radio is an excellent medium for agricultural extension. However, some of the world's farmers are much better served this way than others. An initiative by the Syngenta Foundation aims to improve the radio info services available to Kenyan smallholders speaking minority languages. Better access to advice should raise their productivity, incomes and food security; results so far look promising.
In agribusiness nowadays, "digital" is all the rage. At the Syngenta Foundation, we believe that modern IT solutions should not be restricted to large-scale commercial farms. Smallholders can benefit from using digital tools, as can their present and potential future customers.
There is, however, a danger that hi-tech gets all the attention, and agricultural development overlooks simpler solutions. Sometimes, a "lower-tech" approach can have crucial advantages. That is true of agronomic interventions in the field, and can also be the case in other areas. The use of radio for agricultural extension is an example.
Radio is a 19th century invention, and has been a major source of information for the world's farmers for decades. But it still has numerous advantages over other media, both "higher-tech" and "lower."
Radio is highly portable, and with mobile phones, now more so than ever. It is widely, and usually equitably, accessible to all members of society. Radio transmits to regions rarely touched by print media, and requires no reading skills. It is far cheaper to run than TV; content can economically be tailored to the needs of small local audiences. Unlike TV, radio can be fully appreciated by people while performing farm or household tasks. Broadcasters can also reach their listeners without worrying about internet connectivity, hardware availability or IT literacy. Verbal audience participation is also generally easier in radio programs than online, especially in countries such as Kenya with a huge number of mobile phone users.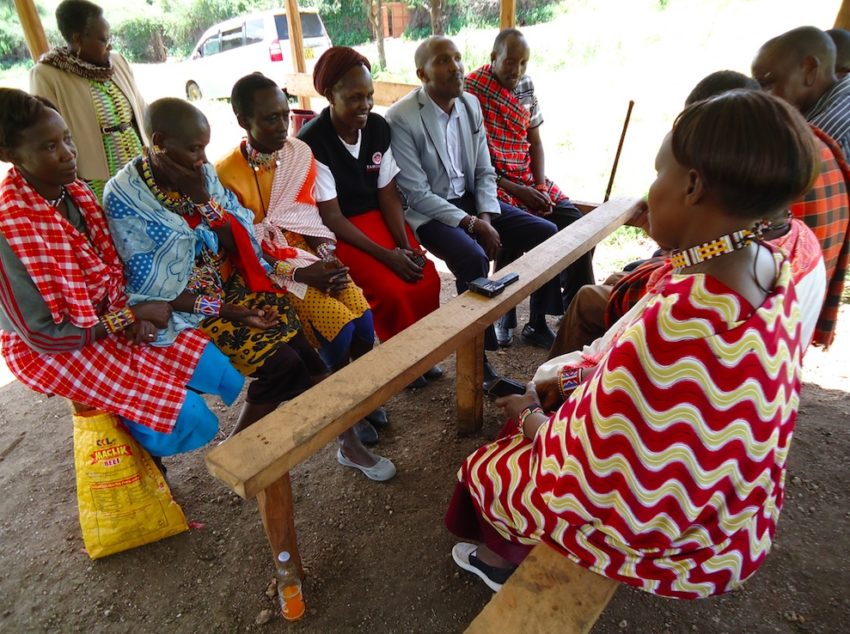 Working in Kenya Has Many Advantages
Kenya was in many ways a natural choice for the Syngenta Foundation's work on radio extension. We began our initiative there in 2015. As well as numerous smallholders with cellphones, Kenya also has a large number of radio stations broadcasting in local languages. We wanted to work with them because we believed their farmers would welcome and implement advice more in their mother tongues than in Kiswahili, never mind English. Agricultural extension aims to change farmers' behavior – and that is done much better in the 'language of the heart' than one learned years ago at school. Truly local radio stations use the same words to talk about crops, weather, soil and food as their listeners  do.
Importantly, Kenya also has several advantages over other countries with local-language radio stations. Since 2010, the devolution of many powers (and some budget) to county governments means that agricultural extension officers are now more locally responsive. Resources remain stretched, however. When we approached them, most officers were quick to see that radio would hugely extend their reach. Their bosses realized just as quickly that getting employees to answer farmers' questions on air is far cheaper than sending them down dirt tracks on motorbikes.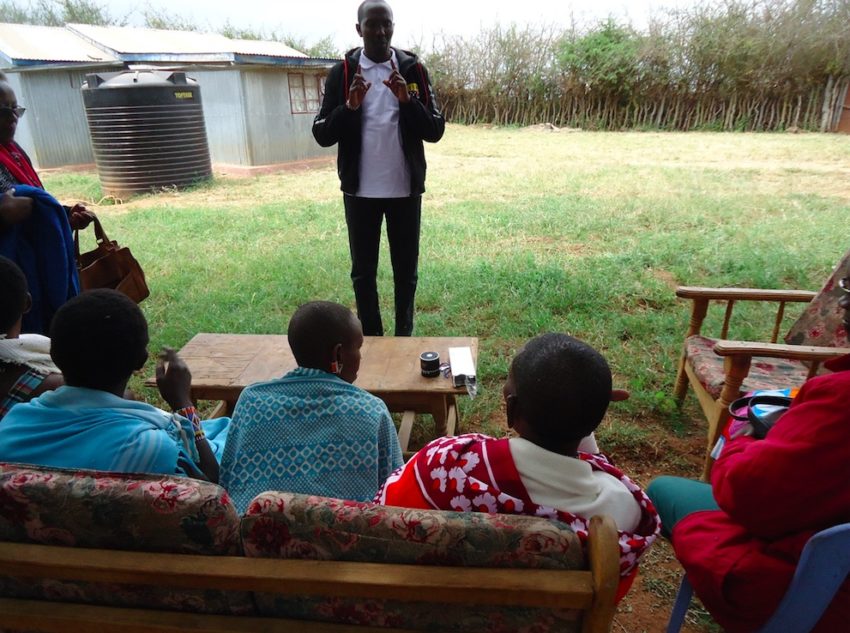 Radio stations also spotted new opportunities. Strangely perhaps, for rural broadcasters with largely agricultural audiences, few had ever talked much about farming. Music, a bit of news, plus some religion and gossip were the standard program ingredients. Agricultural extension, the stations sensed, opened up new routes to audience loyalty. Crucially, some saw additional income possibilities, for example through advertising.
We also chose Kenya as our first "radio" country for some very practical reasons. Unlike many countries, NGO's can interact freely with media outlets there. Our Foundation already had a large Kenyan team. And in the capital Nairobi, we found that rare jewel, a dynamic implementing partner specializing in exactly what we wanted to do, and with spare capacity to do it!
So, with all these promising starting-points in 2015, where have we got to?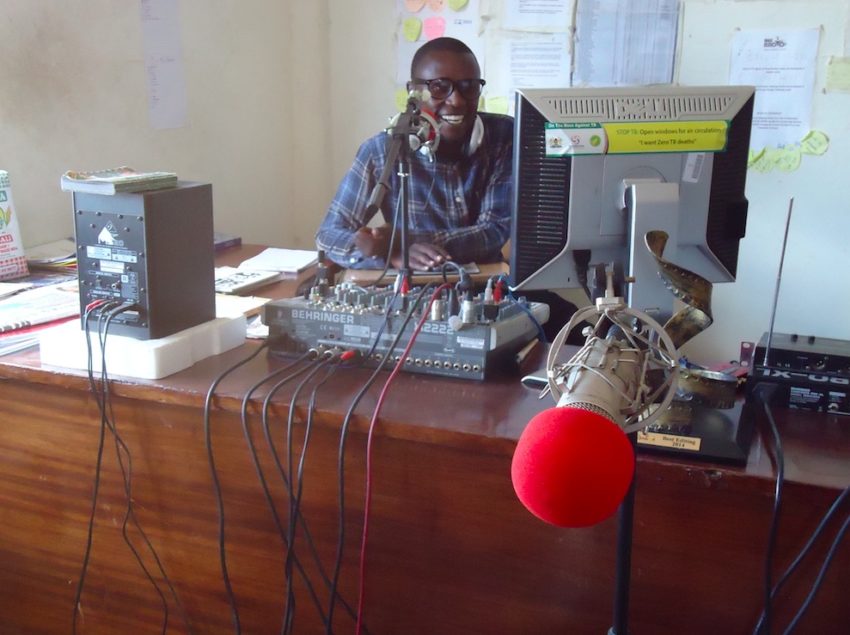 In 2018, we started working with our second group of stations. The first year of this partnership concentrates on initial and refresher training for presenters and agricultural extension officers, and on trying out the program timing and formats that work best for them. The stations and officers have got off to a good start. We shall be reporting in more detail soon.
In the first group, our implementing partner Kilimo Media International (KiMI) worked with a handful of stations broadcasting in Marsabit, West Pokot, Samburu, Isiolo and Garissa. KiMI surveyed the situation at the outset, during the project and after two years. Data was collected through household questionnaires, focus group discussions, key informant interviews and desk research. KiMI talked with farmers in 128 households.
The final survey found that radio (96 percent) and extension officers (59 percent) were the most popular sources of agricultural information. Only 8 percent of interviews preferred agro-dealers. This survey also revealed that the initiative had raised listeners' interest in acquiring agricultural information. From only 0.3 percent at the outset, the share of respondents seeking information from local extension service providers had risen to 29 percent.
The initiative not only transmitted information through radio. It also created awareness of the presence and value of local extension service providers. The radio stations consistently collaborated with extension officers and other agricultural experts, and let them speak and interact with farmers about local agricultural issues.
84 Percent of Smallholders Adopt Radio Advice
KiMI also measured the programs' ability to change listeners' farming practices. Some 84 percent of respondents not only listened to and understood the practices as broadcast, but also adopted them. The baseline figure for adoption of ag extension advice had been only 9.3 percent.
Also of note is the increase in radio listenership. This rose from 59 percent at baseline to 96 percent. Frequency of listening to agricultural radio programs at least once a week increased from 34 percent to 62 percent. The proportion of farmers who rarely listened to agricultural information on the radio fell from 53 percent to 10 percent. These findings suggest a considerable rise in farmers' confidence in the relevance of radio information.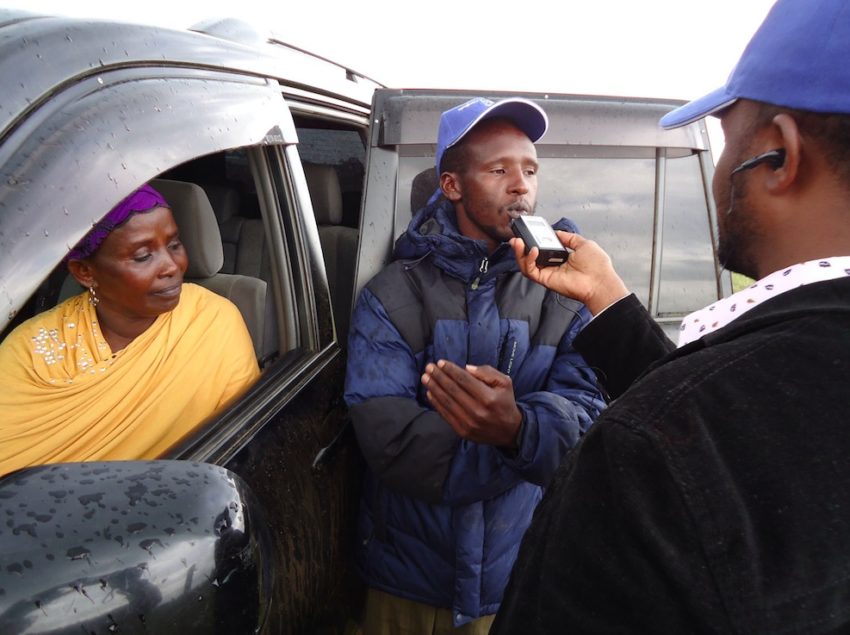 Radio dissemination of agricultural information also expanded the reach of the local radio stations and extension officers beyond their main catchment areas. Interactive radio sessions showed that information via Kalya FM (West Pokot) was raising the interest and interaction of farmers all the way to Uganda. Serian FM in Samburu Central reached farmers in Samburu North and East; Star FM in Marsabit had listeners as far away as Moyale and southern Ethiopia. Farmers from these regions called the radio stations and sought information from extension officers and other agricultural experts.
Some challenges, however, hindered the reach and adoption of the farming practices discussed on air. These included inadequate time allocated to the broadcasts, limited ability of farmers to give feedback, a partial lack of radio access for women, inadequate resources for extension officers to back up the radio information with on-farm support, and in Samburu an inappropriate broadcasting slot.
Together with KiMI and the first group's most active extension officer, we are working to avoid such issues with the second group. We are, for example, now devoting greater efforts to establishing local Listening Groups. Their frequently female members meet extension officers to re-hear particular programs and discuss the content in detail.
Overall, our experience so far with the "low-tech" medium of radio has been very positive. We also remain convinced of the importance of providing farm information in minority languages.

---
Editors Note: The opinions expressed here by Impakter.com columnists are their own, not those of Impakter.com  — In the Featured Photo: Radio of Farmer in a Kenyan field — Featured Photo Credit: Paul Syngenta.