ONLY THE MOST IMPORTANT BREAKING NEWS
As Russia launched a blitzkrieg against Ukraine on Feb. 24 and the situation fast turned into a full-blown war – the "Ukraine War" as future historians will no doubt call it – Impakter filtered the news and retained only the most important breaking news from major sources (Reuters, AP, and others) over the first 2 days and continued to update every morning here until March 13.
LAST UPDATE: March 13, 2022 –   Summary of major developments in the war TODAY as of 10 am CET:
Russia started the war on Ukraine on three fronts, north (from Belarus), east and south (from Crimea) on Feb 24 READ MORE about how the war on Ukraine started with Putin's declaration on Monday, Feb. 21… 
Early Russian victories: They included Kherson, a shipbuilding center strategically located on the Dnieper River near the Black Sea that fell on February 25; Chernobyl region and area near Kyiv (battles around Hostomel airport); Snake Island captured by the Russian fleet. Conclusion: This was intended as a blitzkrieg but it failed. READ ABOUT HOW the war started, our live feed that covered the first 2 days…
Today, day 18 of the invasion:
No major city has fallen yet: Russian forces encircle Kyiv and pound other Ukrainian cities (Dnipro, Lutsk) and have even hit an airport near Lviv, a region that had been spared so far. But it is in the besieged southern port of Mariupol that the situation is worst: Unlike what happened during World War II, bombings go on non-stop, day and night, making it impossible for civilians to carry on a normal life: Going out to buy bread means risking one's life. Officials report more than 1,500 civilians killed so far over the 10-day siege. Reports are coming out that the Russians use cluster bombs in civilian areas, which is banned by international law (UN human rights office says it has credible reports).
The number of civilian casualties is always an open question in times of war. UN sources are highly conservative: According to the Office of the United Nations High Commissioner for Human Rights (OHCHR), between 4 a.m. on 24 February and midnight on 11 March, at least 1,581 civilian causalities were reported, including 579 killed. But there is no question that the actual number of civilian casualties across Ukraine is likely much higher than officially reported by OHCHR, as many reports are still pending corroboration.
Likewise, the number of military casualties: The Ukrainian army reports killing more than 12,000 Russian troops while the US military estimates are half that (between 5,000 and 6,000 Russian soldiers) and Ukrainian losses are estimated to be much lower, between 2,000 and 4,000 Ukrainian armed forces, national guard and volunteer forces.
As to evacuations from besieged cities, they proceed in a haphazard manner. Nearly 13,000 people were evacuated yesterday through "humanitarian corridors" according to Ukrainian Deputy Prime Minister, almost double the number compared to yesterday (7,000). But the said "corridors" are increasingly raising skepticism as the Russian army often continues shelling them, making evacuation impossible.
According to military experts, Putin is following the model he set in the Syrian and Chechen wars: an encircle-and-destroy strategy with promises of evacuation that are not kept – a method to demoralize the local population and make it easier to enter the town. During the siege, people's hopes are first raised by offers of evacuation before the final attack, then hopes are crushed when the humanitarian corridors are shelled; moreover, citizens who accept the offer are not given a choice as to where to go and if they refuse, they are considered as enemies: This is the prelude to the Russian army bombing the town flat, the way Putin did in Grozny.
Russian advance is slow but unrelenting: All 150,000 troops that had been posted along Ukraine's borders are now deployed in the country. There are several reasons for the slow advance:
logistical difficulties (including refueling);
a probable hesitancy on the part of Russian soldiers for whom Ukraine is historically the cradle of Russia which is why Putin is offering a premium to Russian soldiers fighting in Ukraine and is calling for Chechen and Syrian mercenaries that would not have the same hesitations as Russians when going into towns like Kyiev and destroying them;
a stronger-than-expected defense on the part of the Ukrainian army that since 2014 has learned to fight in the Donbas and is now well-armed by the West with effective missiles and anti-tank weapons, moreover, according to  UK intelligence, Ukraine's air defenses are successfully preventing Russia from controlling the airspace;
mobilization of civilians – men between the age of 18 and 60 are not allowed to leave the country and many are helping to dig trenches and place mines on the beach of Odessa, etc – and over 66,200 Ukrainians who live abroad are reported to have returned home to fight.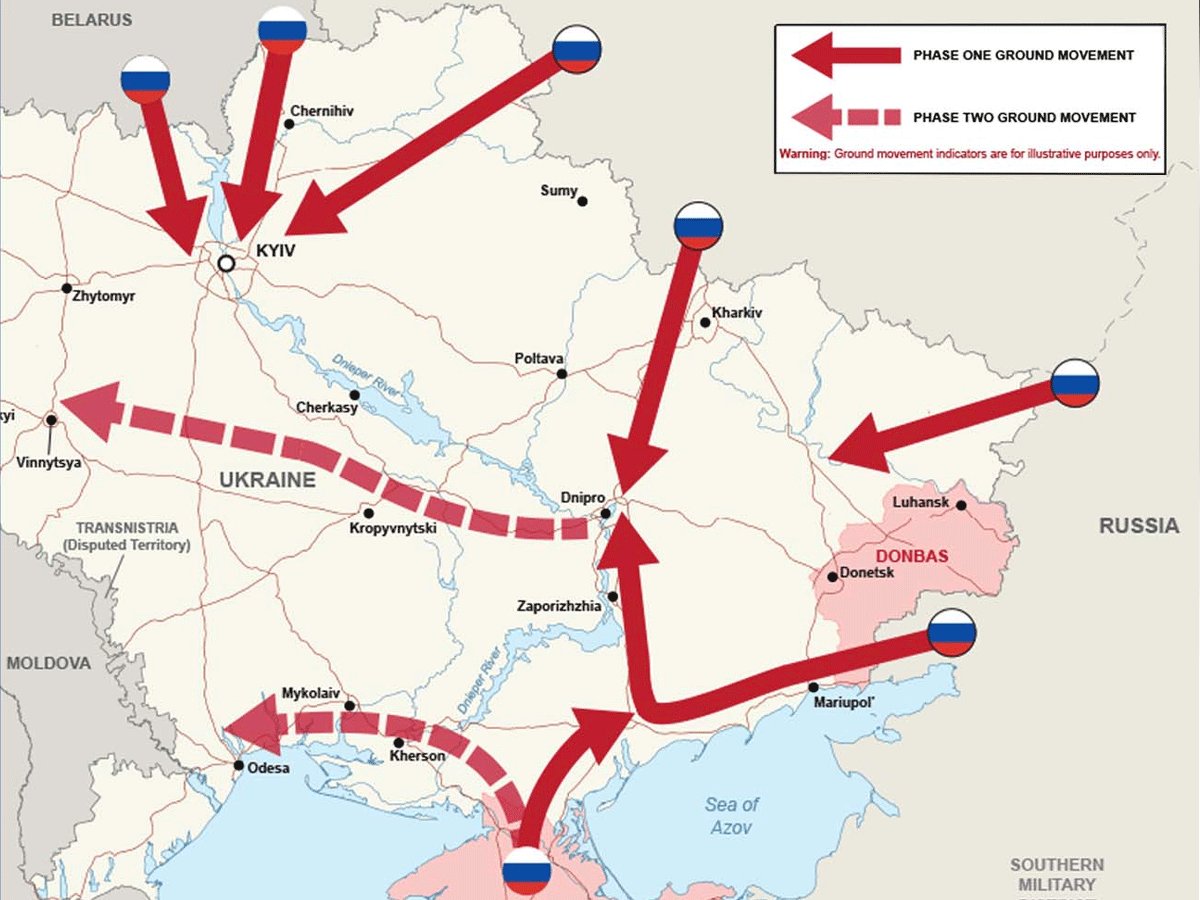 Ten percent of Ukraine's population is displaced: Refugees – mostly women and children and older people – have arrived in neighboring countries, mostly Poland; they are now over 2.5 million though their number is now slowing down (people on the borders report fewer arrivals). Ukrainians who have lost their home and are internally displaced number over 2 million.
The Ukrainian refugee crisis has begun and this is something we shall follow closely here on Impakter. So far, the issue has been covered with three articles, about what can be done to help them,  how the refugee crisis began, what are the issues the EU and UK currently face.
The UN estimates that over 12 million are in need of humanitarian aid. On 1 March, the United Nations and humanitarian partners launched coordinated emergency appeals for a combined US$1.7 billion to urgently deliver humanitarian support;  but the response hasn't been enough and $1.1B funding is still urgently required. 
In a country emptied of many of its women, children, and elderly, the conditions are set for a long, drawn-out war, as was indicated in an op-ed article we published 2 days after the start of the war with the title Russian Invasion of Ukraine: What Next? We argued that this may well be a case of David against Goliath in terms of the respective size of their armed forces, but David was highly motivated – not least by an inspiring, dedicated leader like President Zelensky – and therefore had much going for him and was likely to give Goliath a sound thrashing.
Perhaps we should have picked another image that also fits the case: La Fontaine's famous tale of the oak tree and the reed, where a tempest uproots the tree and it dies but only bends the reed and it survives. Ukraine is the reed and it will spring back every time.
Even if Kyiv is taken and most major towns fall into the hands of Russia, the war will continue as long as needed, turning into guerilla warfare. Afghanistan comes to mind.  We all know how the Mujahidin hiding in the mountains was armed by America and relentlessly fought Soviet troops. As Russians know only too well, the Afghans defeated the Soviet army, and that event was a major turning point, signaling the end of the Soviet Empire.
That is why many experts on Russia, including Michael McFaul, former Ambassador to Russia (posted by Obama) and now a professor of political science at Stanford University, believe that Putin's war in Ukraine is his biggest mistake.  What is interesting, is that even the Russian "elite", the billionaires around Putin who made their fortune in large part thanks to him, are beginning to have doubts, and fear that Russia will be increasingly isolated.
Just watched Russia's main political talk show with notorious propagandist Soloviev (Mar 9). Couldn't believe my ears. Two hardcore pro-Putin guests – Shaknazarov and Bagdasarov – acknowledged the impact of sanctions, military failures, and called for an end to the invasion.

— Maxim Alyukov (@MaximAlyukov) March 11, 2022
Is a cease-fire likely? Nobody has the answer to that question. One thing is certain, diplomatic channels are open, both at the working level and at the highest levels. On March 10, the Foreign Affairs ministers from Ukraine and Russia met in Turkey, the highest working level of talks yet, raising hopes for a start to negotiations – but unfortunately, there was no concrete outcome: Ukraine's Foreign Minister Dmytro Kuleba said that he was not able to reach a deal with his Russian counterpart, Sergey V. Lavrov, for a cease-fire but they were willing to meet again to discuss ways to bring the war to an end.
Yesterday, once again, the news came that a phone call at the highest political level had taken place: between Macron, Scholz and Putin, still with no results. It appears Putin is determined to go ahead regardless of the cost in human lives.
Putin's belligerency bodes ill for the future. This war, which is unprecedented in modern times, between a nuclear state and a modern advanced state, is also breaking a record of another kind: Nobody has ever witnessed so many phone calls and visits between leaders. This diplomatic activity at the highest levels up to now has not given any fruit, but it may yet do so. We can only hope that Putin will finally bow down to the evidence that this is a war he cannot win.
Note from the Editorial Board: We will stop our daily update (this is the last one) but will continue to cover the war with articles focused on major developments as we have done up to now.
This is a list of the articles we have published so far:
About Russians protesting the war, including on an official Russian TV channel: How a journalist employed by the channel dared to brandish a no-war poster and sing slogans behind the news anchor
About how the Ukraine war impacts food: War will affect all food prices – futures already up by 40% – and wheat is a major cause of the price rise; "hunger hotspots" threaten in 20 countries warn WFP and FAO
About the EU Summit meeting: The 27 EU leaders met in Versailles on March 10-11 and agreed on tightened sanctions and sending €500 million more in military aid but did not offer fast-track EU membership to Ukraine
About Russia's next possible target after Ukraine war: The Baltic states: According to EU super Commissioner Dombrovskis, that is what could happen next if Putin gets his way
About Europe's dependence on Russian gas: Sanctions are the preferred response from the West but Russia has its own economic weapon: gas and oil
About Europe's new energy plan and how it will cut reliance on Russia: At EU Summit March 10-11 the focus was on how to cut dependence on Russian gas, now at 40%, substituting with green energy: Here's how EU is likely to do it
About America's "disjointed" initial response to Ukraine war as Republicans criticized Biden: America's internal reaction to the invasion of Ukraine is a reflection of its deeply divided political climate, and it does not bode well for President Biden
About Biden's State of the Union address to Congress:He addressed many of the issues that have defined his unsettled first year in the White House but obtained on Ukraine bi-partisan support
About SWIFT, the "mother" of all sanctions: Removing Russia from the SWIFT international payments system, was one of the biggest sanctions placed on Russia yet
About the Russian response and what is behind Putin's smile: What sanctions against Russia are doing to its economy and people
About the anti-war protests around the world and in Russia: From Russia to the UK, the world is uniting to show support for Ukraine and to stop Putin and a possible World War
A reminder of how ugly this war can get: The true story of the maternity hospital bombing in Mariupol
It caused 3 dead including one child, 17 wounded according to Ukrainian sources. This was immediately contested by Russia that claimed the hospital was occupied by the "Azov battalion" an extreme right,  white supremacist group created in 2014 to fight the Russians in the Donbas.
France 24 investigated the matter and found that the said Azov group was disbanded and integrated into the Ukrainian army by a right-wing Minister of Defense who was subsequently kicked out of the government in July 2021 by President Zelensky.
It is therefore highly unlikely that said battalion that no longer exists could be holed up in a hospital in Mariupol – yet another example of Russian disinformation: it cleverly builds upon a partial truth then twists it around to fit its own narrative. That was famously the case with the Smolensk massacre in the Katyn forest in 1940 (22,000 Polish military officers and intellectual leaders killed) perpetrated by the Soviet army but attributed by Stalin to the Nazis.