Updated February 23, 2022. First Putin recognized two separatist "republics" in the Donbas, headed by the towns of Donetsk and Luhansk in Ukraine's eastern region; next, he sent in the army to "guarantee peace". He did this yesterday, a long eventful Monday, February 21. Of course, this came as no surprise: Putin had amassed troops for months causing an international diplomatic crisis, and by now, along with military drills organized with Belarus to stoke up the tension, he had a 150,000 strong army stationed along the Ukrainian border.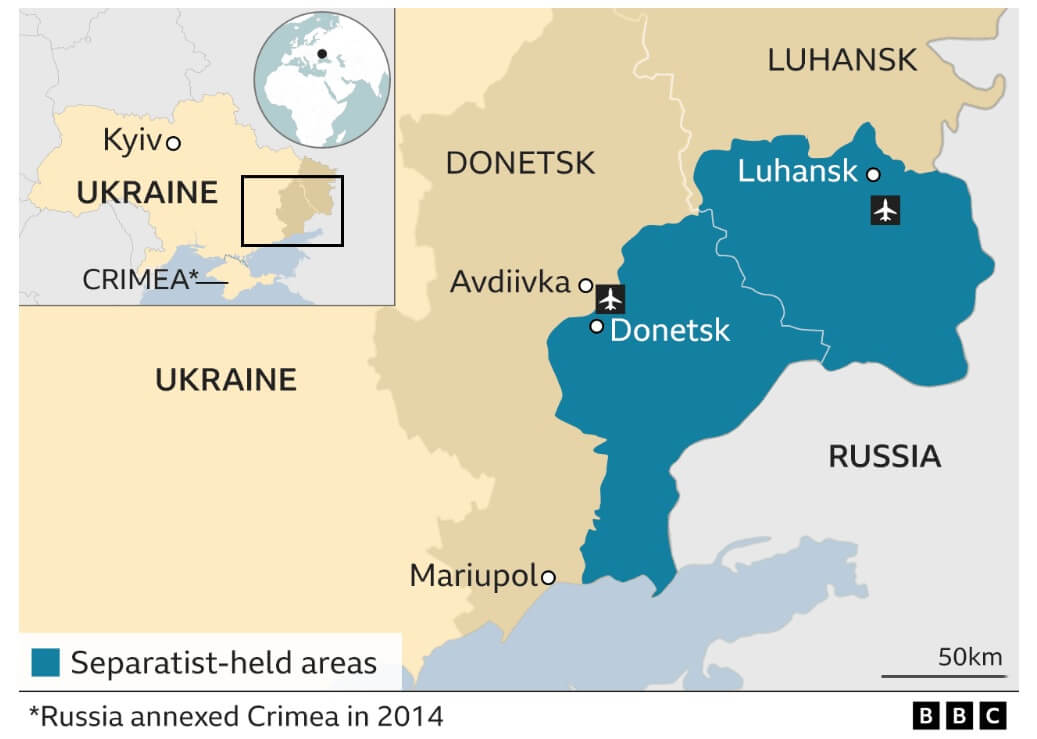 Also, late last week, women, children and the elderly had been evacuated to Russia from the rebel-held areas: This was a sure sign that military action was imminent. And shelling had increased hitting civilian targets, including a kindergarten, further raising the tension.
Putin's speech justifying the invasion was exactly what one might expect – as usual, he complained that Russia's concerns, particularly over NATO's eastern expansion, had been ignored for years and he accused the West of trying to "contain" Russia and prevent it from being a global power. But, by far the most worrisome part of his speech was his declaration that Ukraine was never a separate state from Russia – the implication being that he might not stop with conquering the Donbas.
The West's reaction was swift. French President Macron and German Chancellor Scholz immediately declared themselves "disappointed" and called for an emergency meeting at the United Nations Security Council. There, US Ambassador Linda Thomas-Greenfield derided the idea that Russia's troops would have a "peacekeeping" role, saying: "We know what they really are" and, she added, recognizing Luhansk and Donetsk as independent was just a pretext to invade Ukraine. 
Russia's UN Ambassador Vasily Nebenzya responded, arguing for the need to defend the rebel-held areas from what he called Ukrainian aggression. "Allowing a new bloodbath in the Donbas is something we do not intend to do," he said.
Russia's latest military moves are in line with what it has been doing in the region since 2014 when it wrested Crimea from Ukraine and some 14,000 people – including many civilians – have died in the fighting as a result. At the time, Russia stopped short of invading the Donbas; instead, with the Minsk Protocol, an accord had been reached with Ukraine whereby it was to provide some form of autonomy to the separatist regions.
Eight years have passed since and that promised autonomy was never provided either by this government – Zelenski, a former actor and comedian, who has been in power since May 2019 – or his predecessor, the wealthy businessman Petro Poroshenko accused of corruption, who served as President from 2014  to 2019. This gave the separatists a reason to continue their fight and Putin a reason to help them. 
Ukraine's Zelenski immediately called for a meeting of his defense council, and made a 35-minute phone call to President Biden who gave him assurances of support; late last night, in a television address, Zelenski called for "clear and effective actions of support" from Ukraine's international allies, saying "It is very important to see now who our real friend and partner is, and who will continue to scare the Russian Federation with words only."
The West's initial response: Sanctions
Yesterday, soon after talking to Zelenski, President Biden signed an executive order that prohibits new investment, trade and financing by Americans in the breakaway regions. The White House said the measures were separate to wider Western sanctions which are ready to go "should Russia further invade Ukraine". Later Tuesday, he announced initial sanctions aimed at the Russian sovereign debt and Russian elites and their family members as well as Russian financial institutions, VEB and Russia's military bank.
The US Treasury Department released details of additional restrictions on Russian sovereign debit and sanctions against the Corporation Bank for Development and Foreign Economic Affairs Vnesheconombank (VEB) and Promsvyazbank Public Joint Stock Company (PSB), along with 42 of their subsidiaries. Biden said in televised remarks: "That means we've cut off Russia's government from Western financing. It can no longer raise money from the West and cannot trade its new debt on our markets or European markets either." (bold added)
Europe followed suit. The European Union pledged to "react with unity, firmness and with determination in solidarity with Ukraine". By Tuesday evening, the EU had adopted a package of sanctions that included the exact same range of sanction measures adopted by the US and that will hurt Russia: Limiting Moscow's access to financial markets.
European Commission President Ursula von der Leyen in announcing the measures said they "directly target individuals and companies involved in these actions," which she defined as "violations of international law by the Kremlin". The objective? To limit "the Russian government's ability to raise capital on the EU's financial markets. We will make it as difficult as possible for the Kremlin to pursue its aggressive actions," she said.
And UK Prime Minister Boris Johnson said Russia's actions amounted to "a flagrant violation of the sovereignty and integrity of Ukraine" and today the government's emergency committee is set to come up with a "significant package" of sanctions against Russia. 
But how effective are the sanctions?
For months now in Europe, the talk has been around a recourse to sanctions in case of a Russian invasion. Europeans have been pressured by President Biden to adopt a package of sanctions and the European Commission has been tasked with coming up with a proposal that could be acceptable to all EU member countries.
Until Russia actually invaded Ukraine, there had been no agreement within the EU regarding sanctions – but as we are seeing since yesterday, that hesitancy has quickly changed and now Europe is following in the American footsteps.
The basic problem with sanctions remains: They don't impact just Russia, they also impact European countries that have strong trade and economic ties with Russia. Add to that Western Europe's well-known dependency on Russian gas, and you have a perfect storm. 
But now that Russia is in the Donbas and should it go further and surround Kyiv, expect more sanctions. And expect America to push hard for sanctions. Historically, the leader for following the sanctions route as a response has always been America. Since the fall of the Berlin wall, U.S. Presidents, starting with President Bush Sr. have repeatedly used economic sanctions as a weapon – admittedly with varying levels of success. 
Nicholas Mulder, a historian at Cornell University and the author of the just-published "The Economic Weapon: The Rise of Sanctions as a Tool of Modern War" argues that while sanctions may work, as evidenced by the case of Iran when the Obama administration removed sanctions and obtained concessions, their results are limited. 
Sanctions, he points out with plenty of historical and archival evidence, are difficult to manage: They require a balancing act. Too much and they become impractical and not credible; too little, and they have no effect. Sanctions on Russia following the Crimea war caused a 1% drop in Russia's GNP and was considered a success by an expert like Michael O'Hanlon who is a Brookings Institution expert on national security and author of "The Art of War in an Age of Peace". But now, with the invasion in the Donbas, we see the result: There's no question that those sanctions didn't succeed in changing Putin's course of action.
Some 775 Russians – individuals and business entities – were hit by sanctions following Crimea. What will the US propose to do now? Biden has obtained from Congress the go-ahead for sanctions, but, as he has warned, sanctions are not painless even for America. Some 1100 American businesses trade with Russia.
Moreover, Putin has built defenses against sanctions – some experts have dubbed it "Fortress Russia". He has doubled his government's gold reserves and halved public foreign debt; he has increased economic ties with China and strengthened the internal banking system.
This said, sanctions could be turned into so-called "smart sanctions" hitting specific weak points. For example, one such weak point in the case of Russia is in the area of high tech: Silicon chips are something Moscow needs for progress in artificial intelligence and in its aerospace industry. 
Still, even smart sanctions are likely to have a limited impact and at some point, there could be demands for a stronger response. But it's early days, sanctions haven't yet had time to show what they can do, in short, it's too soon to tell how the situation will develop. Still, with the additional troops sent by America and NATO in the region, as well as all the equipment and weapons provided to Ukraine, it is not a given that the West will simply sit back and watch Russia invade eastern Ukraine, limiting its response to sanctions.
---
Editor's Note: The opinions expressed here by Impakter.com columnists are their own, not those of Impakter.com. —  Featured Photo: Putin speaking on February 21 2022 Source: Screenshot from DW video.