READ MORE about how the war evolves with our daily update… 
A note to readers to help navigate our live feed here:
We have divided the post in four sections with their relative subheadings containing all the updates/major breaking news (with the timing of when the news report came):
International Response
Russian Response
Report on Status of Invasion
Economic and Cultural Fallout
International response
The US has paused arms control talks with Russia Feb 26
The U.S. has paused talks with Russia on the future of arms control and strategic stability, as Moscow ramps up its military assault on Ukraine, the State Department said on Feb 25.
UK announces sanctions against Putin and Lavrov Feb 25 20:41 CET
The UK has now revealed sanctions on Russian President Vladimir Putin and its foreign minister Sergei Lavrov – on top of the sanctions Britain announced yesterday.
This afternoon I urged @NATO leaders to take immediate action against SWIFT to inflict maximum pain on President Putin and his regime.

The UK will introduce sanctions against Putin and Foreign Minister Sergey Lavrov imminently, on top of the sanctions package already announced. pic.twitter.com/VWEwGyPH5j

— Boris Johnson (@BorisJohnson) February 25, 2022
As Prime Minister Boris Johnson writes, he has also urged NATO to act against SWIFT to "inflict maximum pain on President Putin and his regime."
NATO deploys defensive forces in the eastern part of the Alliance Feb 25 18:56 CET
Following the February 25 meeting of heads of state and government, NATO has announced that they have deployed defensive land and air forces in the eastern part of the Alliance, and maritime assets across the NATO area.
"We have activated NATO's defence plans to prepare ourselves to respond to a range of contingencies and secure Alliance territory, including by drawing on our response forces. We are now making significant additional defensive deployments of forces to the eastern part of the Alliance," NATO chief Jens Stoltenberg has said at a news conference following today's NATO virtual summit, adding that "Kremlin's objectives are not limited to Ukraine."
"The world will hold Russia and Belarus accountable for their actions."

NATO Secretary General Jens Stoltenberg says Russia will "pay a severe price for years to come" after invading Ukraine.

Latest: https://t.co/2rxSsaHs3p

📺 Sky 501, Virgin 602, Freeview 233 and YouTube pic.twitter.com/6I6YEqRiBl

— Sky News (@SkyNews) February 25, 2022
This is the first time in history that NATO deploys parts of its combat-ready response force to Eastern Europe as a precautionary measure.
As Stoltenberg pointed out, NATO will continue to send weapons to Ukraine, including air defense. NATO did not, however, commit to sending troops to the nation, but it did promise to "hold Russia and Belarus accountable for their actions."
Council of Europe suspends Russia Feb 25 17:30 CET
The Council of Europe has voted to end Russian right of representation. 42 out of 47 of the member states voted in favour of the suspension. According to the council, "Russian Federation remains a member of the Council of Europe and party to the relevant Council of Europe conventions, including the European Convention on Human Rights." They also said the suspension was temporary, and that they remain open to communication.
The Council of Europe has suspended Russia's rights of representation.https://t.co/V8uUfjBkm3 pic.twitter.com/LfVLnNfvDz

— Council of Europe (@coe) February 25, 2022
In a few hours, a virtual NATO summit will begin Feb 25 13:35 CET
Transcripts of the public opening remarks and of the press conference, as well as photos, will be available on the NATO website after the event, The video will be available for free download from the NATO Multimedia Portal
Ukraine reportedly ready to negotiate Feb 25 09:30 CET
Ukraine is ready to negotiate with Russia on becoming a neutral state, but it must also receive security guarantees, a top adviser to President Volodymyr Zelenskiy said last night.
#BREAKING: Ukraine is ready to hold talks with Russia to negotiate Kyiv's neutrality, but it must receive security guarantees – Mykhailo Podoliak, an adviser to President Zelensky

— Amichai Stein (@AmichaiStein1) February 25, 2022
"Ukraine has always left and leaves room for negotiations. Including now — even after Russia launched a full-scale invasion. This war must be stopped. These hostilities must be stopped," Mykhaylo Podolyak said in a statement carried on Ukrainian news agency Unian's Telegram channel. More official moves awaited.
IAEA: Nuclear Reactor Accident in Ukraine Must be Avoided Feb 25 at 11:42 am CET
Following Russia's capture of the Chernobyl power plant yesterday, Monitors at the International Atomic Energy Agency (IAEA) have drawn attention to the risk of a nuclear disaster. This is the first war that takes place in a region with 15 nuclear power plants. The IAEA say they are monitoring the situation and are in contact with Ukraine's nuclear regulatory body.
The IAEA is following #Ukraine situation with grave concern, appeals for maximum restraint to avoid any action that may put Ukraine #nuclear facilities at risk, Director @RafaelMGrossi says.
📝 https://t.co/f7gkIFSNLx pic.twitter.com/XSZenqsQkt

— IAEA – International Atomic Energy Agency (@iaeaorg) February 24, 2022
General Rafael Mariano, director of the IAEA has called "for maximum restraint to avoid any action that may put the country's nuclear facilities at risk." James Acton, co-director of the Nuclear Policy Program at the Carnegie Endowment for International Peace, posted a note early yesterday, warning that "For Ukrainian nuclear power plant staff, merely traveling to work may be a dangerous act—making it potentially challenging to ensure the reactor can be operated safely."
He suggested "likelihood of a serious nuclear accident is probably quite small," but that it's effects could be severe. As fighting escalates however, and more nuclear power plants, and their staff, are put at risk, and normal operations disrupted, this risk may escalate further.
EU leaders agreed to more sanctions but shied away from imposing SWIFT suspension on Russia Feb 24 at 23:00 CET 
European Union leaders met on February 24 in the evening for an emergency summit, agreeing to impose additional "massive" sanctions on Russia in areas ranging from finance to transport. But EU leaders could not agree on adopting "all-out sanctions", refusing the plea from Ukraine to suspend Russia from the SWIFT international payments system.
SWIFT suspension amounts to basically a "nuclear option" as it would have made it impossible for Russia – both the government and its citizens and businesses – to carry out any payment whatsoever across borders using any banking system. In short, returning Russia to the Middle Ages and a barter system.
Biden addresses US nation on Russian Invasion into Ukraine Feb 24 at 20:50 CET
US President Biden gives an address to the nation on the Russian invasion into Ukraine. During his address, Biden announced new sanctions and economic measures to hold Russia accountable. These measures include cutting off more than half of Russia's high-tech imports, limiting the modernization of the Russian military, and sanctioning several Russian banks — this will include cutting off Russia's largest bank, which holds more than ⅓ of Russia's banking assets from the US financial system.
Biden reiterates that America will not be sending troops to the Russian conflict in Ukraine but will be sending troops to defend NATO allies in the east.
Today, I authorized a new round of sanctions and limitations in response to Putin's war of choice against Ukraine.

We have purposefully designed these sanctions to maximize the long-term impact on Russia – and to minimize the impact on the United States. pic.twitter.com/wM0kEBcZba

— President Biden (@POTUS) February 25, 2022
Biden also announced he will not yet remove Russia from the SWIFT banking system, despite pressure from UK prime minister Boris Johnson to remove Russia from SWIFT.
Yesterday at 15:45 CET
Following US President Joe Biden's declaration of its decision to levy the strongest possible sanctions against Russia, leaders from across Europe this morning have been issuing statements of support for Ukraine. Statements have been issued by the Italian, German and French heads of state, amongst others. 
Boris Johnson issued a statement condemning Russia's actions as risking the security of Europe in its entirety. Referring to Putin's claim that there will be consequences for anyone interfering in the situation, Johnson affirmed a commitment to do everything possible to keep Britain safe. Protests have emerged outside Downing Street, with Ukrainians living in the UK demanding that Putin, and the war, be stopped. 
Germany has also announced their commitment to take in the expected influx of Ukrainian refugees. 
Multiple NATO countries have invoked article 4, an article which calls for military discussions, issued when the national security of nations in the alliance is threatened. According to a statement released earlier today, NATO will be "deploying additional defensive land and air forces to the eastern part of the Alliance, as well as additional maritime assets." NATO is expected to meet for another summit tomorrow.
The EU, who has said in firm terms that they will hold Russia accountable, is expected to meet later today to agree on a package of sanctions, to be proposed to EU members,  presented by Commissioner Von der Leyen, who affirms that they will have the effect of "eroding" the Russian economy, hopefully crippling their ability to finance a continued war.
Turkey and Ukraine Feb 24 at 18:35 CET
Following the Russian invasion of Ukraine this morning, Ukraine President Zelenski made a phone call to President Erdogan of Turkey. Erdogan is in a key position in this fast-evolving situation as he has good relations with both Putin and Zelensky and Turkey historically is the gatekeeper of the Black Sea. If Russia wants to enter the Mediterranean with ships it has no choice but go through the Bosphorus. 
Erdogan, whose country is a NATO member, had previously offered to mediate in the conflict, and in remarks broadcast by Turkish TV today he said  he told Zelensky in that phone call that "Turkey supports Ukraine's battle to protect its territorial integrity," adding "We are sincerely saddened that Russia and Ukraine, both of whom we see as friendly countries and with whom we have close political, economic, and social relations, come face to face in this way." (bold added)
Ukraine's ambassador to Ankara, Vasyl Bodnar,  told reporters that Zelenskiy had asked Erdogan for help during their call. The ambassador did not outline Kyiv's demands but said "financial, humanitarian, and military" support was needed.
Earlier, Bodnar had urged Turkey to close the Bosphorus and Dardanelles straits to Russian ships. Under a 1936 pact, Ankara has control over the straits and can limit the passage of warships during wartime or if threatened. "Turkey will evaluate the requests and respond as soon as possible," Bodnar said after talks with Turkish Deputy Foreign Minister Sedat Onal. "We expect solidarity to be shown."
Asked about Ukraine's request, Omer Celik, the spokesman for Erdogan's ruling AK Party, said Turkey was evaluating the issue and that Ankara would make a decision with the aim of not deepening the conflict. He provided no further details.
So we're still waiting to see which way Turkey goes, though, in principle Turkey is in the NATO camp, and any major deviation from the West is unlikely, even though Turkey has strong commercial and tourist ties with Russia that Erdogan would like to maintain. Indeed, he has been trying to balance Turkey's NATO commitments with its strong trade and energy ties to Russia. So far, Ankara has opposed sanctions on Russia, not listening to Ambassador Bodnar's urging that Turkey join other countries in imposing sanctions on Russia.
Russian Response
At UN Security Council Russia vetoes Resolution condemning it Feb 25
Russia voted against a United Nations Security Council resolution aimed at ending the war in Ukraine. The resolution condemned Moscow's military operation in Ukraine as a violation of the U.N. Charter and would have required Russia to withdraw its forces from Ukraine immediately.
China which could have expected to support its ally abstained from the vote. Russia thus appears isolated on the international scene.
Putin calls for a military coup in Ukraine Feb 25 17:30 CET
In a televised address, he tells Ukraine's military to  "take power in your own hands", claiming it would aid negotiations. He called on them to overthrow Ukraine's leadership whom he described as "terrorists" and "a gang of drug addicts and neo-Nazis."
"It seems like it will be easier for us to agree with you than this gang of drug addicts and neo-Nazis," he said, referring to leadership in Kyiv led by President Zelensky who is Jewish.
Putin accepts Zenelsky's invitation to start negotiating, says Russian news agency RIA Updated Feb 25 16:35 CET
Россия готова вести переговоры с Украиной на высоком уровне, заявил Путинhttps://t.co/9Bjg0G4n5r pic.twitter.com/izb0AkjTuI

— РИА Новости (@rianru) February 25, 2022
This translates to: Russia is ready to negotiate with Ukraine at a high level, Putin said.
According to Zenelsky's advisor Mykhailo Podolyak, who texted Reuters, "If talks are possible, they should be held. If in Moscow they say they want to hold talks, including on neutral status, we are not afraid of this." There are reports that the negotiations will be held in Minsk, Belarus (allied to Russia).
Russia says it will levy sanctions against the West Feb 25 12:36 CET
A Kremlin Spokesperson has announced today Russia's intention to impose sanctions in retaliation on the West. Meanwhile pressure for further sanctions mounts, with increasing calls to kick Russia out of the SWIFT system, with some G7 countries resisting.
Kremlin says Russia will impose retaliatory sanctions on West https://t.co/YC8C2gQBbu pic.twitter.com/YKHwU7VPiC

— Reuters (@Reuters) February 25, 2022
One of the countries resisting is likely to be Germany, since Chancellor Scholz has publicly declared opposition in the past. More clarity about future actions, including further sanctions, is expected following NATO's meeting today.
The Kremlin spokesperson declined to comment on how long the invasion would last, and although noting the Ukrainian President Volodymyr Zelenskyy's willingness to discuss, has stated Russia has not changed it's aims. The Russian Foreign Minister said today that Moscow would negotiate with Kyiv only once Ukraine's military ceases action.
Protests in 53 Russian cities with over 1,700 arrests Feb 24 at 19:55 CET
Anti-War sentiment remains strong amongst the Russian public. Russian celebrities and citizens have voiced their opposition to the war, as protests sweep Russia. This is despite the Russian authority's order that civilians not join any anti-war protests, and the arrest of dozens of anti-war protesters earlier today. 
Huge anti-war protest happening in Moscow, the capital of Russia:

Russian citizens rejecting the Ukraine invasion pic.twitter.com/Cx6GADwlPy

— philip lewis (@Phil_Lewis_) February 24, 2022
Footage of protests across Russia have emerged in the past few hours, in St. Petersberg, Novosibirsk, Pushkin Square and other areas. Footage has also emerged of Russian police arresting protesters in Tyumen. The protests have taken place in over 40 Russian cities, according to the OVD-Info protest monitor as Minsk journalist Hanna Liubakova tweets, with at least 1,700 Russian anti-war protesters having been arrested. 
Police are detaining anti-war protesters in Moscow, after Russia launched a major military offensive in Ukraine.

Protests reportedly broke out in several cities, with police "arresting everyone." Authorities warned of criminal prosecution against protesters for "public order." pic.twitter.com/lNmJ2SBBVU

— AJ+ (@ajplus) February 24, 2022
Since this morning, Russian celebrities have been publicly announcing their opposition to the invasion, posting black squares in protest on instagram. 
Petitions have also gained traction, with one signed by a hundred journalists, and one signed by more than 300 Russian scientists and scientific journalists. 
According to the open letter published by the EU reporter, the science community of Russia declares "a strong protest against the hostilities launched by the armed forces of our country on the territory of Ukraine." In what has been considered a brave move, they suggest that "this fatal step leads to huge human losses and undermines the foundations of the established system of international security."
Thousands of people attend an anti-war protest in Saint Petersburg, Russia.

Their bravery is humbling. pic.twitter.com/m9WN3oCDBd

— Julie Lenarz #IStandWithUkraine (@MsJulieLenarz) February 24, 2022
Economic and Cultural Fallout
Russia suspended from Eurovision  Feb 26
The European Broadcasting Union, who organise the Eurovision Song Contest, have barred Russia from participating this year following the country's invasion of Ukraine
Commodity markets experience an initial price surge that falls back the next day Feb 25
Commodity prices for oil and gas first soared on Thursday 24 February upon the news of the Russian invasion of Ukraine: Oil hit $ 105 a barrel before falling back to its normal level, while the price of gas in Europe rose 50% to € 130 per megawatt-hour, only to come back down again.
Also, the cost of wheat rose, of which Ukraine is one of the main producing and exporting countries, as well as the cost of soy, corn and oats. But in this case, as for other commodities, by Friday the panic had largely subsided.
At the close of markets on Feb 25, the price of oil was down, gold prices were holding back, although in London the stocks of metals that are more sensitive to the situation in Eastern Europe were down (nickel, palladium, aluminum) because Russia is one of the major producers on a global level.  
Financial markets recovering today after sharp fall Feb 25
European stocks closed sharply higher today Feb 25, wiping away much if not all of the losses suffered the previous day when Russia began its invasion of Ukraine.
Paris closed 3.6 percent higher, Frankfurt 3.7 percent and London 4.0 percent as Western sanctions on Russia were not as severe and disruptive as markets had anticipated. Source: AFP
Ukraine Central Bank suspends foreign exchange markets and slams cryptocurrencies Updated Feb 25 at 6:00 p.m. CET
In connection with Ukraine President Zelensky's declaration of martial law, The National Bank of Ukraine released a statement yesterday Feb. 24 with a range of resolutions suspending the foreign exchange market, including limiting cash withdrawals and prohibiting the issuance of foreign currency from retail bank accounts.
The Bank also cracked down on digital money transfers. It ordered electronic money (e-money) issuers to suspend the issuance of e-money and the replenishment of electronic wallets with e-money. The written order also indicated that the distribution of e-money was temporarily off-limits. The reference to electronic money likely aims at fiat currencies held in digital accounts through platforms like Venmo or PayPal.
JUST IN: $250 million has been liquidated from the crypto market in the past 4 hours following Russia's invasion into Ukraine

— Watcher.Guru (@WatcherGuru) February 24, 2022
As a result, many Ukrainians, to obtain needed cash, have turned to cryptocurrencies that allows them to escape the banking system. Kuna, a popular Ukrainian crypto exchange, shows that domestic buyers are paying a premium for Tether's USDT stablecoin, which is pegged to the price of the U.S. dollar. "We don't trust the government. We don't trust the banking system. We don't trust the local currency," said Michael Chobanian, founder of Kuna, in an interview with Coindesk. "The majority of people have nothing else to choose apart from crypto."
Before the Russian attack, Ukraine had plans to set up a legal cryptocurrency market. Zelensky had signed a law in 2021 that would allow Ukraine's central bank to issue its own digital currency, and the president and parliament recently came to terms on a law to legalize and regulate cryptocurrency. For now, those plans are on hold.
Financial markets in turmoil Feb 24 at 4:30 p.m. CET 
Oil prices broke above $100 a barrel for the first time since 2014, stock markets slumped globally and the rouble hit a record low today, Reuters reports.
Germany's DAX (.GDAXI) fell 5%, bearing the brunt of the sell-off due to heavy reliance on Russian energy supplies and the amounts its companies sell to Russia. The surge in oil prices helped limit losses on Britain's commodity-heavy FTSE 100 (.FTSE), although it still slumped 3.3%.
Violent reactions in the stock marketrs around the world were as expected. The global equity rout started with a 2.6% dive for pan-Asian indexes (.MIAP00000PUS). Europe's STOXX 600 index (.STOXX) then fell 4%, hitting its lowest since May 2021 and Wall Street's S&P 500 and Dow Jones indexes opened down 2.5%. Wall Street's early flop also meant the tech-heavy Nasdaq (.IXIC) was shoved firmly into "bear" market territory as it tumbled 3.5% in early trading.
Russia's markets, in fact, were roiled as the rouble weakened nearly 7% to an unprecedented 86.98 per dollar and there were record 40% falls on the Moscow stock exchange (.IMOEX). Trading was suspended early on. Russia and Kyiv's central banks tried to step in but with relative success so far.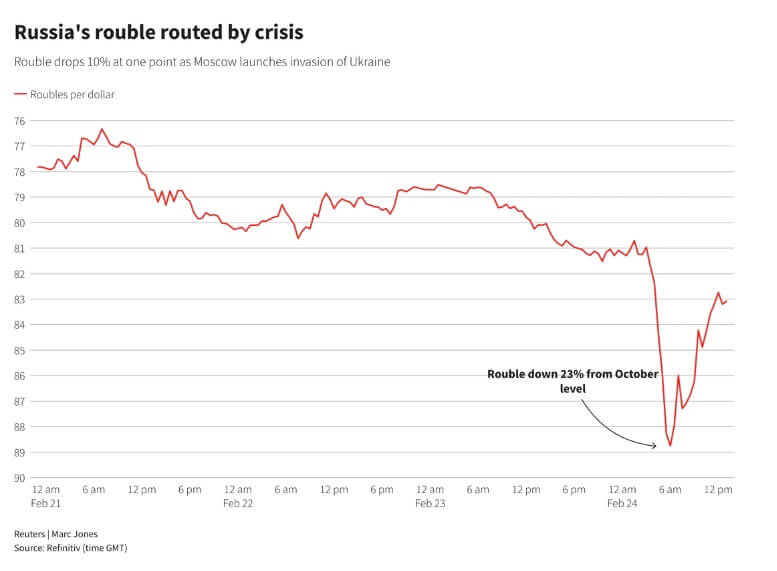 Ukraine was also forced to suspend trading in its currency as its bonds crashed violently because investors were betting on the government defaulting again, as it did after Russia's 2014 annexation of Crimea.
As always, investors searched for safety and privileged top-rated government bonds that rallied strongly along with other strong currencies that offered shelter like the dollar, Swiss franc, Japanese yen and gold. In the major FX markets, the dollar was up 0.5% against a basket of other top currencies.
Hans Peterson, global head of asset allocation at SEB investment management said that all this was happening in "a phase of the business cycle that is quite strong," and noted how high energy and commodity prices will now go is also crucial.
Fears Russia will now squeeze global energy markets saw Brent futures jump more than 8% past $100 a barrel for the first time since September 2014. Nearly 40% of the European Union's natural gas and 26% of its crude oil comes from Russia. And that, as mentioned in a previous Impakter article is indeedEurope's Achilles heel.
Report on Status of Invasion