During the two-day talks that began at France's historic Versailles Palace yesterday,  the EU leaders examined a series of policy moves arising from the war in Ukraine, from tightening sanctions to accelerating the new energy plan in order to lessen Europe's dependence on Russian gas and oil. Among the issues to be considered was the demand by Ukraine President Zelinskyy to be admitted with an accelerated procedure as a candidate country to the European Union. 
Dutch Prime Minister Mark Rutte emphasised during the meeting that a speedy path to block membership was impossible. "There is no such thing as a fast track," Rutte said. "I want to focus on what we can do for Volodymyr Zelenskyy tonight, tomorrow, and EU accession of Ukraine is something for the long-term — if at all," he argued.

A joint statement from the EU leaders was released early this morning, saying that the European Council has "acted swiftly" and invited the European Commission to submit its opinion on Ukraine's application for membership "in accordance with the relevant provisions of the Treaties."
"Pending this and without delay, we will further strengthen our bonds and deepen our partnership to support Ukraine in pursuing its European path. Ukraine belongs to our European family," the EU statement argues.

In order to join the European Union, a country needs to follow a process that often takes years and requires meeting strict criteria from economic stability to rooting out corruption to respecting liberal human rights.

"Can we open a membership procedure with a country at war? I don't think so. Can we shut the door and say: 'never'? It would be unfair. Can we forget about the balance points in that region? Let's be cautious", said French President Emmanuel Macron, based on a source from Reuters.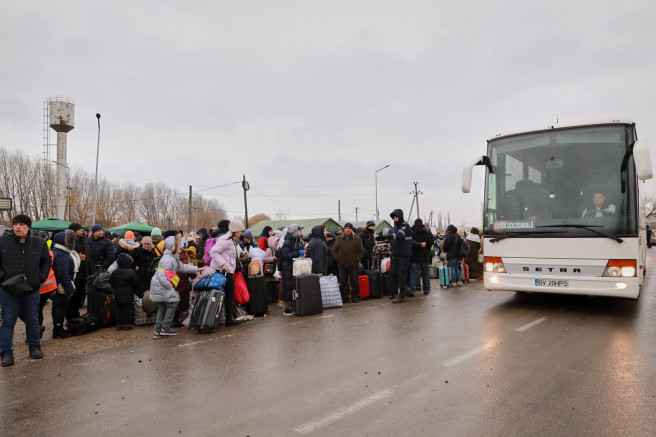 However, the main topic during Thursdays' talks was to urgently explore ways to sustain Europe's self-reliance, in particular on energy. The European Union is heavily reliant on Russian gas and oil with 40% of total gas in Europe coming from the nation.
As Russia continues to invade Ukraine and gas prices increase worldwide, the EU is urgently trying to cut ties with Russian oil and gas and scrambling to find a solution to save the EU gas market.

Together with new solar and wind energy sites, the EU is aiming to use alternative sources for energy, such as biomass sources and is looking to build Hydrogen Accelerators to develop necessary infrastructure and storage capacities for the uptake of green hydrogen —  produced by an electrolyzer powered with wind and solar energy.
According to the meeting's final draft declaration, the 27 leaders will cautiously agree to "phase out" the bloc's dependency on Russian gas, oil and coal. The EU should stop using Russian fossil fuels by 2027, von der Leyen states, adding that she would propose a roadmap for that in mid-May.
The war in Ukraine has led to a dramatic spike in energy prices. As a result, European Commission President Ursula von der Leyen has been asked to lay out proposals for emergency measures, such as temporary price caps, by the end of March. "Strategic autonomy" is the EU's goal.

As argued by Macron; "The war in Ukraine is an immense trauma… But it is also most definitely something which is going to lead us to completely redefine the structure of Europe."
At the end of the day, the 27 issued a statement confirming that no fast-track procedure would be put in place for Ukraine to enter the EU and there's nothing more than a diplomatic welcoming gesture that eventually Ukraine might be accepted. On the other hand, the EU announced it would strengthen sanctions – although it was clearly not ready to cut off gas and oil imports from Russia. The only positive measure: an additional €500 million for military aid to Ukraine.
---
Editor's Note: The opinions expressed here by Impakter.com columnists are their own, not those of Impakter.com. — In the Featured Photo: The European Parliament. Featured Photo Credit: EuropeActive.