This article is part of our Editorial Series called "GFAR impakters". This is done in partnership with GFAR – The Global Forum on Agricultural Research and Innovation  – For more follow on Twitter: #GFARImpakters or view here.
---
Eradicating Hunger Through Youth Led Agriculture Extension in Rwanda
Agriculture is an economic backbone activity for most of a developing country and has contributed a lot to the living conditions of the population. However, this activity has not reached the point of feeding people to the elimination of hunger. The rapid population growth poses a conundrum for many African countries and a UN's report says that across 47 countries, of which 33 are in Africa designated by the United Nations as the least developed countries, population is expected to nearly double from 1 billion in 2017 to 1.9 billion by 2050, which means more people to feed, more farm produce needed.
Working towards contributing to the SDG Goal 2 of ending hunger, achieving food security, improving nutrition and promoting sustainable agriculture, YEAN (Youth Engagement in Agriculture Network) is connecting the Youth dominated population with an Agriculture dominated economy to unlock the youth potential to serve Agriculture to be a stable source of income and job creation to Rwandan Youth; and it's doing this by transforming traditional subsistence agriculture into agribusiness through youth innovations as a skilled and powerful weapon for leading the change toward sustainable livelihood.
Agriculture presents thousands of untapped opportunities that need involvement of energetic and innovative youth to boost the sector and contribute to a food secure population.
In the Photo: YEAN official logo. Photo Credit: YEAN
A Farmer and Youth Centered Agriculture Extension
Agriculture has been perceived as a poor economic activity due to the negative stigma created around farmers. Introducing the topic about youth and their engagement in Agriculture is not an easy relationship to define when you mean a professional agriculture. Most of Rwandan farmers are of subsistence agriculture and from its perception, owing to the level of living conditions of a farmer, there is a negative picture that agriculture operators had from many decades ago that created a repulsive force to young farmers who want to join agriculture—most of whom are gravitating toward other socially acceptable sectors. It's a challenge that YEAN has been handling since 2014 by proving the amazing side of the sector, and we hope for the best to bring the potential energy of the country to serve agriculture as a new generation of young and fresh professional farmers by feeding them with accurate and full information of what's needed to produce, process and market Agriculture produce.
YEAN works to maximize the social impact, our aim is key to our success. Over four years, YEAN worked hard to define and find out what a community of farmers needs to improve the productivity and linkage to the market. A well timely given information is our key message to keep farmers informed about new farming techniques, agro-inputs, prices, investors and weather conditions.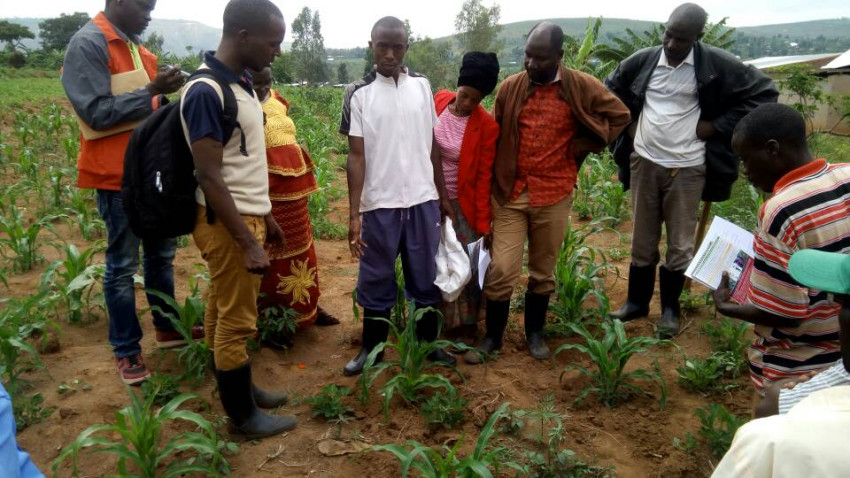 In the Photo: In field educating and informing farmers to improve yield. Photo Credit: YEAN
We believe that the transfer of technology and skills from content owners and researchers to farmers is a key solution to gaps we have in accessing what's needed to go professional in farming activities. A new approach of our youth field extension agents and YEAN Community of Farmers coordinators is enabling us to meet farmers for an on field guided technical application and is bringing our youth together for Agriculture development.
As a result, Agriculture is today a source of pride for thousands of Rwandan youth and we believe that as time goes on we will only keep bringing onboard more young farmers. Our enterprise is a youth led organization and our philosophy says that only youth can tailor well what entertains youth in Agriculture. Our Shared information is now reaching around 6,500 young farmers and agronomists with 1,000 fully registered YEAN Community of Farmers members.
A Digital Virtual Network Brought Success to Agriculture Extension
YEAN community of Farmers is a country wide community. Whenever information is shared on YEAN Platforms, it's spread throughout the country. Farmers are committed to share information directly from YEAN platforms or from any remote farm once the owners are connected to the YEAN Community. Information is shared free of charge and any Community member has access to it. By here you will find every morning a farmer from a given corner of the country asking how is the weather forecast, the market trend, where can he/she finds inputs, sharing pictures taken from their farms, asking for advice for pests and diseases control. It's a nice approach for remotely located farmers to have direct access to experts breaking social barriers using smartphones, internet and social media.
---
Related Articles: 

"THE FUTURE OF AGRICULTURE: DATA DRIVEN FARMING WITH GRAINSENSE"
"HOW DO WE REFRAME AGRICULTURE? THE CASE OF UGANDA"
by Sean Patrick 
---
Members of the youth are those who use technology the most. Taking advantage of this, we want technology to serve both Agriculture and the youth in a strategic way that attracts young people to farming. Rwanda—demographically a young country with around 70 percent of the population employed in agriculture—should strengthen and empower young people to become farmers capable of feeding the country today and in the future. YEAN and partners have developed a communication channel through social media that allows people to learn from others by a virtual communication and we are working hard to develop infrastructures that allow farmers to exchange ideas and access information, markets and finances.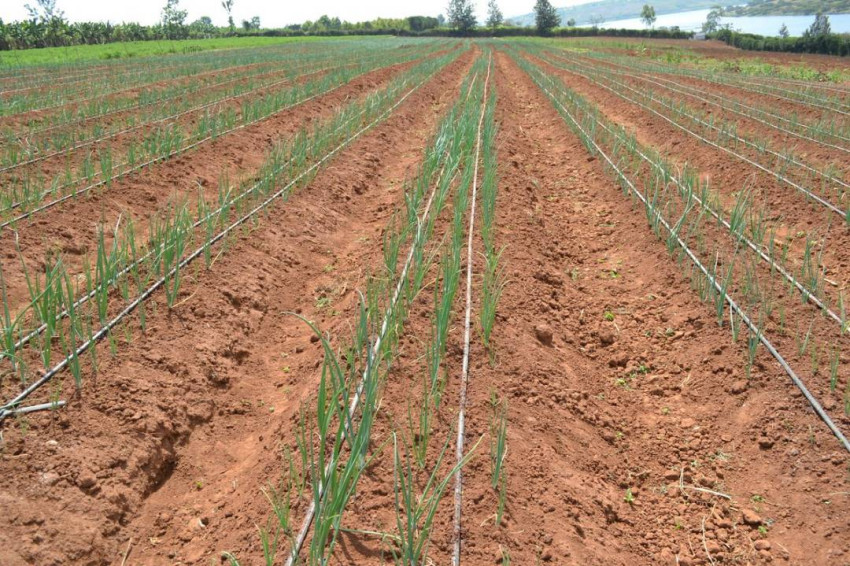 In the Photo:  Online discussions connects farmers to modern farming techniques and help them to adapt their activities, an Onion Farm In Rwamagana. Photo Credit: YEAN
How We Serve Farmers
YEAN Activities are divided into three programs: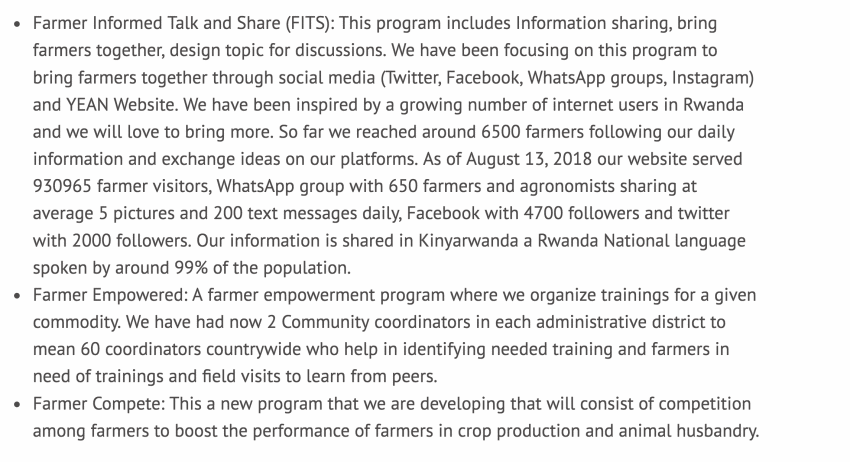 Sustainable impact
From the time YEAN started to lead the interaction between Farmers communities, a lot of information has been shared. The major challenge is that there is a significant gap in transferring or communicating scientific information from owners to farmers. We couldn't say that it is a failure on any of two sides but we can suggest that this gap should be taken into consideration. We did our best to involve more scientific researchers in our information system and we will approach more public research institutions and universities. We appreciate farmers for their inspirational ideas and for speaking out where needed, as well as for being focused on the research and giving feedback to researchers.
Youth are now competitive and they're showing great love for agriculture; they are no longer ashamed of sharing farming pictures on their social media or taking selfies on their farms and this, in itself, is quite impressive.
We are pleased by the feedback from YEAN Community of farmers, where people are saying that they are being inspired by information being shared by their peers and that some of them have successfully started farming activities. Youth are now competitive and they're showing great love for agriculture; they are no longer ashamed of sharing farming pictures on their social media or taking selfies on their farms and this, in itself, is quite impressive.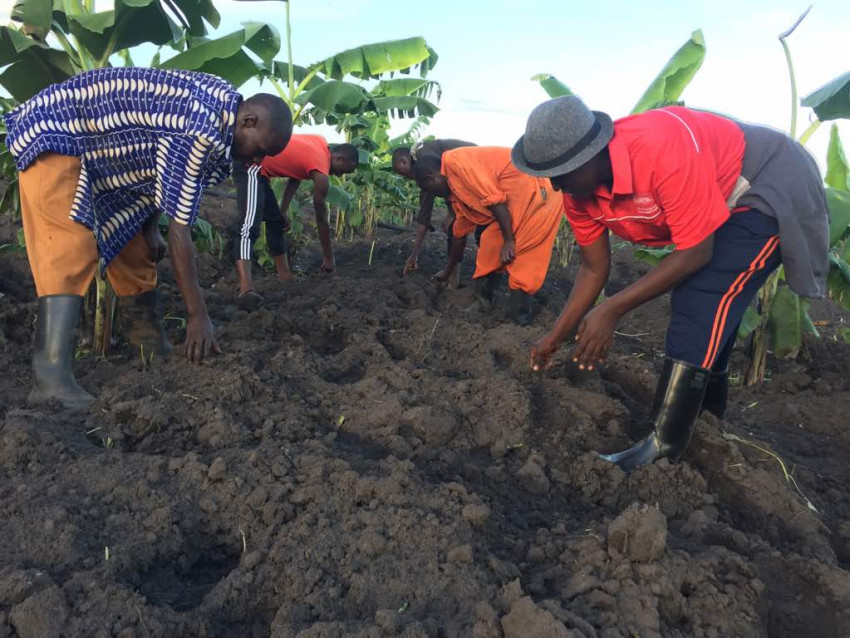 In the Photo: YEAN beleives in Youth potentials to transform Agriculture by helping farmers understand well how to maximize the farm yield. Photo Credit: YEAN
Youth is the hope of the country, and we are glad that our country sees youth as the main transformative energy for what a country need to achieve. YEAN is in the heart of rural and urban farmers and agronomists, it is for them another Encyclopedia for Agriculture and whenever anything escapes the mind, it's very easy to get it back by dropping a message into the YEAN community WhatsApp group and get hundreds of feedbacks. This is an amazing community we have never had.
---
Editors Note: The opinions expressed here by Impakter.com columnists are their own, not those of Impakter.com  Featured Photo Credit: Johny Goerend