On Monday, September 26, the Nord Stream gas pipeline's operator reported a sudden drop in pressure overnight. A statement by a Danish Energy Authority spokesperson soon revealed that the Nord Stream 2 pipeline was leaking. 
The Danish military published footage from the site of the leak on Nord Stream. pic.twitter.com/OgoXeWPDSF

— NEXTA (@nexta_tv) September 27, 2022
The parallel Nord Stream 1 pipeline had two further breaches on Tuesday, and today the Swedish coast guard reported another, fourth leak.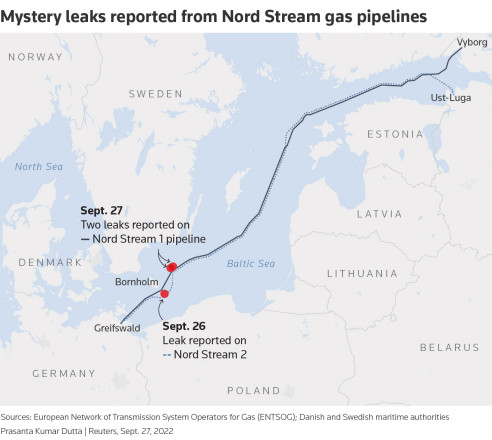 Even though neither pipeline was in operation when the leaks were discovered, both were packed with gas that has been spilling into the water since Monday. 
In the period leading up to the war in Ukraine, Nord Stream 1 was responsible for around 40% of all Russian gas supplies to Europe; at the time, about 40% of the EU's gas imports came from Russia. 
Nord Stream 1 was used to transport gas from Russia to Germany (and from there to the rest of Europe). No gas has flowed through Nord Stream 1 ever since Gazprom shut down the pipeline in early September.
Nord Stream 2, on the other hand, never even began operations. The multi-billion dollar project – launched by Russia and European partners – was halted after Russia invaded Ukraine in February.
The three spills discovered on Monday and Tuesday occurred on the Nord Stream 1 and Nord Stream 2 pipelines, in Danish and Swedish waters. The two reported on Nord Stream 1 involved an area of turbulence that was almost 700 metres long.
The fourth leak, discovered today by the Swedish coastguards, is the second one in Swedish waters.
"There are two emission sites in Sweden's exclusive economic zone, the bigger one above the Nord Stream 1 and a smaller one by Nord Stream 2," writes Sweden's coastguard in a statement.
Swedish authorities have released a new video from the Nord Stream gas leaks.

Doesn't look great. pic.twitter.com/JeEg39cnt1

— Visegrád 24 (@visegrad24) September 29, 2022
What caused the leaks?
The theory that the leak was caused by an undersea earthquake was refuted by a seismologist at Swedish Uppsala University Bjorn Lund, who said: 
"We know very well what an underwater explosion looks like. There is no question that this is not an earthquake in this instance." 
European authorities instead speculate sabotage caused the leaks.
As a professor at Swedish KTH Royal Institute of Technology Per Högselius points out, "We will probably never get to know who blew up the Nord Stream pipeline."
What we do know so far is that both Russia and America are denying accusations that they were behind the sabotage; the Kremlin claims sabotage is a possibility while the US says it's too early to tell.
"The jury is still out," a senior US military official told Reuters. "Many of our partners, I think, have determined or believe it is sabotage. I'm just — I'm not at the point where I can tell you one way or the other." 
"We were absolutely not involved," the official added. 
Apart from denying accusations of being involved, Russia has meanwhile insisted on the "need for a comprehensive and objective examination of the circumstances of the unprecedented attacks on Russian pipelines."
This morning, the Russian embassy in Washington accused the US of using "non-market methods and sanctions" to "squeeze out" Russia from the energy market. 
Russian officials have also been pointing to the dramatic rise in earnings of American gas suppliers to Europe and arguing that the territories where the leaks happened are "fully under the control" of NATO and American intelligence agencies. 
Russia's foreign ministry has said that leaks on the Nord Stream pipelines were in a zone controlled by US intelligence services https://t.co/VE8PsB2CBk pic.twitter.com/cLFQpkBqqZ

— Al Jazeera English (@AJEnglish) September 29, 2022
"It happened in the trade and economic zones of Denmark and Sweden. There are NATO-centric countries […] They are countries that are completely controlled by the U.S. intelligence services," Russian Foreign Ministry spokesperson Maria Zakharova said today (without providing evidence). 
In his declaration on behalf of the EU, Josep Borrell, the bloc's foreign affairs chief, wrote, "Any deliberate disruption of European energy infrastructure is utterly unacceptable and will be met with a robust and united response."
Borell added that sabotage was likely but fell short of naming potential perpetrators or motives.
Declaration of @JosepBorrellF on behalf of the EU 🇪🇺 on leaks in the Nord Stream gas pipelines.

Any deliberate disruption of European energy infrastructure is utterly unacceptable and will be met with a robust and united response.

Read the declaration 👇🏻https://t.co/yaB0CZo8xQ

— EU Council Press (@EUCouncilPress) September 28, 2022
Who is investigating the leaks?
Investigations are being conducted by the police, armed forces, coast guards, maritime authorities, and energy agencies from Sweden, Germany, and Denmark. 
The Swedish Prosecution Authority announced that it will examine the evidence from a police inquiry into the damage to the pipes before deciding what to do next. 
Jens Stoltenberg, the general secretary of NATO and Denmark's former defence minister, said it may be a week or even two before the region around the damaged pipelines was calm enough to be examined. Danish authorities gave the same estimate. 
NEW: 'One Or Two Weeks' Before Nord Stream Leaks Can Be Inspected: Denmarkhttps://t.co/NnGuSkcZQx

— Insider Paper (@TheInsiderPaper) September 29, 2022
What are the potential impacts?
The greatest gas leak, according to Denmark's armed forces, generated a surface disturbance that was well over 1 km (0.6 miles) in diameter, forcing authorities to warn vessels to avoid the region. 
Despite the fact that neither pipeline was in service, both held natural gas that is still leaking and that is largely composed of methane – a potent greenhouse gas that is the second biggest cause of climate change after CO2. 
There are other significant pipelines that connect Russia to Europe, but their volumes have steadily decreased.
---
---
Since the beginning of the year, flows through the Yamal-Europe pipeline, which historically carried gas from Russia to Europe, have been shifting eastward to Poland from Germany. 
After Ukraine shut off one gas transit route in May, accusing occupying Russian forces of interfering, supplies via pipelines connecting Russia to Europe have also plummeted.
In response to the leaks and claims of drone activity in the North Sea, Norway said that security at its oil and gas sites would be strengthened, while Danish authorities requested the degree of preparation in the country's power and gas sector be increased.
After Nord Stream 1 was shut down earlier this month, numerous significant European gas purchasers with contracts with Gazprom had their supplies cut off, including Germany's Uniper, Austria's Mineral Oil Administration Stock Company, Italy's Ente Nazionale Idrocarburi, and Rheinisch-Westfälisches Elektrizitätswerk.
Previously, when the Kremlin's demand to switch to rouble payments was refused, Russia cut off gas supplies to Bulgaria, Finland, Poland, Denmark, Dutch company Gasterra, and Shell for its German contracts.
What can Europe do?
President of the European Commission Ursula Von Der Leyen vowed that "any deliberate disruption of active European energy infrastructure is unacceptable and will lead to the strongest possible response."
The damage to the Nord Stream 1 and 2 pipelines that has led to leaks in the international seas of the Baltic Sea significantly concerns the European Union. 
"The protection of the environment and safety are top priorities. These occurrences are not random and have an impact on everyone," write the EU's High Representatives in a declaration. 
Some of those other occurrences include the numerous explosions in Bulgarian weapons depots, the murder in Berlin's Tiergarten park in 2019, which a court said was carried out on the order of the Russian state, and the Polonium and Novichok poisonings in the UK, all of which suffered few consequences as a result.
The EU's only tangible reaction to such sabotage, even if it discovered the perpetrators, would be to apply more economic penalties. According to officials, the member states' national governments and security agencies were now the key players.
The union has around 450 million citizens and is one of the greatest economies in the world. It is a sign of the union's weakness that when attacked, it has no method of investigating it, much less taking action, and that it must instead rely on its members states. 
Security alert and pipeline infrastructure
After officials issued a warning that unidentifiable drones had been spotted over Norwegian oil and gas platforms, nations around Europe began rushing to protect their pipelines, cables, drilling platforms, and LNG terminals. 
The security alert level around Norway's platforms, for instance, was upgraded since Monday.
The explosions occurred soon before the formal opening on Tuesday of a new pipeline linking Poland and Norway across the Baltic Sea, serving as another warning of what is at danger.
After speaking with NATO Chief Jens Stoltenberg, Denmark's defence minister Morten Bodskov stated that there was cause for concern about the region's security situation. 
"Russia has a significant military presence in the Baltic Sea region and we expect them to continue their sabre-rattling," Bodskov said.
While there were conflicting opinions on repairs, Bodskov said it may take a week or two before the areas near the leaks are calm enough to be inspected. 
According to government sources cited in the German Newspaper Tagesspiegel, German security authorities worry that Nord Stream 1 won't be useful if big amounts of salt water flow into the pipelines, which might cause corrosion.
The damage has been described as "unprecedented" by operator Nord Stream, although Gazprom declined to comment.
While neither pipeline was pumping gas at the time of the alleged explosions, hopes are now shattered that Europe may obtain at least some gas through Nord Stream 1 before winter. 
There are also worries regarding gas sent through Ukraine. Earlier this week, Gazprom stated that while it would reject all of Naftogaz's claims in the arbitration, if the business went forward with the lawsuit, fines may be introduced. 
"The risk is that these flows come to a complete halt, which will only tighten up the European market further as we move towards the heating season," the ING analysts added.
After the leaks were made public, gas prices in Europe increased. On Wednesday, the standard Dutch price for October increased by 11%. Despite being below this year's peaks, prices are still more than 200% higher than they were in early September 2021.
---
Editor's Note: The opinions expressed here by the authors are their own, not those of Impakter.com — In the Featured Photo: Nord Stream pipeline gas leak at the Baltic Sea. Featured Photo Credit: Flickr/Public Domain.