There are so many types of yoga it can be difficult to find a practice that serves you best. There is Hatha, Ashtanga, Iyengar, Power, Vinyasa, and hybrid combinations to name a few. Originally from the Sanskrit, Yoga or the root form "yuj" means to unite. Yoga is beyond trendy, this form of physical and mental exercise has been cited in written records as early as the 6th Century BCE. Known for its many benefits from maintaining balance, improving flexibility, and building muscle strength to protecting your posture and helping you focus, Yoga is a practice that can be suitable for anyone at any level. Shedding light on the basics of practice and and introducing us to another unique practice known as ACROVINYASA™,  Honza and Claudine Lafond specialize in generating community and 'finding your bliss' in your personal practice. Regardless of the practice you choose, yoga is an individual journey that requires persistence, dedication, and devotion. Find a yoga studio in your area that went through a Yoga Studio Training Accreditation Program and start attending yoga classes.
How did you get involved in yoga? How did you learn, and what made you continue to the professional level?
Claudine Lafond: I grew up in New York in an extended family setting with a mix of cultures and languages. we spoke French at home and celebrated both Catholic and Jewish holidays. I am a blend of Haitian, Polish, and Americana and am very proud of who I am and where I've come from. My parents would take my brother and I across the world to Indonesia from a young age for their work in the clothing industry so we were exposed to new cultures, people and foods on a regular basis. My upbringing consisted of lots of travel and adventure. My parents instilled in me an openness and confidence that allowed me to believe that anything is possible. Honza grew up on a farm in the beautiful countryside of the Czech Republic, spending many hours playing with animals and connecting with nature. We have both always been active and healthy people. As a result, we have inherited a free spirited attitude which enabled us to connect with a great deal of ease.
My yoga journey began at 15 in Bali when I was invited to an Iyengar class in a home garden. I recall my curiosity and wonder at the beautiful, mysterious chants and my smile from ear to ear at the end of the practice.
I went back every day for the next five weeks and by the time I got back to New York, I knew that teaching would become my life's journey.
I headed straight to a teacher training once I finished college and from there, the story has unfolded into so many fascinating chapters where the learning never ends.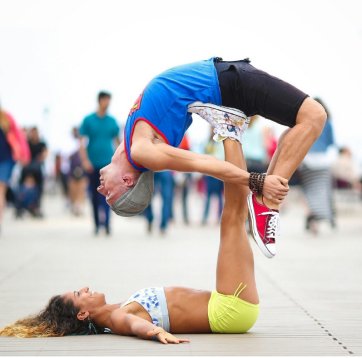 Honza Lafond: My yoga journey began with meditation. I began to ask myself the larger existential life questions that most of us ask ourselves at some point: why am I here and what is life really all about? After delving into a regular and deep period with meditation, I started exploring the physical practice of asana. I have had a personal training business for over 15 years which greatly contributed to understanding the human body and how to move with ease.
Granted, there was still a massive learning curve. It was a whole new experience compared to what I had been doing previously, but I absolutely loved it and have never looked back ever since! I saw the immense potential in offering a similar experience to what I went through. I have always loved working with people and sparking a new way in living and seeing the world.
My greatest hope is that people walk away from our classes feeling that anything is possible. When we are in control of our feelings and emotions, we can choose to literally rip our reality into being. We always aim to support students where they're at and encourage them to reach for greatness because it's there, just waiting to be unveiled. I'd like to share one of my favorite quotes that sums up this belief:
Imagination is everything, it is the preview of life's coming attraction.
– Albert Einstein
Since meeting eight years ago, we have explored many different endeavors but what has made the most sense was to find a way in which we could work together and earn a living whilst traveling the world. in choosing to do this and 'follow our bliss' as we often say we have inspired many others to 'follow their own bliss'. We also make sure to practice the gifts of yoga in our daily life. We constantly practice patience, mutual respect, contentment, non-attachment, surrender, and compassion. It is so important to be honest with yourself on and off the mat. In a relationship, this is paramount and we do our best to do our work and practice our yoga every day.
In 2012, we formed our company, YogaBeyond, a brand built on the practice of yoga, trust, and community. Our desire to spread the message of yoga far beyond the existing yoga communities, led us to find our voice within the world of social media. With daily inspirational and educational posts of our practice on Instagram and Facebook, we have attracted a worldwide audience of over 400,000 followers. This creative platform has provided wondrous opportunities that has allowed us to travel the world and share what we love to do. We connect with people from all corners of the world on a daily basis through our social media platforms and also have the chance to do this in person with communities around the planet.
We feel so grateful to have carved out a reality for ourselves that feels like a dream come true. As we have developed, so has our practice and our offering. We have been working together for over two years and it has been a blissed and blessed ride so far. We love all forms of movement and were driven to create something that fused the elements of the things we love most: vinyasa yoga, inversion training, and acroyoga. We spent countless hours exploring how we could blend these elements together and have found a very successful way to do so.
No matter what you have done in the past or will do in the future, there is never a better time to start than right now. You will surprise yourself with what you think you may be capable of and you'll never know what you can do until you begin!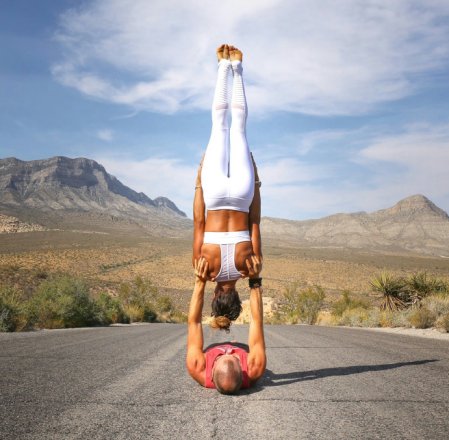 When did you realize that pursuing yoga was your dream? Did you ever feel discouraged, if so, why and how did you overcome it?
C.L.: We both knew early on that we were passionate about yoga. When we decided to start YogaBeyond, we had both removed the obstacles in our mind that it would be difficult or that it wouldn't be successful.
HL: Claudine had already been teaching yoga full time for many years and I had my personal training business, both of which were well established and supporting us well. When I returned from Nepal several years ago, I knew that we were meant to create something together. We chose to create this brand as a passion project to document our practice, try something new, and to inspire others to do the same. It was not about the money, it was about creating something that we were adamant about sharing. There are many ways to create abundance and we have realized that money is not the only way. When you stay open to connections and signs from the world around you, you never know where they may lead.
---
Related articles: "ORGANIC BRI" 
"FITNESS IS A PRIVILEGE: INTERVIEW WITH OLYMPIC WEIGHTLIFTER CAMILLE BROWN" 
---
If a stranger was wondering whether or not he or she should pursue yoga, what would you say to convince them to try it?
C.L.: We would say that you begin where you are. No matter what you have done in the past or will do in the future, there is never a better time to start than right now. You will surprise yourself with what you think you may be capable of and you'll never know what you can do until you begin! There is always more to learn on the path of yoga and that's also what makes it so exciting. Approach the practice with patience and benevolent curiosity and watch what happens!
What is the key to your success?
Creativity. Persistence. Perseverance. It's important to always follow your dream or an intuition you have about anything in life. We would rather ponder new ideas, chart new territories, take the ride, see what unfolds and fail at all costs instead of wondering what would have happened if we had just played it safe. Do not let fear stand in your way of achieving success. We must always be willing to take a chance and investigate all possibilities otherwise, we may miss out on the best experiences!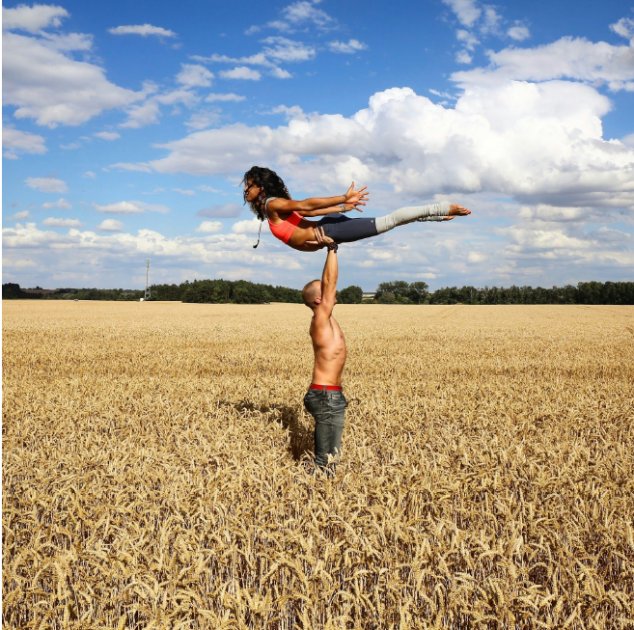 If you could re-live your life, would you choose the exact same process you did to achieve your dreams?
C.L.: Absolutely! If we chose to change anything, we would not have arrived at where we are today.
Do you have any regrets? Or did you have any fears entering into the yoga lifestyle?
C.L.: We chose to see every experience as beautiful life lessons, so there are no regrets. As we immersed ourselves more fully into the yoga lifestyle we have been blown away by the quality of people that we meet. They may not all be very business savvy, but they have all been impacted by the yoga practice on some level and as a result, there is so much kindness, sincerity, and love that is palpable in this worldwide community and we are very grateful to be a part of it.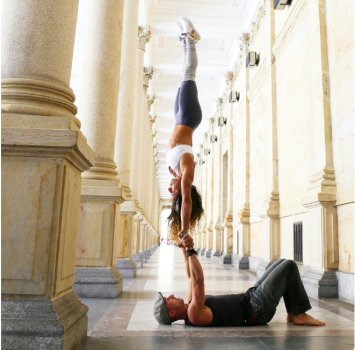 Were you ever pursuing a career path other than yoga? If so, what was it?
H.L.: Claudine has been clear for a long time about what her career path would be. She has been an avid yogi for over 15 years. I have had many life paths before arriving where I am now. Previous to teaching yoga, I had a successful personal training business for nearly 15 years followed by working as a futures trader for several years. I have always been passionate about numbers and the mindset around trading was fascinating to me. I feel that I could have been very successful in that industry, but ultimately, I decided to choose a path that would make me happy on a regular basis, with less stress and to create a life that would give me a consistent level of freedom and joy.
Can you describe your unique style of yoga?
C.L.: Our intention is to inspire playfulness and community, as we teach adults how to reconnect with the child within. We are all searching for deeper connection and our goals are based strongly around encouraging this opportunity to connect the global community. ACROVINYASA™ takes yoga from earth to air. Uniting elements of vinyasa, acroyoga, and inversion training, this practice cultivates trust and community in a powerful way. The core of ACROVINYASA™ is focused on synchronizing breath in movement, building strength, and finding balance. Inspired by traditional yoga asanas and L-based acrobatic flying, this progressive toga system includes both solo and partner practice. The aerial part revolves around one partner (the base) supporting the other (the flyer) in flying through the air in a sequenced series of yoga postures. Bringing a refreshingly playful approach to an ancient tradition, ACROVINYASA™ feels more like a dance with gravity than physical exercise. Getting inverted with a partner is very empowering especially for people who may be fearful of supporting or being supported by others.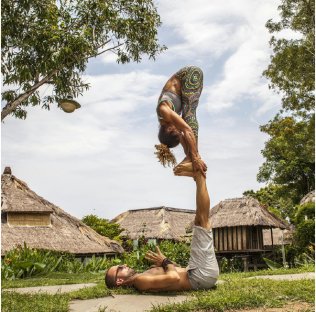 The necessary component for students learning the practice for the first time is the role of a spotter, who makes sure both base and flyer stay safe and properly aligned. The base lies flat on their back supporting the flyer's weight with extended legs and arms. When students learn proper stacking (vertical bone alignment), they can start balancing more than just their own weight. Regular practice and proper technique allows even a smaller person to skillfully base a larger flyer. This practice derives techniques from traditional yoga streams with the intent to build meaningful human connection within a global community. Learning to trust, clearly communicate, give and receive are some of the deeper benefits. In short, ACROVINYASA™ offers a dynamic expansion beyond your solo practice.
We have systematically organized this practice into two flows LEVEL 1 and LEVEL 2 consisting of 180 postures (90 yoga and 90 acro). We share the practice not only in classes and workshops around the world, but also with our global online community through our daily #ACROVINYASA Instagram Challenge. Follow us on Instagram @YogaBeyond and @ACROVINYASA and join in on the fun!
Within the world of yoga there is a greater connection to breath and meditation, and therefore to consciousness and compassionate connections.
Our practice in particular is designed to bridge the gap between the world of yoga and L-based flying in acrobatics. Within the world of yoga there is a greater connection to breath and meditation, and therefore to consciousness and compassionate connections. Both practices are about working on the individual to be a stronger part of a team or community. The two practices compliment each other in a beautiful way.
This practice is accessible to everyone! We have intentionally designed sequences that allow any body to experience ACROVINYASA™. We would encourage anyone to start with the basics and explore more from there. We never know what is possible until we try!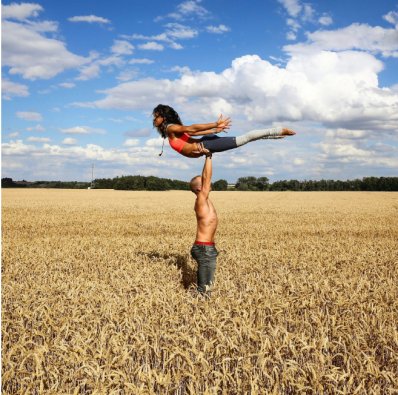 What are the differences you see in yoga versus more traditional sports?
C.L.: Yoga is so much more than a traditional competitive sport. The word Yoga has become synonymous with physical exercise. The physical practice is simply one part of an eight fold path within the realm of yoga. There are layers upon layers to Yoga – self discipline, meditation, asana, pranayama, sensory withdrawal, and concentration, just to name a few. It does have a strong community aspect but ultimately yoga is a solo practice. Yoga can quickly become a lifestyle choice that encompasses food choices, behavior, interpersonal relationships, outlook, and so much more beyond the physical postures whereas traditional sports offer an outlet for physical movement, team building, and community. Yoga can be a great complimentary practice to most traditional sports. Ultimately, we feel that movement is an intrinsic part of life in staying healthy and balanced. Whatever people choose to pursue should be done with their whole heart and complete focus.
Outside of yoga, what are your other aspirations?
C.L.: We would like to write a book about the past seven years of our experiences together! Honza is a talented artist and looks forward to returning to his canvases to create more artwork.
H.L.: Claudine is passionate about food and plans to explore how she can incorporate and direct this passion into a new direction.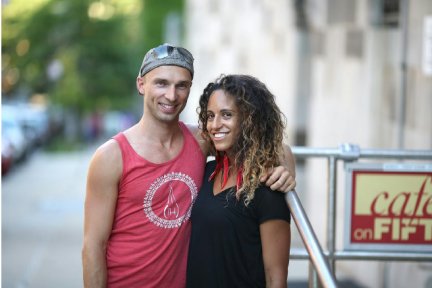 In the Photo: Honza and Claudine 
_ _
Photos courtesy of YogaBeyond.