How Countries are Working Towards Goal 8 Targets: Star-ups in Malaysia; Entrepreneurship in Haiti; Sustainable Tourism in Caribbean Countries; South Africa's Green Initiative; China's Restoration
Editor's Note: This piece is part of a series in collaboration with the SDSN-Y exploring the Sustainable Development Goals. See the introduction to the series here.
While economic development has enabled many to find jobs and overcome poverty, there are still millions of people worldwide lacking decent work and employment opportunities. The World Bank's 2015/2016 Global Monitoring Report projected that the number of people living on less than $1.90 a day would drop to 9.6% by 2015. Despite the triumph of this being 200 million fewer people living in extreme poverty compared to 2012, the report also suggests that there are still severe hurdles to eradicating extreme poverty due to a decline in world economic growth.
According to the United Nations Development Programme (UNDP) the world is now facing a global job crisis in which "an estimated 600 million productive jobs are urgently needed over the next decade to sustain growth and maintain social cohesion." In order to confront these issues and ensure the wellbeing of current and future generations, the United Nations Sustainable Development Agenda for 2030 puts forward a proposal that is presented as a key solution: the creation of so-called "decent work" that is intended to eliminate poor working conditions and foster sustainable opportunities for economic growth on a global, national and local level.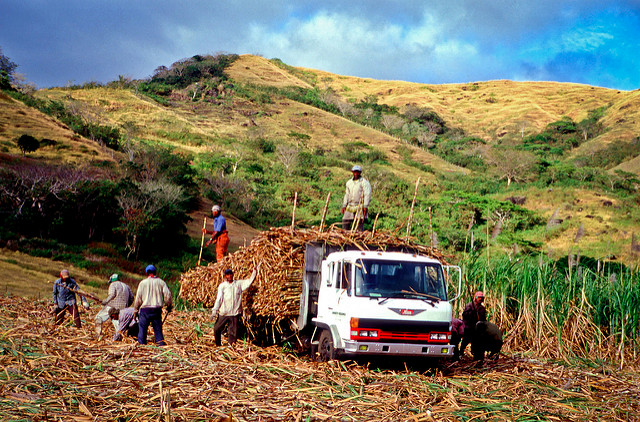 In order to encourage a holistic approach to economic development, the United Nation's 2030 Agenda for Sustainable Development Goal 8 is couched in a language that emphasizes inclusiveness. SDG 8 aims to:
"Promote sustained, inclusive and sustainable economic growth, full and productive employment and decent work for all."
As a means to reaching Goal 8's overarching mission, a broad range of policies are called for in the goal's related targets, ranging from encouraging youth employment and eradicating forced labor to fostering opportunities for entrepreneurship and promoting green economy initiatives to fight against climate change (see Box).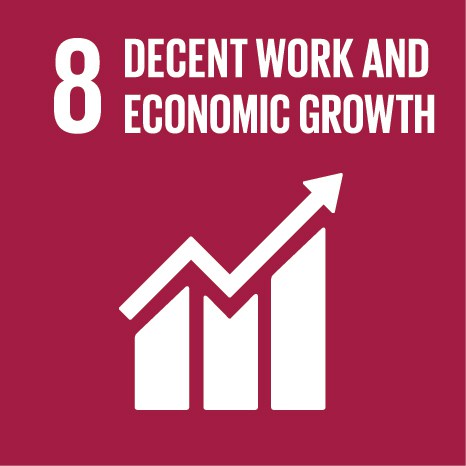 Photo Credit: United Nations
Box: Targets Related to Goal 8
1. Promote development-oriented policies that support productive activities, decent job creation, entrepreneurship, creativity and innovation, and encourage the formalization and growth of micro-, small- and medium-sized enterprises, including access to financial services;
2. Improve progressively, through 2030, global resource efficiency in consumption and production and contain environmental degradation caused by economic growth, with developed countries taking the lead;
3. By 2030, achieve full and productive employment and decent work for all women and men, including for young people and persons with disabilities, and equal pay for work of equal value;
4. By 2020, substantially reduce the proportion of youth not in employment, education or training;
5. Take immediate and effective measures to eradicate forced labor, end modern slavery and human trafficking and secure the prohibition and elimination of the worst forms of child labor, including recruitment and use of child soldiers, and by 2025 end child labor in all its forms;
6. Protect labor rights and promote safe and secure working environments for all workers, including migrant workers, in particular women migrants, and those in precarious employment;
7. By 2030, devise and implement policies to promote sustainable tourism that creates jobs and promotes local culture and products;
8. Strengthen the capacity of domestic financial institutions to encourage and expand access to banking, insurance and financial services for all;
9. Increase Aid for Trade support for developing countries, in particular least developed countries, including through the Enhanced Integrated Framework for Trade-Related Technical Assistance to Least Developed Countries;
10.   By 2020, develop and operationalize a global strategy for youth employment and implement the Global Jobs Pact of the International Labour Organization (ILO)
Despite the extensiveness of the goal's targets, there are several discrepancies that raise questions about the complexity of the targets and their ability to be achieved. While the U.N.'s Agenda strives to accomplish all 17 goals by 2030, that year is not consistent among Goal 8's targets and instead varies from 2020 to 2025 to 2030 without a clear relationship between the dates. Quantifiable terms of measurement are also not expressed by all targets, for example, target #4 calls to "substantially reduce" the number of unemployed youth without specifying an exact amount. Lastly, the areas of action do not overlap as some call for policies and others call for measures. For example, target #5 calls for "immediate and effective measures to eradicate forced labor, end modern slavery and human trafficking and secure the prohibition and elimination of the worst forms of child labor" while target #7 calls for policies that will promote "sustainable tourism," without defining or identifying the measures needed to evaluate sustainability.
---
Related articles: "SDG 3: HEALTH AND WELL-BEING IN POST-CONFLICT COUNTRIES"
---
PHOTO CREDIT: FLICKR/

MATT PAISH
While there may be inconsistencies among Goal 8's targets, the United Nations is committed to supporting its member countries in order to accomplish all the goals identified in the 2030 Agenda. The major U.N. agencies involved are:
The United Nations Development Programme: Serves to finance and monitor projects, promote job creation and support local enterprise;
The International Labour Organization (ILO): Expected by the U.N. General Assembly to monitor the targets of Goal 8, implement the Global Jobs Pact and develop strategies to fight against forced labor and encourage youth employment;
The World Trade Organization (WTO): Responsible for implementing the "Enhanced Integrated Framework for Trade-Related Technical Assistance to Least Developed Countries";
The World Tourism Organization: Promotes sustainable and responsible forms of tourism as a means for economic growth.
Since the fall of 2015, when the Sustainable Development Goals were adopted, individual countries have already made much progress on the ground. However, there are still challenges that many nations face.
What follows are some approaches that countries from various parts of the world have taken to accomplish the Goal 8 targets, which serve to illustrate the broad range of policies and measures adopted so far as well as the challenges ahead.
Approaches Around the World, from Empowering Entrepreneurs to Maximizing Resources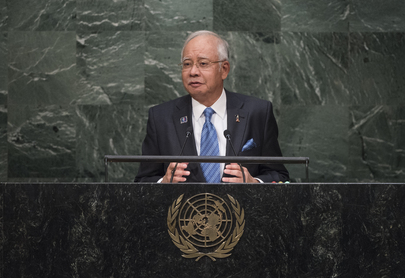 In the Photo: Prime Minister of Malaysia Addresses Summit on Sustainable Development. Photo Credit: United Nations
Malaysia – Innovation for a New Society
According to the Goal 8 targets, countries should promote development-oriented policies that "support entrepreneurship, creativity and innovation." The benefits of entrepreneurship are that it creates jobs, reduces poverty and gives countries a competitive edge in the global market. Therefore, supporting entrepreneurial endeavors can lead to positive outcomes for both local startups and a nation's overall economy.
Recognizing the profound economic benefits of entrepreneurship, the Malaysian government has made a significant effort to support local startups by allocating sufficient funding and resources for business development. Current Prime Minister, Najib Razak, identified entrepreneurship as one of the country's key strategies in driving its economic progress in Malaysia's 2015 budget. Razak pledged to support entrepreneurs by increasing funding, opening foreign market access and encouraging private investments.
The government has also initiated entrepreneurship programs to assist local startups in their development, such as, the Malaysian Global Innovation and Creativity Centre (MaGIC ). The Centre is currently working with 500 entrepreneurs to advance their businesses and position Malaysia as Asia's startup capital.
Haiti – Entrepreneurship in a Country Beset by Turmoil
While entrepreneurship may be one method to creating jobs and driving economic development, not all nations are able to support entrepreneurial initiatives due to factors such as political turmoil, economic recession, geography and cultural ideologies. Haiti, a smaller nation still recovering from the 2010 earthquake that resulted in 7.8 billion dollars worth of damages, is one nation where entrepreneurship can be a successful means to revitalizing the economy, but a lack of resources and funding brings about new challenges not as heavily felt in the developed world.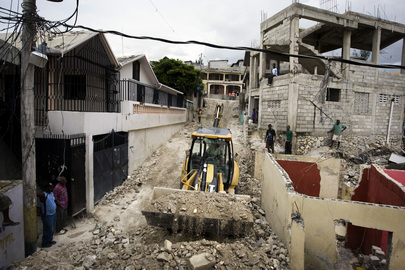 In the Photo: Port au Prince days after the 2010 earthquake Photo Credit: United Nations
For the past 14 years, Ernso Jean-Louis has been striving to improve Haiti's economic development and pursuing various paths to achieve this. After receiving a degree in electrical engineering from DeVry University and a degree in theology from Jacksonville Theological Seminary, Jean-Louis went on to develop several startups dedicated to improving the lives of Haitians and creating opportunities for jobs and education. Jean-Louis currently serves as the Vice President for GITECH S.A., a professional architecture and engineering firm based in Port-Au-Prince, and is the Executive Director of Haitian Partners for Christian Development, an organization that assists local entrepreneurs in developing their businesses as a means to reducing poverty.
Perhaps one of the most innovative of Jean-Louis's many enterprises is the Eucalyptus Village, of which he is the founder and chief executive officer. The Village offers guests the opportunity to explore Haiti while staying in a comfortable, gated guest house. Jean-Louis and his wife transformed their home into the Eucalyptus guest house in 2011 after the earthquake destroyed most of the hotels in Haiti and left many people homeless. Since then, they have had guests from all around the world and Eucalyptus Village has been voted the second best Bed and Breakfast in Port-au-Prince.
---
For a full mindmap behind this article with articles, videos, and documents see #SDG8
---
Sustainable Tourism in Caribbean Countries
While the earthquake damaged Haiti's tourism industry, many of its surrounding neighbors are still seen as extravagant, luxurious vacation destinations. However, this does not mean that these nations are without poverty or economic challenges.
Take the Dominican Republic. Although it is just on the other side of the Haitian border, it faces a very different economic situation than Haiti. While 41.1 percent of the population still lives below the poverty line (2013 data), the unemployment rate is only 14 percent compared to Haiti's rate of 40.6 percent (2010 data). This is largely explained by the fact that Haiti's economy still heavily depends on agriculture while the service industry has replaced the agricultural sector in the Dominican Republic due to an increase in construction, free trade zones and most notably, tourism. In 2013, the Dominican Republic was the most visited Caribbean nation, and today, the tourism industry is one of the leading gross domestic products (GDP) fueling the economy.
Because tourism can have such great economic benefits to developing countries, the United Nations chose to include sustainable tourism in the targets for Goal 8 and felt it could be especially beneficial to nations such as those in the Caribbean.
the goal of sustainable tourism is to provide more opportunity for local development rather than to depend on outside imports for economic stability.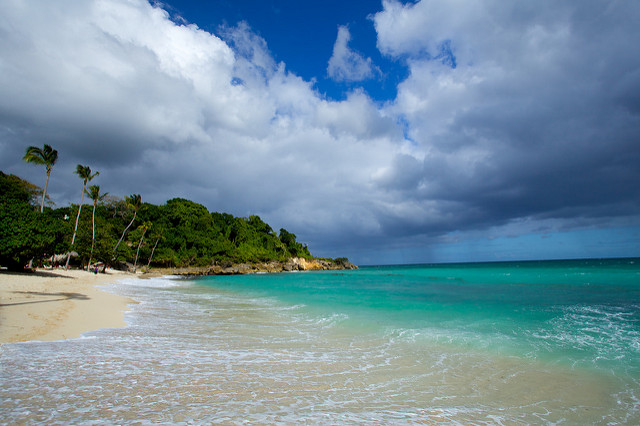 In the Photo: The Dominican Republic. Photo Credit: BRJ Inc.
According to the World Tourism Organization, sustainable tourism is defined as, "tourism that takes full account of its current and future economic, social and environmental impacts, addressing the needs of visitors, the industry, the environment and host communities." Therefore, profit is not the main objective of tourism under Sustainable Development Goal 8.
The problem is that, while many Caribbean nations have become dependent on tourism for employment and income, tourism may often be more beneficial to transnational travel hotels, cruise ships and airlines than it is to the local workers and businesses. Within these resorts, local goods are often replaced with imported Western goods, thereby constraining local economic growth, and while beautiful resorts and crystal-clear beaches may attract visitors, many tourists fail to experience the native customs and culture of their host community. Therefore, the goal of sustainable tourism is to provide more opportunity for local development rather than to depend on outside imports for economic stability.
In order to address sustainability concerns in the Caribbean, the Caribbean Tourism Organization (CTO) has partnered with several organizations within the past few years to implement new sustainable tourism developments. Sustainable Tourism Product Specialist at CTO, Gail Henry, told Global Island News that, while the process of making tourism more sustainable is still ongoing, she believes some progress has been made. In an interview with Global Island News, she said that:
We have seen development of an increasing number of tourism policies, strategic plans and initiatives that incorporate sustainability principles in countries that are vastly different, including more mature destinations, such as Barbados, Jamaica and Puerto Rico, primarily eco-tourism destinations, such as Belize and Guyana, and even in destinations with a significant focus on high-end tourism products, such as Anguilla, The Cayman Islands and the Turks and Caicos Islands.
Because of these developments, it appears that there are already efforts to making tourism in the Caribbean more sustainable, and as tourism continues to grow in these nations, hopefully so will the sustainability of the industry.
South Africa – 'Green Economies' in the Fight Against Climate Change
Despite the positive impacts that tourism and economic development can have, there are also many costs to the environment from increased energy use, competition for natural resources and construction of resorts, businesses and transportation routes.
Therefore, the United Nations feels it is of utmost importance to ensure that future economic endeavors are sustainable and aim to create a 'green economy.'
The Paris Agreement from the 2015 United Nations Conference on Climate Change highlighted how important this is and the urgency of action needed to prevent climate change. With 195 signatures from countries around the world, the greatest number of countries to ever sign an international agreement on a single day, the Paris Agreement is a sign of hope that nations will be able to work together to preserve the Earth's resources.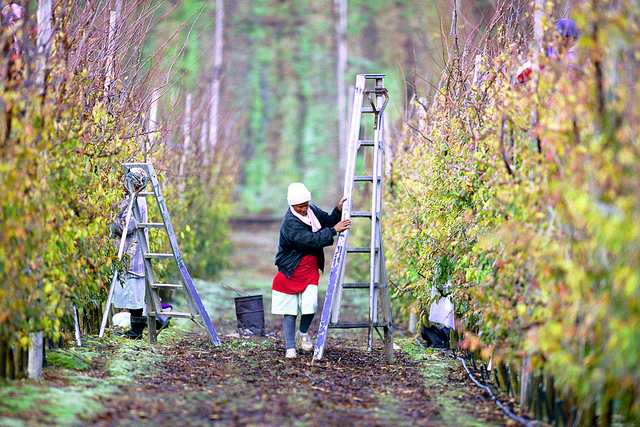 One nation that has openly expressed its commitment to the United Nations' Sustainable Development Goals is South Africa. Environmental Affairs Minister, Edna Molewa, told All Africa:
Our collective achievement of the SDGs presents a unique challenge within the next 14 years to ensure more sustainable livelihoods for billions of people, particularly for women and youth, who continue to carry a disproportionate burden brought about by poverty, unemployment and inequality.
In order to meet the goals set by the United Nations by 2030, South Africa has devised a Green Economy initiative, supported by government departments that will create green jobs and foster sustainable and efficient use of natural resources.
According to the Environmental Affairs Department of South Africa, the priorities of the sustainable development plan include:
Enhancing systems for integrated planning and implementation
Sustaining our ecosystems and using natural resources efficiently
Economic development via investing in sustainable infrastructure
Creating sustainable human settlements
Responding appropriately to emerging human development, economic and environmental challenges
Over the past few years, South Africa has initiated policies to support their transition to a green economy. In addition to the SDGs, South Africa has also devised a National Development Plan for 2030, which includes resolving their energy challenge and becoming a more sustainable nation in order to eliminate poverty and reduce inequality.
China – The Costs of Economic Expansion
While some nations are proactively trying to solve environmental problems, some nations are now on the reactive end, such as China, whose economy now faces challenges in containing the environmental damages that an urban economic transformation caused.
China is currently a global economic leader, but their success has not been achieved without sacrifice. The nation is currently the world's largest source of carbon emissions, producing more than the U.S. and Canada combined. Air pollution in northern China has decreased the life expectancy to five and a half years less than that in the south, and in 2014 the Chinese government reported that nearly 60 percent of groundwater is contaminated.
The International Monetary Fund also identified China as one of the most unequal countries in the world due to a widening gap between the rich and the poor. Economists, Serhan Cevik and Carolina Correa-Caro, were quoted in The Wall Street Journal saying that China's income disparity is largely a result of their "credit-fueled investment and export-led development model."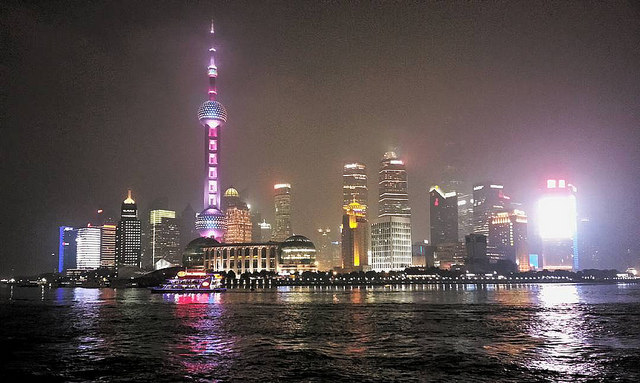 In the Photo: Shanghai, China Photo Credit: Flickr/Geof Wilson
To address these social and environmental costs, in 2013, China's National Development and Reform Commission outlined how the nation would confront climate change by 2020. Since then, the government has required fifteen thousand factories to report on their air emissions and water discharges, and in Sept. 2015, President Xi Jinping announced that China would initiate a national "cap-and-trade" program by 2017 in order to limit greenhouse gas emissions.
Since growing up in Shanghai and working in Hong Kong for 20 years as a television journalist, Rose Luqiu Luwei said that the economic development in China has been huge, but that the nation is now struggling to maintain sustainable development.
The Chinese government has started to realize and accept the reality and has told the public that they should be prepared for L development.
-Rose Luqui Luwei
In her interpretation, Luqiu said this means there will be very little chance for the economy to rebound and expects a period of unrest across the country as the government attempts to confront these challenges.
The Challenged Future Of Goal 8
While it is clear that there are initiatives in place to accomplish the economic development targets of Goal 8 by the year 2030, it is also evident that there is still much to do.
The threats of climate change and the global job crisis impose urgency on the need for more sustainable economic development, however, the targets of Goal 8 can only be met through strategic and holistic planning, not short-term solutions to long-term problems. The success of Goal 8 is not only dependent upon its own targets, but also on the success of all other 16 goals, for these goals are not independent from one another and if one fails, they all suffer. Therefore, Goal 8 plays an equally important role in eradicating extreme poverty and hunger worldwide, promoting gender equality through the promotion of equal pay for equal work, improving global health and encouraging industry innovation and sustainable infrastructure.
By working together and addressing the targets of each goal of the Sustainable Development Agenda, we can hope to achieve not only Goal 8, but also improve the wellbeing of people and our planet worldwide.
---
Recommended reading: "SUSTAINABLE TOURISM IN THE CARIBBEAN" 
---
_ _
THIS ARTICLE IS PART OF OUR SERIES IN COLLABORATION WITH THE SUSTAINABLE DEVELOPMENT SOLUTIONS NETWORK YOUTH DIVISION ON THE SUSTAINABLE DEVELOPMENT GOALS (SDGS) – #SDGSTORIES. FOLLOW THE STORIES WITH #SDGSTORIES AND LOOK FOR THE NEXT INSTALLMENT TO OUR WEEKLY SERIES TO LEARN MORE ABOUT ACHIEVING THE SDGS ACROSS THE GLOBE. WE CAN ACHIEVE THEM, AND WE MUST.
EDITOR'S NOTE: THE OPINIONS EXPRESSED HERE BY IMPAKTER.COM COLUMNISTS ARE THEIR OWN, NOT THOSE OF IMPAKTER.COM.