Canadian Dax Justin is not just any landscape photographer with a camera—he is an avid explorer, seeking to frame adventure and contain nature through a lens for self and the world. His work has been featured beyond Instagram across a number of international publications including Travel Channel, The Weather Network, and HYPEBEAST.
Can you tell me a bit about yourself and your background?
Dax Justin: My name is Dax, and I'm a Canadian explorer and adventure/landscape photographer. Prior to exploration and photography, I spent a decade in the advertising industry as a creative director and designer focused on branding. Today, I spend most of my time rogue, in the Rocky Mountains capturing photos of outdoor adventure, landscape, sports, and mountain lifestyle photos for destination marketing organizations, outdoor brands and adventure companies.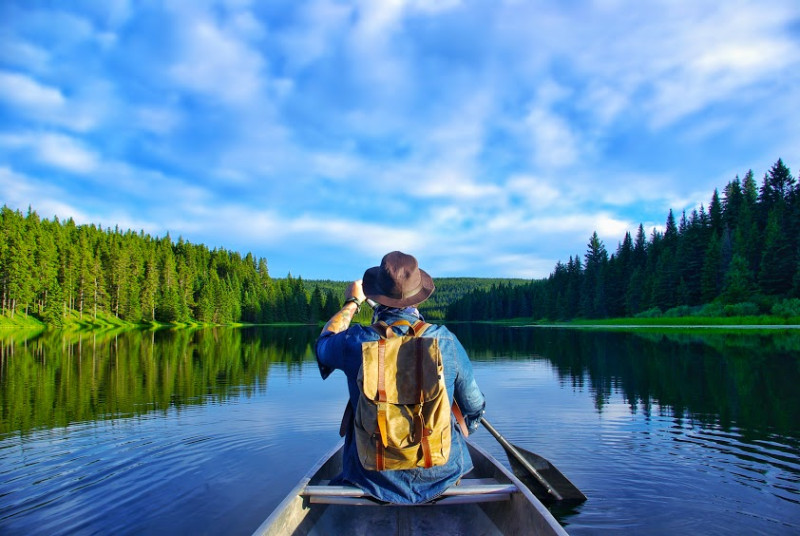 Photo Credit: Dax Justin 
With high competition and no experience, what do you think made your pictures and social media profile successful from the beginning?
D.J: Honestly, do you know what it was? Finding something that I loved and relentlessly pursuing it. It was as if nature struck me one day a couple years ago. I began photo-documenting my time in the outdoors, and since then I've felt more balanced and awakened. On the social media side of things, I have always been active and progressive on social networks, and sharing my photos and emotional moments in nature has come very naturally. It feels right. I think when you're honest, authentic, or vulnerable your audience can relate to you on a deeper level and find an emotional connection with your work and experiences.
Describe yourself with three words.
D.J: Ambitious, Creative, Audacious.
Photo Credit: Dax Justin
What's the main differences between your life now and before?
D.J: I would say the main difference is being positive. In the past, I would work 9-5, live a "normal" life, have stress, create problems, project negativity, and pout. Positivity is an interesting thing that I've been investigating for the last couple years. I truly feel that when you're positive you're mentally opening yourself up to new experiences. Negativity lingers, positivity transcends. Being a positive person doesn't mean you're never sad or never negative, it simply means you do not let the negativity control your life and opens new doors for progress.
---
Related articles: "HANNI GHARIB AND PHOTOGRAPHY: "DON'T BE AFRAID"
---
Where do you find inspiration your pictures?
D.J: I used to look through blogs, creative websites and social media feeds to get inspired, but these days I feel very differently about inspiration. I find creative inspiration a very mysterious thing. Sometimes my creativity is on full throttle, and other times I have zero inspiration and simply do not feel motivated to take photos or post anything. I seek inspiration in nature. It's the only place that consistently delivers a dose of healthy vibrations that seem to always spark my creativity. Every time I return from spending time in the mountains I am more at peace.
What is the first thing you do when arriving to a new destination?
D.J:  You need to scope the area out hard. I always say, "stay aware" and place a high value on being aware and in synergy with your surroundings. Especially in nature, you have to emit positive intentions, and good things will come your way. There is something about seeing a new place for the first time, and I find that feeling very meditative.
---
For a full mindmap behind this article with articles, videos, and documents see #photography
---
What's your top 3 favorite destinations and why?
D.J: I have to say my top 3 so far would be:
Banff National Park: I've spent most of my days exploring the lakes and mountains of Banff, and it will always feel like home. Two Jack Lake, Lake Minnewanka, Vermilion Lakes, and the peaks will always hold a special place in my heart.
The Canadian Badlands because I believe the spirit of Alberta exists in the Badlands, and every time I go back I learn something about the prehistoric history of our province, and how it had impacted our lives today.
Berg Glacier/Berg Lake Trail in Robson Provincial Park, BC because in the day I helicoptered to Mount Robson offered some of the best scenery that exists.
What place that you have never been to is on top of your list?
D.J: Two places that I haven't been to that I can't wait to visit is Eastern Canada and Norway. Beyond that, at the top of my list (and the top of the world) is Everest.
---
Recommended reading: "HUMAN HANDS HOLD THE FATE OF THESE FRAGILE BIRDS"
---
_ _
Featured Image: Dax Justin 
Dax Justin Instagram