Irene Pappas is currently a yoga instructor, holding workshops all around the country. She began practicing in 2012, but did not intend to teach right away. After she did her first 200-hour workshop program, she realized that it was her passion to spread her love of yoga to others. She practices both Ashtanga and Rocket yoga, as she enjoys both a traditional practice as well as a spontaneous one. She also tries kundalini yoga and she finds it enjoyable too. But what is kundalini yoga? It is a combination of Bhakti, Shakti, and Raja yoga. Through Kundalini yoga, which seek to awaken one's energy through breathing exercises, mantras, meditation, and physical postures. As very active as she is, not only does she practice yoga but she studies with hand balancers, circus performers, and contortionists to expand her own knowledge and explore the capabilities of her body.
Yoga is for everyone at all times, but we have to make the choice and commitment to ourselves.
How did you get involved in yoga? How did you learn, and what inspired you to pursue this at a professional level?
Irene Pappas: Up until the time I was 21, I had only taken a handful of yoga classes at Studio design and had never really gotten into it. Even though my mom has been teaching yoga for almost 8 years now I always thought of it as "her thing." One day I met a yoga teacher who convinced me to take his Rocket Yoga class, and the rest is history. Rocket was the perfect way for me to become hooked on yoga, because it was exciting and relatable because I loved to work out and feel the intensity, but it was still grounded, which I needed.
After that first class at the gym I became addicted, and eventually swapped my twice daily gym sessions for yoga classes. The first two years I practiced every day, as much as I could. I decided less than a year into my practice that I wanted to do a teacher training to learn more, and I wasn't sure if I wanted to teach. But as soon as I tried teaching I felt like it was my gift to the world and that sharing yoga was my calling. I've continued to put one foot in front of the other and trust the path, and I am so grateful for where it has taken me so far.
When did you realize that pursuing yoga was your dream? Did you ever feel discouraged, if so, why and how did you overcome it?
I.P.: Within the first year of practicing I knew this was my dream, but I still felt discouraged more than you might think. One of the most important things is not to give up, even when you feel discouraged or tired. I had surgery on my wrist 6 months ago and several doctors told me I needed to find a new career choice. It was really scary, and I still don't know exactly how things are going to turn out (do we ever?!). But all I know is I am going to keep going and trust however my life is redirected.
If a stranger was considering yoga, what would you say to encourage them to try it?
I.P.: I don't usually convince people to try yoga. I listen to them, many times they have excuses for why they cannot practice. I share bits of my story, whatever seems relevant to help them move through their doubt. Yoga is for everyone at all times, but we have to make the choice and commitment to ourselves.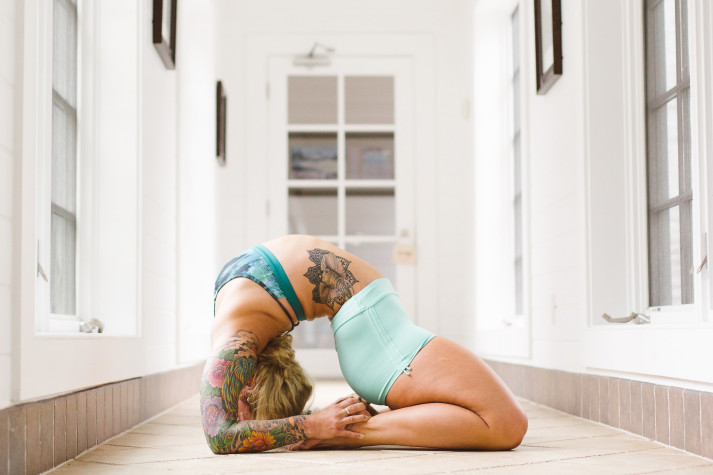 Photo Credit: Brooke Michelle
---
Related articles: "YOGA, A FIRM CALL TO ACTION"
"FITNESS IS A PRIVILEGE: INTERVIEW WITH OLYMPIC WEIGHTLIFTER CAMILLE BROWN"
---
What was pivotal for you to succeed?
I.P.: I truly believe the key to success is not giving up, yet sometimes allowing your path to be redirected.
If you could relive your life, would you choose the same path?
I.P.: I am fully aware that all of my decisions are what have led to this point, and changing even just one little one might change the entire trajectory of my life. Sure, I wish certain parts were smoother but looking back it's amazing to see how much I've grown.
Do you have any regrets? Or, did you have any fears focusing on the yoga lifestyle?
I.P.: No regrets, but I still face fears on a daily basis. To me, life isn't the kind of thing that all of a sudden is perfect and there is nothing left to work on. We are constantly growing and changing, and it's important to realise we will always be students.
Were you ever pursuing a career path other than yoga? If so, what was it?
I.P.: I studied fashion retail management in college and helped my sister open a clothing store for tall women, called Talltique!
My overall goal is to help change the world, through yoga or not. I think there is something bigger that is waiting to be tapped on, and for now I call it love.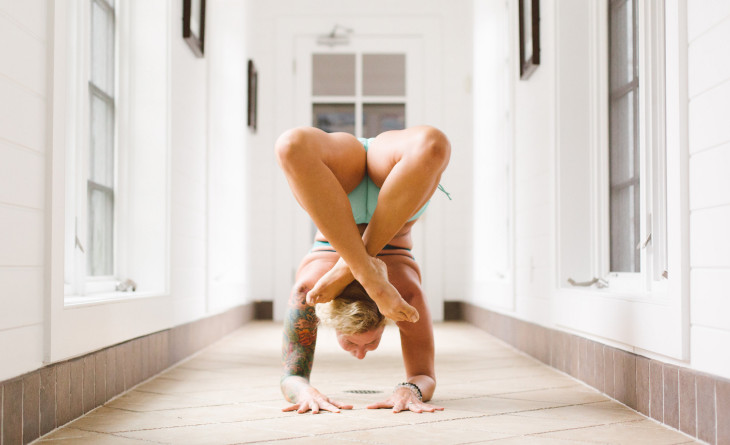 Photo Credit: Brooke Michelle
Can you describe your unique style of yoga?
I.P.: I don't have a name for it yet and honestly I am still figuring it out. But I like to say that it is a unique blend of strength and flexibility that allows you to discover your tendencies and pattern on and off the mat.
What are the differences you see in yoga versus more traditional sports?
I.P.: I think yoga can be practiced in many different ways, as long as there is mindfulness and the desire to truly see. There can definitely be elements of that in traditional sports, and on the flip side people can take the competitiveness of sports and bring that into yoga.
Ideally, yoga poses are simply one path to discover our true selves.
Outside of yoga, what are your other aspirations?
I.P.: What do you mean outside of yoga? Haha! One thing I am working on is creating a more balanced life. When I began practicing yoga it took over my life and my world, and I forgot about some of the other things I love, like riding horses and drawing.
My overall goal is to help change the world, through yoga or not. I think there is something bigger that is waiting to be tapped on, and for now I call it love.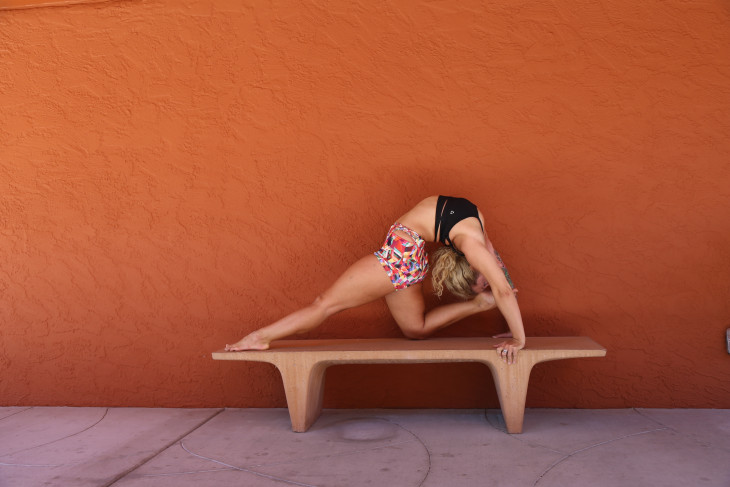 Photo Credit: Diane Pappas
_ _
Featured Image:  Brandon Smith