As climate change's effects intensify, cholera cases are spiking. The number of people annually affected by the disease is estimated to be between 1.3 and 4 million. However, if we look at specific data from the last year, we can clearly see a sharp escalation of cases in most countries.
"The situation is quite unprecedented, for not only we are seeing more outbreaks, but these outbreaks are larger and more deadly than the ones we have seen in past years," Dr. Barboza, the World Health Organization (WHO) Team Lead for Cholera and Epidemic Diarrhoeal Diseases, said in December 2022, adding that these outbreaks are "occurring after several years of regular reduction in the number of cases and deaths."
According to European Centre for Disease Prevention and Control's monthly update, as of July 2023 the countries with the highest cholera cases are Afghanistan, Democratic Republic of the Congo, Haiti, Ethiopia, and Cameroon.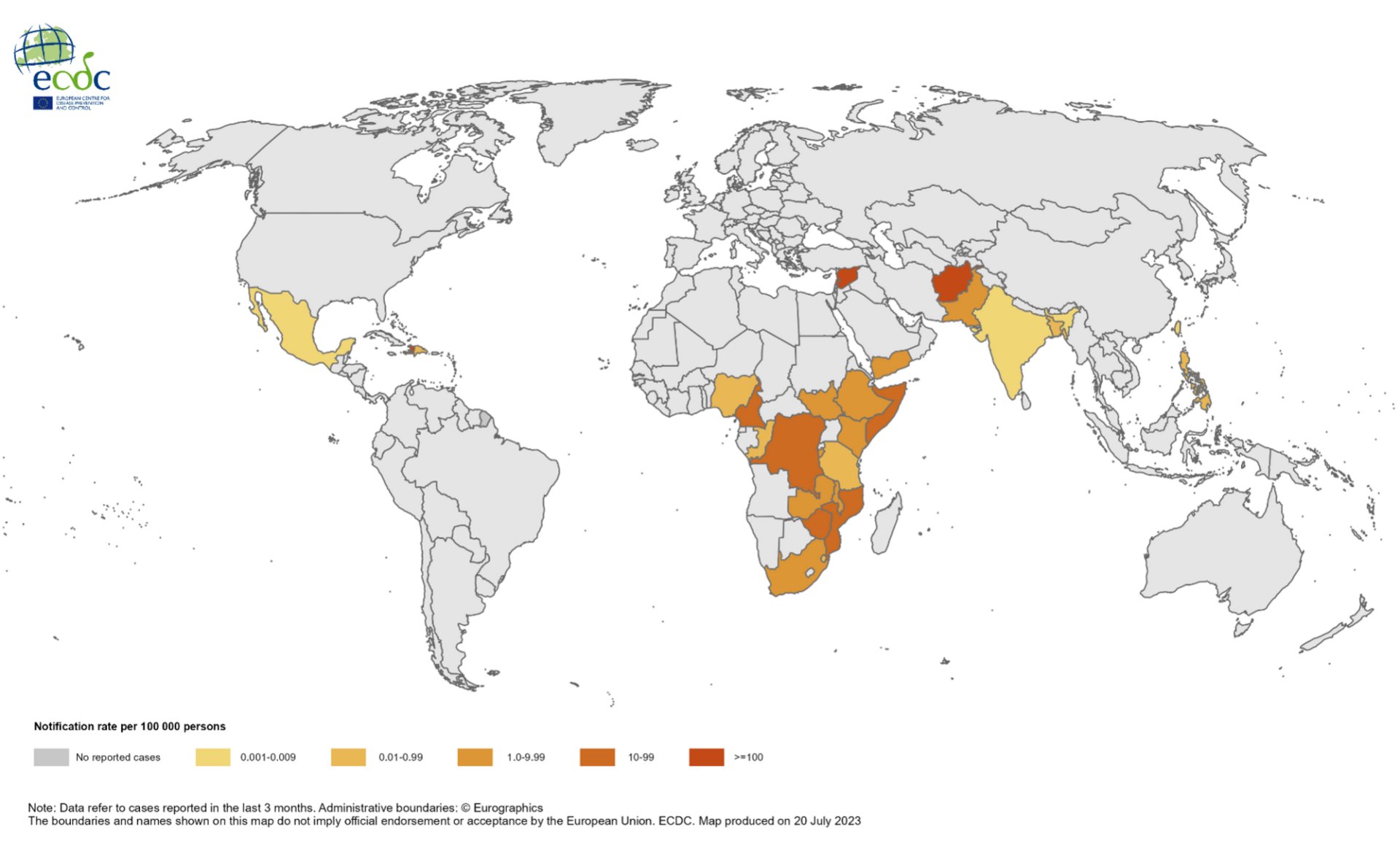 In all these countries — save Cameroon — the number of cases has grown over the last years. In Afghanistan, for example, the number of cholera cases reported so far is nine times higher than last year.
"Most of these larger outbreaks and the fact that they are simultaneously occurring — which makes the situation much more complex — is a direct impact of the increase in adverse climate troubles," Dr. Barboza explains.
How so? Well, the extreme weather conditions we are witnessing today amplify the spread of the virus: floods, rainfall, and drought are all factors that contribute to the rising number of cholera cases.
Before diving into the specifics, let's take a look at how this virus came to exist.
Cholera: A Brief History
Cholera is a highly contagious acute infection caused by Vibrio cholerae, a bacterium that multiplies inside the intestine.
The first cholera case dates back to the 1800s: From 1817 to 1824, cholera spread from India to the African shores. The exact number of victims remains unknown. 
In the following century, the world witnessed five more pandemics, accounting for millions of deaths. Three decades later, the current pandemic (the seventh) broke out. Starting in South Asia in 1961, it reached the Americas thirty years later.
Due to the way the virus spreads, the people more likely to be infected are those who live in poor and unsanitary conditions. In fact, people can get cholera after drinking or eating contaminated food or water. 
For this reason, cholera is also known as "the disease of poverty."
---
---
People infected with cholera might get acute watery diarrhea. If untreated, the virus can kill within hours.
Countries where cholera cases were reported in the previous three years with evidence of local transmission are called endemic. The disease can then witness an outbreak, or epidemic. However, an outbreak can occur even in non-endemic countries.
Countries that had been free from cholera for years are now witnessing cholera cases again. In 2022, Lebanon was an example.
"In recent weeks, we have spoken about a surge in #cholera outbreaks around the world. The latest country to be affected is #Lebanon, which is now suffering a severe outbreak after nearly 30 years without cholera"-@DrTedros

— World Health Organization (WHO) (@WHO) November 9, 2022
So how exactly is climate change contributing to the increase in cholera cases?
Climate Change: Its Connection to Cholera Cases
Cholera can be transmitted in various ways. Extreme weather events, made more frequent and severe by climate change, help the virus spread more rapidly. 
For example, both heavy and low rainfall negatively affects cholera outbreaks. Heavy rainfall can contaminate clean water, low rainfall can increase the concentration of the virus in the water. Climate change makes both cases more frequent and extreme.
The heavy rainfall associated with Cyclone Gabrielle, which formed in the Pacific Ocean in February 2023, is estimated to have been made four times more common by climate change and to have poured 30% more rain.
Similarly, at the beginning of 2022, the tropical storm Ana brought destruction in Madagascar, Mozambique, Malawi, and Zimbabwe. 
Soon after the episode, a deputy representative for health programs in Malawi for UNICEF reported the rising cases of cholera in Malawi, an endemic country usually affected by the virus during the rainy season, from November to May. 
That year, cholera spread throughout August and into the dry season, too.
The situation is getting out of hand. According to the WHO, billions of people are currently at risk of cholera. Even though in the majority of cases cholera can be treated — if actions are taken immediately — this disease mainly affects people in poorer regions. 
Due to a shortage of cholera vaccines and supplies, not everyone is able to get vaccinated.
Once again, we are witnessing how the actions of the richer countries — those mostly responsible for climate change — negatively impact innocent lives.
---
Editor's Note: The opinions expressed here by the authors are their own, not those of Impakter.com — In the Featured Photo: Heavy monsoon rains caused floods and landslides across Pakistan in August 2022, affecting 360,000 people. Balochistan & Sindh provinces, Pakistan. Featured Photo Credit: © OCHA/Pierre Peron.