The COVID-19 virus, which has caused over 6.1 million deaths from over 500 million cases in almost every part of the world, is suspected to have initially originated from an infected bat in Wuhan, China. Other recent outbreaks of diseases such as SARS and Ebola are examples of similar 'zoonotic' viruses, which are infectious diseases caused by a pathogen that has jumped from an animal to a human. The SARS virus was traced back to cave-dwelling horseshoe bats in Yunnan, China, and the Ebola virus was found to have originated from direct contact with infected wild animals or fruit bats.
David Quammen, a popular science writer and an award-winning author, coined this 'species leap' process 'spillover' in his book written in 2012: Spillover: Animal infections and the next human pandemic. This widely-read book is said to have 'predicted' the COVID-19 pandemic. Through his considerable experience, Quammen traced the evolution of some of the major pathogens that have affected the human species in such species leaps, where animal pathogens evolve to infect, reproduce, and transmit within the human species.
In predicting that this process of 'zoonosis' would increase in frequency, Quammen joins many scientists who have warned that global warming could increase the burden of diseases. Indeed, the link between humans, animals, plants and the environment is the foundation of what is termed One Health, a concept bringing together experts from all disciplines across the spectrum of human and veterinary medicine as well as ecology and that is increasingly guiding public health policies at the World Health Organization and across the world.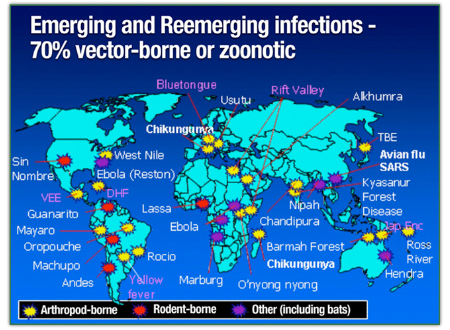 Now, in a recent study by Georgetown University entitled "Climate change increases cross-species viral transmission risk", just published in Nature, this prediction has been confirmed. The study, carried out by a team of nine scientists, finds that viral spillover is set to increase as a result of climate change, habitat destruction forcing animals to enter new habitats, and increasing interaction between humans and animals. 
The increased shuffling of viruses between animals and species means that viruses are more likely to jump to humans and cause a new pandemic, as well as ushering in new diseases by letting pathogens move to new host species. 
This viral spillover is set to accelerate over the next 50 years, due to the rising reality of global warming.
The study modeling future spillovers in a warming world found 15,000 instances of viruses jumping from one species to another
Dr. Colin Carlsson, a biologist at Georgetown who co-authored this study, set up a model to track the future of spillovers in a warming world. As the climate changes between now and 2070, mammals will shift their ranges. Some will move away from the Equator to more comfortable habitats. Others will move up mountains and hills to find cooler altitudes, and so come into contact with new species, which they can infect. For example, Malaria is expected to spread as mosquitos will extend their range as regions get warmer.
The researchers built a database of viruses and their hosts and then used a machine learning computational technique to find the odds of a successful new infection, seeing whether two host species share a virus. 
Chances of infection increase when two species overlap geographically, as encounters between them are more likely, and if the species are closely related, as this means that they share a more similar biochemistry and so the virus can infect more easily as it is already adapted to evade a similar immune system. 
This model was then used to predict what will happen in conjunction with global warming.   
"When you're trying to predict the weather, you don't predict individual raindrops you predict clouds,"
— Christopher Trisos, University of Cape Town Researcher.
Of the 3139 species studied, researchers found at least 15,000 instances of viruses leaping from one species to another in the 50-year period, and the scale of these viruses is more important than the individual viruses themselves. 
In sum, the research findings are stunning and show that climate change will fuel a 'potentially devastating' spread of disease that will imperil animals and people alike.
"This work provides more incontrovertible evidence that the coming decades will not only be hotter, but sicker,"
— Gregory Albery, Expert in Disease Ecology at Georgetown University, and co-author of the study.
Albery stresses that climate change is already dramatically accelerating interactions between species that will already be spreading viruses, and that even the most drastic action to address global heating will likely not be sufficient to halt the incoming cases of viral spillover.
Moving forward: What is needed to prevent rising zoonotic infections – the One Health approach
Looking ahead, the study highlights that this path is not preventable even in the best-case scenarios of climate change. Albery states that measures therefore must be put in place to build health infrastructure that will protect animal and human populations. 
Until more recently, such zoonotic infections were more unusual, but as more habitats have been destroyed for agriculture and urban expansion, more people have come into contact with infected animals. This is mostly in or around human-disturbed ecosystems, such as forest clearings, drained swamps, mines, or residential projects.
Once the computer programmes had shown these predicted paths, the algorithms were deployed to create a list of animal viruses with the greatest potential to jump the species barrier and cause human outbreaks. Unexpectedly, mousepox came out on top.
In fact, Mousepox is now very rare as a natural infection in laboratory colonies of mice but it is likely that, despite the strict controls necessary to protect mouse colonies, mousepox will occur more often and will need to be investigated more extensively in the future.
---
---
Zoonosis is driven by global warming, which has been caused by trade patterns and consumer behaviour. First and foremost, fossil fuel dependency must be reduced. Next, as global forest loss and mining worsens ecosystems and less resilient ecosystems are more vulnerable to the outbreak of disease, disease risks must be included in the risk-benefit analysis for new projects such as new plantations or mines that affect ecosystems.
Local people are the most at risk, but as COVID showed us, implications can be global. Currently, the areas most at risk are high-elevation areas in Africa and Asia. The main perpetrators are bats, due to their ability to travel large distances. As a result, monitoring of these animals in these areas is necessary for tracking the progress of certain viruses.
 Carlsson also stresses that health systems must be built in the most vulnerable areas to be prepared for the risk of spillover, and also to improve processes designed for preventing pandemics. Investment in pharmaceuticals is needed, but investment in primary pandemic prevention is necessary, such as habitat conservation, regulating wildlife trade, and improved livestock biosecurity. If we fail to prepare, we may find ourselves in a world where only the rich are able to endure outbreaks of infectious disease.
Peter Daszak, President of EcoHealth Alliance, a pandemic prevention non-profit, said that while human interference in landscapes has been known as a risk for disease risk for a while, the new research is a critical step forward in understanding how climate change will fuel the spread of viruses. 
The study is a welcome addition to the findings already produced by the One Health strategy that has expanded interdisciplinary collaborations and communications in all aspects of health care for humans, animals and the environment over the past thirty years. The synergism achieved is already advancing health care for the 21st century and beyond by accelerating biomedical research discoveries, enhancing public health efficacy, expeditiously expanding the scientific knowledge base, and improving medical education and clinical care. 
As we are already well within the process of climate change, let's hope that the findings from this new research will act as a wake-up call for public health authorities, the possibilities for destruction are endless.
---
Editor's Note: The opinions expressed here by Impakter.com columnists are their own, not those of Impakter.com — In the Featured Photo: Bats hanging from a tree. Featured Photo Credit: Wikimedia Commons.