Climate change and our emissions can and do make us more vulnerable to infectious diseases. This has been proven in the past and is "relatively accepted" today, as University of Hawai scientists point out in their new study.
But the full extent of the impact our activities and their emissions have on our vulnerability to infectious diseases has remained insufficiently quantified, with most previous studies focusing on either a specific group of pathogens (virus, bacteria, etc.), a single type of climate hazard (flood, drought, etc.) or on the type of transmission (through food, water, etc.).
The new research by Hawai scientists, published on August 8 in Nature Climate Change, now fills these gaps, instead analyzing the effect of 10 different climate hazards, caused or exacerbated by greenhouse gas emissions, on each of the 375 known human pathogenic diseases.
"Looking at basically all the climate effects and all the infectious pathogens in one paper is extremely ambitious," says Josh Colston, an epidemiologist at the University of Virginia School of Medicine in Charlottesville. "They synthesize a tremendous amount of information very well."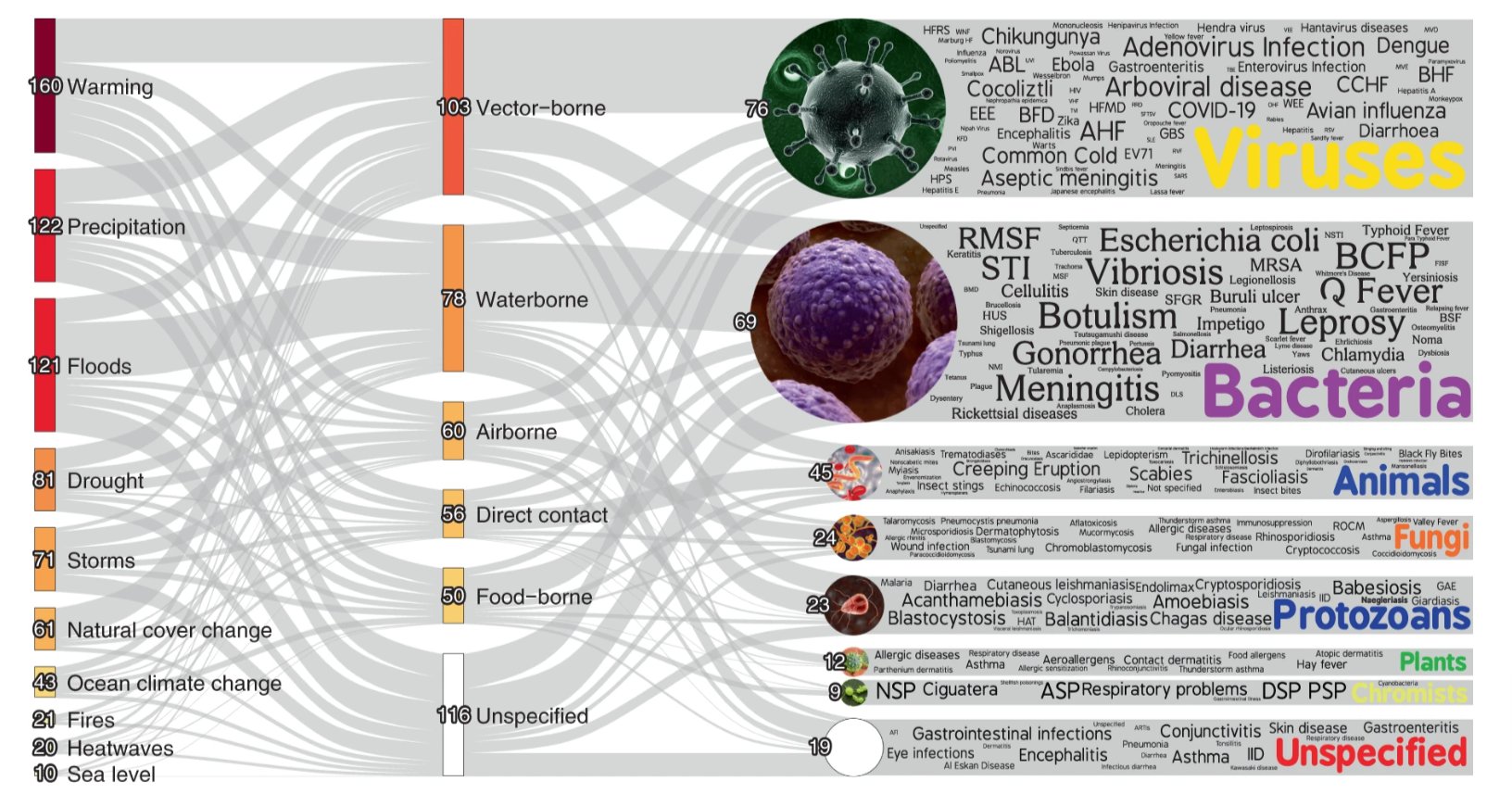 In short, the researchers found that 58% of infectious diseases that have made their way to humans have already at some point been aggravated by some climatic hazard, and therefore by global warming, and therefore by GHG emissions and human activity.
"The ongoing emission of greenhouse gases is intensifying numerous climatic hazards of the Earth's climate system, which in turn can exacerbate human pathogenic diseases," the scientists write.
What is meant here by the diseases being "aggravated" is that climate change leads to an increase in the number of infections, makes the diseases more severe, and impedes our ability to fight them. 
The study
Having analyzed over 77,000 research papers, reports and books, University of Hawai data scientists found 3,212 case examples of infectious diseases affected by ten different climate hazards.
In the words of the study authors, the climate hazards considered include:
"(1) Warming. Compounded with an increased capacity of the air to hold water, warming accelerates soil water evaporation, leading to (2) drought in places that are commonly dry; excess drought can lead to (3) heatwaves when heat transfer from water evaporation ceases.
Drought and heatwaves ripen the conditions for (4) wildfires. In moist places, the quick replenishment of evaporation strengthens (5) precipitation, which is prone to cause (6) floods as rain falls on moist places/saturated soils.
Warming of the oceans enhances evaporation and wind speeds, intensifying downpours and the strength of (7) storms, whose surges can be aggravated by (8) sea level rise, which in turn can aggravate the impacts of floods.
Uptake of CO2 in the oceans causes ocean acidification, whereas changes in ocean circulation and warming reduces oxygen concentration in seawater; these combined ocean physical–chemical changes are referred to as (9) ocean climate change in this paper. We included (10) changes in natural land cover as one of the hazards because it can be a direct emitter of GHGs via deforestation and respiration, modify temperature via albedo and evapotranspiration and because it can be a direct modifier in the transmission of pathogenic diseases."
Among the 375 known infectious diseases, the researchers found that 218 (or 58%) have already been aggravated by climate change and GHG emissions.
Meanwhile, 63 (or 16%) diseases were "at times diminished" as a result of our activities warming the planet, although 54 of those were also aggravated, leaving only nine diseases found to have diminished.
---
---
These numbers however don't include diseases that spread in non-transmissible conditions, such as asthma or insect or snake bites; when included, the number of infectious diseases made worse by climate change rises from 218 to 277.
Such diseases are known as "non-communicable" illnesses and the Hawai scientists found that global warming impacts our vulnerability to them as well — by for instance causing a rise in plant and fungal allergens.
As one of the study's authors Camilo Mora stresses, those allergens are still pathogens and yet, "nobody's paying attention to them."
How exactly does climate change make diseases worse?
Climate hazards make our vulnerability to infectious diseases worse in three fundamental ways according to the study: By increasing the number of cases, making the diseases more severe, and making it more difficult for us to cope with them.
The researchers found 1,006 ways climate change leads to people being infected, mostly by bringing closer together humans and pathogens like viruses or bacteria. An example the study provides is increased temperatures and rainfall "expanding the range of mosquitos and contributing to outbreaks of dengue fever, chikungunya, and malaria."
The researchers also illustrate how other climate hazards lead to infection: Heatwaves, for instance, bring more people to water and lead to an increase in waterborne illness infections like gastroenteritis while migration, caused by storms, floods and sea level rise, increases the chances for outbreaks of cholera, Lassa fever and typhoid fever.
Climate change meanwhile also makes infectious diseases more severe and deadly, and boosts their transmission. The example listed here is higher temperatures increasing the survival and biting rates of mosquitos carrying viruses.
When it comes to climate change impeding our ability to cope with infectious diseases, the study explains that climate hazards weaken our immune systems and cause malnutrition and stress, among other things. But it stops there, with the ability of individual bodies and minds to fight diseases under extreme climate conditions.
According to global-change biologist at Georgetown University Colin Carlson, the effects of climate change on diseases "are even broader than the study reveals"; what he means is that climate change also makes us as a species more vulnerable to infectious diseases by damaging our healthcare, making us sick in other ways, and by causing food insecurity.
As Carlson put it, "[t]here is no part of global health that climate change isn't reshaping."
---
Editor's Note: The opinions expressed here by the authors are their own, not those of Impakter.com — In the Featured Photo: Smoke rising, birds flying. Featured Photo Credit: Furknsaglam.