When asked what were her most poignant memories of her three year tenure to date in the UN Refugee Agency, Deputy High Commissioner Kelly Clements referred to the Agency's efforts to rescue refugees from the monsoon in Bangladesh, having conversations with resilient women in South Sudan, Iraq, and many other locations, visiting Lesbos in Greece and working with governments to improve how refugees and asylum seekers are managed.
Speaking in an equally beloved and potent matter, she stated: "You go to a place where, as result of the experiences that they have lived through – people should be numb. But it's always the kids. Somehow the kids are the most resilient and they keep their families going. And the families continue to go on because of their children…In the end, it's always the conversations about people's families, about their hopes, their dreams, the smiles on kids faces. It's quite amazing."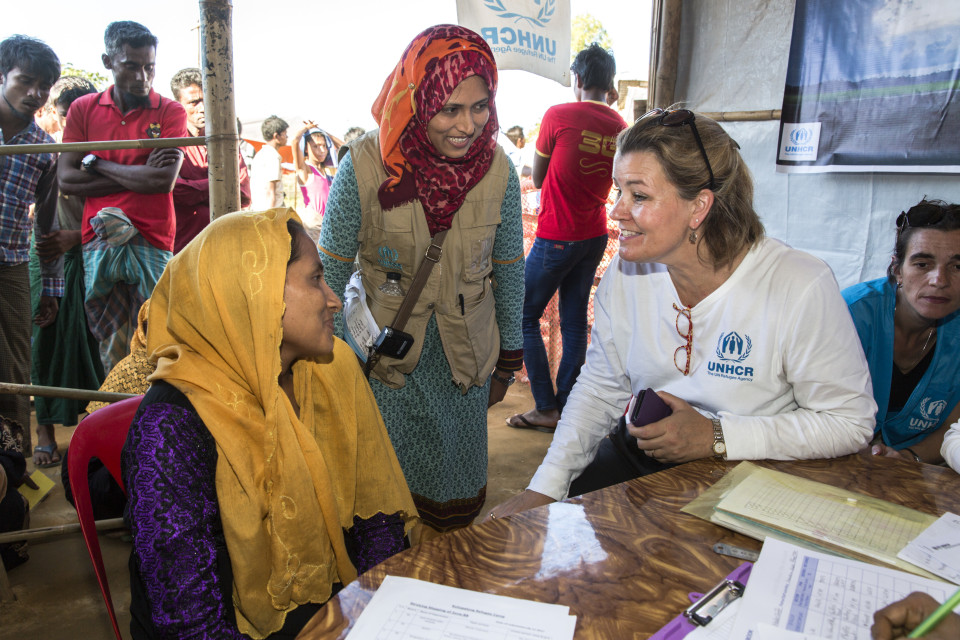 In the photo: Bangladesh. Deputy High Commissioner visits Rohingya refugee camp – The Story: UNHCR Deputy High Commissioner Kelly T. Clements meets Rohingya refugees during a visit to Kutupalong camp in south-east Bangladesh. ; As an estimated 600,000 Rohingya sought safety in Bangladesh between late-August and November 2017, UNHCR doubled its efforts to provide shelter in and around existing camps near Cox's Bazar. Whole families, young mothers and unaccompanied minors were among those fleeing for their lives when fighting reignited in Myanmar. They came by boat or walked barefoot for days, wading through vast rice fields. They left most of their possessions behind. Large groups crossed into south-eastern Bangladesh hungry, traumatised, in poor physical condition and in need of life-saving support. UNHCR is working with the Bangladesh Government to provide Rohingya refugees with protection, food, clean water, shelter, health care, trauma counselling and reunification for separated families. 

Photo Credit:

© UNHCR/Andrew McConnell
At that time, she was attracted by the mission, drawn in by the people with whom she spoke and the opportunity to take two years to examine what it is the US government does to support its objectives and how it helps people outside of the country. This provided the opportunity to serve in the US mission in Geneva and UNHCR in Bangladesh during the last wave of Rohingya refugees. She was a protection officer in the camps and got deeply involved in the responseto assist refugees who had faced widespread persecution, forced labor, rape and more.
Clements did not leave after the two years were over due to the experiences she'd had during this period. The glue for her was the enormity of the various situations she encountered. As a relief worker, she had the opportunity to examine how to help many people in a short period of time who were looking for ways to feed their family, find family shelters that would not wash away with the next rain, or think about what's happening on the other side of the border and how to impact individual lives there.

In the photo: Kelly T. Clements at the Concordia Summit discussing private sector role in supporting refugees — The Story: UN Deputy High Commissioner for Refugees, Kelly T. Clements, joins South African actor and UNHCR High Profile Supporter, Nomzamo Mbatha, onstage during a plenary session on the role of the private sector in supporting refugees, during the 2018 Concordia Summit in New York. ; Taking place alongside the 73rd Session of the United Nations General Assembly, the 2018 Concordia Summit at the Grand Hyatt hotel set out to provide an inclusive nonpartisan forum that brought together decision-makers and opinion-formers in the public, private and non-profit sectors. As UNHCR hosted a meeting to discuss UN member states roles in supporting the global compact on refugees, delegates at Concordia, including the next generation of partnership-builders, held critical discussions and pathways to transform those conversations into action. Photo Credit: © UNHCR/Lorey Campese
Over a period of two and a half decades where individual stories pop up time and time again, Clements was fortunate to be able to interact with the people she served. Each time she thought about leaving or doing something slightly different and even more interesting, an opportunity came up and she found herself again in the midst of a new episode in the largest humanitarian crisis in recent history. Three years ago, she left the US State Department for UNHCR – which for her, at this time in her life, was a dream come true. She sat down with me at the Concordia 2018 Summit to share her thoughts. The interview is edited to ensure clarity and brevity.
Can you tell us about your career as you held posts abroad, including the US mission to the UN in Geneva where you started in 1993? What brought you to address the refugee question?
Kelly Clements: Straight out of graduate school, I did not know in 1990 when I interviewed at the State Department that refugees would become part of my career for the rest of my life. It was a bit of serendipity. However, I was attracted by the mission, the people that I interviewed with and the fact that I could take this as a two year opportunity to really look at what the US government does to support its objectives and how it helps people overseas. I had an opportunity to both serve in the US mission in Geneva and go to UNHCR in Bangladesh during the last wave of Rohingya refugees from then Burma, now known as Myanmar. Numbers didn't even come close to what happened at the end of last year, but circumstances were very similar: widespread persecution, forced labor, rape,many other issues. I was assigned to UNHCR as a Protection Officer and as an external relations officer, working in Cox Bazar in the camps. That experience with UNHCR was one of the reasons why when my two year program ended, I did not leave.
It was highly formative. Consider the enormity of the situation: you, one person, a relief worker, are looking at how you are going to help this many people in such a short period of time – to feed their family, find shelter that isn't going to wash with the next rain. That's what happened with me. When I'm asked this question there is a story that illustrates this. There is this woman refugee with three children and no husband. Her ration card disappears and the local government official in charge of the camp is having a hard time getting her another. Her kids haven't been fed for three weeks and she is at her wits' end. She has borrowed as much as she could from her neighbors and she needs help. She goes to the person in blue who regularly comes to the camp and says, "Please help me". Through negotiations and discussions with the official in charge, the "person in blue", that is UNHCR, is able to get her ration card restored.
Now, it's a small example, but multiply that with the number of times I've been so fortunate to be able to interact with people over a period of two and a half decades. I wanted to continue because each time I thought about leaving or doing something slightly  different and even more interesting opportunity came about having an opportunity to be able to be in the midst of some of the greatest humanitarian crisis in recent history. When I left the State Department over three years ago, this opportunity to come to this amazing agency was a dream come true.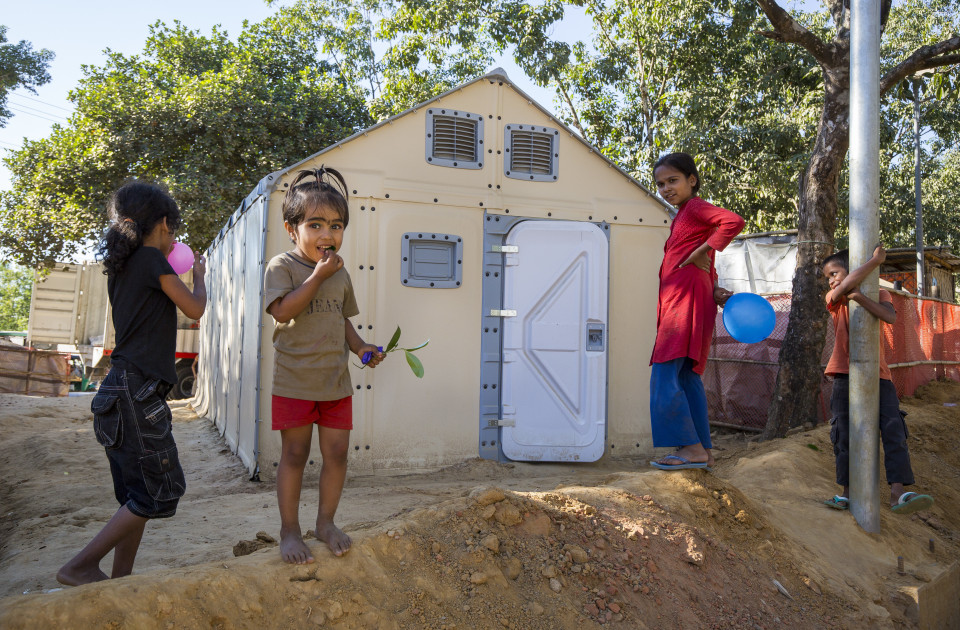 In the photo: Bangladesh. New arrivals at UNHCR Transit Centre – The Story: Children from newly arrived Rohingya families from Myanmar take shelter in the UNHCR Transit Centre in Kutupalong camp, using the new Refugee Housing Units. ; With 900,000 Rohingya refugees in Bangladesh constituting more than 200,000 households, the settlements in Cox's Bazar are among the largest in the world. Over a year since the largest wave of displacement in 2017, UNHCR continues to respond to the urgent and ongoing humanitarian needs in the camps in Cox's Bazar, including Kutupalong, Nayapara and Ukhia. Helping provide adequate shelter, clean water, sanitation, alternative sustainable fuel, protection for vulnerable people and survivors of sexual and gender-based violence are among the priorities. Almost 700,000 Rohingya refugees fled Myanmar, seeking safety in Bangladesh in 2017. Photo Credit: © UNHCR/Roger Arnold
You were appointed UN Deputy High Commissioner in 2015, a crucial year for the UN as the 2030 Agenda and the Paris Climate Agreement were adopted by UN member states, an exciting and inspiring moment for UNHCR. What did you find in your new job?
KC: I'll never forget my welcome in the Atrium of our headquarters building in Geneva. The  entire Geneva team was there. And what I realized immediately was that I felt at home. I could see there were the people I'd worked with throughout my career and there were people that if I didn't know them, I knew of them because of the heroic work they had done.
It was a transition  that was easier than I expected. I knew the mandate and mission, I understood the complexity of budget and management issues which I would assume as Deputy. Some of those issues I had dealt with in a different capacity in my previous position. What I didn't fully know and what took a bit of learning was the broader UN system.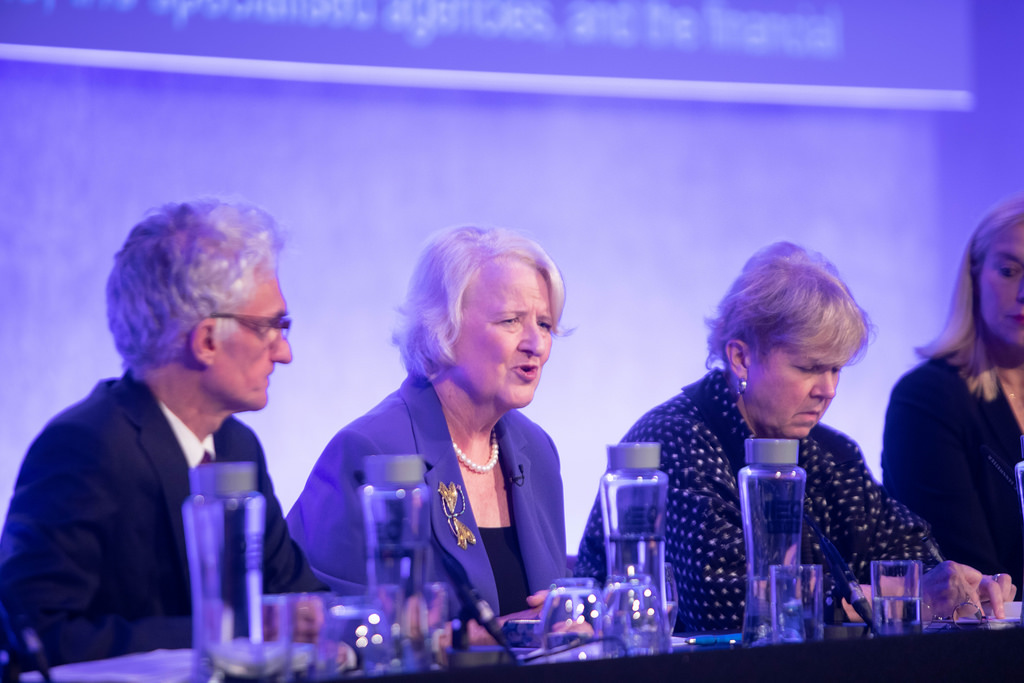 In the photo: Jan Beagle, United Nations Under-Secretary-General for management speaks at the Safeguarding Conference in London. 18/10/2018 – Photo Credit: ©DFID/MichaelHughes
The political role that the UN plays overall with member states, the system in terms of its governance, knowing how exceedingly complicated it is and how we are trying to reform it. I serve as Vice Chair of the High Level Committee of Management. I'm supporting the Under Secretary General for Management, Jan Beagle, and understanding how we can make the system stronger, faster, leaner, more effective.  Next, understanding how to be able to effect change. I continue to learn.
In 2015 the migrant crisis exploded, thousands of refugees ran away from war, especially  from Syria. They flooded the continent and were stopped for the first time in the Balkans,and Hungary closed its doors. How did you and UNHCR react and what was your role?
KC: It was happening as I was coming into the job and talking to a number of colleagues during that time who served in places like Greece or the Western Balkans route. They were experienced humanitarians, experienced UNHCR staff members. They described it as some of the most difficult work they'd ever done because in other circumstances UNHCR tends to be in a position of knowing what the options are for people. We do what we do best in that we help the local authorities in providing protection and aid, shelter, water, health, all of that at the same time.
It was very difficult to do that this time. First off, you had colleagues who were pulling people out of the sea. In some cases they didn't know how to advise refugees or asylum seekers. There was very little that we could say as an agency. There was the post traumatic stress that some colleagues faced. The way that the movements of people changed so frequently. The influence of smugglers and traffickers. And what was new, that we really saw come to light during that time, was the influence of technology and how to use it to respond to the movements of an operation.
I happened to be on the border of Serbia and Macedonia when it closed and saw people directly across the border from us. They said some of their family members had already made the trek north and they were trying to be reunited. They didn't know whether or not to stay or to go back. If they went back, where would they go back to? It was one of the most complicated and difficult operations for our team worldwide.
In 2016 in New York, a crucial document was adopted by the UN General Assembly: The New York Declaration for Refugees and Migrants. 193 UN member states agreed to protect refugees and share in the burden of countries that sheltered them. UNHCR was tasked to develop a Global Compact on Refugees to be considered by the General Assembly. Were you involved in that process and what are your hopes?
KC: All of us at UNHCR are involved in this and it is led by my wonderful colleague, the Assistant High Commissioner for Protection, Volker Türk. He has led a process of informal and formal consultations on a program of action which we are very much hoping that by the end of this year we will see adopted.
The Global Compact will change the lives of not just refugees, but of the people that are hosting them. It is based on responsibility-sharing and it's based on not just refugees but also hosts and marries a humanitarian response with a development response.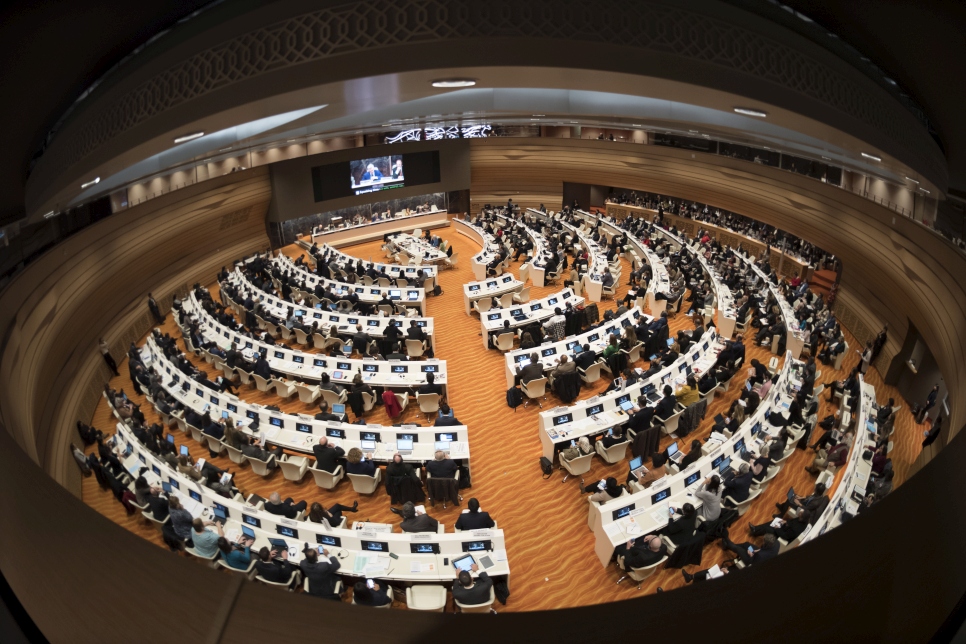 In the photo: Towards a global compact on refugees – Formal consultations on the global compact on refugees. Photo Credit: © UNHCR/Jean Marc Ferré
We're looking at not just a lifesaving index allowing people to survive. We are addressing how they can thrive and support themselves, how to adopt a comprehensive approach where everyone is involved: the private sector, government partners, international organizations, non-governmentals, civil society, academics, the whole range. It's exciting. It will be game changing and we need it now more than ever in this political climate.
In the three years you have worked for UNHCR, what are the memories that you'd wish to share with us? How has the US withdrawal from the Paris Climate Agreement impacted UNHCR?
KC: The monsoon in Bangladesh is a good example of refugees caught up in natural disasters. UNHCR with other partners – including a very strong community in Bangladesh helping to support the government –  have pulled out all the stops and worked literally against the clock to be able to move people that are in particularly perilous circumstances to safe places where they wouldn't have their shelters washed downsides of hills.
We have been very fortunate that due to weather related conditions, we lost one person and it could have been so much more.  Some of the preparations that were put into place quite literally have saved many, many lives.
The issues that we deal with result from a variety of factors: Persecution, war, and conflict. Those are the ones that tends to drive much more of our work as an agency. You ask for my memories?  Many of my best experiences are the times that I had an opportunity to travel to the field, to visit with my colleagues and talk to the people that we're serving. In July, in South Sudan, I recall meeting with incredibly resilient women and learning what they're trying to do to restart their lives. And places like Greece where I had a chance to go to Lesbos, where people are still arriving, though in much smaller numbers. Also to working with governments and partners to identify better ways to handle those refugees and asylum seekers that are coming.
Ultimately, it's always the individual conversations, about people's families, about their hopes, their dreams, the smiles on the kids faces, it's quite amazing. You go to a place where, from the experiences that they have lived through, people should be numb, but it's always the kids that somehow are the most resilient. They keep their families going and the families continue to go because of their children.
I remember having a conversation in an apartment in Beirut with a woman with no husband but several extraordinary children who were already back to school, they played music, they talked about what to do next, that sort of thing. And they were staying close to home because they wanted to go back to Syria. They were trying to make a go of it in their country of asylum and that kind of support is extraordinarily important.
At UNHCR, our team is hugely diverse, over 15,000 people, not to mention the 1000 partners in a number of areas; we operate in 128 countries, 450 different locations, more than half are in tough duty assignments. That's what we call in UN parlance a duty station where you can't bring your families. Many have been separated from their families for several years. They've made this mission, and they're passionate and they're extraordinary and they have a wealth of experience.
The low points are when we can't, as an organization, provide operations with the kind of financial support they need for the people we're serving or for UNHCR staff in these tough duty stations. I've seen some exceptions, for example in the Somali region what we've done in terms of living space for our team. Our compound there is really quite extraordinary. But then for other places, it has been tougher to get a good support system. That's what's been more challenging. For example, in south Sudan where I visited we're actually in very good shape. Yet we can't forget the less tough, the  "middle" stations because assignments there tend to be a bit longer, with maybe no rest and recreation breaks, that sort of thing.
Another Nansen Refugee Award was announced on 25th of September honoring Doctor Evan Atar Adaha, a heroic surgeon in a South Sudan hospital. In a sense, this is the tip of the iceberg for a series of remarkable even heroic stories. Can you tell us a little bit more about that?
KC: Fridtjof Nansen, the first High Commissioner for Refugees, in 1922 received the Nobel peace prize for something that he created called the Nansen Passport. He convinced 50 countries to accept this as a way for refugees to travel from one country to another. And this happened right after World War I. His was the story that inspired the spotlight that we now put on unsung heroes, the people who are working deep in the field and changing lives. And so they're ones that have made a difference in their community for refugees. They have gone above and beyond in terms of what their job may be in terms of their own role in a relief operation. At times they've changed policies of governments.
Another nominee was a former German mayor of a small town who quite literally opened the doors to refugees that were coming in 2015. These sorts of stories are ways that we can at least bring some attention to the good news that people are doing  in this time of rising need while resources are drying up.
In many ways, UNHCR leads the way in humanitarian assistance and innovation. For example, with a refugee coordination model with 1000 partners or in using cash transfers to help refugees or startups with support from your innovation service or fighting sexual exploitation and abuse. Can you comment on any of them? Are new ideas or plans in the works to make UNHCR are even more supportive and effective in assisting refugees?
KC: We are in the throes right now of a major transformation. You mentioned earlier the Global Compact on Refugees. We still will need to be very nimble and effective in terms of emergency response, especially large scale movements of refugees. We will need to do direct delivery working with that family of partners you just mentioned, but we also need to be much more of a catalyst. We need to be welcoming other development actors to the table. We need to understand better how the development world functions. Not that we become a development agency, but we are re-skilling as an agency, adding more coordination.
We're bringing the assets to the table to be able to improve people's lives. Our relationship with agencies like the World Bank are burgeoning. There are 11 different agencies now that are partnering directly with us on this. We've just launched this joint data center, for example. This is requires a special type of skill set, so we are in the midst of a major transformation, much more focused on solutions and partnership. For us, it's a partnership with the private sector, which is why these events here in New York are so important.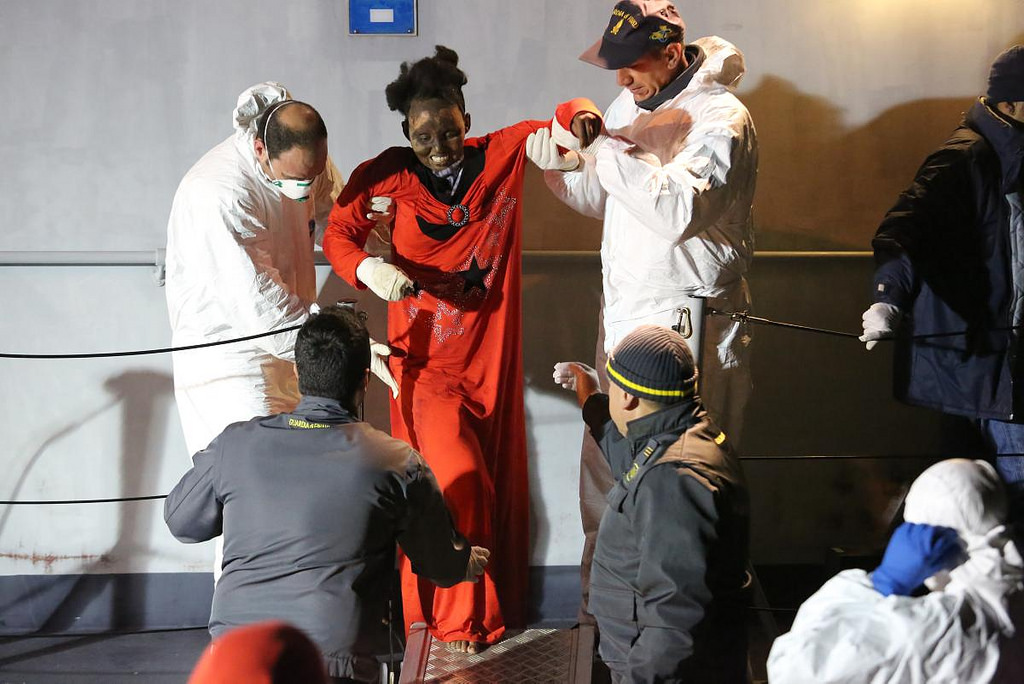 In the photo: A woman with severe burns to her face is helped off of an Italian Coastguard vessel in Lampedusa. She was plucked from a dinghy in the Mediterranean and later taken by helicopter for treatment. Photo Credit: UNHCR / Francesco Malavolta
In cases of sexual exploitation, abuse and sexual harassment, we've been looking at the prevention side for many years and trying to have this as part of our agenda, particularly in the sexual exploitation abuse and how can we do a better job of protecting people. It covers an entire spectrum from sexism to abuse of power to abuse of authority. The High Commissioner Filippo Grandi has been very clear about zero tolerance, one case is too many.
We have launched a really ambitious cultural change for speaking up. This includes a hotline that's available 24/7. Our team members want to know what to do when they encounter sexual harassment. We've beefed up our investigation function. For example, we've identified a senior coordinator to help pull this together as an organization. We're working extremely closely with other partners. We've looked at this very much as a team effort. The number of allegations have gone up quite dramatically, but we know there's still underreporting. It's our intention to see this through. We've also seen that the investigation and disciplinary system is working and our efforts to actually communicate about the zero tolerance is having an impact.
Turning to innovation. Our advancements are remarkable when it comes to everything from using artificial intelligence to trying to predict refugee flows. We've used different types of tools in terms of innovation technology and it's very exciting. And what I think is so remarkable about them is that they're not just all shiny baubles and nice technology. It's how we work differently together.
What in your experience are the greatest challenges UNHCR faces both politically and budget wise?
KC: 68.5 million forcibly displaced with 25 million refugees, 40 million who are internally displaced and another 3 million asylum seekers. We have a world that has become more complicated, more complex, fewer political solutions.
We have a couple of bright spots on the horizon. Ethiopia and Eritrea are ones we hope that Staffan de Mistura and others that are involved in Syria, and the Syrian peace process that they are successful. The same goes for Yemen, although there have been great frustrations that we are not seeing political solutions. That puts incredible pressure on organizations like ours, but not exclusively.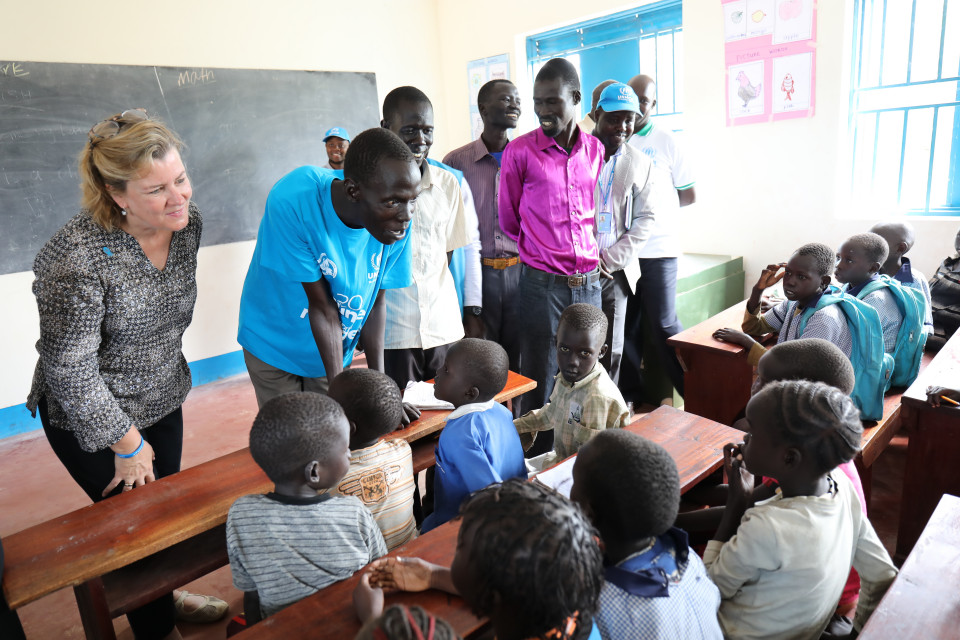 In the photo: South Sudan. Deputy High Commissioner meets Ethiopian refugee children — The Story: UNHCR Deputy High Commissioner Kelly T. Clements speaks to students in a primary school class in Gorom Refugee Camp. ; Despite having 2.4 million people living in exile and 1.7 million internally displaced inside South Sudan (as of June 2018), the world's youngest country is itself hosting close to 300,000 refugees from neighbouring countries. During her first visit to South Sudan, UN Deputy High Commissioner for Refugees Kelly T. Clements met refugees from Ethiopia and Sudan at Gorom, Pamir and Ajoung Thok refugee camps. She also met internally displaced South Sudanese in a UNMISS Persons of Concern site and spent five days familiarising herself with the operation, meeting South Sudanese ministers, refugee leaders and UNHCR staff. South Sudan is Africa's worst refugee crisis and the world's third largest. According to data, over a million South Sudanese are at risk of famine and in 2018 more than half of the population will be reliant on emergency aid. Photo Credit: © UNHCR/Vi Tran
Yes, access is difficult in some parts of the world. We can't get to the places and the people that need us. We have lost members of our teams, others have lost members of their teams. And in that world, our budget is modest, and the host communities that have basically assumed the burden on behalf of the international community are under-subscribed from year to year. Only about half of our budget is met, which means we are making extraordinarily difficult choices as to what it is we're going to support.
Choices need to be made as to why and what we do. Do we educate a child or do we make sure that the family has clean water? Do we provide tools to a family so that they can support themselves through vocational training or employment which long term may give them a better chance at success? Or do we continue with the World Food Programme to feed people in the world. If the World Food Program runs short, we need them to step in. It becomes a life or death situations.
Add that to our current polarized community with some basically looking at refugees not as fleeing terrorism but as terrorists themselves, which couldn't be further from the truth. You have a narrative that really is not one of protection and humanity. When borders are closing and asylum policies are becoming more restrictive, it becomes difficult to provide the kind of international protection that's necessary today.
In the Photo Gallery Story: PRINCE SONIYIKI – FROM NIGERIAN TO "CROATIAN' IN THREE YEARS. After a tough day's work the fishermen – now real friends – relax in the kitchen on their way back to the port. Photo Credit: UNHCR / N.LUKIN
---
EDITOR'S NOTE: THE OPINIONS EXPRESSED HERE BY IMPAKTER.COM COLUMNISTS ARE THEIR OWN, NOT THOSE OF IMPAKTER.COM   — COVER PHOTO CREDIT:  UNHCR UN Refugee Agency
Cover Photo story: Iraq. Deputy High Commissioner visits Mosul – United Nations Deputy High Commissioner for Refugees, Kelly T. Clements visits Salamiyah camp near Mosul. 21 November, 2017 – Photo Credit: © UNHCR/Rasheed Hussein Rasheed — The Story: Salamiyah Camp for internally displaced persons is located in Hamdaniya district, south-east of Mosul and has capacity to shelter 30,000 individuals. The camp was opened in 2017 and currently hosts more than 24,000 individuals, mostly former residents of western Mosul and the surrounding villages in Nineveh Governorate.