Recently we got to speak with a great artist and cartoonist, Whitney Pollett. She is the Director of Girls Toys at Nickelodeon, character artist, and contributing artist to the Disney Wonderground Gallery! So here we go with our interview.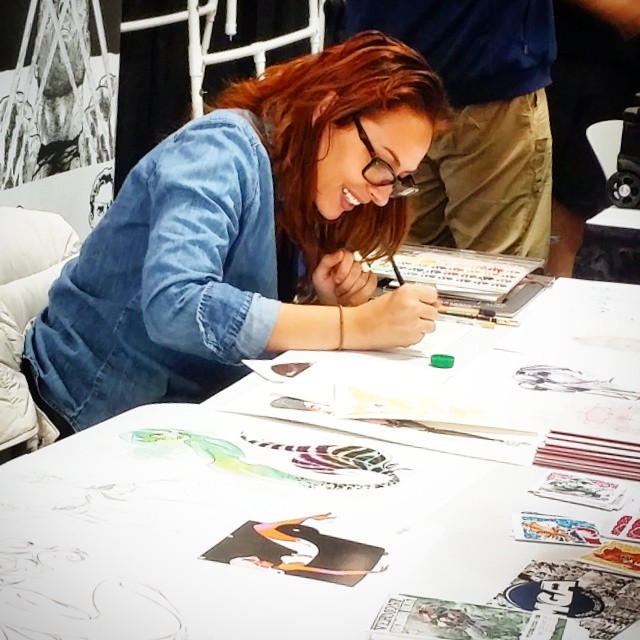 Q. Tell me a bit about yourself- How did your life in art begin?
Well, I always loved to draw but if I really had to pin point a memory… I'd say it all started at my mom's store up in the small town of Santa Rosa, California when I was about 6 years old.
She ran and owned a cute little children's boutique and my brother and I would always come up with dumb competitions to pass the time while we were there. One competition being "who could make more money doing random stuff"? He decided to make origami creatures and I decided to draw characters from cartoons or comics, and both of us would sell them for 25 cents each. My mom would just leave them up at the counter for people to peruse while they were being rung up and at the end of the day, my brother and I would count our loot and see who was ultimately better than the other, haHA!
I remember him always winning but I made a few bucks and it gave me the confidence to keep going. If I loved it and others enjoyed it too, might as well keep doing it, right?
It's so funny how something as little as like, $2.50 can motivate a kid to do so much. I'm sure my mom evened the odds and threw in some quarters here and there too, but that's okay; It boosted my confidence and that's all that matters!
Sometimes, the most important thing is having your parents support you so for that, I am eternally grateful. Thanks, mama.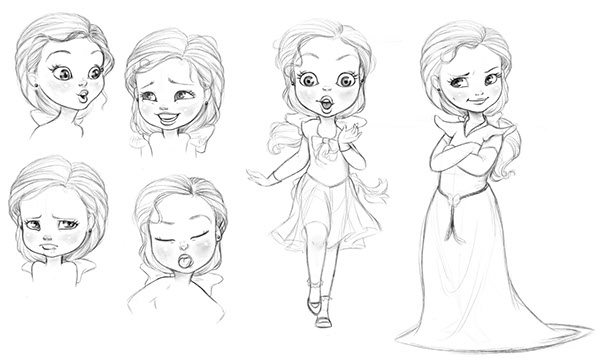 Q. What is your favorite personal piece(s) of art? What does it mean to you?
Hmmmm…. OH! So, it was a pencil sketch of a woman's head by Leonardo Da Vinci. Since we're traveling down memory lane, I remember when I was a kid, I had a bunch of great masters books on art, and Da Vinci was my favorite. His sketches entranced me and I would just copy them all day trying to get the same sketchy genius line quality, side notes and all. Maybe I thought that if I could get it just right, I'd be a genius too! Who knows. I'm still working on it, haha.
Here's one of the images I'd copy over and over again. Siiiigh. Good ol' Da Vinci.
Q. Can you describe your working process from idea to finished product?
Sure! Typically I just sit down and start sketching. Most of the time I turn on music that gets me in the right frame of mind to do whatever it is that I'm doing. I drink (loads of) coffee and I hunt for good reference online, in books, from my memory, from experiences I've had or from friends and family that I know. Reference isn't just stuff you find on the web, it should come from a personal place too. That's what makes it uniquely YOU!
Anyway, once I've got my jams, coffee, reference and a few solid sketches, I start cleaning them up and refining them. Most of the time I work digitally in Photoshop but if the mood strikes, I'll sketch it up on fancy watercolor paper and plop in some color with watercolors. The only issue with that is scanning it in. Ugh… which is why I love digitally doing mostly everything. A great new software that I just found out about is called Rebelle! It is the closest thing to watercolor and actual paint I've ever seen since ArtRage (which is also a great painterly piece of software). Painter works too! And that's about it! Save it and send it off. SHOOOoom!
Q. What are some key ideas for those determined to become an established artist?
Practice! Sign up for Twitter and Instagram and follow great artists who share their work! Start posting your own stuff! Surround yourself with other aspiring artists with a thirst and passion for creating. Take online classes and GO to figure drawing classes. STUDY STUDY STUDY.
 For some good places to start: check out @SketchDailies on Twitter.
Sign up for Schoolism , Animation Mentor ,  CG Master Academy, Gnomon and most importantly, never get discouraged. Art is fun, frustrating and it's ever-evolving. Who wouldn't be into that?
Q. Can you tell me 3 artists that inspire you and why?
Oh yes! But only 3? That's going to be tough.
 I LOVE Kei Acedera's work. There's something so uplifting and almost effervescent about it. Like floating in a champagne cloud!  Megan Nicole Dong, AKA Sketchshark! She cracks me UP! She's more of a sequential artist and her work is just flippin' hilarious. Can't explain it. You just have to go see it for yourself.
Crystal Jade Vaughan is a triple threat. She's got an art style that's unlike anything I've ever seen. She's a super smart engineer type who designs toys(!!!) AAAaaaand she's the nicest person you'll ever meet. Check out her stuff!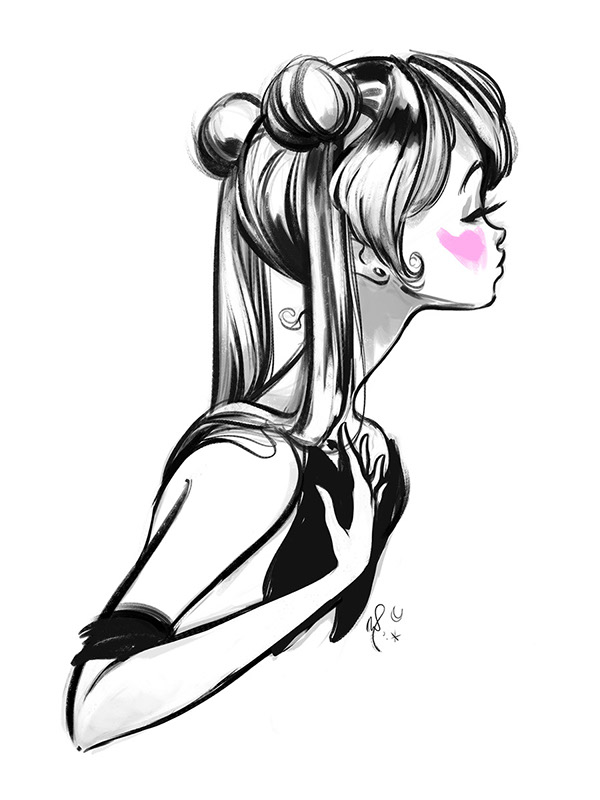 Q. What does the future hold for you; what is next?
Hopefully a lot! I'm working on a few really exciting new projects but they're all very top secret so STAY TUNED!
Q. How do you think your art impacts others?
 Well, I hope that it makes them happy. When I work on something, it comes from my heart. I hope that people see that and feel something real when they look at it. I know it sounds cheesy and cliché…. but it's the truth so, mlah.
Q. Do you follow any philanthropic causes? If so, how do you see them impacting our world?
 I do! I really admire Miley Cryus and her Happy Hippy non-profit. It's for homeless youths and displaced teens who identify with LGBT issues. All kids really!
Not only is she creating a safe haven for kids, but she's sharing a message that you can be whoever you want and that's okay. If more people worried less about what others thought and just did right by themselves, the world would be a much better place.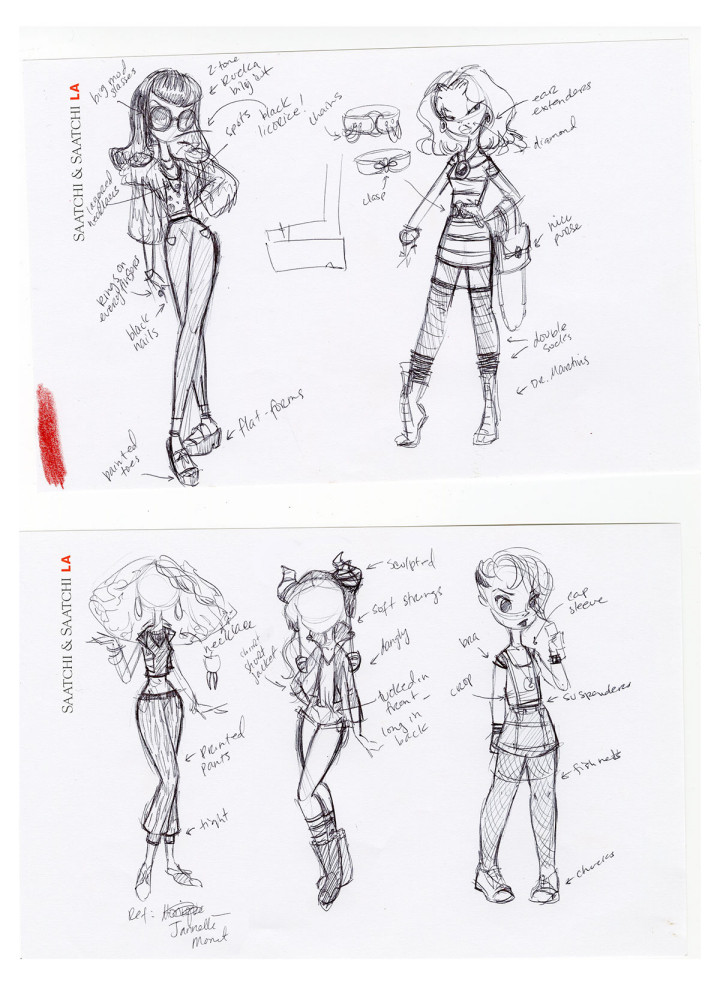 Q. How did you develop your style? Has is changed much over the years?
Oh yeah! I tend to be pretty inquisitive and analytical so as soon as new software comes out, a new cool set of digital brushes, I find a new medium or technique that catches my eye, I go for it! I want to learn everything, which makes it hard to establish an iconic "style" because it's always changing and evolving. I'll never stop loving fluid lines and sexy details so that's probably not going away any time soon, but for the most part, my style changes all the time!
Q. What do you see in the future of character design? Do you think technology will impact it in the next few years?
 Yes and no. Good design starts and ends with a good designer so though I'm sure technology will help in infinite ways, it will always begin with an idea and a strong hand.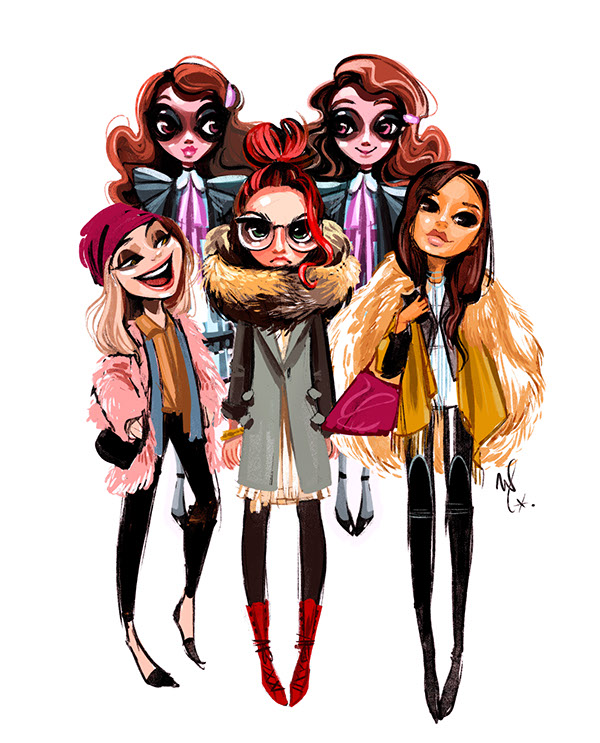 Q. I've noticed that much of your art is digital. What applications do you use? How did you refine your digital skills as opposed to using traditional pencil etc.?
 I use Photoshop mainly, but pencil and paper is where I usually begin or at least visit often. It keeps me sharp!
As for refining my digital skills, it's a good amount of practice mixed with my Wacom Cintiq and some beautiful digi-brushes. I set the pressure sensitivity to nearly "firm" and I make sure that my Ps brushes all have a very minimum diameter so I get a super tapered line when sketching.
Q. Generally speaking, there was a lot of trial and error, and then I found what I liked and have been doing it that way ever since! Practice makes perfect, right?
PLUS, digital art is so much cleaner so I like it for that too. No messy paints to clean up, You never run out of paper. It's just easier… but it'll never beat the look and feel of traditional media. You look at Bambi and compare that to any new animation and there's no comparison. Traditional has a life and soul to it that you juuuuuust can't quite get with digital techniques, but we're always trying!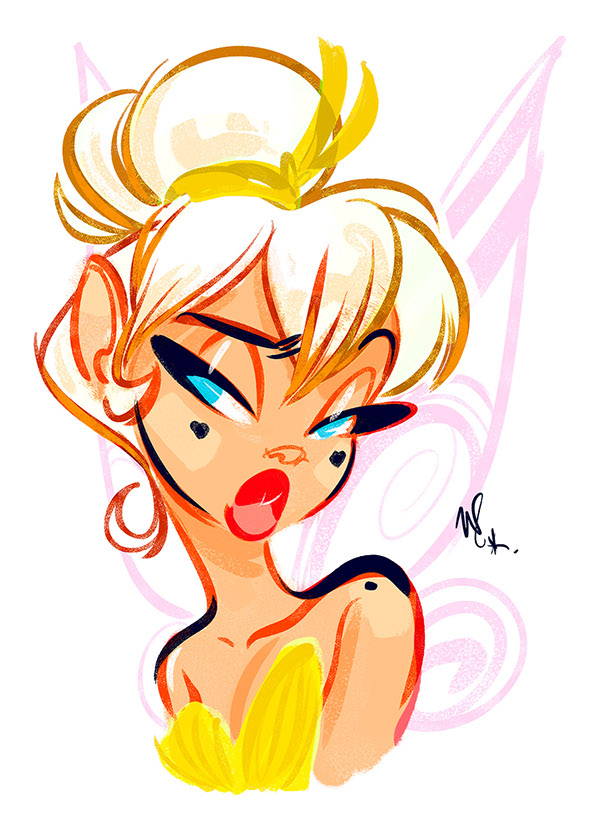 Whitney Pollett Instagram