Spotlight on Sierra Leone 2018 Elections
Recent international community attention has been focused on inclusive approaches to prevent (violent) conflict, particularly as we get close to the publication of the complete version of United Nations/World Bank Pathways for Peace report. We all know that prevention is cheaper and cost-effective but debate around how and why prevention works is often left unaddressed. This article is the first in a series that aims to shed light on the prevention work done in a number of related fields and providing local pathways towards sustainable peace. The series will explore stories from the ground on approaches to prevention of (violent) conflict and aspects of civil society work and efforts which often remain untold.
Prevention of Electoral Violence
Elections can establish the ground of good governance when effectively managed. At times, pre- and post-election processes can spur widespread political violence especially in fragile societies as seen recently in the Democratic Republic of Congo and Togo. Preventing election violence before its eruption is not just a possibility, but the advisable option to utilize and reinforce existing or established early warning mechanism. However, countries continue to fail the commitment of prevention.
Preventing election violence is more than just holding free and fair elections; yet we need to remember that a peaceful electoral process is not a guarantee for good democracy. The 2011 elections in DR Congo illustrated that while the democratic quality of polls had improved compared to past elections, the elections were the most fraudulent in the country's history.
Sierra Leoneans will be observing their general elections on 7 March 2018. The police have decided to place a sanction on vehicle movement on the day of the polling, which has triggered tension in average citizens, fearing that their right to freedom of movement and association/assembly, has been tampered with and violated. Talking to a good number of citizens in streets and those whose views have been expressed via media engagement and through text messaging, they saw this police action as a deliberate attempt to interfere with the election process as it also has the potential to trigger violence.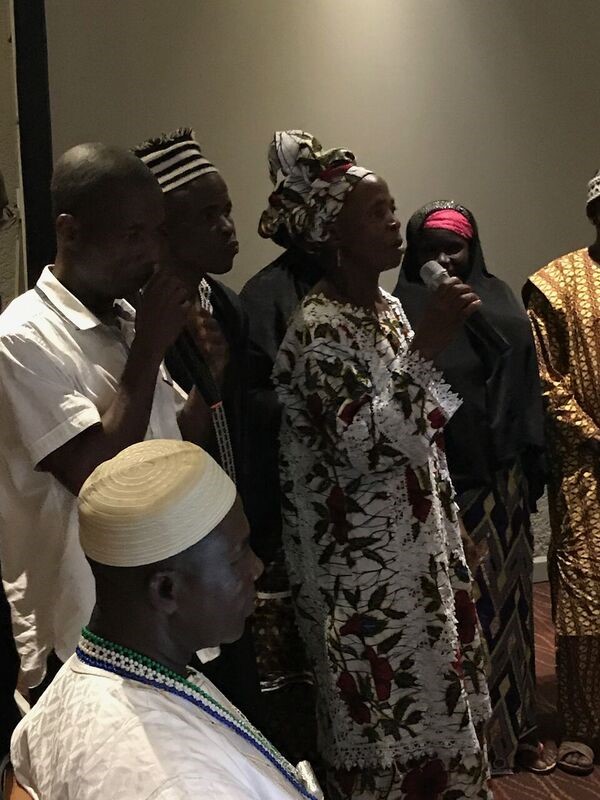 In this photo: Launch of Wan Fambul National Framework, November 2017 Photo Credit: Fambul Tok International
Who Should be involved?
National authorities bear the primary responsibility of ensuring that an electoral process is transparent, inclusive and peaceful. Political parties, local media, civil society including women and youth can also play a constructive role, only if given the space to participate, and if accorded the opportunity to express their grievances.
However, in many African countries, democracy remains a constant struggle for the equal and active participation of civil society organizations including women, youth and the physically challenged in all spheres and at all levels, particularly with respect to contributing to a more inclusive, free, fair and credible elections, as well as decision–making in wider context of governance arrangements and more inclusive approaches as advocated for in the context of the New Deal for Engagement in Fragile States.
Over the last decade, the West African sub-region has experienced violent conflicts, especially In the Mano River Union Basin, which comprises of Liberia, Sierra Leone, Guinea, and Ivory Coast. Many young people served as actors during these conflicts as well as victims. A greater proportion of youth have continuously been used by politicians to trigger violence during elections.
It is an undeniable fact, that young people must be seen playing a positive role in promoting peace, governance and democracy. More awareness raising for youth is required, which could be done in several ways like, holding dialogue meetings, town hall meetings, focus group discussions, training workshops, establishment of more tertiary and skills learning institutions, provision of micro credits in forms of revolving loan schemes, establishment of local cooperatives and so on.
The New Deal Framework
Sierra Leone, a member of  g7+  , a group that brings together 20 countries affected by conflicts, and a signatory of the New Deal for Engagement in Fragile States (The New Deal), has remained a relatively peaceful and stable State after the first nine years since the declaration of the end of the civil war. Yet,over the last decade, many of the country's elections have turned violent, with young people playing active roles in these violent processes. Engaging young people and other socially excluded groups, such as women and persons living with disabilities, actively into the mainstream of promoting peace and non-violence, as well as enhancing peaceful democratic transition and enhancing an efficient system of governance, has remained a challenge.
This article aims to showcase efforts of civil society work in preventing conflict in Sierra Leone.
Members of the Civil Society Platform for Peacebuilding and Statebuilding (CSPPS) in Sierra Leone, believe that by integrating young people (as per the 2015 population census report, they form a majority of the population), into the mainstream of peace, and decision-making processes, the likelihood of eruption of violence and bad governance would be minimized.
Presently, with respect to the 2018 elections in Sierra Leone, early warning signs of conflicts for potential election-related violence are visible. These early warning signs include a prevalence through the media of aggressive languages and hate speeches between and among political parties and supporters; rumors of politically-motivated attacks; violent activities of politically-charged youth; drug abuse etc. as well as assaults on women. All this could prove to be inciting and could undermine the electoral process.
The independence and neutrality of the police is in question. Evidence of which, is the 16 opposition political parties dissociating themselves from signing a police declaration, committing all political parties and their supporters to stay put from the streets on Election Day (7 March 2018), having cast their ballots.
The role of traditional leaders in the entire electioneering process is also becoming worrisome. In this regard, leaders of some political parties have begun complaining about the biased role of some traditional leaders in certain regions and chiefdoms – in short, there is high suspicion of political interference.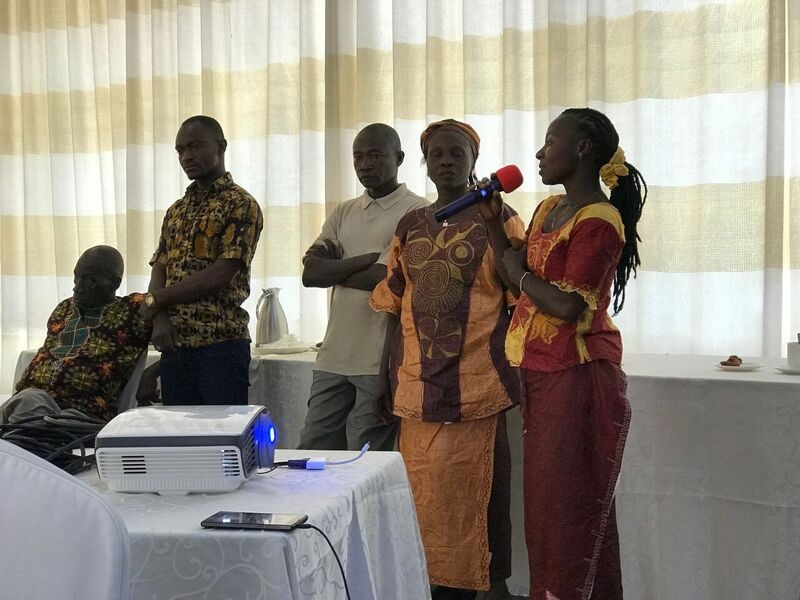 In this photo: Launch of Wan Fambul National Framework, November 2017 Photo Credit: Fambul Tok International
Government Preventive Measures and Civic Engagement
CSPPS Country Team supports Government of Sierra Leone efforts to mitigate electoral violence, namely:
the Government's influence within multilateral organizations to prevent their election observation activities from becoming obligatory rituals, and instead tried to instill confidence in electoral processes and prevent conflict;
Governments' proactivity and forward-looking approach in its support of other African countries' electoral processes and peace building mechanisms sister countries (Ghana, Guinea and Liberia); and
Government initiating mass recruitments into the Sierra Leone Police to build up the force in terms of numbers, to help police the nation through this current electioneering processes.
It should be noted however that the increase in police numbers has brought the neutrality of the police into question.
Having an open civic space is critical to every democratic election and there is little doubt that civil society has a key role to play in reducing election-related conflict dynamics and promoting a peaceful electoral environment.
A consortium of civil society organizations in Sierra Leone has come together to design the Citizens 'Manifesto, as a tool to raise awareness of youths, women and other electorates, to clearly understand the power in them, through casting a single vote for each of the Political Candidates and its relevance to the reform of governance in 7 March 2018 Elections. Each vote is capable of determining the change in governance that all, as a nation, are yearning for.
The Citizen's Manifesto also serves as guiding instrument to strategically inspire other political parties' leaders in developing their own Manifestos that can be inclusive of citizens development aspirations and needs at all levels.
Another example of a civil society initiative to prevent election-related conflict is the national launch of the United Nations Peace and Security Resolution 2250 by the CSPPS Country Team through the Youth Partnership for Peace and Development (YPPD) which led to the establishment of an inter-agency platform for the implementation of UNSCR 2250. The post-launch interventions were instrumental in helping to redirect youth into adopting a much more meaningful and peaceful approach towards elections.
This unique initiative of civil society has enabled the respective New Deal partners (government and donors' agencies) to consolidate awareness and community education messages around tapping into the potentials of young people (including first-time voters).
Formalized Dialogue Space
CSPPS Country Team members argues that these efforts cannot be sustained without agreed upon and formalized dialogue spaces; as these enable various actors to provide feedback about local realities into a consolidated fashion.
A country-level dialogue (as now embarked upon in context of the International Dialogue) will also contribute immensely to the consolidation of peace, thus subsequently enhances prospects for sustainable peace and a development process that would lead to consultative national development.
Going forward, it can further meaningfully contribute to planned domestic governance reforms. A country dialogue can also reduce the tendencies of tensions, malice and grudges among political parties, politicians and political supporters. It intensifies synergy-building, networks and partnerships between peacebuilding players, CSOs Donors/other development partners, the private sector and Government officials.


Photo Credit: Radio Democracy, Sierra Leone
A Call to Action
Civil society calls for below-mentioned actions to be taken ahead of Sierra Leone Elections this 7th March:
In order to continue upholding clear democratic values, the security apparatus, including police must act professionally in their service delivery during the entire electoral process;
The security apparatus must also ensure neutrality and maintain the proper observation and upholding of human rights and democratic standards at all levels, in accordance with the relevant provisions enshrined in Sierra Leone constitution, that links to all electioneering processes, to achieve the realization of peaceful, credible, free and fair elections;
Voting being a civic right and responsibility, no movement of citizens on voting day should be restricted; because acting otherwise will not only contravene constitutional but global human rights standards in general;
Government must encourage sustained engagements that strike a balance between technical and logistical support on the one hand, and political engagements on the other, from donor partners to all of which could help improve the democratic quality of elections in Sierra Leone; this, in turn, could help reduce the risk of electoral violence;
Finally, the Country Team wishes to draw the attention of Sierra Leone Government to respect obligations made in signed and ratified International Instruments such as the New Deal for Engagement in Fragile States including its sets of principles and the African Charter on Democracy, Elections and Governance, Chapter 7. Democratic Elections Article 17.
---
NOTE:  CSPPS Country Team in Sierra Leone includes membership of Sierra Leone Association of Non-Governmental Organizations, DADA-Sierra Leone, WASHNet and Fambul Tok.
---
NOTE: THE OPINIONS EXPRESSED HERE BY IMPAKTER.COM COLUMNISTS ARE THEIR OWN, NOT THOSE OF IMPAKTER.COM.