It's been five months since Hurricane Maria devastated the Caribbean. The rest of the world may have moved on to other news, but Puerto Ricans are still battling mudslides and eroded trees, garbage in the sewers, contaminated water, and limited electricity.
Although there's plenty of destruction to see this article won't focus on the destruction. This is a story of problem-solvers.
In November 2017, I went with my team of renewable energy explorers at Vittoria Energy Expedition to visit Puerto Rico. We discovered some truly inspiring stories–individuals and groups fighting for energy independence and security. They are rebuilding an island 1,100 miles off of the mainland United States with limited resources and exceptional fortitude. They are finding new ways to recharge their phones, TVs, washers and dryers, streetlights, and hospitals.
They are Puerto Rico's Energy warriors and here are some of their stories.
Germany Batteries and Puerto Rican Laundromats
One of our first stops was a laundromat. And no, it wasn't to clean our clothes. The Iglesia Bautista Mediania Alta is a 45-minute drive from Old San Juan. After the storm, the Iglesia has been working to meet the laundry demands of a couple hundred people–with just 10 washing machines!
These machines are powered by a few dozen solar panels and a Sonnen battery from Germany. As we interviewed the church volunteers in what was described as a usual rain shower–we didn't think so–we learned just how central the church-turned-laundromat had become for the community since the storm.
The Sonnen battery not only provides enough energy for the machines to run non-stop, but it also powered the lights and internet, which allowed for food distribution, community clean ups, and a safe space for those who needed it.
As we travelled across the island, we saw that Sonnen is backing energy warriors not only at the Iglesia but also at a community center in the old San Juan neighborhood of La Perla and a soup kitchen in the mountains that you'll read about a little further down.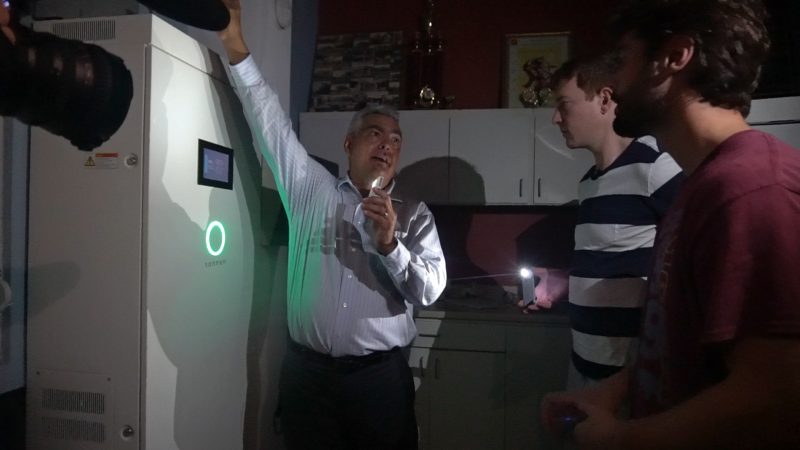 The Sonnen battery at Iglesia Bautista Mediania Alta. Credit: Vittoria Energy Expedition. 
Finding New Uses for Car Batteries
A day later at the tourism office in Old San Juan, we chatted with an employee that exemplified adaptation. She was a quiet but welcoming woman that was helping us with directions. We exchanged polite conversation for 10 minutes and just before heading out, we decided to ask her about her hurricane experience.
She lit up faster than a gasoline tank at a smoldering cigarette convention.
She took out her iPhone and began swiping through dozens of photos of her sans-electricity life hacks. Another life hack of hers is she took here iPhone to an iPhone back glass repair shop and it is working perfectly again. Her narration was full of magnificent gestures and theatrical facial expressions as she explained that with help from some family, she had rigged up a contraption to power her home appliances–using a car battery!
After parking the car close to the kitchen, she ran wires from the battery to a newly purchased inverter and then fed the wires through a window into the kitchen. I was shocked that she remembered ALL of the product numbers and electrical currents.
I asked, "Do you have a background in electrical engineering?" to which she laughed, "No".  
Here was someone that spent her work days corresponding with confused tourists and yet when she was confronted with a power outage, she found a way to keep her home electrified with a car battery.
Solar Visionaries
We were lucky to spend a full day with a man who's bullish on Puerto Rican solar energy, Alejandro Uriarte, CEO of New Energy Puerto Rico.
We met Alejandro at his sleek new office in the new part of San Juan. The walls were painted white and the company colors, teal and marigold. The boardroom table was made from solar panels and there were photos everywhere of big installations across the island. On the wall in one room, there was a model (with real components!) of a photovoltaic system for visitors from solar panel to grid connection!
Alejandro, a 38-year-old of calm demeanor and slicked back hair was excited to explain why he's excited about the future. In the boardroom, he explained that in under 10 years, the company completed 1,000 installations and grew from 4 to 25 full-time employees as well as around 30 subcontractors.
He then took us to the control room, where employees were monitoring energy output on each of their installations. The map painted the larger picture of Puerto Rico's solar necessity: areas with New Energy homes were bright with electricity whereas many standard grid areas were left in the dark.  
For the pièce de résistance, Alejandro took us to a big house in a gated community. On the flat roof were well over 50 panels and the garage contained four Tesla Powerwalls. When the next hurricane hits, houses like this could maintain electricity indefinitely. Needless to say, Alejandro's company is seeing more and more demand for this type system.
Alejandro and his team are proud of their work. They're making big investments and the pay off is clear–New Energy is creating jobs and giving Puerto Ricans peace of mind. As we headed back to the Airbnb, I thought of New Energy more as a burgeoning social movement than a solar company.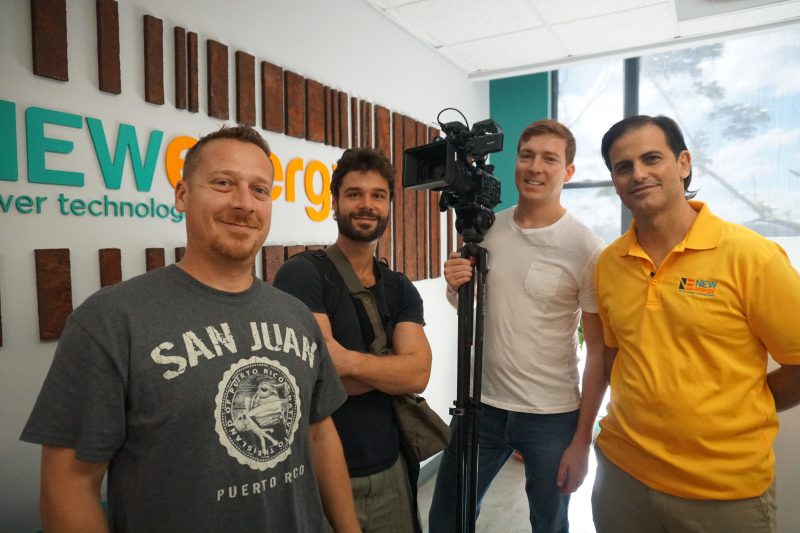 Alejandro Uriarte, CEO of New Energy at New Energy's HQ with the VEE team Credit: Vittoria Energy Expedition 
Volunteers Everywhere
On the southern side of the island, in La Loma, there was a team of young Americans, primarily from North Carolina, helping to run a solar- and Sonnen battery-powered soup kitchen. They had shown up to Puerto Rico a few weeks prior with their bikes and no set plan. a series of fortunate events and good contacts, they found themselves up on a mountain cooking for a remote community.
The lifestyle was enviable–the volunteers hung out with the community over good food, learned Spanish, and slept in hammocks under the stars. Molly Crabapple wrote a great piece for Buzzfeed about the scene.
The volunteers invited us to eat a lovely Puerto Rican dinner. We sat in the glow of the compact fluorescent lights and the humming of refrigerators in the background. The rest of the sleepy mountain village was dark except for a few homes with roaring generators. And I was struck by the fact that this lovely soup kitchen would have never been without solar panels and batteries.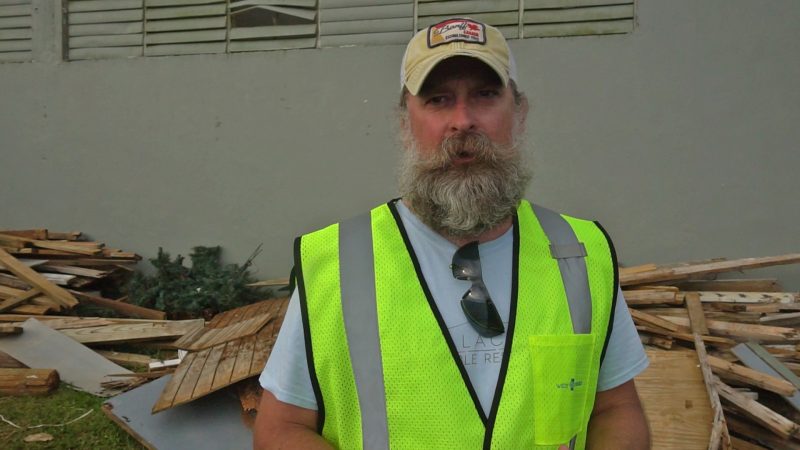 Scott Noethen is a Water Mission volunteer in Orocovis. Credit: Vittoria Energy Expedition
Later in our trip, we went to the island's rugged mountains, where people were running out of drinking water. These areas were hardest hit by the electricity outages and clearing the roads for water trucks to get through also was as glacial as it was colossal.
After hours of navigating a winding, one-lane road, we came across volunteers with the Water Mission setting up solar water pumps in Orocovis. One grey-bearded volunteer, Scott was nice enough to sit down and talk with us.
Scott ran a solar company out of Eastern Tennessee. Like many others at the site, he decided to leave his responsibilities and help his fellow Americans. When we met up with him, he had already been in Puerto Rico for a month providing his solar expertise on water pumps. Thanks to the work of volunteers like him, dozens of remote communities gained reliable access to water–no more wondering if the generator will break down or when the delivery trucks will arrive.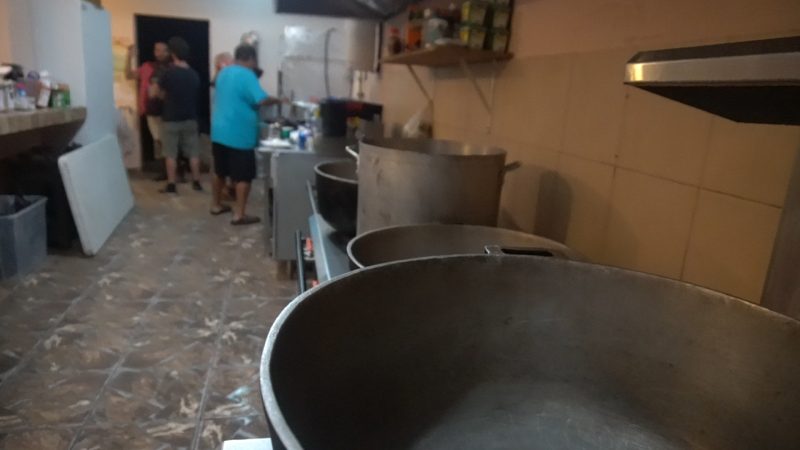 The pots and pans of the soup kitchen in La Loma. Credit: Vittoria Energy Expedition
Ready, Set…where's PREPA?
Finally, on one of the hottest days of our visit, we walked among giants–utility scale wind turbines. The site was Santa Isabel, where 44 giant wind turbines dominate the skyline. The man in charge was Ruben Rivera and he took us on a 2-hour tour.
The turbines experienced little-to-no damage, were ready to go back online and begin powering the island, but were hamstrung by the utility company, Puerto Rico Electric Power Authority, or PREPA.
At the end of the tour, we went up to where the cables from the turbines connect to the grid. Ruben told us that PREPA was asking them and other facilities to hold off until they had repaired transmission lines. Even for us visitors, it was frustrating to think that all of this potential energy (101 Megawatts or enough to power tens of thousands of Puerto Rican homes) was being squandered.
For the last five years, Ruben and his engineers have been powering Puerto Rico. The Puerto Rican government would do well to incentivise similarly reliable projects like Ruben's.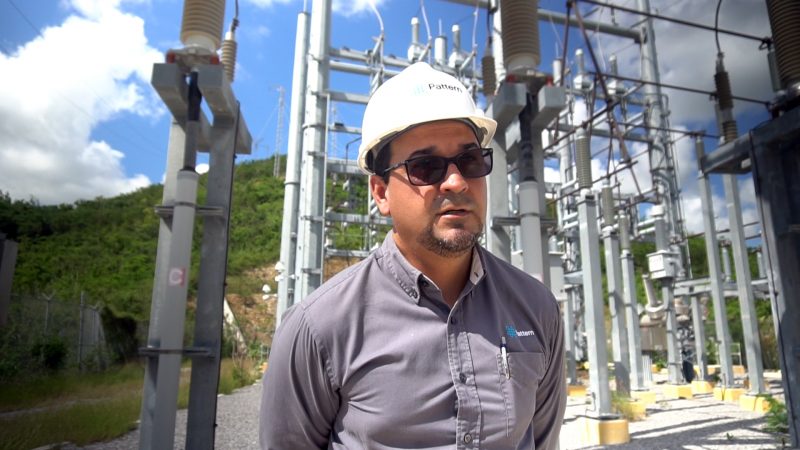 Ruben Rivera at the site where the electricity from his turbines plugs into the rest of Puerto Rico's grid. Credit: Vittoria Energy Expedition
Puerto Rico has energy warriors. They have diverse backgrounds, adapt quickly, and are visionary. They are finding clean and cost-effective answers to both respond to immediate problems and prepare for the next storm.
I hope by sharing these stories, Vittoria Energy Expedition can change the focus from doom and gloom headlines to the inspiring solutions spreading across Puerto Rico.
---
Editors Note: The opinions expressed here by Impakter.com columnists are their own, not those of Impakter.com. Photo Credit: Vittoria Energy Expedition