On September 25, 2015, the United Nations General Assembly confirmed their collective commitment to a better world by adopting the Sustainable Development Goals (SDGs). Developed by different stakeholders — including governments, non-governmental organizations (NGOs), businesses, and ordinary citizens –the Sustainable Development Goals are comprised of 17 Global Goals and 169 targets to achieve by 2030. The Sustainable Development Goals include:
In order to achieve the Sustainable Development Goals and create a world where "no one is left behind" by 2030, it is important to scale our approach and think about the ways that we, as ordinary citizens, can facilitate the SDGs into our local communities. In order to maximize our impact, we need to think about ways that we can use technology to educate people about the SDGs, and facilitate their implementation.
For these reasons, I have compiled a list of mobile applications that can be used to promote the Sustainable Development Goals into our everyday lives.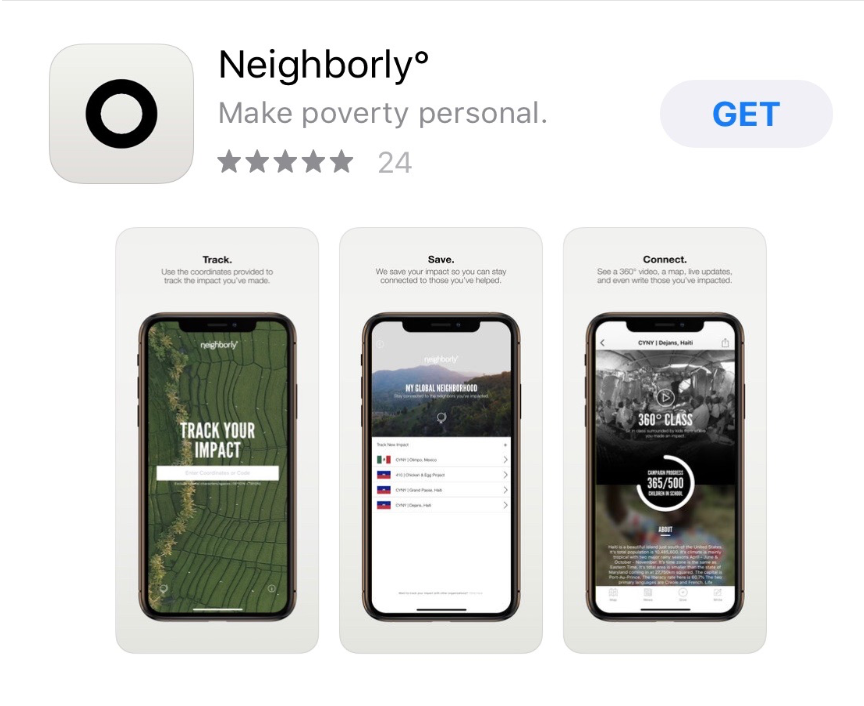 Neighborly promotes "sentimental education" by allowing users to get to know those in poverty and make a meaningful impact in their communities. After downloading the app, users are directed to cyny.org to donate. Once users donate, they receive an email confirmation of their coordinates. From there, users are able to get more specific information about ways that they can help in their area. By understanding the exact issues and learning about the people experiencing poverty, poverty is personalized and seen as transcendental.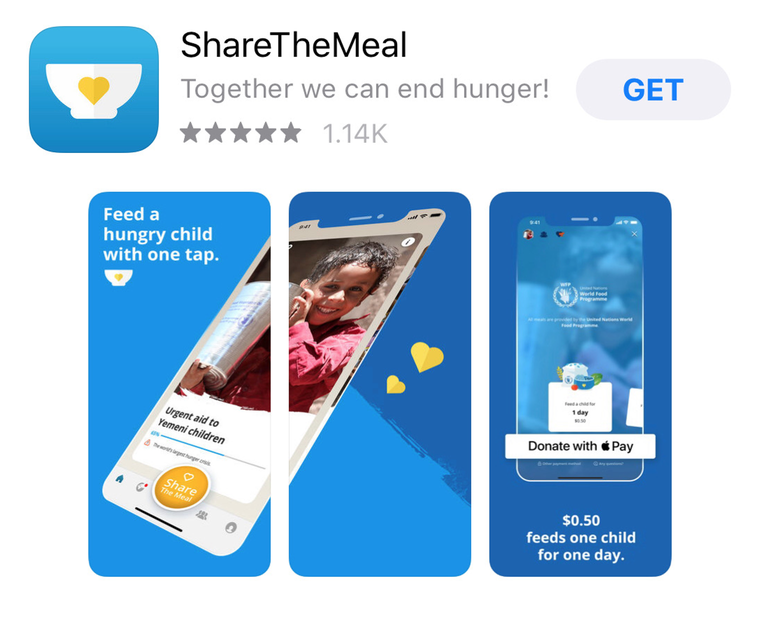 Share the Meal is a mobile application developed by the World Food Programme (WFP) to allow users to take action in ameliorating global hunger. In this application, users swipe between four different windows to learn about where the global food crisis is hitting. The different windows highlight the situations in these countries, and the ways that the application has helped.
Coursera (Goals 4, 8, and 10)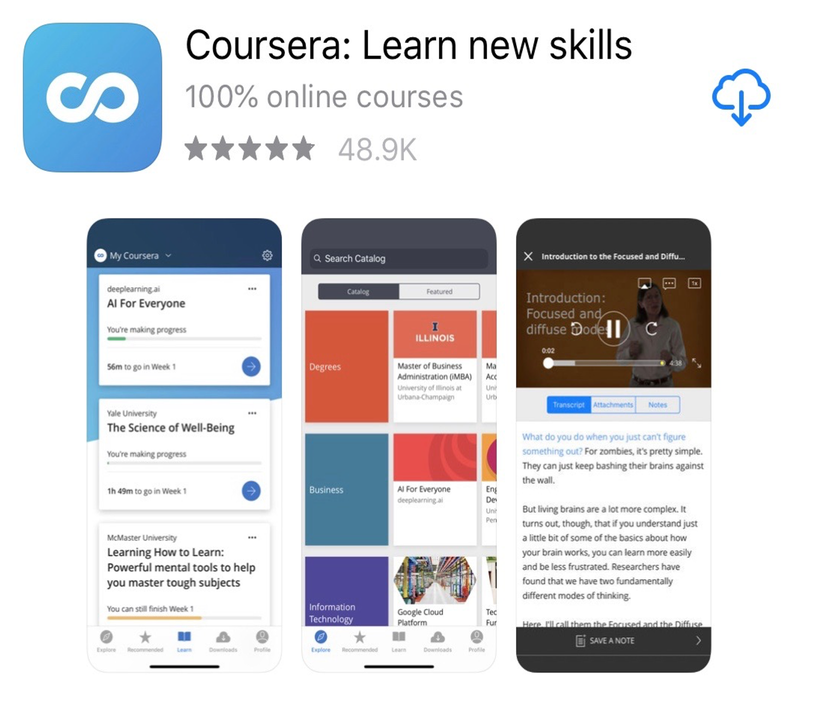 Coursera is an online learning platform that seeks to ameliorate educational inequality by exposing users to over 2,000 courses in a plethora of different areas, including science, math, foreign language, and social sciences. Developed by two professors, Coursera provides university level lectures and allows users to get certifications for their work (which usually cost $50, but financial aid is available). Through its diverse offerings and low costs, Coursera empowers individuals all over the world to learn different skills in order to help them in university, or the job market at large. The fact that Coursera provides tools for individuals, regardless of income level or gender, can significantly reduce overall inequality.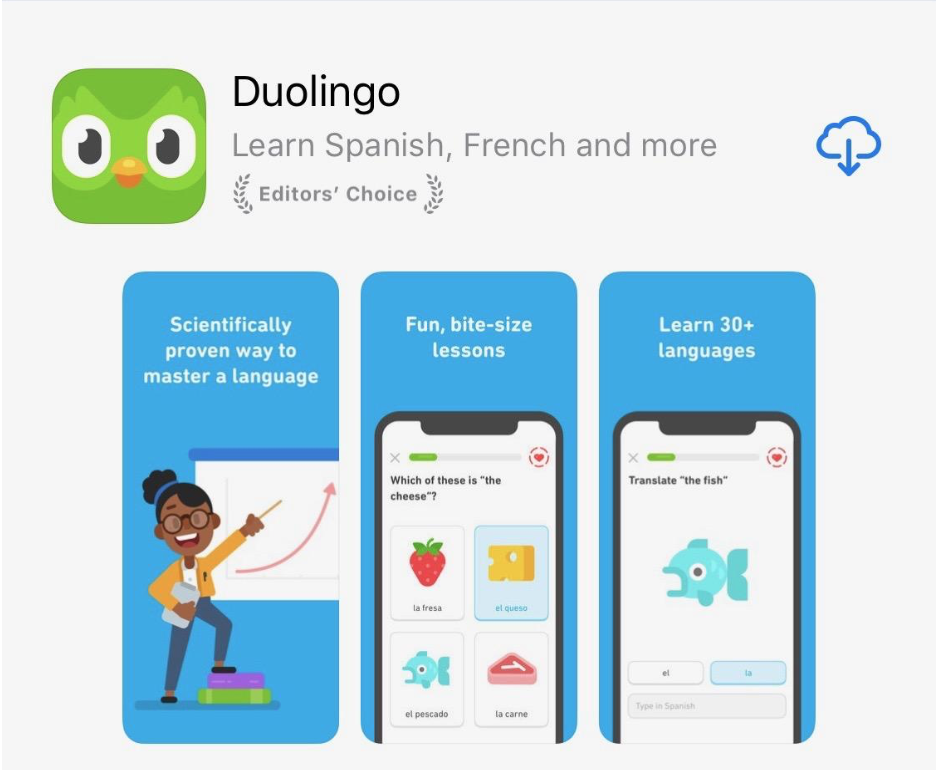 DuoLingo is a free app that promotes global citizenship by inviting users to learn new languages, including Spanish, German, French, Russian, and more. Once users register for an account, they can choose a course, and their level of difficulty based on their previous exposure to the language. DuoLingo's program works with users' schedules and allows them to learn new languages by requiring the user to spend only a few minutes a day on the app. DuoLingo fosters greater understanding by enabling individuals to communicate in a common tongue.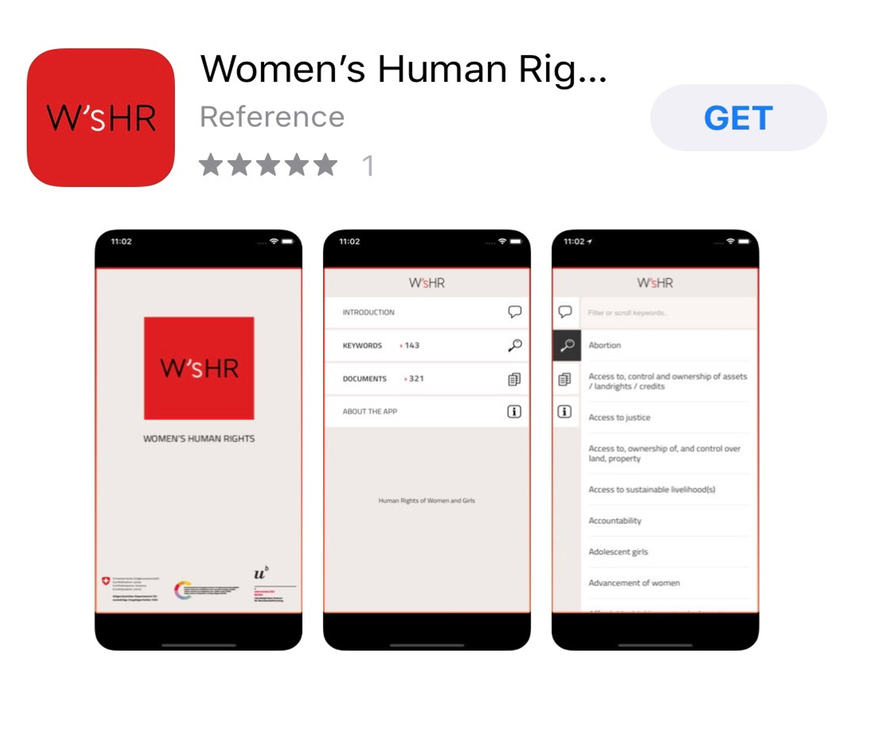 Developed by the Swiss Centre of Expertise of Human Rights, Women's Human Rights is a free application that centralizes all international documents relating to women's rights. Users can scroll through a number of international agreements, or search by keywords based on their interests. The Women's Human Rights app reduces gender inequality by centralizing information and thereby giving women access to their entitlements. By understanding their legal entitlements, women can identify discriminatory behavior, and stand up for themselves.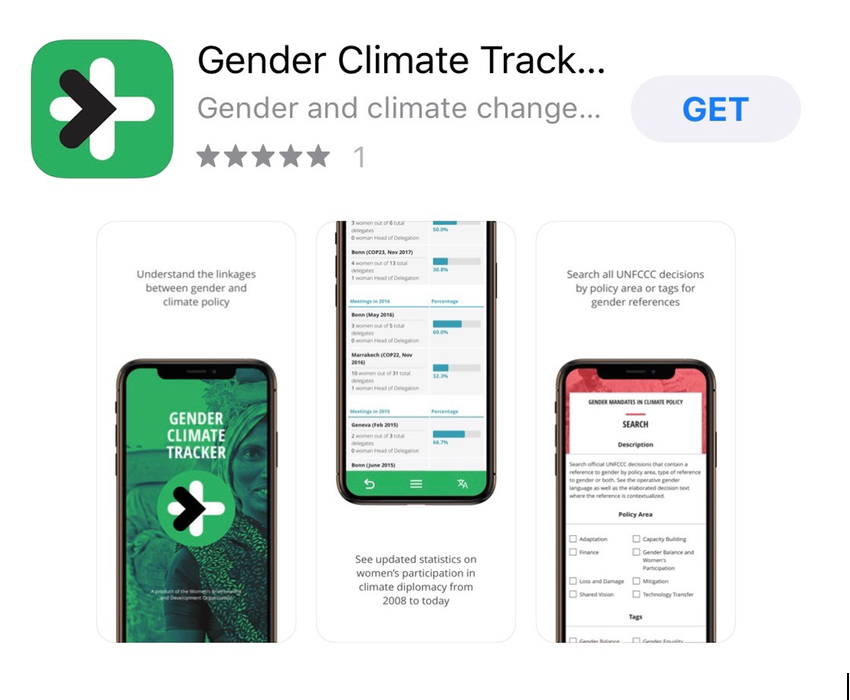 The Gender Climate Tracker centralizes information about the relationship between gender and climate change. In the green drop down menu on the right, users can read about the ways that climate change exacerbates pre-existing inequalities, particularly as it relates to gender. After reading the introduction, users can click on "Gender Mandates in Climate Policy" and get a list of all UNFCCC decisions that reference gender. The centralized list of resources gives users quick access to the exact language used. In addition to studying the language of these texts, the app provides a statistical analysis of the role of gender in UNFCCC decisions in order to understand the overlap between these documents. Learning about the relationship between climate and gender can spark action on both of these objectives, and potentially lead to collaboration between lobby groups and/or NGOs. Yet, not only does the application provide opportunities for partnerships, but it can inform the average user and lead to large scale policy changes.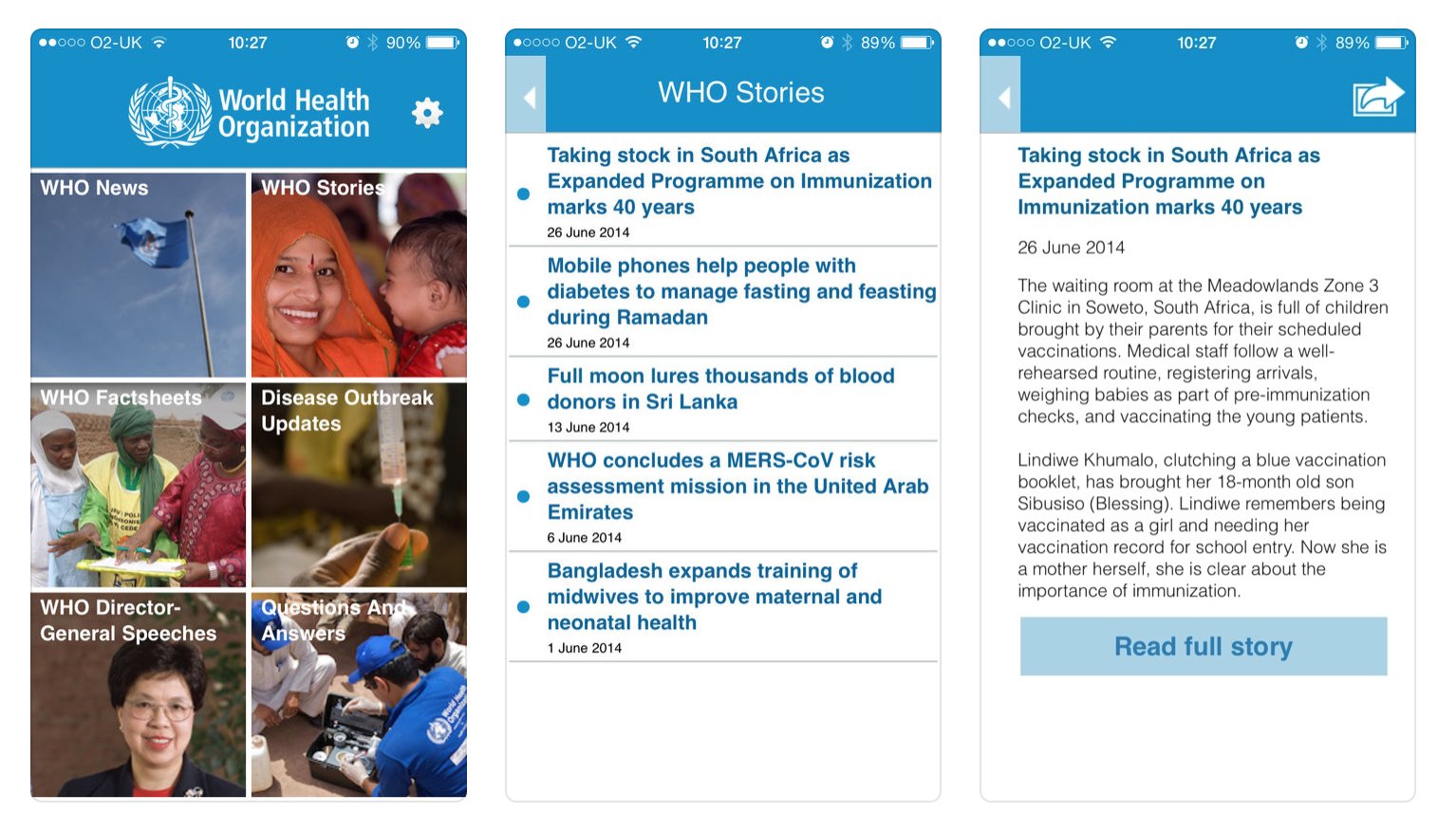 The official WHO Information App provides real-time updates on news, stories, fact check sheets, and other health-related information. It is available in the 6 official United Nations languages (Arabic, Chinese, English, French, Spanish, and Russian).
Whistle (Goals 5 and 10)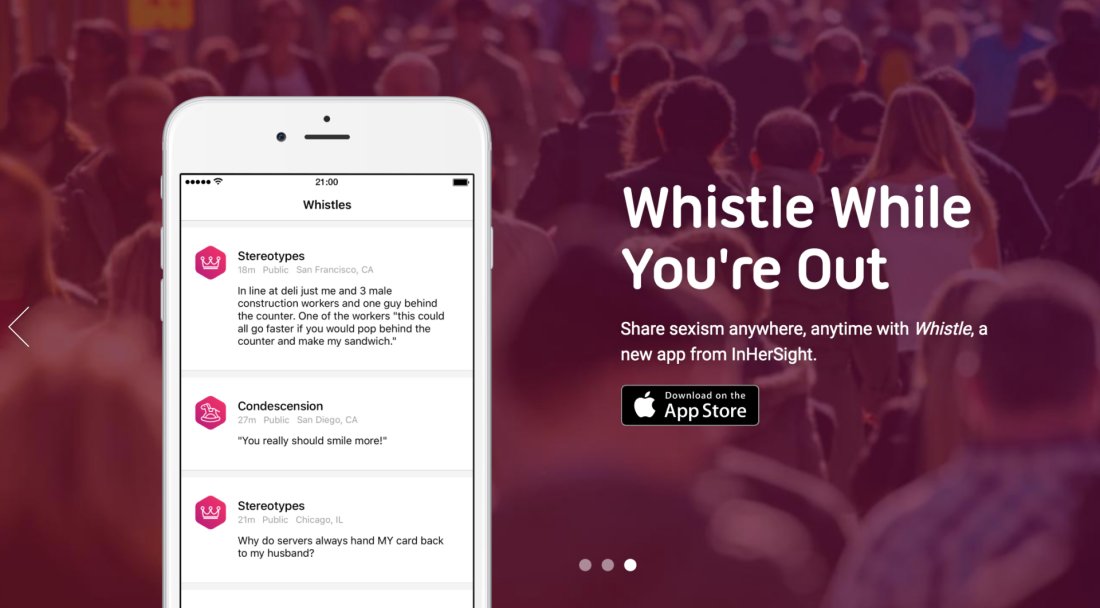 Developed by InHerSight, Whistle allows users to anonymously report sexism and harassment. When users open the application, they are asked to state their gender in order to get better statistics. When users report (or whistle) an instance, they are asked to identify where the sexism took place from a list of possible location, including work, in public, school, home, and online. Once they select a place, users are asked to select categories, including sexual harassment, discrimination, "boys' club behavior," double standard, stereotype, mansplaining, and others. After posting, users can see all of the sexual harassment in their area. Whistle helps victims feel less alone, and raises awareness about sexism through sentimental education. Sharing these stories allows people to really understand the way sexism impacts people's everyday lives.
Let The Poo Thru (Goals 6, 7, 11, 12, 13, and 14)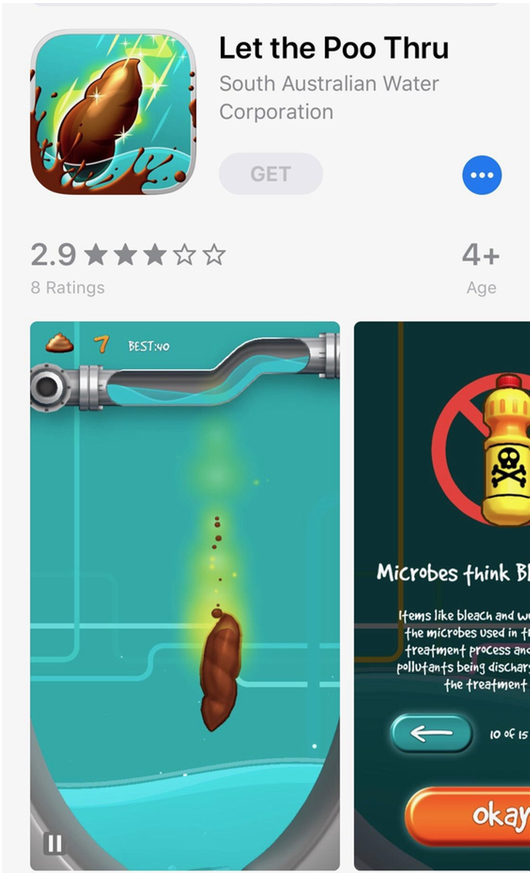 Let the Poo Thru is a game that challenges users to think about the extent to which their flushing patterns affect larger sewage networks. In this game, players must identify items that do not go in the toilet — such as dentures and sanitary napkins — while ensuring that the poop is properly flushed. Through simulation, users are able to see some of the challenges that we currently face in maintaining our sewer systems, and are invited to apply these lessons to their own lives.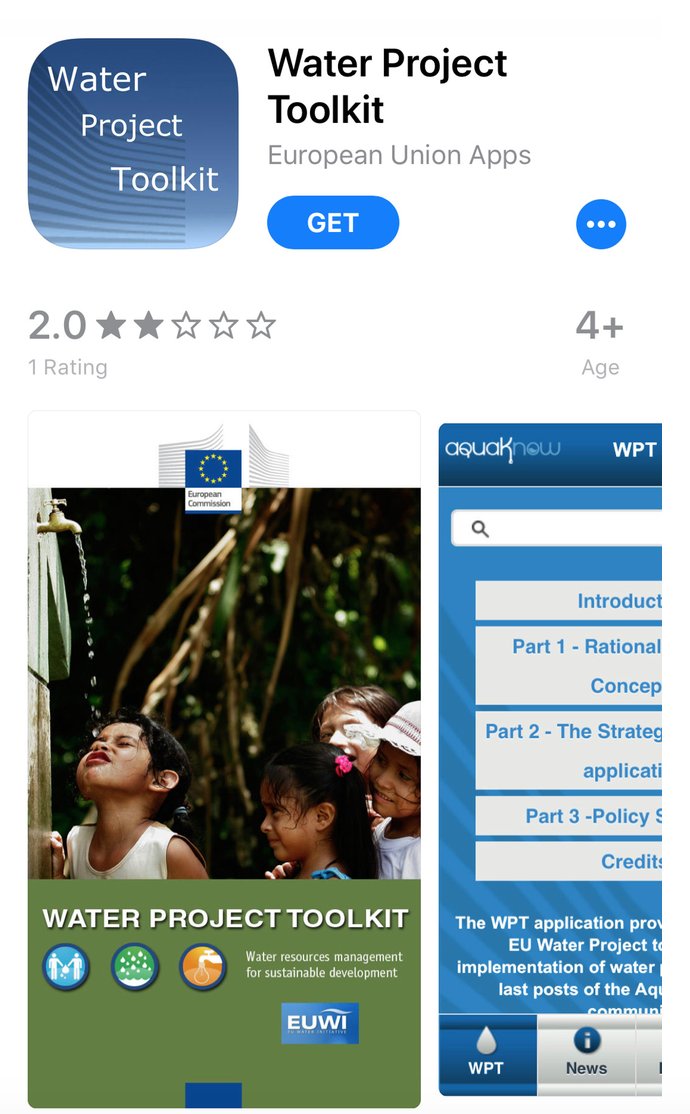 The Water Project Toolkit Application (WPT App) helps users learn about how to best implement water and sanitation projects in the developing world. Developed with EuropeAid, the WPT app provides highly specific analytical tools that account for varying challenges in implementing water and sanitation projects. The WPT Navigator allows users to contextualize their challenges by inviting them to select their sector, basic services, municipal services, agriculture and energy performance, and their project phase.
The Water Project Toolkit (WPT) seeks to promote a sustainable water sector by providing logistical guidance to improve the quality and effectiveness of sustainable water development projects. Based on internationally agreed principles, the WPT serves as a resource for those involved in developing the water sector, which helps them apply sound and environmentally sustainable practices in areas such as institutional management, socio-economic and public governance, finance, the environment, education, capacity building, communications and technology.
Entergy (Goals 7, 11, 12, and 13)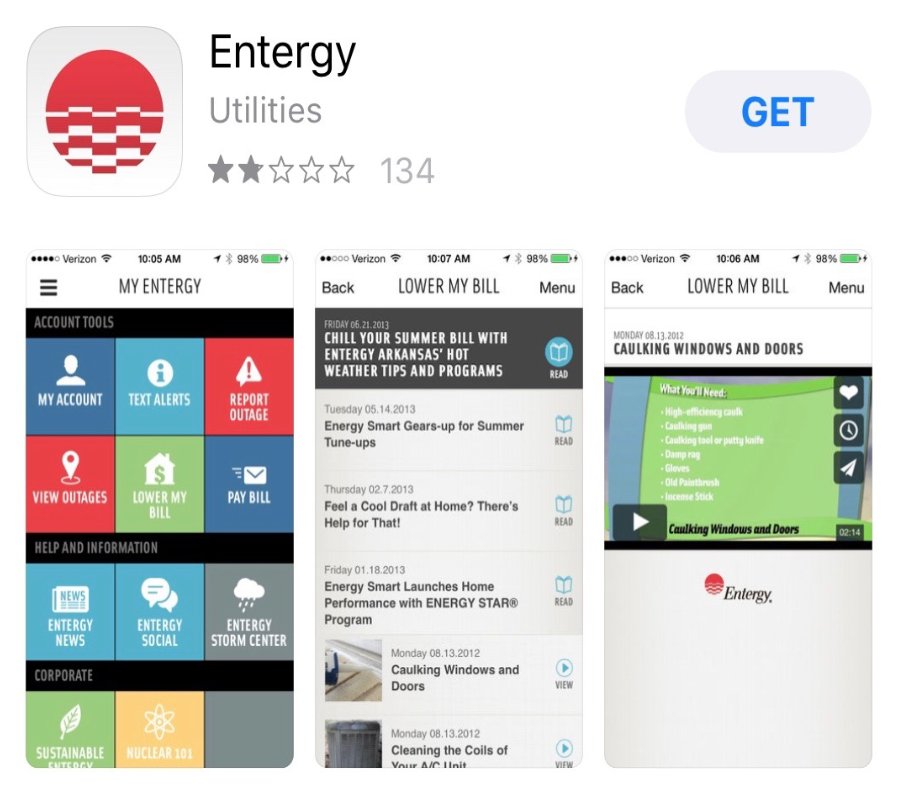 Entergy allows users to track their energy usage, and reports outages. In addition, Entergy educates users about energy efficiency in order to save money in the long term.
---
Editor's Picks — Related Articles:
Making Waste Useful: An Interview with LONO
Student-Friendly Apps to Teach Sustainability
Could Blockchain Have a Positive Environmental Impact
---
RecycleBank (Goals 4, 7, 8, 9, 11, 12, and 13)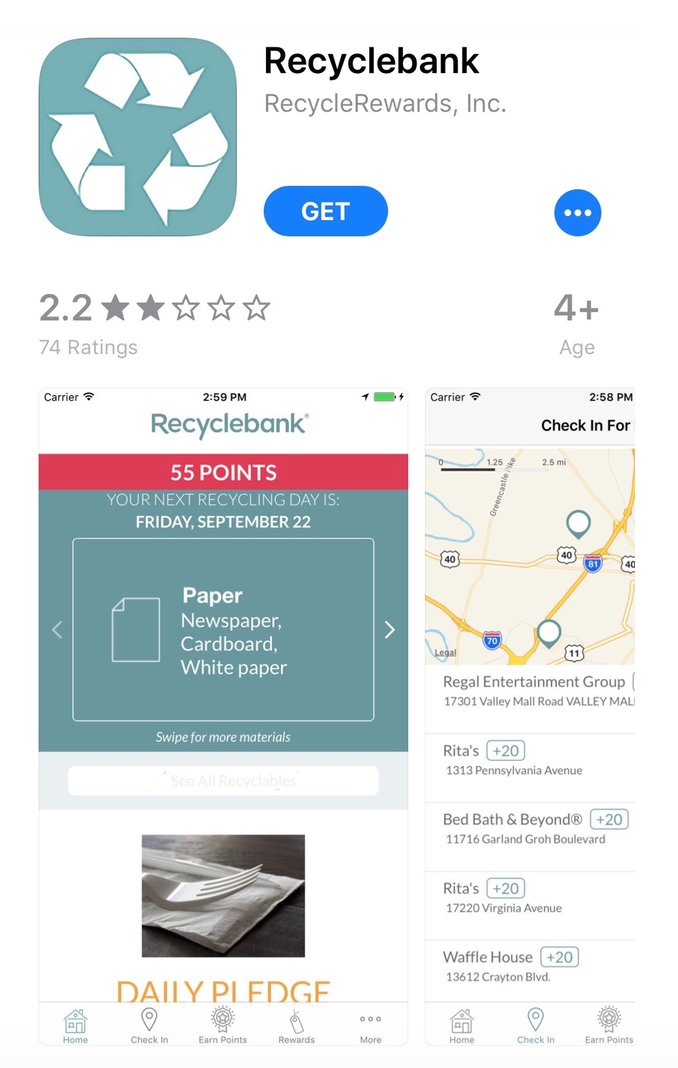 Recycle Bank provides users with discounts and deals from local and national businesses for taking actions to support the environment.
Jornalera (Goals 4, 8, and 10)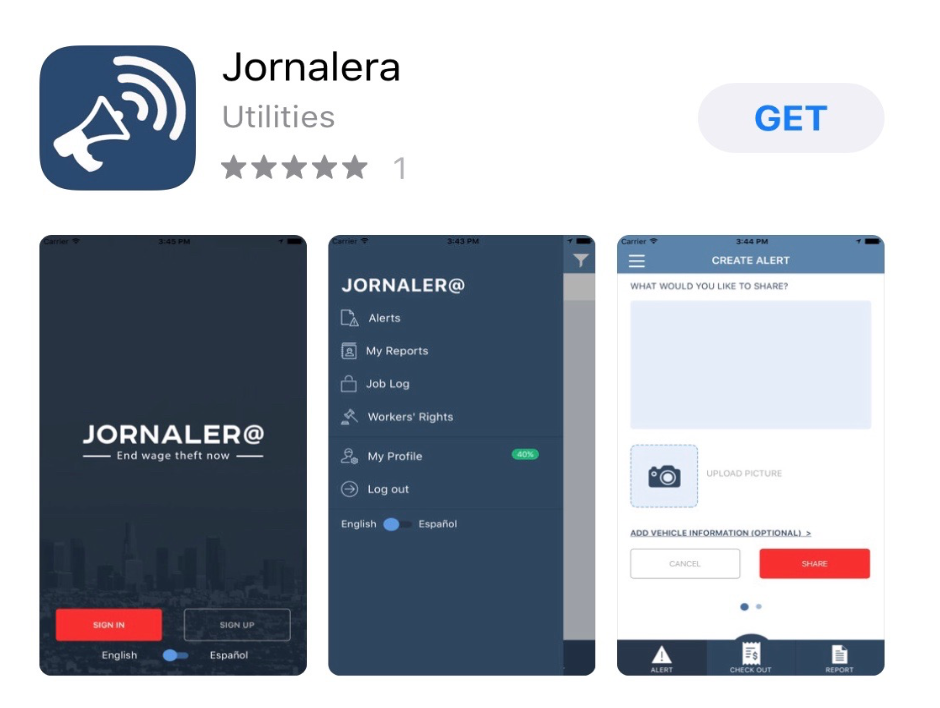 Jornalera is a mobile application that seeks to prevent and report wage theft by allowing workers to connect to day laborers, track their work hours, and learn about fair labor laws. In addition to educating workers, Jornalera creates a personalized dashboard for workers that allows them to track their hours, wages, location, break times, and employer. Through this, employees can juxtapose the amount to which they are entitled and the amount that they receive, and better advocate for themselves.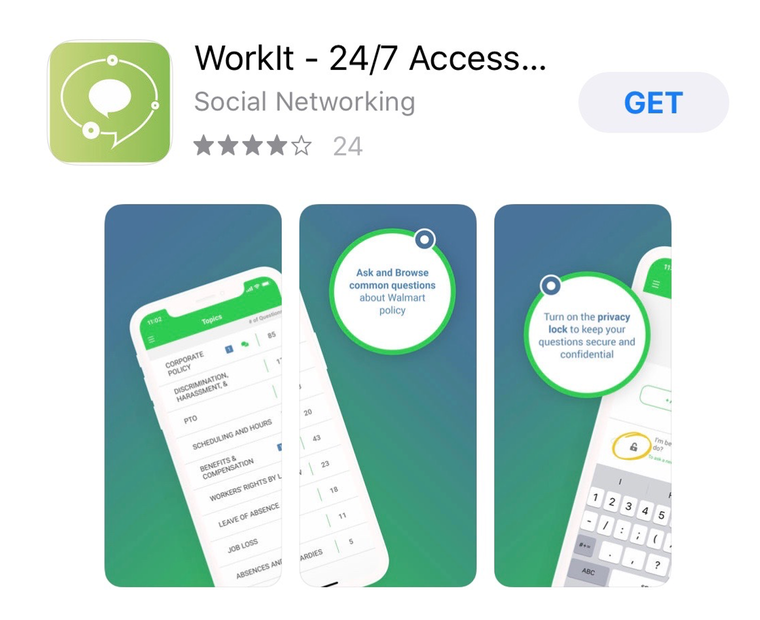 Staffed by current and former Walmart Associates, WorkIt allows users to learn about their rights in the workplace, and, more importantly, how to advocate for themselves.  WorkIt provides free consulting to help users learn more about their workplace, and be able to identify potential discrimination. By helping workers understand their rights, WorkIt creates better working conditions and economic growth.
EarthViewer (Goals 4, 6, 7, 11, 12, 13, 14, and 15)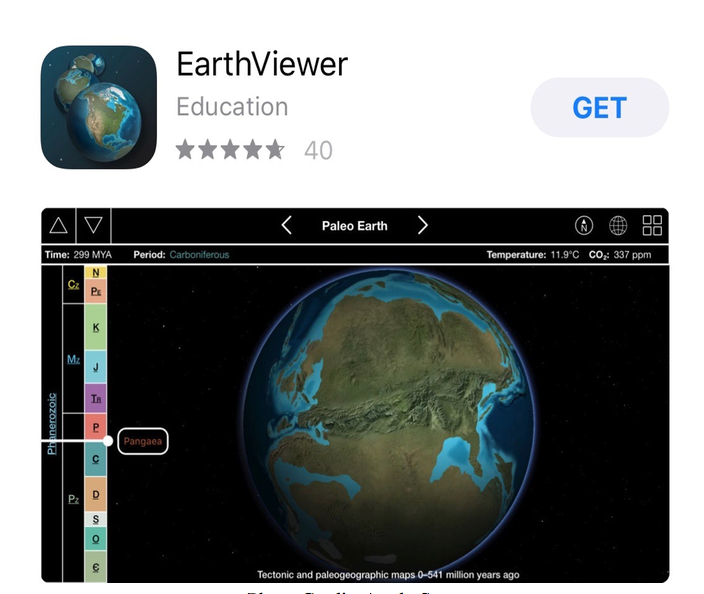 EarthViewer allows users to scroll through Earth's 4.5-billion-year history and monitor changes over time in specific locations. EarthViewer allows users to study the Anthropocene by providing data dating back billions of years. Users can study the evolution of sea level maps, global temperature data over time, and references. Through this app, we can track changes in order to understand our present path.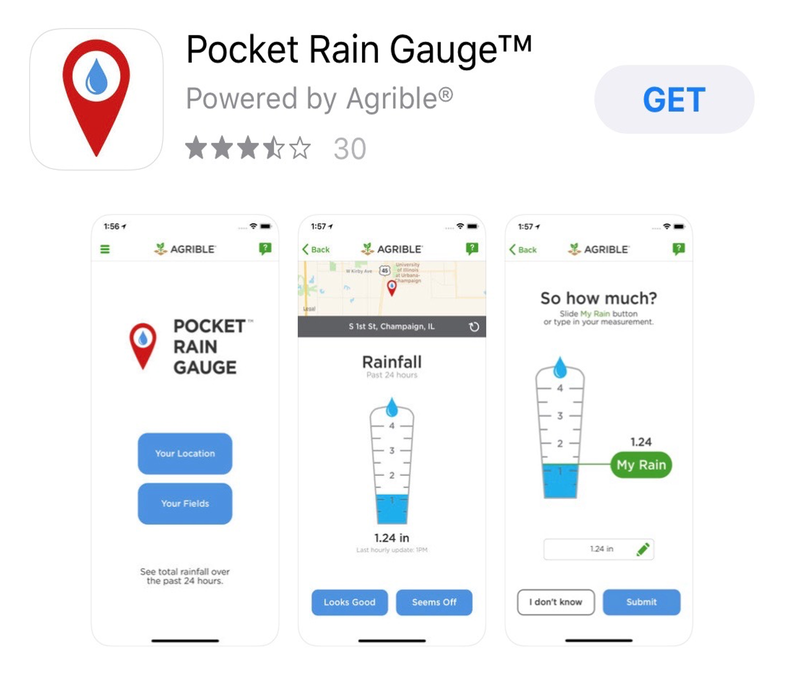 Pocket Rain Gauge uses NOAA and NWS satellites to help farmers anticipate rain in their areas.
Recycle Nation (Goals 4, 6, 7, 10, 11, 13, and 15)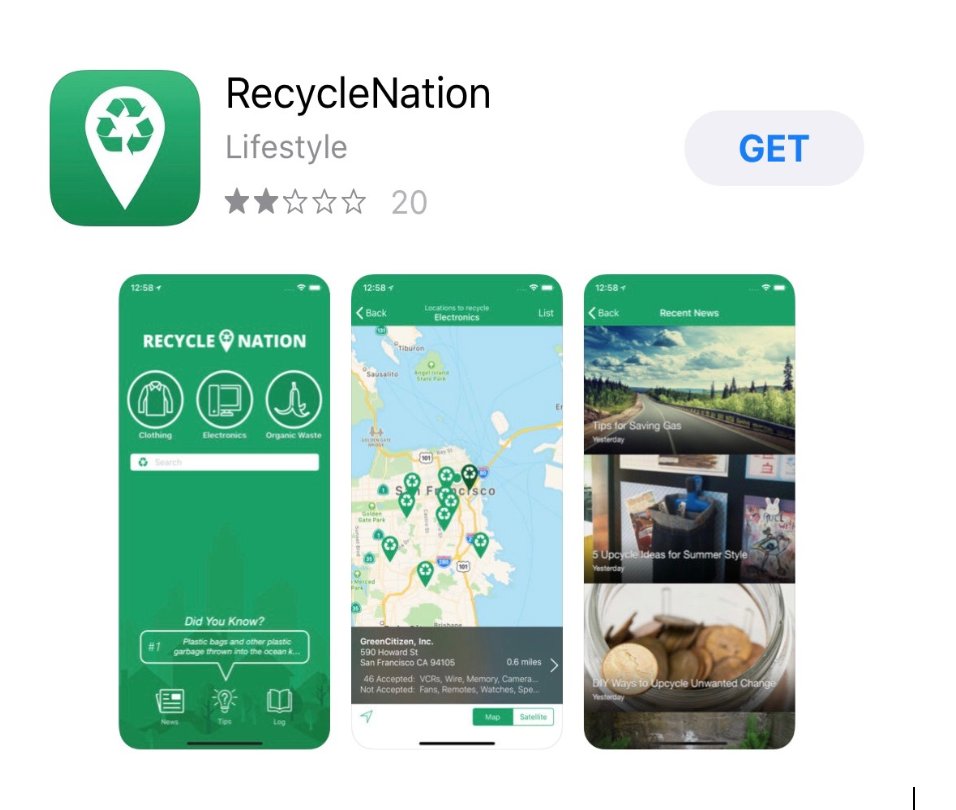 RecycleNation provides a central list of recycling locations in order to help users prepare for Recycle Day and provides resources on sustainable practices.
MyWaste (Goals 4, 6, 7, 10, 11, 13, and 15)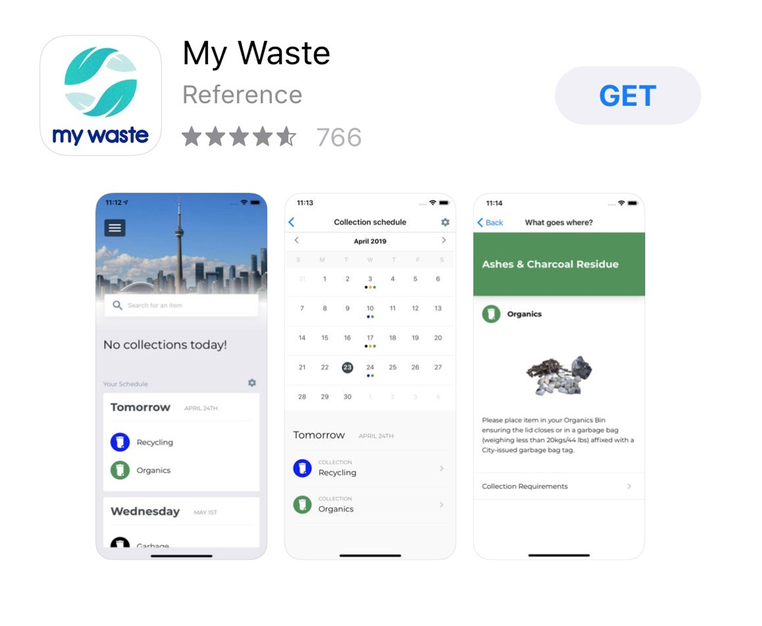 MyWaste provides users with a calendar to remind them about important days, including recycling days, in order to help people go green. In addition to the calendar, MyWaste helps users recycle by helping them sort through their waste and ensure that they are properly classifying their trash.
5Calls (Goals 4 and 10)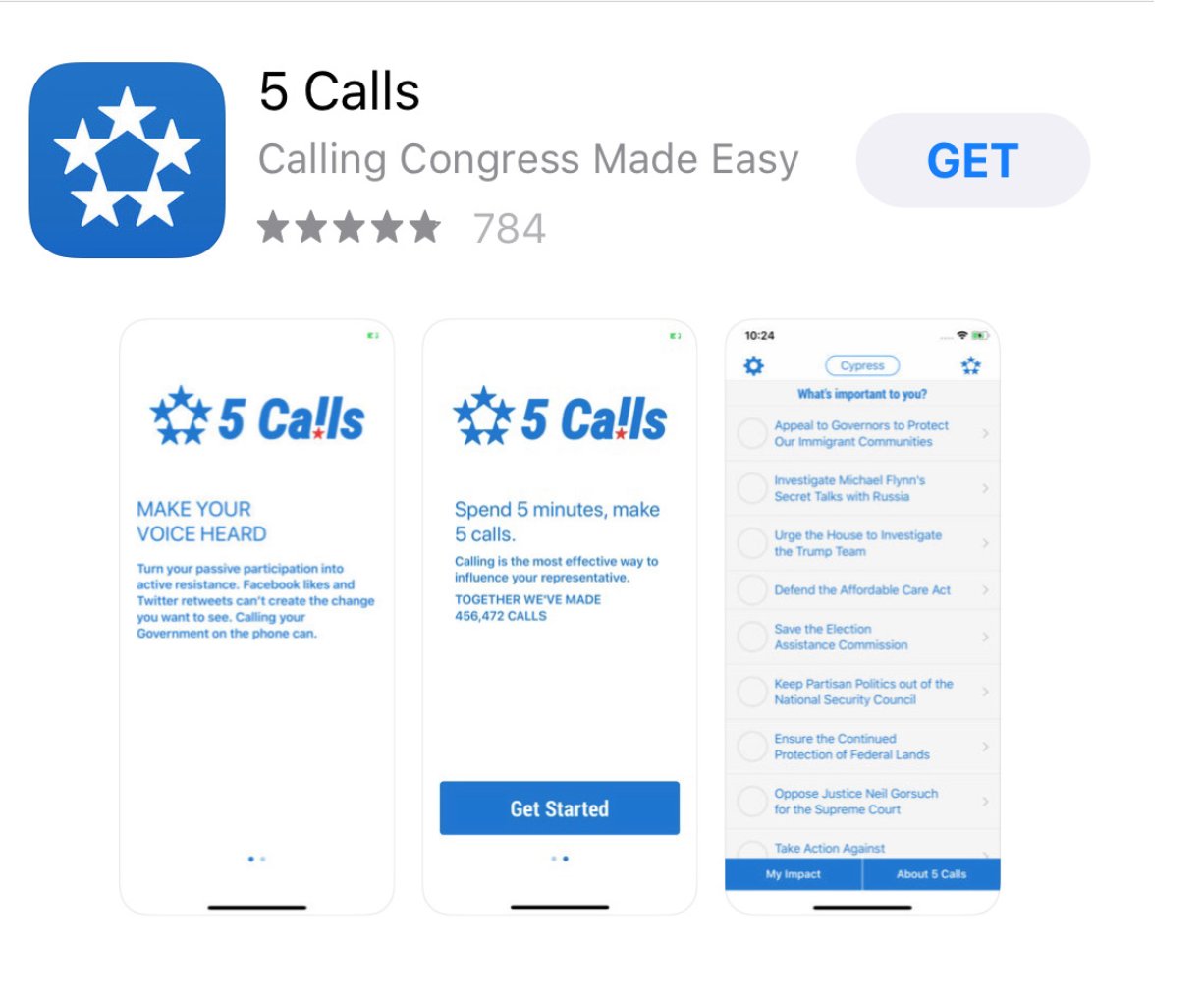 5Calls allows users to track their personal interests, learn more about the issues, and call their representatives. The application includes a long list of issues, including net neutrality, gun control, and domestic violence, and lets users contact their representatives regarding these issues. Once users type in their zip code, they can get access to their representatives' contact information, and read the optional script provided for phone banking. 5Calls also allows users to track their impact in promoting greater civic engagement.
VoteSpotter (Goals 4, 8, 10, 16, and 17)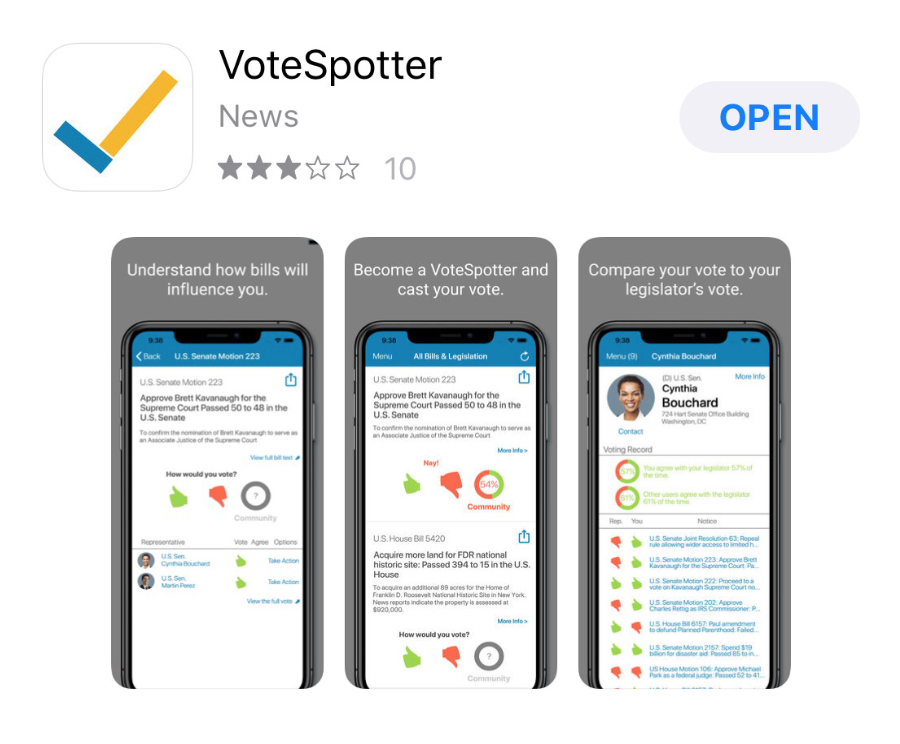 VoteSpotter allows users to study different bills and motions, and, more importantly, see their representatives' voting history in order to make more informed decisions at the polls. After typing in their address and zip code, users get a personalized list of their representatives and their contact information. Then, users can create an account and log their personal legislative interests, so they can see their representatives' voting history and voice their opinions in a grand scale effort to promote transparency.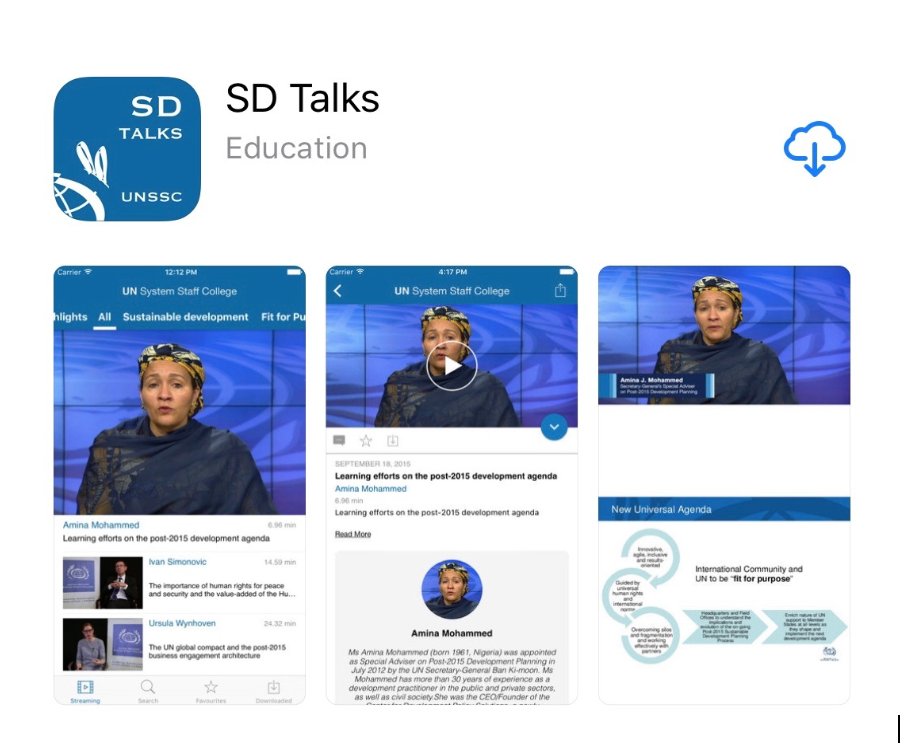 SD Talks is a mobile application that features expert panel discussions about the Sustainable Development Goals to enable greater understanding. Sponsored by the United Nations System Staff College, SD Talks provides information on the three pillars of the United Nations' work, including peace and security, development, and human rights.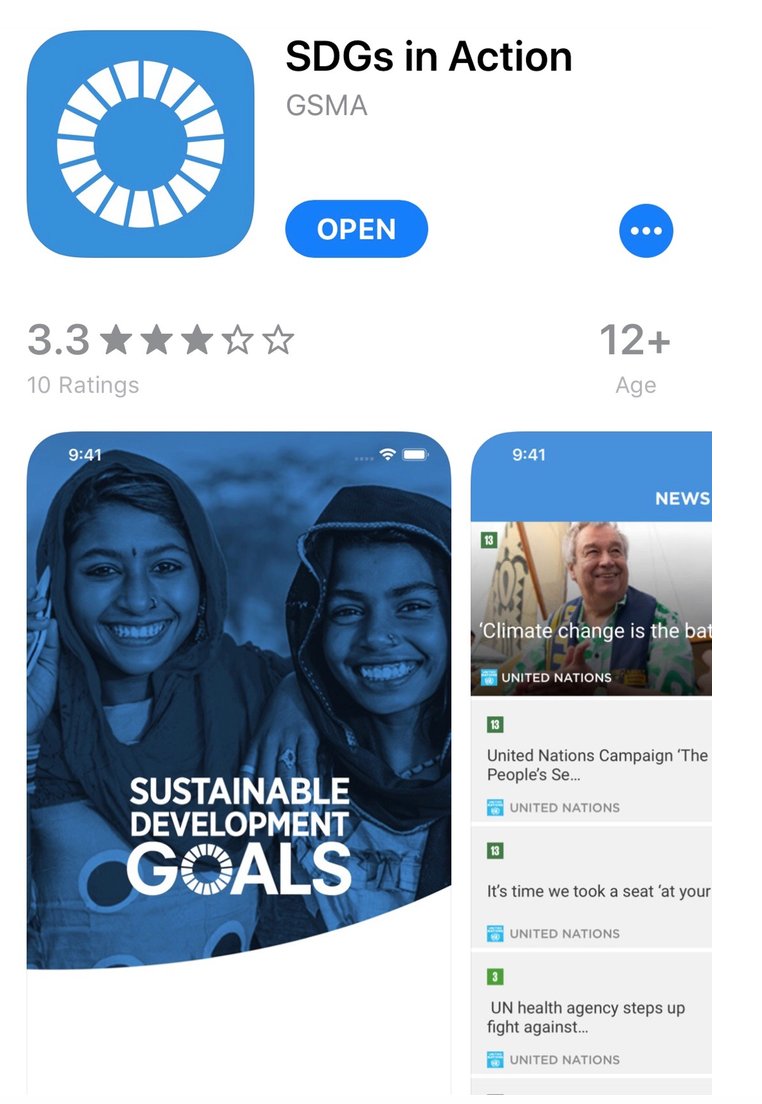 SDGs in Action is a mobile application that features pertinent news stories about the Sustainable Development Goals.
Achieving the Sustainable Development Goals (SDGs) by 2030 is contingent upon our ability to educate ourselves about the goals and work on the local level to implement them. As this article shows, technology is a great tool for educating and empowering people to take action towards achieving the Sustainable Development Goals in their local communities, because local is global.
---
Editor's Note: The opinions expressed here by Impakter.com columnists are their own, not those of Impakter.com