In the North Pacific Ocean, between Hawaii and California, there is a shape-shifting, floating mass that's three times the size of France. However, it is not some kind of newfound island; you cannot stand on it, nor can it be seen from space. 
What is it? Well, it's better known as the "Great Pacific Garbage Patch" (GPGP), but in simple terms: It's an offshore accumulation of trash, microplastics, bottles, fishing nets and other anthropogenic waste, floating on the surface, littering the ocean floor and wreaking havoc on marine life. 
Also known as the "plastic continents," there are actually four other floating garbage patches like this one across the world's oceans, and GAIA FIRST, an international environmental non-profit based in Paris, plans to pilot a large-scale offshore project to cleanup ocean plastic pollution and convert it into green energy.
As part of their "Ocean Waste 2 Energy" project – in partnership with RINA (Registro Italiano Navale) and sustainable naval architecture company, BREEZE Ship Design – GAIA FIRST is planning to build ships equipped with advanced technology to collect ocean plastic waste and transform it into green hydrogen through a process known as "gasification." 
"This virtually means a floating, self-fueling ocean cleaning factory," states GAIA FIRST; a project which, over the course of five years, the non-profit says will aim to recycle and convert to green fuel a total of 90% of the plastic waste that makes up the plastic continent.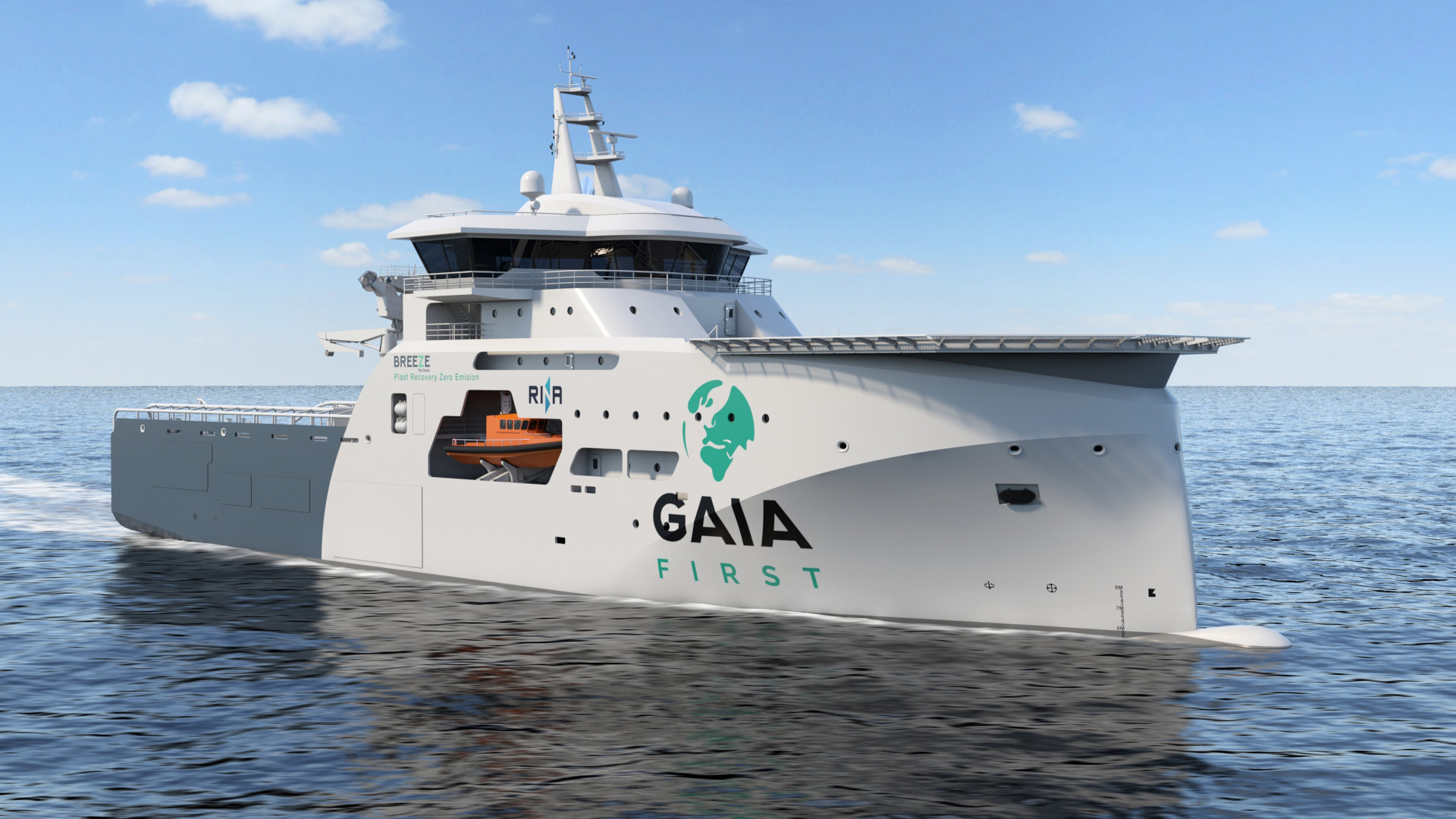 GAIA FIRST also conducts local cleanups of beaches, forests, green spaces and city spaces all over the world every two months. GAIA FIRST's last "Worldwide Cleanup" event was May 7, 2023, where volunteers congregated at local events in France, Greece, India, Italy, Algeria, Guinea, Morocco, Burundi and the US.
GAIA FIRST is attempting to both rid the oceans of polluting plastic waste as well as convert it into something useful. As GAIA FIRST's President and Founder, Gianni Valenti, said in his TEDx Talk in Münster last year: 
"Instead of looking up into space, searching for new resources," perhaps "let's just turn around" and see the "infinite reusable resources we have already here on our planet."
We spoke to Gianni to learn more about the floating garbage patches plaguing our oceans – which he described as "virtual time bombs" – as well as how GAIA FIRST plans to clean them up and utilise the green hydrogen and raw materials yielded from the ocean plastic recycled.
Before we delve into the problem of ocean plastic pollution and GAIA FIRST's innovative solution to it, let's start off with a personal question: What led you to start GAIA FIRST and begin your journey in ocean conservation?
Gianni Valenti: I always had a deep loving relationship with nature, from an early age, in protecting nature and animals, but I guess what really propelled me to take the leap into this worldwide action was the combination of several important changes in my life: the birth of my fourth child, my divorce, the COVID-19 outbreak and the consequent loss of my businesses. 
I understood the message as a clear sign to stop doing things just for money, and engage for something bigger than all of us: Our biosphere.
As well as leading worldwide local cleanups on land, GAIA FIRST is committed to cleaning up offshore ocean garbage patches like the Great Pacific Garbage Patch. Could you expand on how these "plastic continents" have formed, where they are, the scale of the problem and how this affects marine life, human life and climate change? 
Gianni Valenti: About 10 million tons of plastic trash enters the ocean every year. Although most of this material is washed back to the shores or sinks to the bottom of the ocean, a significant part reaches the so-called "ocean gyres" areas, through currents and winds. 
These convergence areas in deep international waters regroup floating garbage into what we call "plastic continents;" areas of floating trash that may be as large as the surface area of three to six times the size of France. There are five of them in our oceans.
The presence of these large plastic areas affects ocean life as well as the ocean's powerful regulation. 
---
---
Wild life is immediately killed and intoxicated by the millions, while microplastic enters the food chain and reaches our plates in fish, but also through fish-eating animals like all farm animals (cows, pigs and chickens), accumulating in humans all types of hormonal disruptors, carcinogenic stimulants and fertility inhibitors. This also has a direct negative effect in pandemic control.
The presence of this blanket of plastic elements also blocks the natural carbon sink power of the oceans (CO2 absorption) through its phytoplankton abundancy, which alone accounts for two-thirds of the oxygen production of our planet. 
Furthermore, plastic presence dulls the reflective surface of the oceans, increasing the heating up of the atmosphere and isolating the cooling effect of the water on the hot air, essentially blocking the climate regulation effect of the oceans and the mitigation of extreme weathers.
In your TEDx Talk in Münster last year, you mentioned that we have the power to "transform any plastic continent into a huge green energy resource." How will GAIA FIRST's "Ocean Waste 2 Energy" project do this? How it will scale, what impact do you expect it to have, and how does it differ from other initiatives?
Gianni Valenti: In essence, GAIA FIRST will set up a system for the collection of the floating plastic waste in the high seas, with a special focus on ALDFG (Abandoned, Lost or Discarded Fishing Gear), equipping every vessel with a gasification system. This will allow the debris collected to be directly transformed in loco to hydrogen gas with no emissions, so that this very gas may be used as fuel for all sea operations. 
This will allow collection and transforming operations to be continuous and sustainable, powered by the very garbage that is suffocating our oceans. 
We are using a technology that is proven functional and already in production for land application, and we are adapting it to the marine environment and the sea plastic it will process.
In order to optimize collection and navigation, AI and satellite vision will be used to identify floating hotspots of trash and the navigation towards these points. Booms and cranes will collect the material, feeding it to our gasification units.
The great advantage of this system is that it does not require going back to land (thousands of kilometres from the collection points) to empty out the collected materials, gaining valuable operating time. Also, the system does not need operating fuel (which will have a massive carbon footprint itself), but instead, it will run on the green hydrogen produced, leaving no emissions (except pure water). 
Besides making sustainable sense, it is also a much cheaper operating structure as no cost in fuel is required, reducing the cost of the whole operation to extremely low levels, incomparable to any other current or planned collection methods. Finally, the system is designed to be autonomous in energy, collecting and converting 50 tonnes per day of plastic with just two vessels.
You also mentioned in the TEDx Talk that we should "see the valuable raw elements in all that we consider as waste." Are there any other raw elements, apart from hydrogen, that could be extracted from the plastic waste GAIA FIRST will collect? And what do you plan to do with the green hydrogen and raw elements extracted?
Gianni Valenti: Plastic is mainly composed of carbon and hydrogen, so these will be the main elements extracted, but there will also be silicates and metals as well as other trace elements. 
Metals will be recovered in a solid state and will be sold to industries. Same for the inert silica glass like structures. Solid form carbon will also be collected and sold to industries for a multitude of usages; from pencil production to diamonds.
Concerning the energy rich hydrogen gas, it will be used for the operation's needs. Eventual surplus will be stocked and used to fuel hydrogen propelled ships that may need refuelling in the high seas, or energy-needing sea ports.
Have you seen the recent news on how some marine life is reportedly "thriving" in the Great Pacific Garbage Patch? What are your thoughts on this? 
Gianni Valenti: Life will thrive everywhere given time.
Like in garbage dumps where insects and rats thrive, so in floating garbage patches you will have a microecosystem. This only distracts from the fact that there are more biodiversity damages from its presence than there is life generated from it.
Also, these floating areas are virtual time bombs as they will deteriorate to an overwhelming amount of microplastic elements, spreading to every single corner of the world. The microplastic that we find today in our blood and in placental fluids comes from degraded plastic made around 20 years ago, when 20 years ago plastic production was only a small percentage of what it is today. 
If nothing is done to the plastic in the high seas (garbage patches), in the next 20 years we will see a drastic rise in microplastic presence in our bodies and all living creatures, the direct consequences of which will be strong deficiencies and mortality. We are talking about our future generations.
---
Editor's Note: The opinions expressed here by the authors are their own, not those of Impakter.com — In the Featured Photo: A plastic coffee cup lid on a beach. Featured Photo Credit: Brian Yurasits