What governance changes are needed?
With the Sustainable Development Goals we now have an ambitious and comprehensive new framework for sustainable development adopted by all countries, and here to guide countries for the next decades. The 2030 Agenda for Sustainable Development and the SDGs have the potential to change our and, even more, our children's and grandchildren's lives to the better. It is THE historical opportunity for countries to embrace sustainable development in a comprehensive and integrated way. What is needed now is political will and forceful action towards a transformational change at country level.
To implement the 2030 Agenda, each country now goes through a process of reviewing the 17 sustainable development goals to determine which ones are most relevant and how these can be translated into feasible but ambitious development plans for the country. Guided by the aspirations of the Agenda, countries will choose their own national targets and will decide how they commit national efforts to produce real change – based on countries' own priorities, needs, capacities, resources and existing strategies.
As this is done, it becomes evident that the Sustainable Development Goals will not be achieved if agriculture is not made a central part of national development agendas in many continues. A world free of hunger and poverty, with less conflict depends on agriculture and natural resources that are sustainably managed under changing climatic conditions.
Agriculture and natural resources issues have unjustly been considered of secondary relevance to in addressing national sustainable development. This has now been redressed. The first goal on the list of 17 SDGs is "End poverty in all its forms everywhere." Addressing poverty, particularly extreme poverty, needs to look at agriculture. Of the 900 extreme poor in the world, about 750 million work in agriculture, usually as smallholder family farmers. In low- and middle-income countries agriculture employs about 45 percent of the total labor force.
Photo Credit: FAO
The second goal of the 17 SDGs is about ending hunger and improving nutrition – in other words about providing adequate food from more sustainable agriculture. Some 795 million people still suffer from chronic hunger and over 2 billion people are affected by micronutrient deficiencies. At the same time, a staggering 1.9 billion people worldwide are overweight and 600 million obese. Looking at agriculture and related value chains of the food systems is essential to progress on this goal.
Continuing and expanding the current model of agriculture will not be sustainable, in particular if it is to provide adequate food for a population that continues to expand and whose changing lifestyles require more diversified food. In fact, agriculture focused on enhancing food production without considering wider sustainability impacts often leads to adverse impacts and losses of system-critical natural resources. This includes loss of habitats for species and loss of biodiversity, over-use and pollution of water with pesticides and fertilizers, exploitation of soil fertility and soil erosion, and substantive contributions to greenhouse gas emissions. The Sustainable Development Goals address these issues in a number of goals, aiming at sustainable natural resource management.
---
Related article: "WHAT I DIDN'T KNOW ABOUT INTERNATIONAL DEVELOPMENT" 
---
All of the above requires that national leaders look at the role of agriculture, forestry and fisheries in a new way, putting these sectors at a more prominent and adequate place in the national development trajectory. At the same time, it will require launching a process of raising awareness of the key role of food and agriculture to essential national sustainable development goals, and setting in motion a transformation, owned and led by national governments and their partners and key stakeholders.
Governments and societies will need not only need to change how they perceive agriculture and natural resources, but they will also need to change the ways how they govern these sectors. Ending hunger and poverty, responding to climate change and sustaining our natural resources are strongly inter-linked. This might be a truism for many farmers, especially small-scale family farmers often combine crop and livestock and trees production to provide food, feed, fuels, and income. However, it is not so for many government administrations and agencies, who are used to work within their narrow sectoral boundaries. Coordination and collaboration across sectors to address sustainability issues and opportunities in a coherent way is the exception rather than the rule. Lack of policy coherence is a frequent issue.
---
The Photo Story: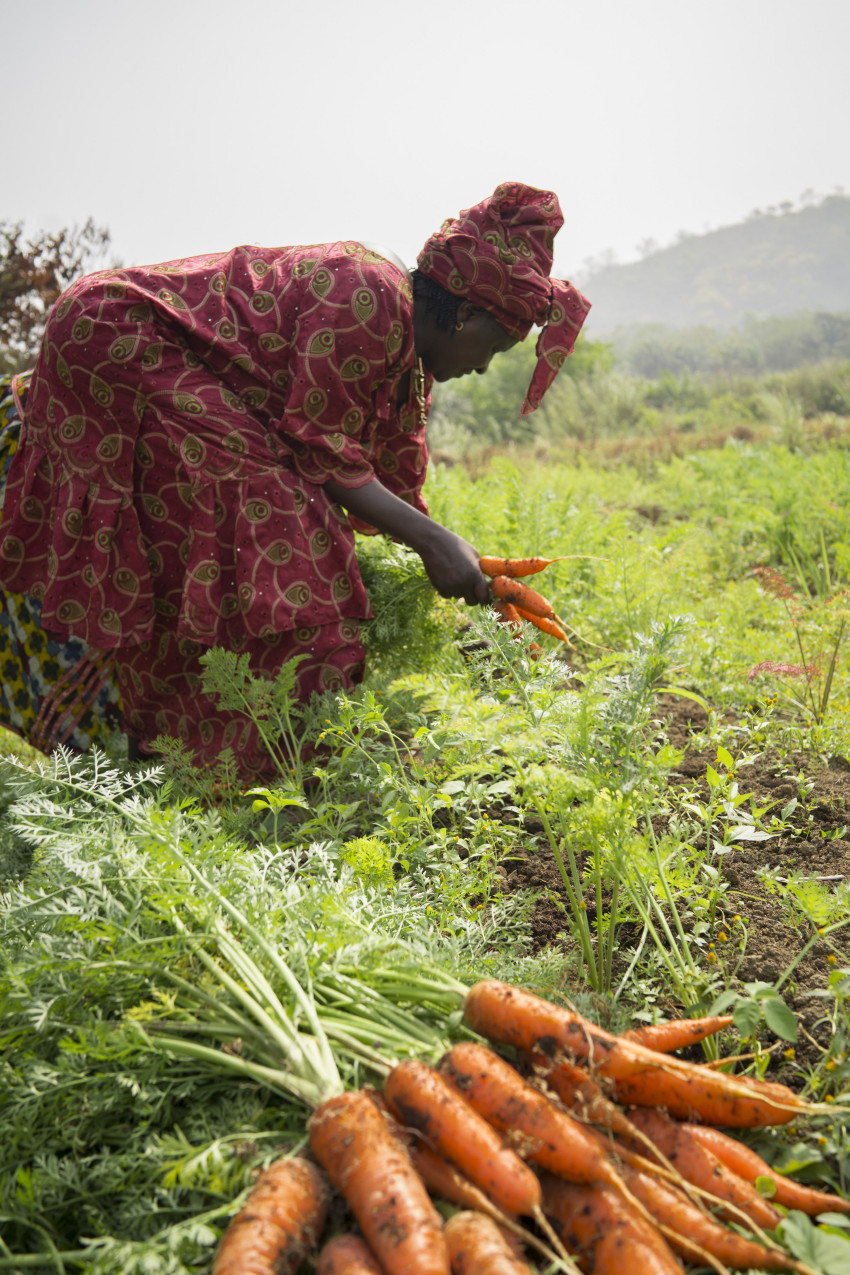 In the photo: 7th February, 2016 Kabala Town, Koinadugu District, Sierra Leone: Haja Sundu Marah, Chairlady of Koinadugu Women's Vegetable Cooperative is harvesting carrots in the community crops near Kabala Town. In order to help cushion the adverse effect of the Ebola outbreak on the farming communities in the country, the Africa Solidarity Trust Fund (ASTF) provided timely financing to FAO.
Thanks to these funds, an assessment of randomly sampled Agribusiness Centres (ABCs) was conducted across the country in July 2015 to ascertain the impact of the Ebola outbreak on their farming activities, and identify areas and beneficiaries for immediate support. The members suffered huge loss during the Ebola outbreak, as their vegetables got perished because of movement restriction.
Most of them also couldn´t meet their loan commitments due to market disruption and the related loss of income. Faced with this critical situation, the ABC benefitted from 120 million Leones to buy seeds and reactivate their village savings and loans scheme. This support enabled them to buy vegetable seedsof different varieties, fertilizer, insecticides and sprayers. 
Photo Credit: FAO/Simon Liste/NOOR for FA
---
Collaboration and coherence at policy level is important, but not enough. Even more important is coherence of action with broader sustainability goals on the ground. This requires that farmers, foresters, pastoralists, fisher folks and companies, big and small, are on board and enabled to improve their incomes while ensuring that they change to sustainable practices that are more resilient to climate change.
For them to do this, they need to be better involved as partners that share accountability. To induce change, incentives that influence their investment decisions need to be understood and better aligned with sustainability goals. This includes legal and economic incentives, but also aspects that are more easy to address, such as access to adequate information and knowledge.
What counts at the end is whether and how much measurable progress is made at local and national levels on the sustainable development goals. If we continue business as usual, the SDGs will not be achieved. To the contrary. It is already becoming evident how high and increasing pressure on land and resources, and a changing climate leads to more conflict, fighting, and displacement of the weakest. This inevitably leads to more hunger and poverty, rather than the end of them. Turning this bleak perspective around and focus energies and capacities on a positive, common and broadly shared vision of sustainable development will be an important task for political leaders and decision makers in countries.
The opportunities and challenges that the SDGs put in front of us to make this world free from hunger and poverty are high. But, more than at any point in time in history, it is achievable. As the lead agency for agriculture, forestry and fisheries, the Food and Agriculture Organization of the United Nations (FAO) has recently developed a common vision and approach to address sustainable development in these sectors in a more effective and integrated way to support countries in this venture towards a sustainable future.
---
Recommended reading: "CASH TRANSFERS, A NEW WAY TO FIND AID" 
---