Temu has taken the US e-commerce market by storm-surpassing Amazon, Walmart, and Shein to claim the number one spot by shopping app downloads in 2022. And it did this in a single year: The Chinese company has carved out its own space and made its entry into the U.S. market in 2022
Swiftly establishing itself as the new star of e-commerce, Temu is under the ownership of PDD Holdings (PDD.O). The company specialises in allowing consumers to directly connect with millions of sellers, manufacturers, and brands selling products at super affordable prices.
As a result, Temu offers a wide range of products, from electronics, clothes, toys, home décor, appliances, pet supplies, office supplies, jewelry, luggage, and even automobile accessories. The company's gross merchandise value has seen a remarkable surge, from $3 million in September to an impressive $192 million in January.
The secrets behind Temu's affordable prices
At the heart of Temu's appeal lies its incredibly low prices, attracting a large user base seeking stylish clothing without breaking the bank. The platform has managed to achieve such competitive pricing by adopting a unique business model. 
The platform has differentiated itself from its competitors via one key aspect: extremely low prices. This is achieved by users purchasing directly from the manufacturer, which is usually located in China. The products themselves are also shipped from China, resulting in longer shipping times (7-14 days). This approach allows the app to offer fashion items at a fraction of the prices seen on other platforms. 
The Legitimacy Question
As Temu's popularity continues to soar, questions have arisen regarding the authenticity and reliability of the platform. 
This depends on your definition of 'legitimate'. 
The company, a U.S. offshoot of Chinese e-commerce giant Pindouduo has also begun to develop a "reputation". Just like Shein. it has been accused of mislaid packages, with some customers never receive their packages. Some customers have also taken to social media to report that the items they ordered looked slightly different than they did on the website or were of lower quality.
To addition to this, Temu has already been subject to more than 30 complaints to the Better Business Bureau. Currently, its BBB customer rating falls short, sitting at less than 1.5 stars.
Navigating copyright infringement claims
The path to success for Temu has not been without legal challenges. 
Shein filed a lawsuit against Temu in December after Temu reportedly encouraged social media influencers to criticise Shein. Shein alleged that Temu had made them repeat statements such as, "Shein is not the only cheap option for clothing! Check Temu.com out, cheaper and way better quality."
Temu has denied the accusations and has requested the suit be dropped.
Last year, the company removed more than six million counterfeit items from the marketplace and referred over 1,300 individuals to law enforcement in the US, UK, Europe, and China, according to Amazon's annual brand protection report. 
In several cases, Temu sellers had copied product photos, descriptions, and keywords directly from the original Amazon listings. Last month, sneakerheads also discovered Nike Air Jordan knockoffs on both Shein and Temu. Shein quickly took the listings down, but Temu ignored the requests.
Temu's viral success and growth
Despite the controversies and legal battles, Temu's success has been nothing short of astounding. Many TikTok creators have taken to social media to rave about the brand. Some viewers noted that Temu offers even lower prices than Shein (with shirts as low as $3).
The Chinese e-commerce giant prioritised heavy app acquisition, securing a $7 million Superbowl LVII ad. The ad featured the app, urging shoppers to 'Shop like a billionaire' and download it.
---
---
According to Meta, Temu has run over 1,000 ads on its platforms since September, with posts in English and Chinese. For comparison: Similar Chinese apps like Shein and AliExpress have run only dozens of ads. 
Temu has also promoted mobile-first re-engagement tactics such as enabling push notifications and text messages so that users could access the time-sensitive flash sales. The e-commerce giant has also leveraged more overt gamification with direct games, and referral programs in-app to drive in more customers. 
So how sustainable is Temu?
Temu, a recent launch, lacks thorough examination. Its website claims ethical and sustainable values, but as a sister company of Pinduoduo Inc, concerns arise about unethical labour practices, product safety, and environmental impact. 
Temu claims to have sustainable practices through its Next-Gen Manufacturing Business Model, minimising product wastage and collaborating with unspecified sustainable manufacturers. However, concrete information on animal welfare policies remains absent, as responsibility typically lies with sellers and manufacturers using the platform.
Worthy of consideration in the online marketplace?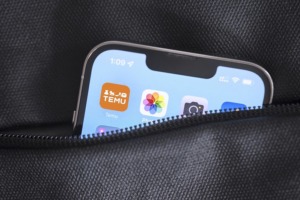 With its global sourcing network, direct-to-consumer model, and outstanding customer service policies, the platform is disrupting the traditional retail landscape,
When compared to other Chinese competitors, Temu stands out as a compelling choice for those seeking an online marketplace. Its diverse product range and budget-friendly prices make it worthy of consideration for savvy shoppers.
While Temu offers attractive prices and convenience, consumers should approach all cheap commerce sites with skepticism. The fashion and commerce industry already faces challenges with unsustainable practices and short-lived products.
---
Editor's Note: The opinions expressed here by the authors are their own, not those of Impakter.com — In the Featured Photo: Temu Logo. Featured Photo Credit: Twitter.