In a United Nations Press release, entitled: "UN calls for urgent action to feed the world's growing population healthily, equitably and sustainably" Liu Zhenmin, United Nations Under Secretary General for Economic and social affairs outlines a worrying situation:
"Our children's future is in peril with unsustainable food systems. What is worse, even while wreaking havoc on the planet, our current food systems fail the hundreds of millions who still go hungry and the billions that cannot afford a healthy diet. It is time for a change." 
With the world population set to hit an estimated 9.7 billion by 2050, (according to the UN Department of Economic and Social affairs) it is clear that a rethink on the way we grow the crops we eat is urgently needed. 
Standard farming methods are currently facing difficulties such as finding the increased amounts of land needed to feed a larger population, massive water usage, and contribution to the greenhouse gases causing the climate crises.
There are also worries over the use of potentially harmful pesticides necessary to fight bugs and diseases getting into the food chain – although organic farming, in principle, provides an answer to this. 
One possible solution that throws up some interesting possibilities – but also challenges – is vertical farming.
What is Vertical Farming?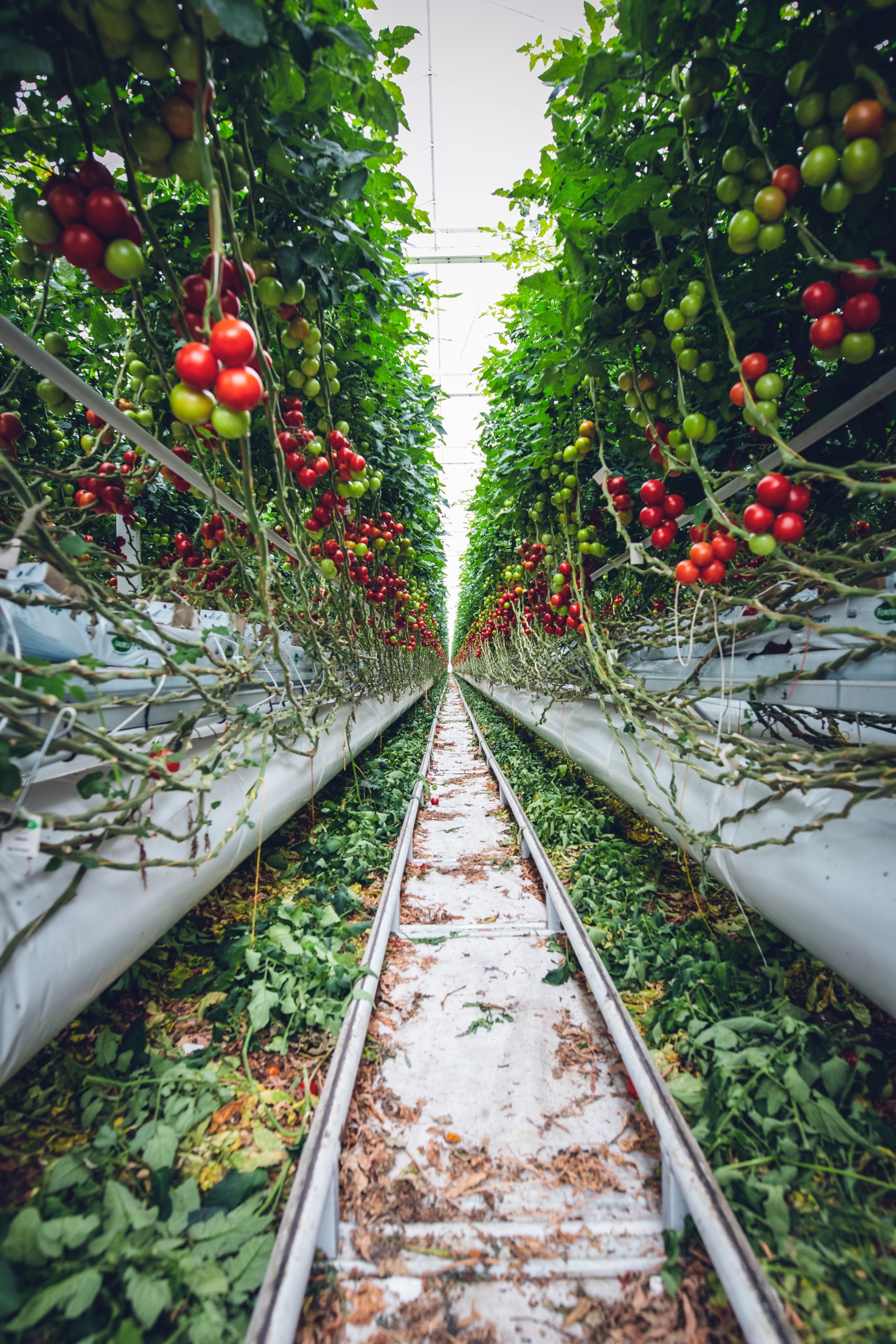 Vertical farming is a system of food production in a controlled indoor environment. Rather than growing crops in fields or greenhouses, plants are stacked vertically, and LED lighting is used.  
This new farming method is already booming – a study by the Imarcgroup found that the global vertical farming market size reached US $ 4.6 Billion in 2022. 
The potential benefits of this new method challenge the fundamental way things are currently done. Up till now, farming has always been seasonal; as it is done outside, it is heavily affected by the sun, rain, heat and cold of the spring, summer and winter. This new technology can produce crops 365 days a year. 
Another benefit is water usage: traditional agriculture requires lots of water that is lost in the process as a crop grows. In vertical farming, this water can be recovered and used again. It is estimated that vertical farming uses 90% less water than traditional farming. 
Land usage is minimised, and pesticides are not necessary as measures can be taken to prevent harmful insects from getting into the farms. At the same time, yield is massively increased, and the quality, nutrition and taste of products can be improved. 
So if vertical farming can offer so many benefits, why is it only now being talked about? 
The reason is, as with any new technology, there are some drawbacks. 
What are the issues?
Despite the promises of vertical farming, there are some major issues.
Firstly, there are high start-up and running costs. Vertical farming uses advanced technology, controlled conditions and automation, and requires highly skilled staff. It is estimated that they are are as much as three to five times as costly to run as conventional farms. The materials and infrastructure required can also be massively expensive.
---
---
Another major challenge is the vast energy requirements. LED lighting and other vital systems mean that they consume large amounts of energy to run. Although LED lighting is becoming cheaper and more efficient at the moment, it is still more expensive than simple traditional farming methods that depend on sunlight.  
These factors effectively mean that with current technology, only certain types of crops are economical to grow in vertical farms, such as strawberries and kale. Also, key crops such as wheat and barley take time to grow properly, meaning that the high turnaround offered by vertical farming does not apply. 
Will it be successful? 
So what does the future hold? It seems that if a way around the high cost and high energy needed problems can be overcome, then it holds a major key to the dilemma of high population growth and issues such as the vast amounts of land and water that it will demand. 
One solution is to utilise advances in renewable energy technology, such as solar or wind farms, to power them, providing cheap and sustainable energy sources. Also, the technology involved is constantly improving, so to kickstart the industry, high-value and quick-growing crops could be focused on to match the current costs – in fact, that is precisely what is already being done in many of the more successful vertical farming ventures.
Perhaps the most intriguing possibility of vertical farming is that provided it can be linked to a reliable power source; it could be built almost anywhere. This means that areas that struggle to grow enough food could finally be provided for.
The dilemma
Vertical farming, in a similar way to many renewable energy projects, provides a dilemma: there are many amazing benefits, but also high costs, in both setup and energy use. 
To implement vertical farming on a large scale would require considerable investment – something many governments, particularly in the poorer countries that it might most benefit, simply would not be able to afford. 
Investment
There is perhaps one saviour for the future of vertical farming – the recent boom in investment. In 2017 IKEA and the Sheikh of Dubai invested $40 million in one project and in December 2018 Google Ventures invested $90 million in another. 
In the UK, investors have backed Fischer Farm's second UK-based vertical farm. In a press release on the subject, Fischer Farms comments: 
"Plans to transform the future of farming with the world's largest vertical farm have moved a step closer thanks to a multi-million-pound funding boost.
Fischer Farms has secured an additional £26m in funding from Gresham House, an asset management company specialising in investments with a sustainable, positive impact.
The investment will fund the construction of a second UK-based vertical farm, which will lead the way in scalable food production and provide a more resilient and sustainable method to feed the nation."
This pattern of investment clearly shows serious confidence in the future of vertical farming and answers the challenge of high start-up and running costs. 
The future of vertical farming and its promise to provide a means to solve food scarcity issues is by no means certain. However, many renewable energy projects such as wind or solar power were initially scoffed at but with the right financial backing, they are now a realistic alternative to fossil fuels. 
It will be interesting to see how, over the coming years, vertical farming will progress – and if it can deliver on the promises that its advocates make. 
---
Editor's Note: The opinions expressed here by the authors are their own, not those of Impakter.com. — In the Featured Photo: Vertical farming in Singapore. Featured Photo Credit: Lianoland Wimons / Wikimedia Commons