BOOK REVIEW

HOOKED: HOW TO BUILD HABIT-FORMING PRODUCTS by Nir Eyal 256 pages, Penguin (2014) Winner of best Marketing book in 800-CEO-READ Business Book Awards 2014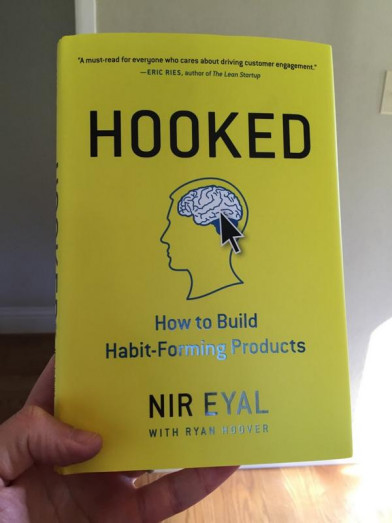 Engagingly written, this book is a brilliant application of behavioral psychology to business situations. As the Internet has lowered barriers to entry for new businesses – ushering in the age of digital startups, it has caused a veritable tsunami of new apps.
Which one will win and become the next Facebook or Uber?
Hooked: How to Build Habit-Forming Products is a book that provides a neat way to answer this difficult question. Small wonder it was such a best-seller, gathering rewards, over 600 customer reviews on Amazon and over 3,500 ratings on Goodreads and today, a year after publication, it is still on top of the best seller list on Amazon, number one in product design and management. Moreover, there is a practical dimension to it: for app designers, engineers and entrepreneurs eager to evaluate their own startup, it is an essential guide to help them determine whether it has any chance of becoming a success. The questions at the end of each chapter are particularly useful; they act as a mental prod and coach for startup creators, enabling them to verify whether they are on the right track.
The author brings remarkable powers of observation and analysis to this book, fine-tuned by his own experience. He spent years in the video gaming and advertising industries where he observed (and used) the techniques described in Hooked. He has taught courses on applied consumer psychology at the Stanford Graduate School of Business and the Hasso Plattner Institute of Design and is a frequent speaker at industry conferences and at Fortune 500 companies. His writings appears in the Harvard Business Review, The Atlantic, TechCrunch, and Psychology Today. The book has also received valuable inputs from Ryan Hoover who has written for Tech- Crunch, The Next Web, Forbes, and Fast Company, and, after working on Hooked, moved on to create Product Hunt, famously known as "the place to discover the next big things in tech."
So what is Nir Eyal's secret to driving customer engagement?
He has identified a four-step process that he calls the "Hook Model," that defines what it takes to "build habit-forming products", the kind consumers cannot do without.
The Hook Model in a nutshell:
A user is prompted to use your product or service by a "trigger" of some sort, it can be external at first (say an ad, a call to action like clicking a button) but for maximum effectiveness, the trigger needs to become internal (linked to a personal emotion, say a need to kill a pain, solve a pressing problem like find a taxi or fight loneliness etc).
The user then uses your product; she performs the behavior you, the producer, wanted her to perform. The easier and simpler the behavior, the more likely it will be used.
Next, you give the user a reward for using your product. Preferably this is a reward your user wasn't expecting, in the sense that it is a "variable reward": sometimes it happens, sometimes it doesn't, an element of uncertainty is introduced to break the monotony and keep expectations high, your user is on the alert.
This is a major step: The user now invests in the product by adding information, effort, time, etc. – what Nir Eyal calls "investment". The user is committed to your product, loyalty is built up.
This last step is key to user engagement. It happens not only because the user values the product more having put something of herself in it, but also because the product, with continuous use, becomes better, closer to the user's needs and preferences.
But the Hook Model, to form a habit, needs to be repeated.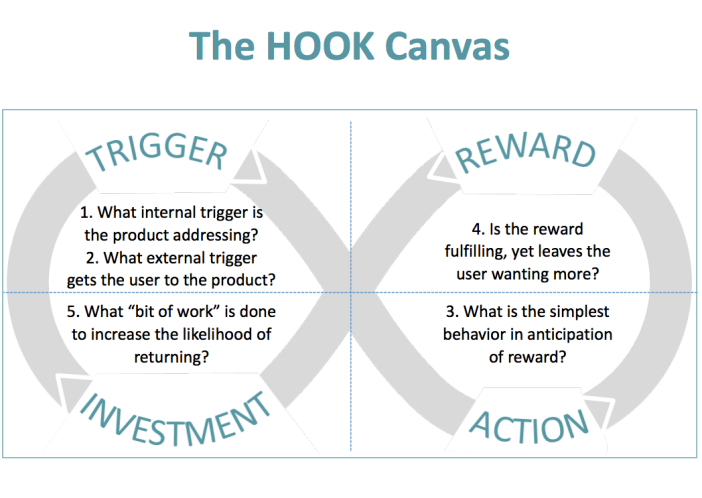 Every time a user returns to the product, steps 2, 3 and 4 happen again, a cycle is established like an endless spiral, a habit is formed. Which encourages the user to return to the product yet more often, obtaining increasingly satisfying rewards.
A benign form of addiction – benign as long as the product is useful and positively adds to your user's quality of life.
This could become negative if your product is in some way "evil" – this moral dimension is something Nir Eyal is well aware of and carefully addresses at the end of his book, suggesting that while we still need to evolve and adapt our moral compass to the digital age, it is up to us to do it.
As the Google motto famously says: "don't be evil."
Inevitably when an idea is strong and gains pull, there will be people ready to criticize it, trying to break up the model. It has been argued (for example in this article on Big Think) that "investment", the 4th step in the Hook Model, can occur immediately after the "trigger" (step one), and that Twitter illustrates this; also step 3, "variable rewards", is not always needed in the third stage of the Hook Model, the case of Google and Uber. Far from giving "variable results", it is argued that Google tries its best to be reliable, to make its search results as relevant as possible.
I think we can all agree on this, it is the whole point of "semantic search," the latest improvement in Google's algorithms. Same with Uber: Its success comes from the fact that it is immensely useful and solves a key problem when you're in town looking for a taxi. However, a careful analysis of those criticisms shows they are in fact the result of a confusion, or misinterpretation of the successive steps in the Hook Model.
Take the case of Twitter. "Variable rewards" are not, as alleged by critics, a "feed full of tweets"; that's the result of "investment" (the 4th step), of following other Twitter users. Variable rewards should not be confused with the product itself. In fact, for Twitter users, variable rewards are the number of followers, the number of re-tweets, the number of clicks obtained by tweets etc. Twitter knows this well, and to keep you returning, it sends you an email whenever you get a new follower.
As to Google and Uber, they are similar to a "utility." And a utility, by definition, is a problem-solver. The better it solves the problem, the more it will be used. Or to use a metaphor Nir Eyal refers to in the introduction of his book: they are pain-killers, not vitamins (by the way, investors notoriously prefer "pain-killers", they make for more secure investments over the long-run). But not all products are utilities (or pain-killers). Vitamins are nice, but their effectiveness is not proven. Hence, when dealing with products that are not a utility in the strict sense, but more a pleasure (for example Instagram), the need for "variable rewards" in the third stage of the Hook model.
In short, a product needs to be useful and thus habit-forming, it cannot be "variable." As Nir Eyal wrote in his book (p.124): "Companies that successfully change behaviors present users with an implicit choice between their old way of doing things and a new, more convenient way to fulfill existing needs."
"New and more convenient": That is at the heart of the utility of an app. For example, referring to Uber, Nir Eyal notes:
"One of the most satisfying and engaging features of the Uber app is the map the rider uses to track the approaching car. How far the driver is, what path they're taking, and how soon they'll arrive are all unknowns that for the first time the rider can feel some degree of agency over. Personally, I've found myself staring down that map as the car approaches, going back and forth between the real world and the little virtual car zipping around the corners as if I can affect when the car arrives like it's some video game. The power of Uber's Hook is not making something more variable (arriving on time is already variable enough) but adding a sense of control where there was none previously."
"A sense of control" – variability is not the name of the game, control is.
I am convinced that Nir Eyal's insight into consumer behavior is dead-center and that, as he says, "for habit-forming products with well-designed Hooks, it is the four basic steps of a trigger, action, reward, and investment that brings users back."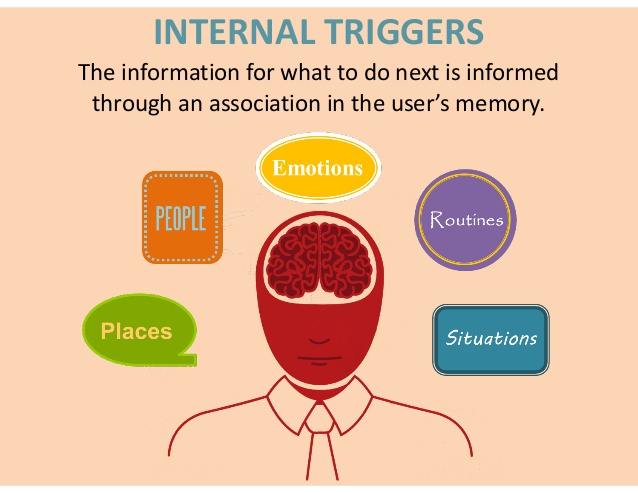 But what if users, over time, stop coming back? What happens when the novelty fades off, as it inevitably will?
I believe this is the crux of the matter for longer established businesses. Once you've "made it," what does it take to keep you afloat over the long-run? This is surely worth a follow-up book, to complete the excellent work started with Hooked.
Today, three years after Nir Eyal's book was originally conceived, the world has moved on and the major issue facing the Silicon Valley biggies is user engagement and user retention. This could threaten any app that is not an obvious utility or "pain-killer."s And it's beginning to happen. A drop in user engagement is what Instagram is reportedly experiencing, as disaffected people are starting to move out. Facebook knows this well and this is the reason why it has branched out in video territory – once the monopoly of YouTube – , making it easy for its users to load up on videos. This is why is has started news feeds, as has Twitter with its new "Moments" function.
They are all keen on improving the product, on providing a more reliable, complete product (rather than providing "variable rewards"). What Nir Eyal has to say about this issue and how to best address it is surely worth another book, and if he does write it, I'm looking forward to reading it. He has uncovered for us the secret to driving customer engagement, now we need to hear the secret of keeping the customer engaged over time, once monotony sets in and the very human urge to seek novelty awakens again.
HOOKED: HOW TO BUILD HABIT-FORMING PRODUCTS  available on Amazon and all major e-tailers and bookstores.