In Seattle, we are many things. We are innovators, environmentalists, business leaders, technology champions, and fierce advocates for what's right. As I like to say, Seattle is city which invents the future, and we have long been a world-wide leader in advancing sustainability and climate solutions and our commitment to leading this work continues.
The United Nations says that two-thirds of the global population will live in cities by 2050. As one of the fastest growing cities in the United States, Seattle is already seeing that population boom. Our commitment to sustainability is more critical than ever. How we design and manage our cities—how we use our land, how we design our buildings, how we get around—will significantly impact our work to combat climate change and ultimately the livability of our city.
Seattle's vision for a sustainable city includes clean energy and clean transportation solutions, walkable communities, energy-efficient buildings, sustainable waste management practices and abundant green space. These solutions foster the growth of green jobs, create opportunities for advancement across many populations, and support public health amongst all residents.
Our work to protect the climate and our environment is also a fight for social justice. Historically underserved communities in Seattle are more likely to live near polluted sites, suffer from environment-related health problems, and have less access to healthy fresh food, open space, and affordable housing. I'm pleased to share that we are making progress in this area. Recently, Seattle released the Duwamish Valley Action plan, a series of actions and strategies focused on making environmental improvements and expanding economic opportunity in our neighborhoods that have been burdened by excessive pollution and lack of opportunity.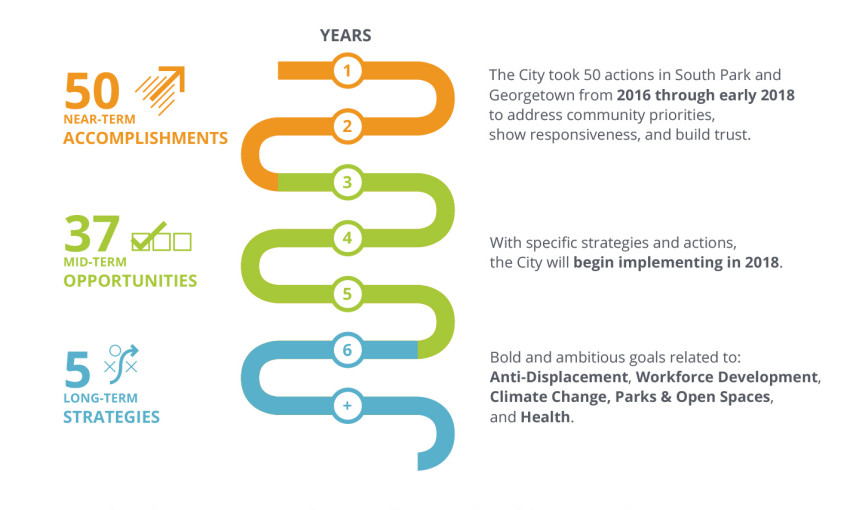 As we reduce pollution and strengthen our economy we must ensure these benefits are shared equitably throughout the city. When we live sustainably, we increase equity, protect the environment, and fortify ourselves in the best of times so we don't just survive—but thrive—in the face of inevitable challenges. And Seattle has never been the sort to shy away from a challenge.
PROGRESS
Seattle's climate pollution has been declining since 2008—which is excellent news. This decline reflects the effectiveness of city policies and programs in increasing the energy efficiency of our buildings and businesses, the growing number of transportation choices, and progressive waste management practices. It's a remarkable achievement considering Seattle's population grew 13 percent over that same timeframe.
Seattle City Light was the country's first large electric utility to achieve net-zero GHG emissions in 2005 and has maintained carbon neutral status every year since. The utility has divested ownership in fossil fuels and replaced that electricity with renewable sources and energy efficiency programs and Seattle is committed to meeting future energy needs though conservation and renewable sources.
Seattle's buildings are responsible for about one-third of our climate emissions. We're focused on providing the right mix of tools and incentives to help building owners of new and existing buildings reduce their climate impacts.
Building energy efficiency in Seattle continues to grow, a trend we expect to continue. As the nation's first city to adopt a green building goal for all new municipal buildings and a founding member of the Seattle 2030 District—a high performance building district—Seattle's progressive building efficiency programs and incentives have been critical in helping reduce building energy use citywide. Seattle's buildings are responsible for about one-third of our climate emissions. We're focused on providing the right mix of tools and incentives to help building owners of new and existing buildings reduce their climate impacts.
Foundational to reducing energy use and GHG emissions is Seattle's Energy Benchmarking Program, which requires owners of nonresidential and multi-family buildings to track and report energy performance to the City annually. This policy raises the awareness of energy consumption among building owners and managers and enables them to identify opportunities that reduce energy use while saving money. Reported data is publicly available to increase awareness of building energy use even further, to help the City track overall building energy use and emissions, and to inform policy and program development.
In addition to the Benchmarking Program, Seattle's Building Tune-Ups Ordinance requires large commercial buildings to identify low or no-cost opportunities to improve energy and water efficiency, and to regularly review HVAC, lighting, and water systems for any maintenance needs to help prolong the life and efficiency of the equipment. The Tune-Ups Ordinance is expected to reduce energy use by approximately 6 percent across the entire commercial building sector.
Our clean electricity is also a tremendous asset to our transportation system. Seattle launched the Drive Clean Seattle Initiative two years ago to help leverage Seattle City Light's carbon neutral electricity across the transportation sector and accelerate the city's transition away from fossil fuels. As our city grows, our transportation needs are changing—giving us an opportunity to reinvent our approach to transportation while simultaneously reducing carbon pollution. Seattle is working to increase our electric vehicle charging infrastructure, reduce the economic barriers of electrification, and incentivize the electrification all of Seattle's rideshare vehicles and taxis.
Local and regional investments in transit, bike, and pedestrian infrastructure have led to significant reductions in drive alone trips in Seattle. Downtown Seattle added 45,000 jobs between 2010 and 2016 and during that same time, 95 percent of commute trips were absorbed by non-drive alone modes. As we work on ways to make walking, biking, and transit the easiest ways to get around town we also want to make sure we're removing obstacles to mobility for our youth. This summer, Seattle became the largest city in the nation to provide high school students with unlimited, year-round free transit passes.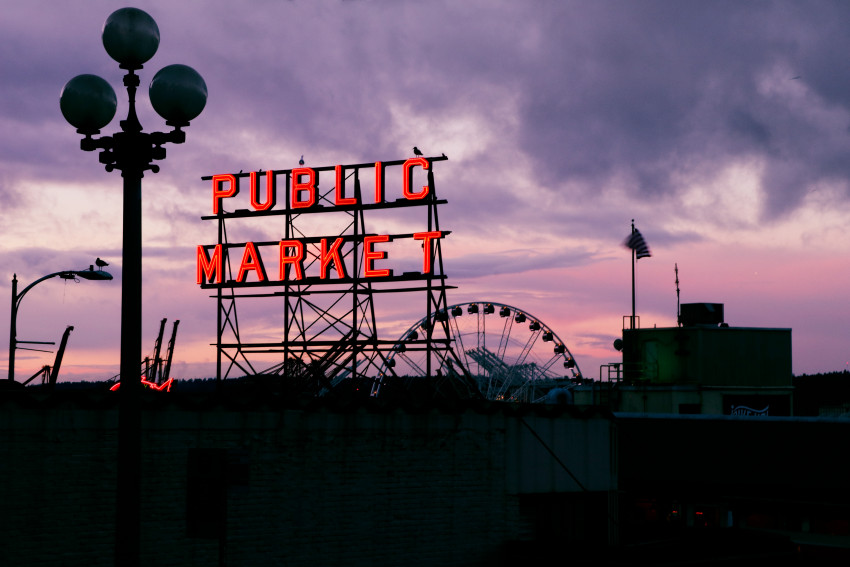 We are planning ahead to ensure our policies are driving these changes in ways that encourage and guide innovation to grow healthy communities and vibrant urban spaces.
Seattle is already seeing the impacts of climate change. Increased rainfall and more intense storms leave us vulnerable to flooding—especially among our more vulnerable neighborhoods. The last two summers have brought intense, choking smoke from wildfires that created a thick haze in the sky for days. Climate change doesn't care where you live. It impacts all of us.
In September, Seattle was named as a winner of Bloomberg's American Cities Climate Challenge—an initiative that recognizes American cities with the most innovative and ambitious climate action strategies. As a Climate Challenge winner, Seattle will benefit from $2.5M worth of support from Bloomberg Philanthropies that will help accelerate our work towards achieving our climate goals and becoming a carbon neutral city.
Seattle has always been a forward-thinking community with an extraordinary ability to adapt to changing times and circumstances. As we face the challenge of climate change, Seattle is ready to step up and work toward a clean energy economy. We are ready to grow our infrastructure solutions and our transportation network in a sustainable, accessible manner. We will continue to lead with creativity and innovation on the path toward creating a prosperous, just, and equitable future for our city.
---
Editors Note: The opinions expressed here by Impakter.com columnists are their own, not those of Impakter.com  Featured Photo Credit: Free-Photos —Photo Gallery Credit: Timothy Eberly, Vincent Camacho