The Problem: Food Waste
Food waste is undoubtedly one of the world's most pressing problems. It's a significant contributor to the climate crisis and an exponential waste of money, energy and resources. Many people don't know food waste is such a dire issue, and those who do largely worry about what to do with it rather than preventing it from happening in the first place. 
Phood was created at the intersection of smart business and sustainability to stop food waste before it starts and encourage consumer-facing food businesses to push the needle in sustainability. 
CEO Luc Dang, who has been recognized by Forbes 30 Under 30 for his entrepreneurship and visions for sustainability, was sitting at his corporate finance desk when he read the jarring headline, "40% of all food produced never meets a consumer." 
In disbelief, he made some calls to see how his own network interacted with food waste, and the truth was confirmed. He quickly changed course, and Phood was born.
In the photo: Dang (left) presenting to Michele Geraci, Former Undersecretary of State at the Italian Ministry of Economic Development in July 2019. Photo credit: Phood. 
Food waste costs $218 billion annually, contributes to nearly 3% of the nation's greenhouse gas emissions (which is more than that of 37 million cars) and takes up more land than the entire state of New Mexico to produce. 
Earlier this year, Project Drawdown noted food waste as the most pressing solution to "stop catastrophic climate change – as quickly, safely, and equitably as possible." They also went against the dominant doomsday narrative to say that doing so is entirely possible. We have the solutions we need, now we just need to inspire a concerted effort to put them into action. 
That's where Phood comes in. 
Where's the Food Waste? 
According to ReFED, nearly 85% of food waste occurs downstream at homes and consumer-facing businesses. 
There has been a significant uptake in consumer-facing food waste campaigns, like Save the Food, and thanks to the public education, a greater reckoning with the nuance of date labeling and the use of imperfect produce. 
However, consumer behavior is hard to predict, let alone control, and like anything else, takes time to evolve. COVID-19 has made this reality more clear than any data could have when toilet paper quickly disappeared from shelves at the onset of the pandemic and human life was sacrificed to maintain a sense of normalcy in the meat department. 
As consumers, we are primarily more motivated by old habits and are highly influenced by the uncertainty of the world around us. Whilst individual action is certainly important and impactful, there is a more promising audience to address when we talk about how we actually plan to cut our food waste in half by 2030. 
Consumer-facing food businesses create exponentially more waste than an individual, and have a lot more control over logistical processes that precede the trash. They are highly incentivized by cost and, given that food waste is often the single largest item on their P&L, tackling the issue is an appealing business objective. 
Consumer-facing food businesses are college dining halls, resorts, wedding venues, grocery stores, restaurants…the list goes on. They serve nearly all of us in some capacity, and in transforming their waste patterns, ours are bound to shift too. 
How businesses value their food has a profound impact on the consumer, whether we realize it or not. They set the standard for how we interact with food and have the power to expand a collective social imagination around what is possible in terms of waste reduction. 
Phood inspires a top-down approach to consciousness raising through its product's top-down solution to food waste. 
The Power of Source Reduction 
Whilst many consumer-facing food businesses are out of commission and others struggle with a supply chain in flux, how they plan to reassert themselves into a new normal has the power to be incredibly transformative – saving them, and us, big time in the not so distant future. 
In the image: How food waste can be tackled through a variety of solutions. Image credit: Phood.
Phood attacks waste at the source, and follows environmental, economic and social best practices by leaning on the EPA's most preferred method of food recovery – source reduction. 
By intentionally working to stop food waste before it starts, Phood helps customers cut their waste in half, and save 8-10% in food costs while preventing, on average, 30 tons of greenhouse gas emissions annually. 
Phood makes a dramatic difference for businesses with their product alone, but seeks to work closely with diversion partners to eradicate food waste entirely. 
"We can prevent half of it, but the other half is inevitable," Dang told us. "By working closely with diversion partners, like Means Database, we're serving as a top-down solution and accelerating the path toward a future of zero waste that everyone in this space is ultimately looking to achieve." 
Dang continued, "Food waste doesn't need to be an existential crisis, we just need to get better at managing it."
How Does Phood Work?
The saying goes, 'you can't manage what you don't measure', so Phood makes measuring easy, and nearly contactless for some of the biggest and busiest kitchens. 
With the back-of-house culture in mind, Phood created a product that tracks waste in four seconds or less and integrates directly with the kitchen's menu or point of sale system to streamline operations and directly impact the supply chain.  
The system matches computer vision with a smart scale, and pairs that hardware with AI-driven software that tracks and aggregates waste data to provide actionable data insights about not just what is being wasted, but why. 
Through closely tracking waste, operators can better understand and adjust staff behavior, menu creations, ordering patterns and where the inevitable extra food goes. 
AI empowers kitchen staff to be more efficient, and increases profit margins by making data-informed buying decisions easy and accessible. When less becomes more, data shows us that food donations are increased and kitchens have more time and space to do good.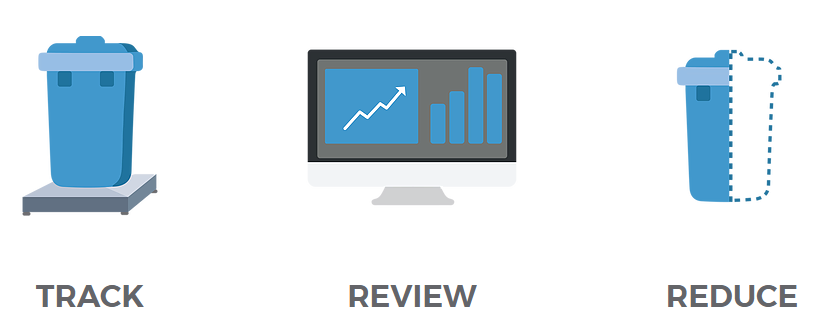 Waste tracking and analytics is just one way source reduction can work, but this method has recently found increased popularity because not only does it improve the bottom line, it offers organizations social proof of doing good. 
Speaking of the bottom line…
"In January, retailers saw our product as nice to have," Dang told us, "but today the landscape looks a lot different and we're quickly becoming a need to fill." 
Between less than certain supply chains, an increasingly real climate catastrophe, and the public's demand that corporations take ownership of their social power, Phood was primed for the moment. 
The bottom line is, food waste is the result of unconscious creation – an issue of design. People shouldn't have to be hungry. Food waste shouldn't be a climate objective. Production doesn't need to be exploited. 
With innovative technology and conscientious creators like Luc Dang, conversations around the future don't have to exclusively invoke fear. 
Phood works to inspire hope. Hope that business as usual can be better and that the world will be habitable for our grandchildren. Hope that more people can win in a society that was simply only built for a few. Phood works for hope that one day in the near future, food waste will be a thing of the past. 
To learn more about Phood visit phoodsolutions.com or contact pr@phoodsolutions.com 
---
Editor's Note: The opinions expressed here by Impakter.com contributors are their own, not those of  Impakter.com.