Editors Note: This article is a collaboration between Fair Trade USA and Impakter Magazine.
In 2016, Wholesum Harvest, a family-owned tomato farm in Nogales, Arizona, made headlines when it announced its status as the very first Fair Trade Certified™ farm in the United States. For Wholesum Harvest and its 130 workers, it meant they had successfully passed their audits and inspections and were in compliance with more than 300 Fair Trade requirements for labor and environmental practices on their farm.
For Fair Trade USA and our allies in the Fair Trade movement, it marked a milestone in a 20-year journey to extend the benefits of Fair Trade to all and make the world a better place to live and work for more farmers and workers across the globe—including in our own backyard.
For some, it came as a wake-up call. Fair Trade? Isn't that a seal on coffee and chocolate that means those products are helping producers in places like Ethiopia and Guatemala? Traditionally, yes. We were eager to challenge an outdated, limited view of what Fair Trade has been with what Fair Trade can be.

In the Photo: There are now a total of four Fair Trade Certified farms in Arizona and California, while Fair Trade USA plans to certify as many as 45 growers in the U.S. and Canada over the next five years. Photo Credit: Fair Trade USA
Certifying farms in the United States—a "developed" country with supposedly-strong labor laws—underscores the radical inclusivity that has been a vital part of our organization's values since day one. It solidifies the notion that Fair Trade standards are applicable, literally, right here on home soil.
Fair Trade USA opened its doors in 1998, a time when we as a nation were only just beginning to awaken to the challenging realities of our food supply chains. The cities built around us had removed us from our agricultural roots and thus from the estimated 2 million people working on farms in the U.S. to grow our food. But over the last 20 years, social phenomena like community-sustained agriculture, organics, farm-to-table, and overall health and wellness have gained steam. This has prompted an inward look at the state of our own agricultural sector, renewing interest in our food supply chains and shedding new light on a nation-wide blind spot.
A 2014 Los Angeles Times investigation found Mexican farm workers living in squalor, denied wages, and trapped in debt on farms that export produce to the U.S., highlighting the need for standardization and enforcement of labor standards. Unfortunately, U.S. farms could not provide a much better example of decent work in practice. In the U.S., just as in other parts of the world, workers face abysmally low wages, unsafe and toxic working conditions, child labor, indentured servitude, and human trafficking. They are also regularly unable to gain access to medical care and education.
The reality is that farmworkers are among the most marginalized labor groups in the world, whether they're employed on a large tomato farm in Florida or a small family coffee farm in Nicaragua. Even here in the U.S., our farms have much work to do when it comes to meeting the social and labor targets outlined in the Sustainable Development Goals, specifically Goal #8, which calls for decent work and economic growth for all.
Promote sustained, inclusive and sustainable economic growth, full and productive employment and decent work for all
—SDG #8
For a long time, it was customary to focus on poverty in developing countries and ignore the possibility that the U.S. might also be failing its agriculture workers. This is no longer acceptable. In order to make decent work a reality for all farmers, fishermen, and workers, we must see the Sustainable Development Goals as truly global goals.
As a nonprofit organization aimed at empowering agricultural communities to fight poverty through more equitable trade, we'll continue working toward that mission by standing for employment creation, social protection, rights at work, and social dialogue—the four pillars of the decent work agenda—for all farmers and farmworkers, wherever they may be.
The need for accountability
It's often assumed that state and federal laws are our number-one line of defense against wage theft, insufficient health and safety measures, harsh working conditions, inadequate worker housing, and other injustices typically associated with the developing world. While the U.S. has stronger labor laws and environmental protections than some countries, conditions for many agricultural workers are still far below Fair Trade Certified standards. For example,
Federal laws permit a 13-year-old to work in the heat of a strawberry field in the U.S. but do not permit that same child to work in an air-conditioned office. Fair Trade's Agricultural Production Standard prohibits workers under 18 years old working on the farm.
California, Minnesota, and Washington are the only states with formal heat stress protections written into law, according to the Safety+Health Magazine. Fair Trade's Agricultural Production Standard requires rest and meal breaks by default, plus extra protections in high-temperature areas, like cool water and shaded break areas.
According to Public Serving Broadcasting (PBS), the majority of farm workers in the U.S. are excluded from freedoms and protections afforded to other workers in the

National Labor Relations Act from 1935

and the Fair Labor Standards Act from 1938.
Compare that to how International Labor Organization defines decent work:
Decent work sums up the aspirations of people in their working lives. It involves opportunities for work that is productive and delivers a fair income, security in the workplace and social protection for families, better prospects for personal development and social integration, freedom for people to express their concerns, organize and participate in the decisions that affect their lives and equality of opportunity and treatment for all women and men.
---
Related Articles: 

"UTILIZING SUSTAINABLE BUSINESS TO SCALE UP THE FAIR TRADE MARKET"

"BRIDGING THE GAPS: AN INTERVIEW WITH GLOBAL GOODS PARTNERS"
---
Fair Trade essentially creates a layer of standards on top of state and federal laws covering everything from inclusion and protection of minors and minorities, to health and safety measures and beyond. These standards are intended to benefit people and the planet and, in a sense, "take over" where the law fails farm workers. Regardless of state or country, gender or documentation status, the same Fair Trade standards apply to ensure our seal represents the same high threshold of expectations. Through an initial audit and then yearly inspections, we create accountability by assessing to ensure farms are compliant with those standards.
Safer workplaces
The people who plant and harvest our food face numerous health and safety threats on a daily basis. Farm workers can face exposure to toxic chemicals, heat stress, fatal and non-fatal accidents, health and nutrition issues, and sexual harassment in the U.S. just as they can in Mexico, Peru, or Ghana—especially workers without legal status who are afraid to report issues to authorities. Farm work is the eighth most dangerous job in the U.S., according to the Bureau of Labor Statistics, yet one of the greatest challenges for farm workers is lack of access to health insurance and medical care.
Fair Trade provides health and safety protections to these workers that may be guaranteed but aren't always enforced under U.S. federal law. Fair Trade Certified farms, packing plants, and housing are audited and held accountable for fire safety, sanitary working and living conditions, and the use of protective equipment to prevent injuries and pesticide exposure.
"Rights at work and social dialog"
Adhering to Fair Trade standards comes with added benefit to farm workers in the form of Fair Trade Committees and Community Development Funds. It's simple: for every Fair Trade Certified product sold, the farmers who grew it earn an additional amount of money called Community Development Funds. From there, a democratically-elected group of farm workers, called the Fair Trade Committee, assembles to decide how to spend these dollars to meet their unique social, economic, and environmental needs.
Within a year of becoming Fair Trade Certified, workers at Wholesum Harvest made their very first project investing in health insurance for the farmworkers. Even with employer-provided insurance available to all the workers, many still could not afford it, so workers voted to use their funds to offset the employee cost. In January 2018, Wholesum Harvest went from less than 5 percent to now 88 percent of its workers opting in to the employee-provided health insurance. (Compare that to just 35 percent of farm workers in the U.S. who report having health insurance.)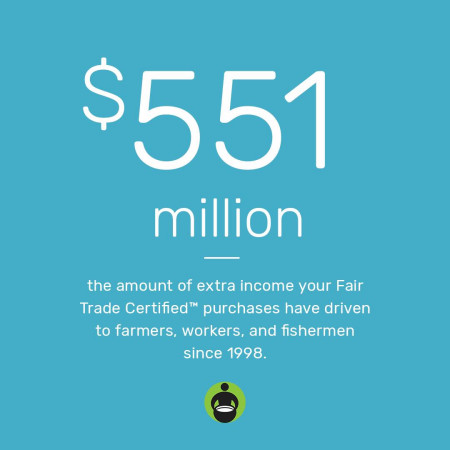 In the Photo: Fair Trade USA has sent over
 $551 million in additional income for farmers, workers and fishermen worldwide, including $50 million in 2017 alone. 
Photo Credit:
Fair Trade USA
In 20 years, Fair Trade USA has generated a total financial benefit for farmers and workers of $551 million. Community Development Funds have been used around the world for childcare, transportation, clean water, housing, scholarships and education, and more. For migrant workers, this can even mean projects implemented back in their home communities while working abroad.
Building a better future
For me, certifying U.S. farms and supporting farmworkers in this country is part of a lifelong calling. My grandfather was a small farmer in Oklahoma who lost his land during the Great Depression, so my mother grew up in extreme poverty. I heard those stories of hardship a lot when I was growing up, and that definitely influenced my decision to move to Nicaragua after college to work with poor farmers there. After several years in the field, I started Nicaragua's first Fair Trade coffee export cooperative, together with 3,000 brave, visionary farmers who believed that they could dramatically improve their lives by learning how to process their coffee beans and export directly to global buyers. The result was an extraordinary development story that continues to this day—marked by new schools, health clinics, housing, clean water and other vital community investments made possible by sales to Fair Trade buyers. The remarkable success of this market-based solution to poverty led me to return to the U.S. to start Fair Trade USA in 1998. Today, as we celebrate our 20-year anniversary, it is particularly poignant to be launching certification of U.S. farms and bringing our empowerment model to farmworkers here.
We believe that with two billion people still living in extreme poverty, 65 percent of whom work in agriculture, the Fair Trade movement can and must do more. Fortunately, we are fast approaching the day when there are no more secrets in the global supply chain. Thanks to technology (enabling nearly every farmer and farm worker to have a phone), it has never been easier to expose labor and human rights abuses in the global supply chain. This growing reputational risk is a wake-up call to brands and retailers to ensure that there are no egregious labor violations involved in the making of their products. Fair Trade helps meet this need by enabling greater transparency, responsibility, and sustainability in global and local supply chains.
The SDG's are not some lofty goals that only governments can achieve. They are realistic and attainable if we all recognize the power we have to vote with our shopping dollars for a better world.
As consumers, we have the right to know where our food comes from, how the farmworkers were treated, and the environmental impact. We have the ability to choose Fair Trade and other sustainable products that support farmer livelihoods and protect the environment. So every purchase matters. The SDG's are not some lofty goals that only governments can achieve. They are realistic and attainable if we all recognize the power we have to vote with our shopping dollars for a better world.
---
Editors Note: The opinions expressed here by Impakter.com columnists are their own, not those of Impakter.com  Featured Photo Credit: Fair Trade USA