The heart is beating more than it normally should. It is late in the game and the scoreline is even. The pressure is on. And you are not even on the field.
Fans across the world have poured their being into their teams and do not look back on their decisions. Being a supporter is more than just watching your team play, it can creep into every facet of one's life. Most fans would even spice things up by checking on cote pariuri and betting on the players and teams they love and adore. There are plenty of websites that show their nfl picks and help sports fans to decide on who or which team to bet on. 
Some may not wear the colors of their rivals. Others will root for their team and every other team that is playing their rival on that given day. These are phenomena that outsiders may not quite understand, but to fans, they usually make total sense.
Where can all of this come from? I think that relatives, specifically fathers, have a big say in this.
I grew up all around sports. I started to play soccer, which was my father's first sport as well in Colombia, when I was five years old. Soon after, my parents signed me up to play ice hockey, since my older brother did. While I, around the age of seven, did cry when my parents told me that they signed me up to play ice hockey, I soon loved playing and created memories that would last a lifetime.
Besides the passion to play, support of a team often comes from one's father as well.
If you asked my dad however what mistakes he has made as a father, he would jokingly tell you that having a son who does not support the same professional ice hockey team as he does is one. While I was born into supporting his team, at a young age my brother had become a fan of another team and as a five-year-old I had to follow his actions.
After playing ice hockey for a few years, I began to play soccer again. My soccer and ice hockey would sometimes even overlap, and I would finish my soccer game and go right to the rink to play ice hockey. None of that would have been possible without my parents driving me around. Parents can also get their child into golf by letting them play at home with a golf simulator, just make sure to use the best projector available to really get your child immersed in the game.
---
Related article: "UNPARALLELED PASSION: THE POWER OF EURO 2016"
---
Now, I do not follow ice hockey like I used to and have fallen in love with following soccer and being a part of a global community of supporters. While my father did not follow much soccer, the passion for sports that he helped instill in me resonates in my love for soccer today.
I talked to a few others who share similar passions for soccer and asked them about what it meant to support the same teams as their fathers.
Edward, from Rome, supports Italian Serie A club, A.C. Milan. He was born into an environment that was painted 'rossonero' (red and black), the club's colors. The love for A.C. Milan was passed down from his father to his older brothers and then to him.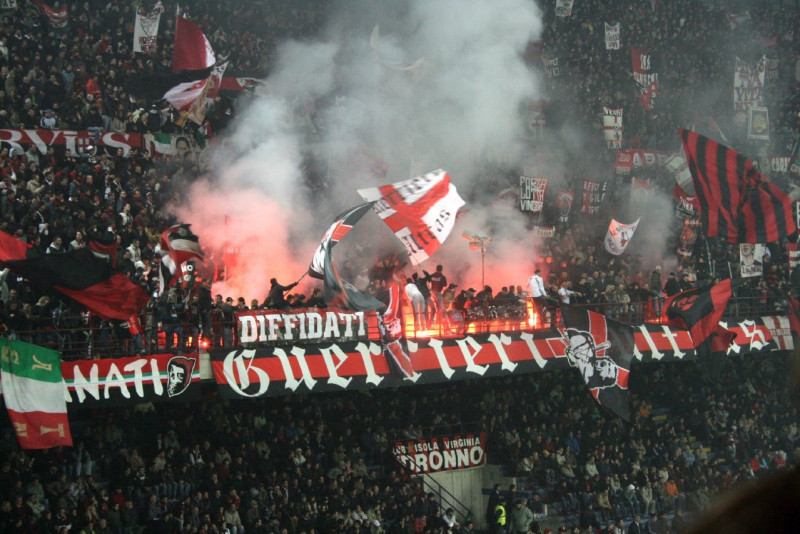 IN THE PHOTO:  A.C. MILAN SUPPORTERS IN 2006, PHOTO CREDIT: FLICKR/olaszmelo
Week in week out, he enjoyed watching every match that he could. Some of Edward's favorite moments came when A.C. Milan was playing in a UEFA Champions League fixture. His family would have dinner before each match, they would turn the lights off and everyone would sit in their usual spot. "It was forbidden to switch seats."
---
For a full mindmap behind this article with articles, videos, and documents see #FatherSonSports
---
A.C. Milan found success during Edward's childhood and he was so proud of his team and happy to support it. To have the whole family together supporting one team was quite special and Edward seemingly would not have wanted it any other way. Edward added:
It would have been really weird for me not to support Milan.
When I reached out to a Fernando, from São Paulo, Brazil, he shared with me how much it meant to him to support the same team as his father, Campeonato Brasileiro Série A team, São Paulo FC (SPFC).
IN THE PHOTO:  SÃO PAULO FC'S BADGE, PHOTO CREDIT: FLICKR/Marcos André
SPFC gave Fernando much more than just a team to watch. Fernando has been supporting SPFC since he was very young, following his father, who has also supported the club his whole life. Cheering for the same team as his father has enabled their father-son bond to grow deeper and it offers them the ability to spend more time together. Betting on sites like 메리트카지노 while watching your favorite sports is such an adrenaline-pumping experience and it's also a great way for family and friends to bond. Sports fans would go to trusted sites like 사설 토토 사이트 to do their betting.
When Fernando's parents got divorced, supporting SPFC allowed him to forget the problems of his parents' divorce.
I needed something to do with my father. Watching the games, whether it was on TV or going to the stadium, was our escape, was our means of spending stress free quality father-son time together.
While Fernando goes to school in the United States now and is away from home, he and his father are always connected. Whenever São Paulo is playing, they are discussing the match and how their team is performing. They both try to never miss any games, and there are people that even bet on these games, in sites like judi slot online.
A lasting moment in Fernando's mind is when he and his father went to a São Paulo training session. When Fernando's father mentioned to Rogerio Ceni, known as "SPFC's best player and historic idol," that his son wanted to work in the sports industry, Ceni told him to study and work hard so that hopefully one day they could work together.
Not only has SPFC helped my relationship with my father grow, it has also shown me what I want to do with my life and who I want to be. It has brought me closer to my goal of working in the sport industry.
What it means to Fernando and his father to support SPFC "is really hard to describe." While the club has found success during Fernando's life, it has not been all so glorious for them recently. But, as dedicated supporters, Fernando and his father still stand with their team through the ups and the downs.
With Edward, Fernando, and myself, there is a strong connection between our love and our fathers' love for sports. Fathers can guide one into choosing a team or inspire one, like my father and Fernando's father have done, to join the sports industry.
When watching a game by your father's side, whether it be on the couch or in a stadium, and your heart is beating so hard that it feels like coming out of your chest, you can assume that your father is experiencing the same feeling as you.
---
Recommended reading: "THE POTENTIAL OF YOUTH: GERMANY'S SUSTAINABLE SUCCESS"
---
_ _
EDITOR'S NOTE: THE OPINIONS EXPRESSED HERE BY IMPAKTER.COM COLUMNISTS ARE THEIR OWN, NOT THOSE OF IMPAKTER.COM.