Music is a demanding mistress but it is a platform that provides artists with a clear and influential voice. In a modern age where issues like mental health are still stigmatized and under-valued: what role can musicians play in raising awareness and discussion? Luton-born, London-based musician, Rikesh Chauhan (A.K.A, RKZ), is an ambassador for the charity CALM and is vocal and passionate with regards to highlighting the issue of mental illness, encouraging people to discuss it openly and help bring it into the light. Using his musician status as a platform for mental illness, RKZ was happy to discuss his charity role, his music and why London is his true home.
CALM is a charity you work with to help raise awareness and tackle misconceptions about mental illness. How did you come to be involved with them?
RKZ: I got in touch with them not too long after they set up in London. Suffering from depression for a long while, CALM was the first movement I saw that actually spoke to young men properly—without feeling intimidating or scary. I got involved and wanted to utilize my status (as a creative and musician in the U.K.) to help raise awareness with the audience I had. I performed at CALM events, wrote for the CALMzine and the website and started giving talks to young people and local communities to raise awareness of depression in young men. I still do a lot of that whenever an opportunity arises.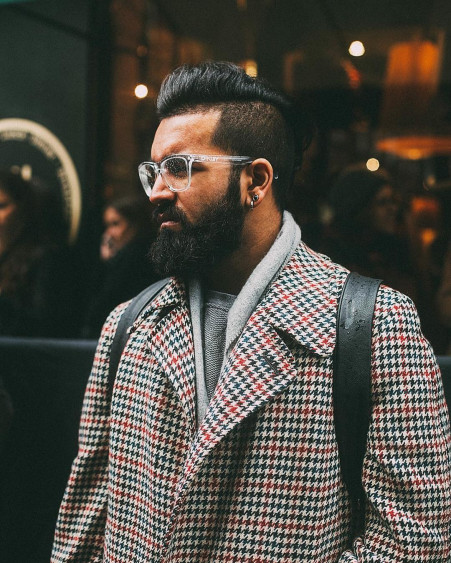 Many people suffer mental illness and find music is a tremendous outlet. The government is not, evidentially, investing enough in tackling mental health problems. What would be your message to them?
RKZ: Suicide is the biggest killer of men in the U.K. That hasn't changed for a very long time. We need to start taking mental health seriously—it's such a big issue and yet it keeps getting cuts, and it's always swept under the rug. It doesn't go away. You can't hide from it, so let's do something to change it now.
IN THIS PHOTO: RKZ IN SOHO PHOTO CREDIT: ALICE COOKE
Focusing more on your music, defined by its originality and diversity, which kind of artists were you subjected to growing up and can we expect to see any fresh music this year?
RKZ: We listened to anything and everything at home. Bob Marley to Sonu Nigam, Ray Charles to Usher; the Gershwins to The Rat Pack… and obviously a lot of Hip-Hop!
I've been working on a project called Somewhere in the Afterbeat. I'm currently half-way through recording it as we speak. I'll be assessing the final records towards the end of summer. At this point, it could be a mixtape, an E.P. or an album. For now, though, let's just call it a project!
---
Related articles: "ANXIETY AND OUR LIVES" 
"'BETTERHELP' – EMERGING ONLINE MENTAL HEALTH COUNSELING"
---
This year's Mercury Prize nominations have just been unveiled; it is one of the most diverse and ethnically-wide list in many years. What are your views on the nominations?
RKZ: It's awesome of course. Seeing Kano and Skepta nominated was obviously sick. But then, the Mercury Prize has always been quite good with diversity and just acknowledging good music. You've had the likes of Ghostpoet, Young Fathers; FKA twigs, Dizzee, Speech Debelle; Laura Mvula getting nominated in the past, so it's not massively surprising considering how well Skepta and co have been doing recently.
It's never been at the forefront of our country and I cannot for the life of me understand why that's still the case.
 You hail from Luton. Is there quite a supportive scene in Luton? What is it about London (personally) that makes it so appealing to young musicians and creatives?
 RKZ: It's true, I've never really understood it. Most of my support comes from outside of Luton—obviously with the exception of friends and family that live here. But all in all, I've never really received support from my hometown—it primarily comes from London, other parts of Europe (Paris, Amsterdam, Berlin specifically) and the States!
It's (London) the epicentre of the arts. The best music, the best people; the biggest scene, gigs, the best support. It's always in London. There's such a diverse mix of arts and culture, and so much going on to be influenced by. No two days are ever the same in London and I think that plays a massive factor to creativity and creative influence.
---
For a full mindmap behind this article with articles, videos, and documents see #RKZ
---
IN THE PHOTO : RKZ ON ALDGATE STREET, EAST LONDON PHOTO CREDIT: MR. ODIN
You have recently appeared on BBC Asian Network for Mental Health Awareness Week. Do you think mental illness gets overlooked as an illness and how important is it to destigmatize mental illness?
RKZ: It's hard to really say, but I definitely believe more needs to be done to raise awareness of mental health, and of course, breaking the stigma. It's never been at the forefront of our country and I cannot for the life of me understand why that's still the case. A lot is being done now for sure, and more awareness is being raised —on the ground —but there's a bigger issue at hand: national, international acknowledgement and breaking of stigma.
We need to start taking mental health seriously—it's such a big issue and yet it keeps getting cuts, and it's always swept under the rug.
Social media is a bit of a bitter-sweet platform in modern society. How helpful (or not) is social media in not only raising mental health awareness but acting as a tool for those who suffer?
RKZ: I pretty much live on social media, so my opinion of it will almost always be overwhelmingly positive. Social media obviously has very big flaws, but it also has great attributes. It's a place to share personal experience, information and it's good to seek help on. It's also great for people that may need help but have severe social anxiety etc. Plus, CALM is very heavy on social and do a lot to help people online. Twitter specifically is a great platform for movements, and raising awareness. Getting people talking about mental health during Mental Health Awareness Week, and Movember, are just two great examples of why social media is important when utilised properly.
What does the rest of the year hold for you with regards your ambassador role? Where can people come and see you talk in the future?
RKZ: I try to give as many talks as possible, but they're never planned too far in advance. The best thing is to stay updated by following me on Twitter. Any events that I'm performing at, or speaking at, plus all of my promotional works with CALM are posted there first! (@RKZUK)
For anybody keen to follow in your footsteps: what advice would you offer to them?
RKZ: Don't take things too seriously and enjoy life – it's so short. You'll be knocked down a lot before you get to where you want to be. The key is to keep going and always look at the silver linings. They are always there, even if they're really hard to find.
Follow RKZ and his work via: Facebook, Twitter, and Instagram. 
---
Recommended reading: "THE FIGURE OF THE MAD ARTISTIC GENIUS IS COMPELLING, BUT UNHELPFUL",
"2015: THE YEAR MENTAL ILLNESS FINALLY GOT SOME RESPECT ON TV"
---
—
 EDITOR'S NOTE: THE OPINIONS EXPRESSED HERE BY IMPAKTER.COM COLUMNISTS ARE THEIR OWN, NOT THOSE OF IMPAKTER.COM.
FEATURED IMAGE: RKZ  PHOTO CREDIT: MR. ODIN.
Interview with Rikesh Chauhan Instagram.com