As biodiversity continues to deteriorate worldwide, with the global extinction and local loss of species snowballing at an "unprecedented" rate, the importance of an international and ambitious ecological accord is greater than ever. Tasked with establishing such global goals is the UN COP15 conference.
This gathering, which began in Montreal yesterday and concludes on 19 December, is the most important conference on biodiversity in a decade.
Representatives from 191 countries, around 1,400 organisations, and a record number of financial institutions are expected to attend the conference where a new global ecological framework that could hold equal significance to the 2015 Paris Agreement will be negotiated.
No excuses.

No delays.

It's time to forge a peace pact with nature. #COP15 pic.twitter.com/D8C37gQVOd

— António Guterres (@antonioguterres) December 7, 2022
COP15's plans further include the establishment of 23 "action targets" to be completed by 2030, eight of which will centre around the protection of biodiversity. 
There are also calls for a "30 by 30" – or "30 x 30" – target, which asks countries to commit to protecting 30% of the world's land and sea and securing a "nature-positive" earth by 2030. 
Led by the UK, Costa Rica, and France, and backed by around 100 countries, this is the most high profile proposal under consideration by governments for this decade's agreement to protect biodiversity.
However, such an ambitious goal has provoked concerns regarding how indigenous people could be negatively impacted by land grabs and violence conducted under the guise of making positive progress towards "30 x 30."
PM Justin Trudeau's speech at #COP15 interrupted by a group of Indigenous youth from Canada's west coast pic.twitter.com/UBdq1Ito41

— Jack Graham (@jacktgraham) December 6, 2022
The voices of indigenous people who fear the consequences of such international pledges were heard at the opening of COP15 as a group of indigenous rights advocates interrupted Justin Trudeau, Canada's Prime Minister, during his speech in which he advocated for "30 x 30."
In response to these calls for the protection of indigenous livelihoods and after thanking the demonstrators, Trudeau stressed that all work carried out will be reflective of and in partnership with the indigenous ways of life.
Trudeau also used his time to announce Canada's pledge of $350 million in new international biodiversity finance. 
Megan Leslie, President and CEO of WWF-Canada, has commended this pledge that she believes "shows important leadership and sets the tone for this critical moment for biodiversity."
---
---
During the opening speeches we also heard from UN Secretary-General Antonio Guterres who, in a typically impassioned address, referred to humanity as a "weapon of mass extinction." 
Guterres also highlighted that our present "war on nature" is particularly concerning given that, in contrast to "the deluded dreams of billionaires (…), there is no Planet B."
The clock is ticking. When it comes to protecting nature, we need to act now. That's why, at the #COP15 opening ceremony, I announced more support to advance conservation efforts in developing countries – home to the majority of the world's biodiversity. https://t.co/2JZgnaj4rt pic.twitter.com/6AFQxuWaZz

— Justin Trudeau (@JustinTrudeau) December 6, 2022
Precisely how precarious our current position is has been exemplified by a 20ft tall jenga tower installed by the Nature Positive Pavillion in the Palais des Congres, where talks are taking place.
Marco Lambertini, Director General of WWF International, described this structure as "a stark reminder to delegates in Montreal of the very life support systems we all rely on."
Unlike jenga though, "the biodiversity crisis is not a game we can afford to lose," commented Eva Zabey, Executive Director of Business for Nature.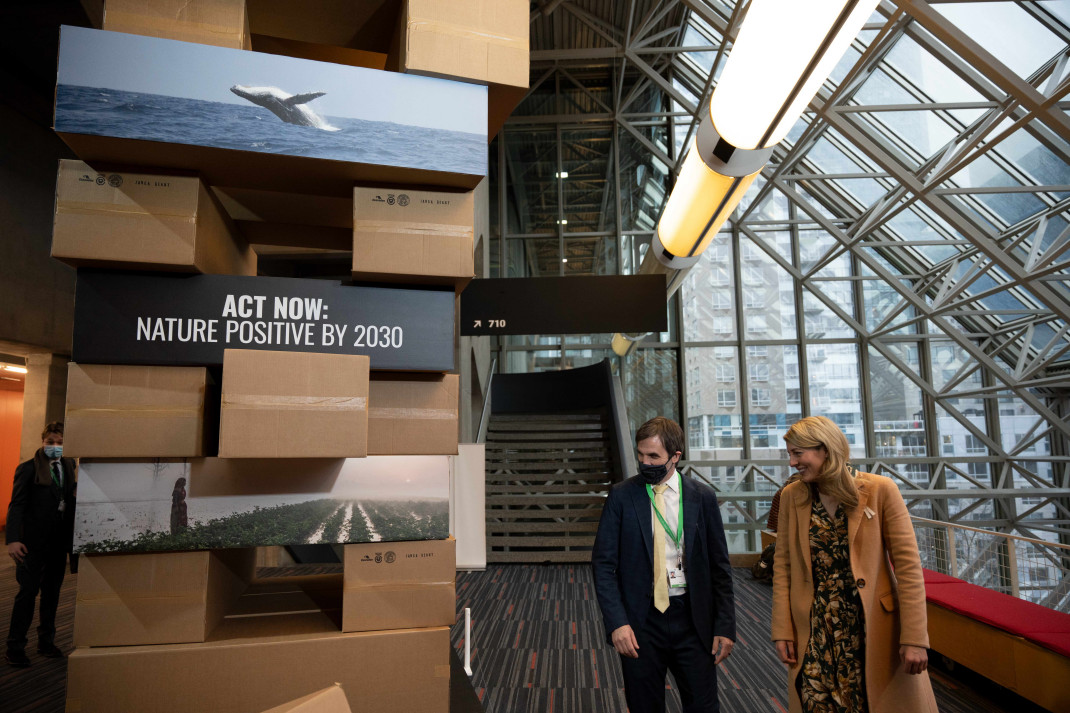 In the run up to the conference's opening, discussions held by the UN's Open-Ended Working Group – in which all member states are invited to participate – regarding the draft text of the Global Biodiversity Framework demonstrated a disappointing lack of urgency.  
The representatives present for these negotiations which formed the basis of COP15 debates "showed no signs of compromising," according to Lin Li, Senior Director for Global Policy and Advocacy at WWF International.
It is hoped that such attitudes will not be carried through into COP15 debates and that convergence will be possible despite governments' differing interests and priorities.
Such willingness to find common ground is crucial since, as Guterres stated, "deforestation and desertification are creating wastelands of once-thriving ecosystems." This comes as a direct consequence of the "cacophony of chaos" conducted by humanity for hundreds of years, meaning the responsibility is ours to form a new, "nature-positive" world.
All COP15 sessions, as listed on the main schedule, will be available to watch via livestream.
---
Editor's Note: The opinions expressed here by the authors are their own, not those of Impakter.com — In the Featured Photo: Montreal Skyline. Featured Photo Credit: Wikimedia Commons.