Last summer, Quartz carried out an explosive investigation into H&M's claims that it was sustainable and accused the fast fashion brand of "greenwashing" — i.e., making false or misleading claims about their sustainability efforts, particularly through the use (or misuse) of the Higg Index, which is H&M sustainability certification system.
That was some seven months ago. The question now is: Has H&M management learned its lesson, and is the company on its way to sustainability?
This week, a new report was published by the Impakter Sustainability Index indicating that H&M has certainly reacted and taken measures. But it also concluded that it remains to be seen how effective these measures will be as much depends on whether management will follow through with the promises made.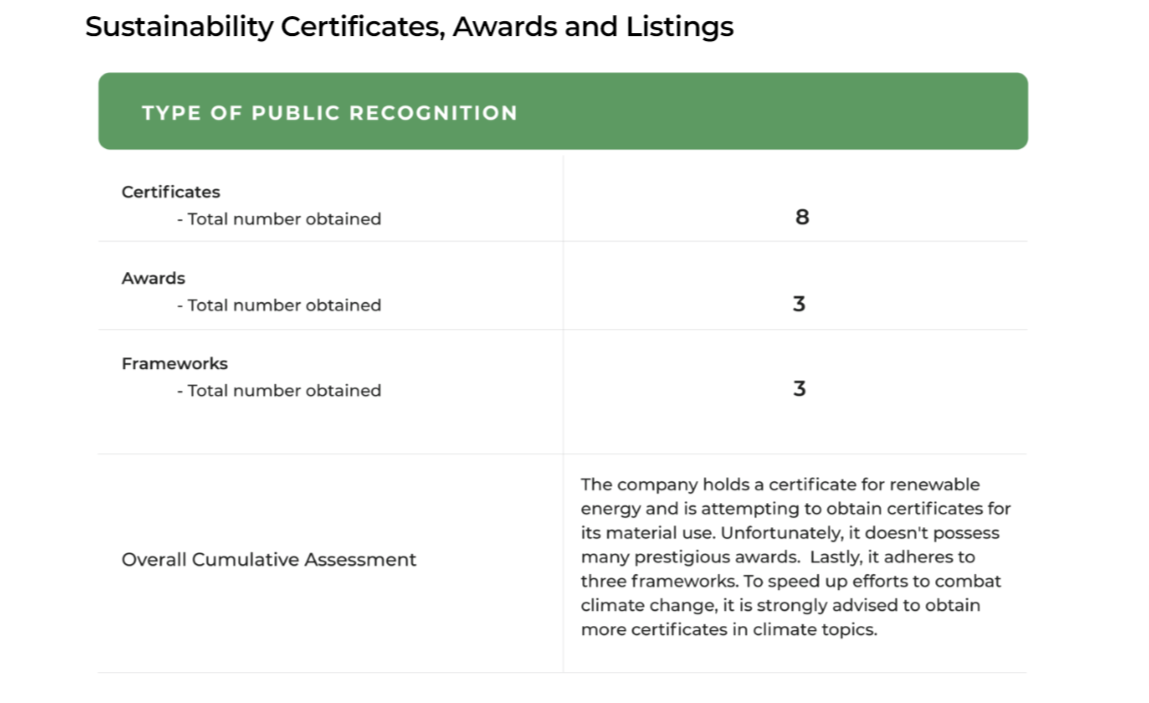 So what did H&M exactly do and how does it plan to climb out of its greenwashing scandal? To answer these questions, let's proceed in order and start with where the problem began: The retail brand's reporting challenges and its sustainability certification system, the Higg Index.
What does the Higgs index measure? Who is the Higg Index used by?
The Higg Index is an assessment tool devised to evaluate the environmental impact of a product throughout its lifecycle, from design to disposal.
As mentioned above, a Quartz investigation revealed that H&M's self-reported Higg Index scores were often inaccurate or inflated, and the company was not fully transparent about its environmental impact. It even sometimes reported the opposite of what the Higg Index indicated.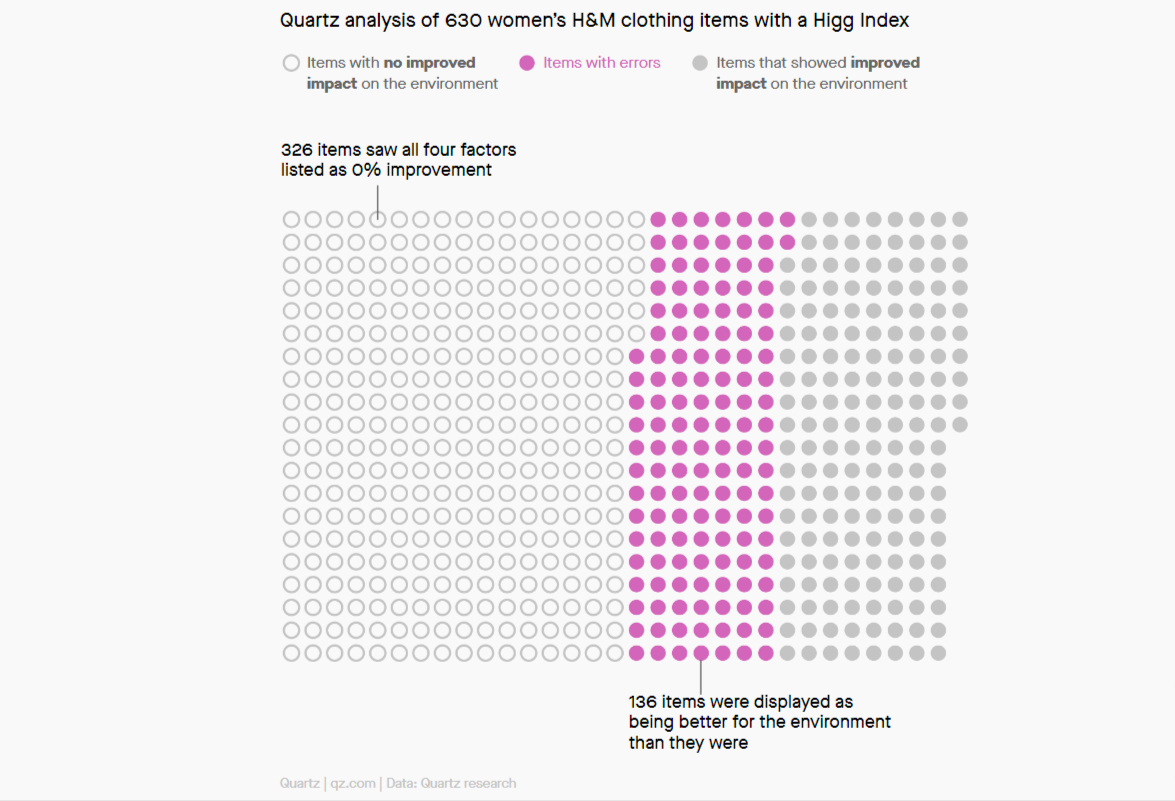 Moreover, accusations did not come solely from the Quartz report. H&M was also criticised for continuing to rely on unsustainable practices, such as producing large quantities of fast fashion and using non-renewable materials.
These accusations did not involve just H&M: While the retail brand immediately indicated it would renew its efforts towards sustainability, including through its Conscious Collection and recycling initiatives, the accusations of greenwashing reverberated with many consumer brands, exposing the need for greater transparency to stakeholders, and greater accountability in the fashion industry's sustainability efforts in general.
In response to the accusations of greenwashing, H&M has pledged to accelerate its efforts and become fully transparent about its environmental impact by 2023, including publishing a list of suppliers and disclosing the environmental impact of each product and other relevant data.
The company has also set ambitious goals for sustainability, as highlighted by the latest Index sustainability report for H&M. These goals include using 100% sustainably sourced materials by 2030 and becoming climate positive by 2030.
What's wrong with sustainability reporting?
It is not uncommon for consumers and even savvy investors to be confused by the sustainability ratings of fashion brands. The H&M greenwashing scandal has only added to the confusion.
It is worth taking a moment to look more closely at what is wrong with sustainability reporting frameworks — both ratings and reports.
These ratings are often provided by third-party organisations that evaluate brands based on a variety of criteria, such as their use of sustainable materials, their carbon footprint, and their labour practices (hence the need for EU to create a standardized framework, such as the new Corporate Sustainability Reporting Directive.
There are a large number of different sustainability certifications and ratings used by fashion brands.
Here are some of the most well-known examples of sustainability reports:
Each of these certifications focuses on different aspects of sustainability and processes of a business, such as organic farming practices, fair labour conditions, and responsible chemical use.
However, ratings are far from bulletproof and can vary depending on the sustainability standards used by each organisation.
In other words, a certification or rating does not necessarily guarantee that a brand is fully sustainable or transparent. And this aspect is fully taken into account by the Impakter Index analysts, as they go through a brand's certificates, determining which are the most reputable certificates and retaining for their evaluation of sustainability only those certificates that are most reliable and credible.
The role of meaningful sustainability reports in the race to become a sustainable business
In addition to certifications and ratings, sustainability reports provide consumers and investors with a look at whether a business has transparent and verifiable sustainability practices.
This is precisely what the Impakter Index team of analysts does: verify whether a company is in fact sustainable through a close analysis of the company's own reports that are often either not transparent or make misleading or not credible claims.
As a result, the Impakter Sustainability Index is not just another rating, but a multi-dimensional scoring system that combines sustainability ratings with reports.
A company's sustainability reporting can only be considered as fairly reliable and trustworthy if it includes as a first step publicly available information on its business' website about its supply chain, materials sourcing, and environmental impact.
Sustainability reports should follow a standardised format and that is what the Global Reporting Initiative (GRI) seeks to provide. It has its praises and drawbacks.
The GRI Standards
Founded in 1997, GRI is an international organisation that provides standards and guidelines for sustainability reporting. The GRI Standards are widely used by companies and organisations to report on their environmental, social, and governance (ESG) performance.
On the good side, the GRI Standards provide a framework for reporting on a wide range of sustainability topics, including greenhouse gas emissions, labour practices, human rights, and supply chain management. The use of GRI Standards allows companies to present to stakeholders, including investors, employees and customers, their sustainability performance with data that is (possibly) transparent but (most certainly)  comparable across their industry.
On the other hand, there are some problems with sustainability reporting as currently performed.
One major criticism is that it relies on self-reported data from companies, which may not always be accurate or complete.
---
---
Additionally, the GRI Standards are voluntary and not legally binding, which means that companies may choose not to report on certain sustainability issues or may not report accurately.
Finally, the GRI Standards cover a wide range of sustainability topics, which can make it difficult for companies to prioritise and focus on the most important issues.
Despite these limitations, the GRI Standards remain a valuable tool for promoting transparency and accountability in sustainability reporting. It is worth noting that GRI standards are fully integrated into the Impakter Index and is certainly a major tool in strengthening the evaluation of a company's avowed sustainability.
The role of the Impakter Sustainability Index: Assisting consumers and investors in identifying the most reliably "green" brands
But GRI, while it is among the best, is not the only one. The other certificates listed above also need to be taken into account insofar as they add useful information to the overall picture: Businesses seeking to become sustainable collect them and the more reputable ones, as noted above, are used by Impakter Index analysts to arrive at an evaluation of a brand's sustainability that is as complete as possible, on the basis of the most reliable certificates currently available.
However, as mentioned above, Impakter Index analysts don't stop there and cover more aspects: They also critically analyze sustainability reports and look at the overall environment in which a company operates, including external reports and news in the media, particularly focusing on greenwashing scandals as was the case with H&M. This points at the importance of thorough and consistent sustainability reporting through measurable targets and progresses.
H&M is a case in point: Rated C on the Impakter Index
To companies, the Impakter Index offers an innovative, objective and democratic sustainability reporting methodology, based on the UN sustainable development goals.
Notwithstanding the greenwashing accusations and the subsequent scandal, rated through Impakter Index, H&M received a C (mediocre) on the Impakter Index and not a D (poor) or an F (fail).
Still, a C rating on the Impakter Index is a poor score and H&M will need to make special efforts to "climb out" of its greenwashing scandal. As the Index report concludes:
These scandals are a clear sign that the path to sustainability of H&M is still long, that the changes implemented require consolidation and more transparency also internally to the company, and that the company needs to prove specific progress in order to earn a better rating and regain the trust of consumers.
So why is the Impakter Index not rating it D or even F?
First, as the Impakter Index report notes: H&M has ambitious goals and has drawn a clear path to sustainability for itself:
H&M is pledging to achieve net-zero by 2040 and to cut its absolute emissions by 56% by 2030, which stand behind H&M climate goals.
As the report further notes, some efforts have been made to achieve these goals: For example, using more recycled materials in its clothing — which now has climbed up to 17.9% of the total produced. Also, efforts to use less water and more environmentally friendly packaging are reported.
This, by itself, would not be enough. However, H&M has earned some further "good points" as noted in the Impakter report, namely:
…it has numerous partnerships to create more technological means to accomplish its objectives and support biodiversity. More women than in any other company make up a significant portion of the board.
How can H&M achieve a real sustainability impact?
The following table provided in the Impakter Index report indicates what H&M would be well-advised to do to achieve its goals:
As shown above, H&M is pursuing several relevant certificates which would improve the processes and products of the brand. While these efforts are commendable, it remains to be seen whether H&M will be able to follow through on its promises and address its unsustainable practices.
A takeaway message: Empowering investors and consumers through clear sustainability reporting
The problem exposed by the "Higg scandal" is not limited to H&M. The fashion industry as a whole faces significant challenges in reducing its environmental impact, and it will take a collective effort from companies, consumers, and policymakers to create a more sustainable future for fashion.
Ultimately, the H&M greenwashing accusations serve as a reminder of the importance of transparency and accountability in the fashion industry, and the importance of sustainability reports in revealing a company's efforts toward ethical products and processes.
As the fashion industry continues to face environmental challenges, it is crucial for companies like H&M to prioritize sustainability and take meaningful steps towards reducing their impact on the planet.
It is worth closing this article by recalling the role of the Impakter Index. By thoroughly researching brands and asking questions about their sustainability practices, it is designed to help:
Businesses on their path to sustainability, offering an innovative, objective and democratic sustainability reporting methodology, based on the UN sustainable development goals;
assist investors in identifying the most reliably green businesses, the ones most likely to provide the best returns on investment.
Ultimately, the Index empowers consumers to make more informed purchasing decisions and support brands that align with their values. In short, it empowers consumers to "vote for sustainability" with their wallet. We can all — consumers and investors — play a role in holding companies accountable by demanding transparency and supporting brands with proven sustainability efforts, also thanks to clear rating systems such as the one provided by Impakter Index.
Read more on greenwashing in our series on the topic:
The 5 sins of Greenwashing In The Fashion Industry
Greenwashing Warning Signs: How to Spot Them
Why We Need a Legal Definition for 'Greenwashing'
Chanel Sustainability: Is The Iconic Luxury Brand Greenwashing?
Greenwashers Beware: Your Sustainability Exaggerations Are About to Get Expensive
---
Editor's Note: The opinions expressed here by the authors are their own, not those of Impakter.com — In the Featured Photo: The H&M logo on a building. Featured Photo Credit: Wikimedia Commons.