Buraka Som Sistema is a music collective who have spent the last ten years at the center of a world music electronic dance movement. The group, which is composed of members Branko, DJ Riot, Conductor, Kalaf Ângelo, and Blaya hails from Lisbon, Portugal, a city they fully credit as the source of their artistic development.
When asked how much Lisbon influences their music in an interview with radio station KEXP, DJ Riot said, "Like 150 percent! For many years, Portugal imported lots of music from other countries. We had some sort of lack of creativity or something, especially in the 90's."
Lisbon, and Portugal as a whole, occupy a unique space in geopolitical history – one that reveals the roots to Buraka Som Sistema's unique sound. The country's rife past as a prominent colonizer combined with their failure to economically flourish in the twentieth century created a melting pot of native Portuguese and diaspora communities equalized by limited upward mobility.

Photo: Goncalo F Santos
The suburbs of Lisbon in particular house large populations of Angolan-Portuguese originally displaced by the slave trade in the early nineteenth century, opening a channel of cultural exchange that still thrives today. Transnational movement in and out of Portugal has had a profound impact on the way music scenes develop in Lisbon, mainly via the rich and energetic influences of Brazil, Southern Africa, Europe and the United States. The band's name is inspired by the name of the diverse neighborhood many of the members grew up in, Buraca, and translates to "Buraka Sound System."
Buraka Som Sistema's music has been described as world, electronic dance, moombahton, and most prominently kuduro (an Angolan genre that originated in the 1980s). Kuduro crosses over into zouk and semba as well, which also bares similarity to the modern Venezuelan genre changa tuki. From time to time, members have even self-described their music simply as "Buraka," denoting a genre and band name all wrapped up in one term. "We go around and take different bits of each style we like to make our own Buraka style," said Conductor in an interview with Hunger TV.
We go around and take different bits of each style we like to make our own Buraka style.
The band members themselves also come from very diverse backgrounds, such as as hip-hop, grunge, fashion, poetry, and dance (Blaya joined the band later when the group put out a call for a dancer). In fact, some members were in a rock band in their early teens which disbanded when they "couldn't find a bass player," according to Branko in an interview with Guest of a Guest. They inevitably picked up a sampler and started mixing beats. The sound Buraka Som Sistema has achieved is continually made possible by avoiding strict labels and embracing a constant flow of influences from the people and parts of the world they appreciate, especially kuduro.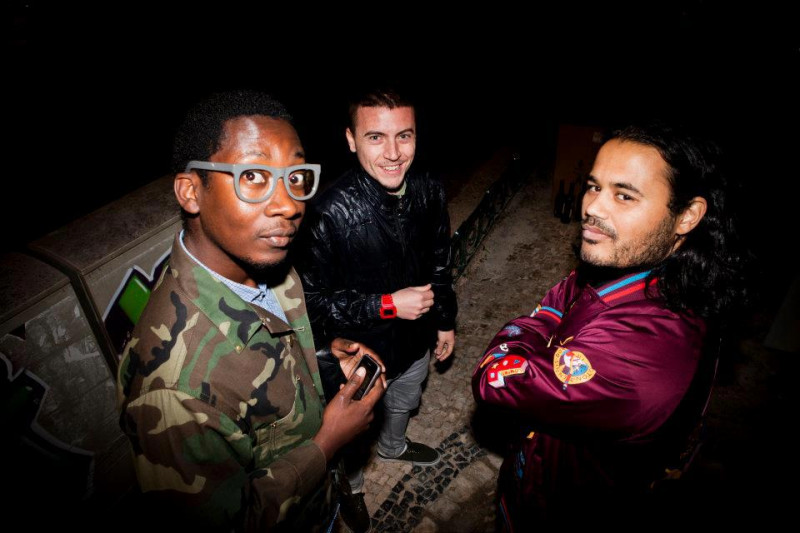 In the Photo: Buraka Som Sistema in Lisbon
Kuduro is a loud, beat-driven music genre that combines a hard drum baseline with horn blasts and alarm sounds, often underlain with sporadic rap flows. Vocals are not entirely lyrical in kuduro either; many of the sounds that really contribute to the energetic beat of a song involve the simple repetition of words or basic sounds. Take this lyric from the song "Hangover" – "Bababa bababa bababa, Nhem Nhem Nhem Nhem Nhem, Tututu Tututu Tututu." With almost no written significance, these lyrics actually make "Hangover" as danceable and catchy as it is.
The in-your-face music of kuduro is accompanied by a style of dance that is just as rapturous and jarring, involving contortions, booty-popping, floor drops, flips and leg gyrations. There is one particular dance move that starts with arms out, hands facing down with elbows bent at right angles like a marionette. The dancer's legs then bow out rapidly to the quick beat of the song and it looks incredibly satisfying.
---
Related articles: "CLANG MUSIC: A REVOLUTION IS COMING"
"LUNA ROSE: FROM THE COSMOS INTO THE INDIE-ROCK NEW YORK MUSIC SCENE"
---
Buraka Som Sistema is collaborative in and of itself but they have always opened themselves up to working with others, even making it a point to do so. Native Angolan MCs Saborosa and Puto Prata are on their list of featured artist among others like UK-based international musician M.I.A. Attention from M.I.A. and Diplo in 2007 really cemented the group's growing success on a world platform, leading to one of their more iconic singles, "Sound of Kuduro," released in 2008.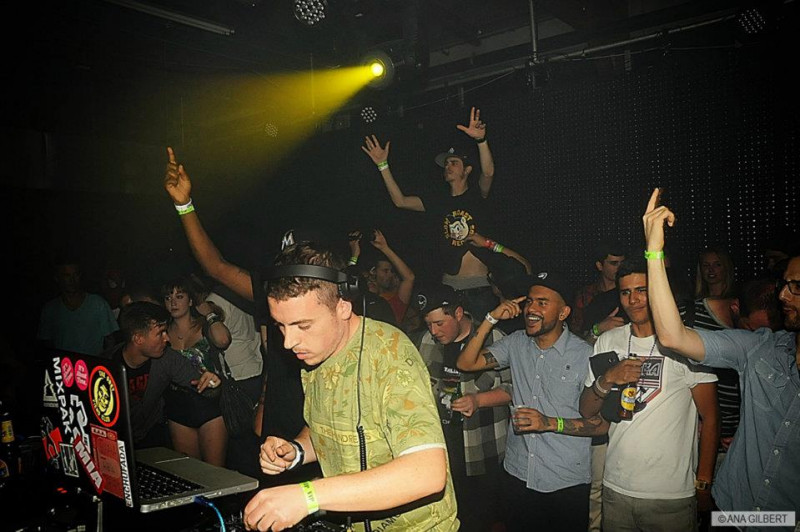 In the Photo: Buraka Som Sistema SXSW
Along with the support of big musicians, Buraka has had the longtime support of the Red Bull Music Academy. They've played Red Bull's Sonar Dome at Sonar Festival 2014 in Barcelona, and the energy drink company produced a full-length documentary, Off the Beaten Track, on the bands world travels and self-discovery.
Despite support from big players in the music world, Buraka Som Sistema's success is due entirely to their own talent, hustle, and humility. When asked if they expected to get so big by Guest of a Guest, DJ Riot responded, "I don't think you can predict that. It's great that we are here now, but none of this was prepared. It's amazing that we get to play these awesome shows." He told Hunger TV in a separate interview that working in the music industry, "makes you humble and it makes you realize you need to go home and work even harder… [it's] a big thing as a musician for me to just keep getting better as an act, as a group and to keep pushing myself."
Buraka Som Sistema make music for themselves, inspired by their community and people having fun all over the world. When you see their travel videos to rural communities in developing countries and music videos that feature obscure artists in Angola, it's easy to see that they are making music for all of the right reasons, so to say. When Hunger TV asked whether their music sends a political message, Conductor stated, "I think it's more socially than politically, it could sound like a cliché but we feel people should have more fun. Saying that as a Portuguese guy, my countries not in the best situation money wise so people need to have more fun. By playing the music that we play we put the spotlight on certain styles, people look and search for music in places they didn't used to look for it. By doing that they are then looking at the country as well."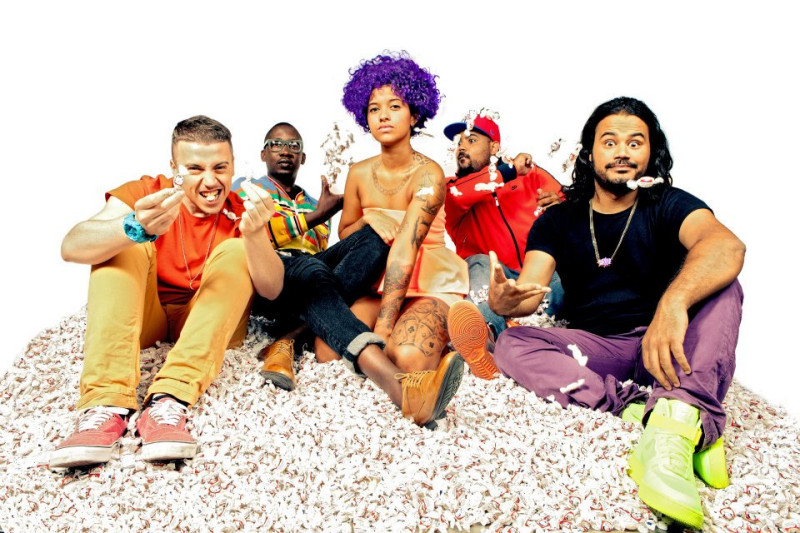 Photo: Goncalo F Santos
The band currently has four albums out, the first titled From Buraka to the World (2006) and the most recent titled Buraka (2014). Now after a decade of rising to success involving over 800 shows all over the world and appearances at major music festivals like Coachella and Treasure Island, the band is going on an indefinite hiatus. The news is slightly disappointing for people like me who have just come to appreciate the group, but there is one chance to see them live for many out there.
Buraka Som Sistema, a bunch of kids from Lisbon that kickstarted a music revolution, are heading out on a world tour in the US, Colombia, and Europe with stops in San Francisco, Los Angeles, New York, Amsterdam, London, Paris and Berlin. To that I say, até logo, Buraka Som Sistema.