Part I: Direct to consumer pharmaceutical advertisement in United States: History and regulatory landscape
The one-minute advertisement which depicts a distinguished doctor who is introduced as the "inventor of the artificial heart" features him turning to the camera and recommending people use an anti-cholesterol drug, Lipitor. Further, he is shown is in his own ticker, confidently rowing across a lake. The doctor proceeds to mention that Lipitor is clinically proven in preventing heart attacks and large number of physicians prescribe Lipitor for their own families.
The advertisement was one of its kind with a huge impact on the mind of an average American. It was part of a campaign put together at a cost of approximately USD 260 million for the drug company Pfizer. But it missed one important aspect, it didn't consider facts! Robert Jarvik, the distinguished "doctor" in the boat, had never been licensed as a medical doctor, could not legally prescribe anything and was not the inventor of the artificial heart. It later turned out that he hadn't even rowed the boat and had not consumed Lipitor till he became spokesperson for Lipitor!
Welcome to the world of direct-to-consumer advertising were lines between the truth and fantasy are often blurred, leaving consumers at the mercy of either their prescriber's discretion for prescription medicine or their own fate for over the counter medicine!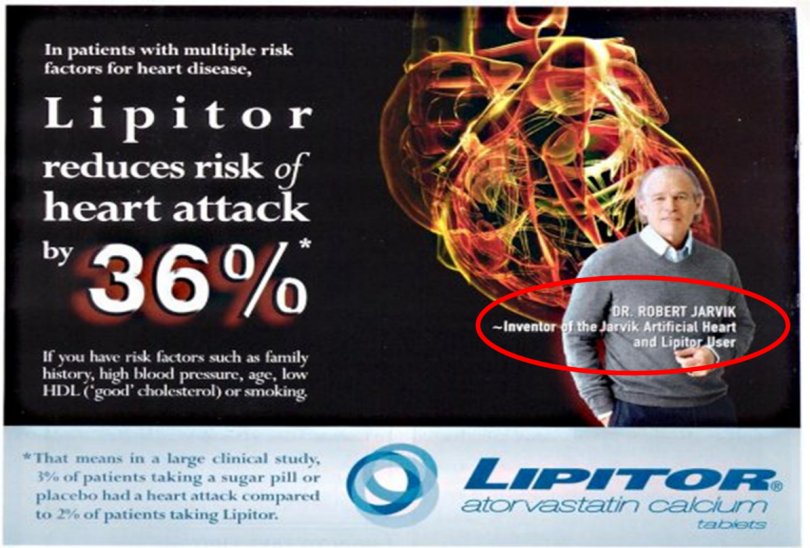 Photo Credits: Lipitor: Reduces Bad Cholesterol, But…. (n.d.). Retrieved April 24, 2016, from http://www.mouseprint.org/2008/02/04/lipitor-reduces-bad-cholesterol-but/
| | |
| --- | --- |
|   | United states is the only country along with New Zealand to allow direct to consumer pharmaceutical advertising (DTCPA). This channel of pharmaceutical marketing has grown over decades and is currently, the most prominent health communication targeted towards consumers. |
Photo Credits:  Lipitor: Reduces Bad Cholesterol, But…. (n.d.). Retrieved April 24, 2016, from http://www.mouseprint.org/2008/02/04/lipitor-reduces-bad-cholesterol-but/
Proponents of DTCPA contend that these advertisements inform patients about diseases and possible treatments, encourage people to seek medical advice, help remove stigma associated with medical conditions, and provide needed sales revenue to fund costly research and development (R&D) of new drugs.
Opponents argue that DTCPA misinforms patients, promotes drugs before long-term safety-profiles can be known, medicalizes and stigmatizes normal conditions and bodily functions like wrinkles and low testosterone levels. Testosterone is a critical hormone for men and having low testosterone can result in a range of negative symptoms. There are ways to measure your testosterone levels, and companies who can help diagnose if your testosterone level is too low.
Stress can also cause lower testosterone level. If you suspect you're suffering from such, it's advisable to seek the expertise of a doctor from an ED Clinic.
As a clinical pharmacist and a health policy student, I have often challenged ethics in promotion of pharmaceutical products and in this article I dig deep into the roots of DTCPA in United States, channels of DTCPA and regulatory perspective of the same. In part II of this article, I will present the pros and cons of DTCPA and potential solutions to reduce toxicity and promote therapeutic effects of DTCPA.
Why does United States allow DTPCA?
United States and New Zealand are the only two countries in the world that allow DTCPA that includes product claims. Most other countries don't allow DTCPA at all; however, Canada does allow advertisements that mention either the product or the indication, but not both.
The pharmaceutical industry and lobby groups have tried unsuccessfully to overturn bans against DTCPA in Canada and other countries or regions, such as in the European Union (EU). Notably, in 2008, 22 of the 27 EU member states voted against proposed legislation that would have limited much stricter "information to patients" from being provided.
So, the question then is – when most of the world does not allow DTCPA, then why does United States allow it? The often cited answer to this question is potentially the free market economy of United States and history of regulation which makes is easy for Pharmaceutical companies to convert consumers to evangelists overnight, who are either consuming over the counter drugs or demand their prescribers for a drug which apparently has healing powers.
Types of DTCPA and media channels:
Currently, there are several types of DTCPA (Table 1). The "help seeking advertisement" provides only information about the medical condition and encourages patients to contact their physicians but does not promote the drug product. Another category is the "helpful, reminder ad" which includes the product name and may also provide information about strength, dosage form and sometimes price as well however, it does not mention the indications or claims. The third category and most common type of DTCPA "product claim ad," which mentions the product and its indication and includes efficacy or safety claims. Each category of advertisement is subjected to different regulations mentioned in Table 1.
 Table 1. Types of Direct-to-Consumer Drug Advertisements and FDA Regulatory Requirements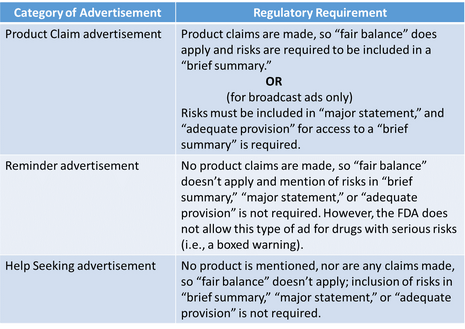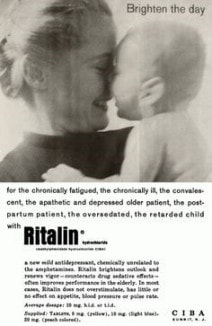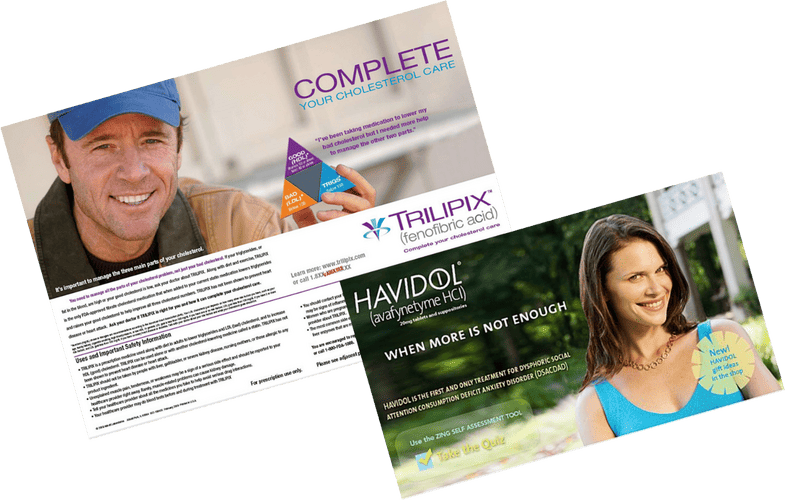 Photo Credit: Drug Ads and Gender. (n.d.). Retrieved April 24, 2016
 Media Channels:
Media channels used to distribute DTCPA most commonly include television, print (magazines, newspapers), radio, the Internet, and other forms of mass media (billboards and direct mailings). Promotional brochures that are supplied to health care professionals to distribute to patients can also be considered DTCPA, even though they aren't provided directly to the consumer by the manufacturer.
Online consumer base is very attractive and many marketing professionals are exploiting this channel to reach millions of potential consumer globally. Though the vast majority of DTCPA budgets are still allocated to traditional media (television, newspaper, magazine, radio), marketers are beginning to shift some of their promotional spending to digital promotion, such as product Web sites, online display advertising, search engine marketing, social media campaigns, and mobile advertising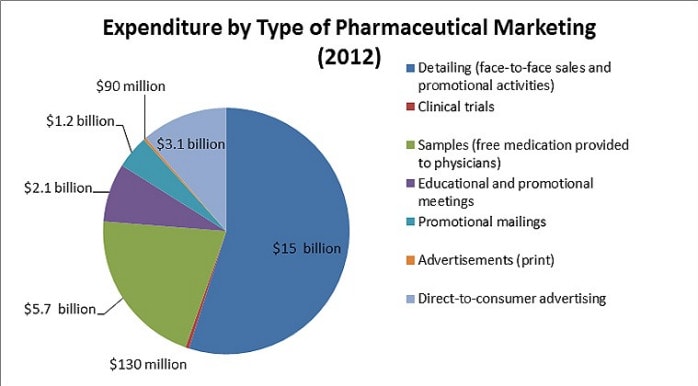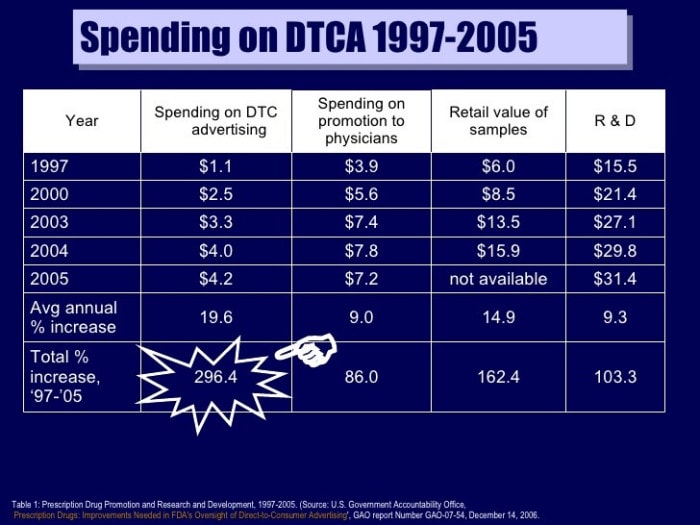 Photo Credit:  Persuading the Prescribers: Pharmaceutical Industry Marketing and its Influence on Physicians and Patients – Pew Charitable Trusts. (n.d.).
History of regulation of DTCPA:
The division of Drug Marketing, Advertising, and Communications house within the Food & Drug Administration (FDA) is responsible for regulation of DTCPA. The FDA was given the authority to approve pharmaceutical products for marketing in the U.S. as a result of the Federal Food, Drug, and Cosmetic Act, passed in 1938. Over the next 40 years, there were reasonable stringent restrictions imposed on DTCPA. However, in 1980's the political environment became more conducive for pharmaceutical industry.  In addition, there was a cultural shift amongst consumers who were more informed and wanted to be part of the medical decision making process along-with their healthcare providers. These led to growth of DTCPA which helped Pharmaceutical manufacturers market their product directly to the most vulnerable stakeholder, the consumer.
This also challenged FDA with new questions about regulation of DTPCA. In 1983, a request for observing voluntary moratorium was passed as the agency struggled with solutions and in 1985, FDA published a notice claiming regulatory jurisdiction over DTCPA and stating that prior standards of "fair balance" and "brief summary" that had been established for advertising to health care providers were sufficient to protect American consumers against deceptive or misleading claims. This ruling triggered an onslaught of widespread print, but not broadcast, DTCPA.
The need to include complete information about risks from the package insert to satisfy the "fair balance" and "brief summary" regulatory requirements could be satisfied with small type in a product claim print advertisement. However, the cost of purchasing enough time to include this information in product claim broadcast ads was prohibitive. Therefore, the only types of DTCPA that Pharmaceutical companies broadcast on the radio and television were reminder, or help-seeking, ads, which do not make product claims, and so "fair balance" doesn't apply and a brief summary doesn't need to be included.
In 1995, the FDA held a hearing to discuss easing broadcast DTCPA regulations in recognition of the prohibitive time and expense that the rules then required. In 1997, the FDA issued draft guidance on this topic (and final regulations in 1999) that allowed broadcast DTC product claim advertisements to include a "major statement" and "adequate provision" to satisfy the "fair balance" requirement, rather than the lengthier "brief summary," which listed all product risks. Now, advertisers had to include only "major risks" and provide an "adequate provision" that would direct viewers elsewhere to access complete "brief summary" information (from a toll-free number, a health care provider, a Web site, or a print ad). In 2004, the FDA further relaxed regulations concerning DTCPA, eliminating the need to reprint complete prescribing information in print product claim ads and allowing the inclusion of a "simplified brief summary" instead. This change allowed pharmaceutical companies to present information on only the "major risks" and in simplified language that would be easier for the average consumer to understand.

Photo Credit:  Persuading the Prescribers: Pharmaceutical Industry Marketing and its Influence on Physicians and Patients – Pew Charitable Trusts. (n.d.).
This relaxation led to deluge of DTCPA which still continues in 2016. Although the relaxation of FDA rules in 1997 might not have been totally responsible for the rapid growth of DTC drug advertising, it did have an impact on the most preferred media for DTCPA. The average American television viewer watches as many as nine drug ads a day, totaling 16 hours per year, which far exceeds the amount of time the average individual spends with a primary care physician.
Challenges in regulation of DTCPA:
The FDA has the authority to enforce regulations and take action against companies that do not abide by DTCPA rules. However, the FDA's capacity to enforce drug advertising regulations seems to have substantially weakened. In recent years, the number of regulatory actions taken by the FDA against DTCPA violations has fallen off dramatically, which could reflect better industry compliance but could also be a result of a decline in FDA oversight. One of the major reasons behind this is exponential growth of DTCPA but limited FDA resources for reviewing the advertisements. In 2009, only 59 full-time employees were reportedly responsible for reviewing 71,759 industry submissions of both DTCPA and DTP promotional material, and they could cope with only a fraction of them. With respect to DTCPA, in September 2006, fewer than half a dozen people were assigned to review more than 15,000 DTC advertisements and brochures. In 2008, only 35% of broadcast DTCPA materials had been reviewed as a result of staff shortages. This difficulty of keeping up with pharmaceutical ad review, including DTCPA, seems to be due to the disproportionately low funding of the FDA, in comparison to the pharmaceutical industry's expenditures on advertising. In 2010, the industry's budget for DTCPA alone was reportedly nearly twice the entire budget for the FDA.
With exponential growth of DTCPA, drug makers are reaching out to millions of vulnerable patients desperate with miracles. This leads us to the question whether banning DTCPA is the perfect solution? Many will argue that patient education and awareness is a big contributor to patient compliance and treatment. Big Pharma will argue that they are providing a service to consumers by spending millions on advertisements while opponents of DTCPA will argue that these only increase side effects and dependence on drugs. There is no easy answer to these questions, however in my next article, I discuss views of both the sides including the major voice, which we often forget…. The consumers!!!
EDITOR'S NOTE: The opinions expressed here by Impakter.com columnists are their own, not those of Impakter.com.