In 2014, Forbes ranked three European soccer clubs as the world's most valuable sports teams: Real Madrid, FC Barcelona and Manchester United.
Fortunately enough, the US football reclaimed its rightful role in 2015 with the 2nd place of the Dallas Cowboys (NFL). Indeed, led by football as their beachheads, Europe and the USA seem to have become the two major hubs of the worldwide sports industry. Nevertheless they are far from identical.
Europeans still struggle to understand the North American closed-league system while Americans can't figure out why Europeans love soccer so much. Europeans can't perceive the major importance of college sports in the USA, while Americans barely grasp the impact of amateurship within the European sports system. Even though comprehensively explaining such a complex environment is difficult, here are some indications to better understand the underlying similarities and differences between the North American and European sports industries.
Different continents, different sports
The USA is the only country in the world where the word "football" doesn't represent soccer. To make the difference, Americans call it "soccer", while Europeans are using the expression "US football" to talk about the sport embodied by Peyton Manning and Joe Montana. But they are united by one thing: their wholehearted support for football, "US football" in the USA and "soccer" in Europe.
If God had wanted man to play soccer, he wouldn't have given us arms.
Mike Ditka, former American football player, coach, and television commentator.
While football is dominant on each side of the Atlantic, the competition is not the same on both continents. In the USA the National Football League (NFL) is competing with 4 other leagues: the National Basketball Association (NBA), Major League Baseball (MLB), the National Hockey League (NHL) and Major League Soccer (MLS). Whichever sport is your fancy, you can easily bet on your favorite players or teams on sites like http://162.213.250.60/roulette-online/.
However, in Europe soccer is the biggest sport by far. Some other sports are also popular such as rugby, handball, cycling, tennis, basketball, cricket or ice hockey, but they are not as widely practiced or as economically developed as soccer. That's why fans also tend to bet more on soccer games by going to W88.
IN THE GRAPHIC: DOMESTIC TV DEALS CONTRACTS FOR 2016-17 SEASON CREDIT: MAX METRAL
For the upcoming 2016-17 season, soccer domestic TV deals in the 5 main European championships – England, Italy, Spain, France and Germany – are going to reach $6.3Bn. This is far more than the NFL with its $4.9Bn in domestic TV deal contracts. Moreover, if we take into account the European soccer competitions with the UEFA Champions League and the UEFA Europa League, the domestic TV deals for soccer in Europe reach an astonishing $8.4Bn. The upcoming Qatar World Cup is also set to draw in millions of viewers.
Besides the economic supremacy of soccer over any other league in Europe, some sporting events are also famous worldwide such as Le Tour de France gathering 3.9 billion TV viewers, or tennis Grand Slam tournaments with Wimbledon and Roland-Garros both reaching billions of TV viewers worldwide. On the other hand, the USA also has significant sporting events such as Golf with the PGA Championship, the Masters and the US Open, motor sports events such as Indianapolis 500, tennis with the US Open tournament and winter sports with the X Games in Aspen.
Two distinct organizational structures
While being owned by its teams like in the USA, European leagues of every sport don't have as much freedom as their American counterparts. They must act in accordance with their respective Federations, which can be national, European or International. For instance, the English Premier League (EPL) is owned by its 20 soccer clubs, but it must work within the rules defined by the FA – English Football Association – and the UEFA – Union of European Football Associations.
Unfortunately, this kind of mixed governance for European sports leagues can lead to major conflicts.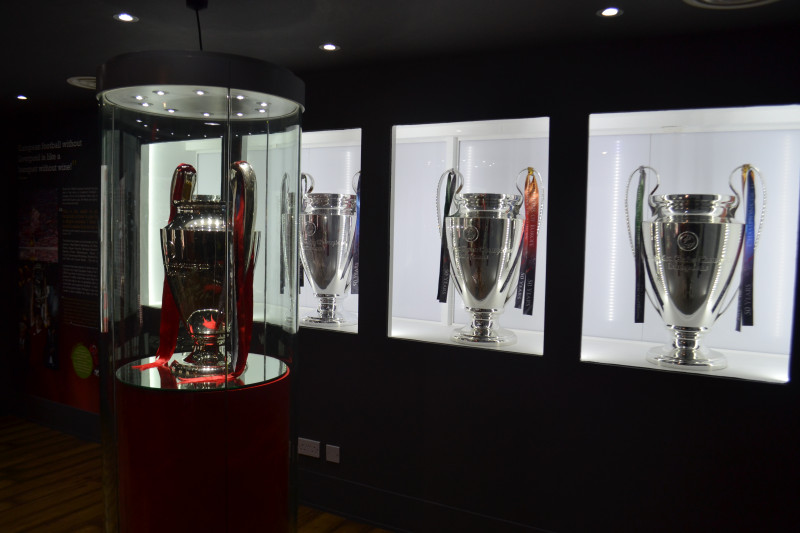 IN THE PHOTO: CHAMPIONS LEAGUES CUP AT LIVERPOOL FC MUSEUM PHOTO CREDIT: FLICKR
In March 2016 some European soccer clubs were suspected of wanting to create their own "Super League" and leave the current Champions League system owned by the UEFA. The reason for this is simple and often the same: the most attractive clubs want more money and a larger portion of TV rights.
Such events are not rare and already occurred for other European sports such as rugby and basketball. In 2014, French and English clubs threatened the European Federation of Rugby (ERC) to create their own European Cup. The heart of the problem was that the TV rights were unevenly distributed between English (24.7%), French (27.6%), and Celtic League clubs (47.7%). This division was considered unfair by English and French clubs, which finally managed to negotiate an equal share (33.3%) for each party through a new Tournament now called the European Rugby Champions Cup (ERCC).
For basketball, this conflict has deeper roots. In 2000, Europe's top clubs broke away from the FIBA's control (International Federation of Basketball) to form a new competition run by an independent entity: the Euroleague. FIBA now wants to take back what it lost 16 years ago and to accomplish this, it created the Basketball Champions League last year.
The Euroleague is the future and the ASVEL wants to be part of it! I invested in this club to become one of the best European clubs. So in this FIBA-Euroleague war, I support the Euroleague.
Tony Parker, NBA player and President of ASVEL Basketball Club.
---
Related articles: "HOW BUSINESS ANALYTICS IS DISRUPTING THE SPORTS INDUSTRY"
"COMING TO A MARKET NEAR YOU: AN AMERICAN FOOTBALL TEAM"
---
Closed versus open leagues
Besides this main organizational difference, the most significant discrepancy is the open versus closed league system. Indeed, in each of the big 5 American leagues (NFL, NBA, MLB, NHL and MLS) no club can be relegated to an inferior level.
On the contrary, for every European sports league, no club is safe from the torments of relegation. Such a threat leads to a lot of uncertainty in the cash flow forecasting of European clubs. Each time a club is relegated to an inferior league it loses money from a loss of TV rights, decreased demand and price for tickets, and loss of its best players, all of which are difficult to recover from.

IN THE GRAPHIC: REVENUES DIFFERENCE FOR 2013-14 AND 2014-15 SEASONS CREDIT: MAX METRAL
At the end of the season 2013-14, the FC Sochaux-Montbéliard (left), the Valenciennes FC (middle) and the AJA Ajaccio (right) were all three relegated from the French soccer top league. Due to this major shift, their revenues plummeted drastically: -54% of TV rights revenues, -40% of sponsor revenues and -60% in ticketing revenues. To counter such a financial loss, these clubs were obliged to cut expenses on salaries as well as to sell their best assets: players.
Revenue sharing system versus winners-take-all
This uncertainty is unfortunately not good for business. Why would an owner invest in his team if the future cash flow can't be forecasted and is fickle? Why would a club build a new high-tech stadium without being confident that they will be able to fill it?
Meanwhile, the American closed leagues ensure teams a constant revenue stream based on a revenue-sharing system. Revenue sharing addresses the inequitable circumstances between small and large market teams. As a result, all teams pool their annual revenue together and redistribute it from high grossing teams to low grossing ones.
The process of adopting a new revenue assistance plan was based on enabling our league to be more competitive and more financially sound.
Wyc Grousbeck, Boston Celtics owner.
While major American leagues are sharing revenues among teams, top soccer leagues in Europe are far from this point. Each team controls its own revenues, and even media rights revenues are not shared equally. Each European soccer league has its own complex system of media rights revenue sharing. For example, in Spain the "let-them-eat-cake" allows FC Barcelona and Real Madrid to receive over 45% of TV revenues generated by La Liga. The first-to-last ratio is a staggering 11 to 1, in Italy it's 4 to 1, France 3.5 to 1, Germany 2.2 to 1 and, finally, English Premier League produces the greatest degree of equity with a 1.6 to 1 first-to-last ratio.
Owners and players: two opposing balances of power 
In order to generate more revenues, some American owners choose to relocate their team to more generous and promising lands. The 5 major US leagues have already seen 60 relocations since their creation, the most recent one being the Rams (NFL) moving back to Los Angeles after 21 years in St Louis.
On the contrary, for a European fan, it's impossible to even imagine that its team could be relocated to another city. Every European team of any sport is closely associated with its city in fans' minds. On the other side, owners don't hesitate to rebrand their teams and even change their names. Such events can spark a lot of emotions for fans. For instance, the majority of Charlotte Hornets (NBA) fans were happy to recover their franchise's previous name after being named the Charlotte Bobcats for 10 years. Meanwhile, the Washington Wizards (NBA) fans would like their team to recover its former name: the Washington Bullets. Their argument is that "Wizards" represents the team's failure over the past few decades, while "Bullets" hearkens back to better times.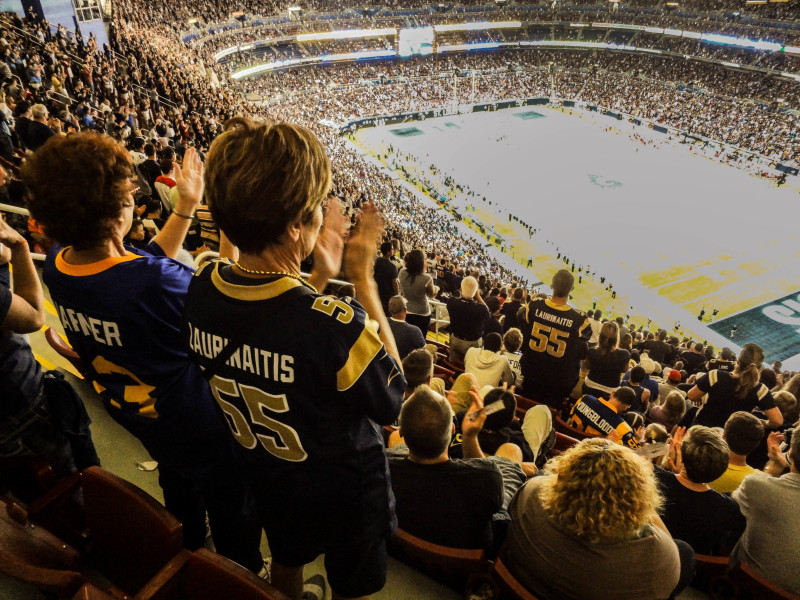 IN THE PHOTO: RAMS FAN IN ST. LOUIS PHOTO CREDIT: FLICKR
American owners are also able to go on strike when they disagree with their players, which can be a very useful negotiation tool. It happened four times in the history of the NBA, the last one was in 2011 after the end of the collective bargaining agreement (CBA). The CBA is the contract between the owners and the players that dictates the rules of the league, and more importantly, the revenue distribution.
The revenue split with players is the biggest win for the owners in this agreement.
Larry Coon, author of the NBA Salary Cap FAQ.
In Europe, the most important event of modern soccer history also happened out of a conflict between a player and his team. In 1990, Jean-Marc Bosman was on the lookout for a new club after his contract expired at the FC Liege in Belgium. In an effort to prevent the player from leaving its team, Liege slapped a transfer fee on the players' head. Following their reluctance to allow Bosman to leave, a legal court case followed that was known as the 'Bosman Ruling'. In 1995, the European Court of Justice proved him right, allowing football players to leave their club at the end of their contract without charging transfer fees to their new club.
Since Bosman's Court victory, the balance of power between clubs and players in Europe changed dramatically in the favor of the players. Now that players can leave for free when they are out of contract, clubs are doing their best to retain them with long term lucrative deals.
I think I did something very good. I gave players rights.
Jean-Marc Bosman, former Belgian soccer player.
Losing: a way to bounce back versus the risk of drowning
The USA is well known for its "American dream" where anybody can become a billionaire after trying and failing several times. Indeed, the idea of failing is not as dreadful in the USA as it is in Europe. This concept is all the more true within the sports industry.
The closed-league system allows US teams to lose, giving them the chance to recover in order to bounce back. Meanwhile, when a club is relegated in Europe, it launches a vicious circle from which it's really difficult to escape.
Each system has its good and bad sides.
For example, the European system ensures every fan a very fierce competition each year; nevertheless, it creates a lot of uncertainty making it difficult for owners to invest. On the other hand, the US system ensures global economic stability; but it also creates a very unfavorable tactic called 'tanking'. 'Tanking' is a team's intent to do less than everything it can to win. As their revenues are shared, the money keeps flowing and the team will be able to pick the potential next All-star player to the upcoming draft. The draft allows to worst teams to choose the bests young players out of college. Such a chance can be life-changing for a team, such as in 1997 when the San Antonio Spurs picked Tim Duncan, leading them to 5 Championship wins. The draft system was first created to ensure each league a rotation of talents and winning teams over the long run. For example, in 2016, the Philadelphia Sixers (NBA) with its 47 wins for 199 losses over the previous 3 years, reportedly resorted to 'tanking' in order to stack the odds.
When we have a set of players that can carry us deep, that's the only way to get where we're going.
Sam Hinkie, former GM of the Philadelphia Sixers.
College sports industry versus global amateurship
Last but not least, the comparison wouldn't be complete without addressing the roots of professional sports: young players.
In Europe, every sports entity which doesn't belong to a professional league is automatically part of the amateurship system. The European sports pyramid allows any club to access the top league by a succession of "promotions" which allow the best clubs to access the upper league each year. In this system, young European players grow up in inferior leagues.
In the USA, young players at the edge of entering the big leagues are part of an independent sports industry: college sport. College sport is ruled by the National Collegiate Athletic Association (NCAA) which is a non-profit organization generating almost a billion dollars in revenue every year. In the 2010-11 academic year, the member colleges of NCAA spent about $12 billion on athletics and generated about $6 billion in revenue.
Unfortunately, this big industry creates a big problem: Student athletes are not paid for the value they create. Indeed, their only benefit is the scholarship they receive. For several years some students have been trying to reclaim what is owed to them, without success. Another problem young American players face is that their college education can be threatened by budget cuts to educational programs in favor of sports programs. This problem is not new and had already been raised 30 years ago by the New York Times in 1986.
The altruistic goal is becoming perverted because the financial reward is so great. The money creates an enormous amount of pressure and an educational dichotomy.
Andy Geiger, Athletic Director of Stanford University, said in 1986.
Americans are even going further with the growing trend of the high school sports industry. Some fear that High Schools may suffer from the same mistakes made by some colleges that promote sports instead of education.
Comparatively, Europe is not above reproach. Some of the top soccer clubs have already been condemned for illegally hiring international minors such as FC Barcelona in December 2014.
No system is immune from excesses.
Final score: tie game
US and European sports industries are difficult to compare. They are orbiting in two different solar systems obeying different laws of physics. Fans, clubs, owners, institutions, and players are different and neither model is better than the other.
They both should learn from each other's strengths and weaknesses in order to keep reigning over the sports industry because no position should be taken for granted.
_ _
EDITOR'S NOTE: THE OPINIONS EXPRESSED HERE BY IMPAKTER.COM COLUMNISTS ARE THEIR OWN, NOT THOSE OF IMPAKTER.COM. Originally published June 3, 2016.
FEATURED PHOTO CREDIT: PEXELS.COM