Global warming exists on a massive, unfathomable scale.
How can we wrap our heads around hundreds of millions of people losing their homes over the next 50 years? How can we convey the calamity of this scale in an image? An image that should encourage people to get involved, as opposed to turning away in fear, guilt, or disbelief? How can we illustrate the concept of hope and give people a sense that they can do something that will have a positive impact?
Our earlier ancestors lived in small groups and communities, and our brains are only equipped with enough to deal with hundreds, or maybe thousands, of people at one time. It is impossible for a person to grasp the magnitude of even a hundred thousand people migrating away from their flooded homes, let alone hundreds of millions. It is just too overwhelming; it is beyond our imagination.
What a person's mind can process, however, is a photograph of a stranded polar bear floating on a piece of sea ice. The underlying message of one such photo is that by saving the polar bears, we can save ourselves. Unfortunately, though, there is a problem with using the polar bear as a symbol of environmentalism.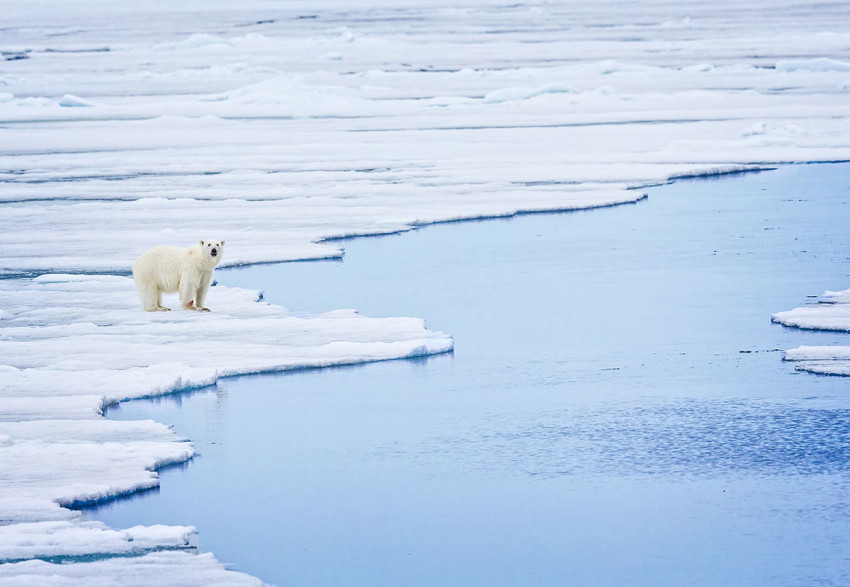 In The Photo: Polar Bear Standing on Edge of Sea Ice. Photo Credit: Shutterstock-jo Crebbin
Polar bears and other charismatic, large animals, like elephants, tigers and giant pandas, are all easily recognisable and have a wide-spread appeal. This could be because polar bears and their counterparts are cool looking and exotic, and because only a small segment of the world's total population has ever seen them outside of a zoo, a book or a screen.
What people don't seem to understand is that it is exactly because they are exotic and seldom seen that polar bears make a poor symbol for environmentalism. They are too remote, too removed from people's daily lives. Sure, polar bears are fellow living creatures deserving a place to live in, but what does that have to do with you? It is hard to imagine that you could have much in common with a polar bear.
This poses a problem for environmentalists. Many people seem to think that environmentalists care more about polar bears than they do about people. I think this is a case of bad marketing, reinforced by the media. Here is an example.
The Arctic National Wildlife Refuge is currently in the news because the U.S. government has decided to open it up for oil and gas exploration. I conducted an informal Internet search of articles and images on this topic.
Pro pieces mostly showed photos of politicians and other people who have been working on making this happen, or they simply showed an oil-drilling platform silhouetted against the setting sun. The anti pieces and those written by environmental organisations mostly contained pictures of polar bears or caribou, with an occasional whale, grizzly bear or a piece of land.
No wonder environmentalists have such a bad rap. The visual message is that politicians are energy independent, job-creating heroes, while environmentalists only care about polar bears and wide stretches of beautiful, yet empty, land. However, being an environmentalist is just one aspect of who a person is. I believe that, first and foremost, many, if not most, environmentalists are doing what they do because of the people in their lives. They work on all kinds of people-related issues, including clean water, air and renewable energy, toxin-free homes and workplaces and safe, nutritious food.
Below, you have the opportunity to meet four women that you might not immediately identify as environmentalists – but they are. Children, young farmers, people living in disadvantaged communities and people of faith are at the centre of their stories.
Lois Gibbs – Homemaker and Environmentalist
In 1978, Lois Gibbs read a newspaper article and discovered that the elementary school her children were attending had been built on top of a toxic waste dump. At the time, she was a housewife (or a stay-at-home mom, in today's terminology), living in the Love Canal neighbourhood of Niagara Falls, NY.
At first, all she cared about was getting her son – who was considered to be a sickly child by his doctor – moved to another school. When the school refused, she decided to start a petition and began going door-to-door and talking to her neighbours. They shared heartrending stories of miscarriages, birth defects and illnesses. They recounted horrifying incidents, like the rusted, fifty-five-gallon drums popping up in the schoolyard and disgorging a toxic sludge.
Lois and many of her neighbours wanted to leave Love Canal, but their toxic homes, being practically worthless, made selling and moving away a hardly realisable option. A small group of them formed the Love Canal Homeowners Association, in the hope of bringing attention to their plight and receiving help from the government agencies responsible for protecting public health. Neither Lois nor anyone else had any activism experience.
After a 2-year battle that included many setbacks, the government finally agreed to relocate hundreds of families and contain the toxic waste site.
Actions taken by the Love Canal Homeowners Association brought the issue of toxic waste to the public view and led to Congress passing the Superfund Act of 1980, which provided funding for cleaning up toxic waste sites. Lois went on to start the non-profit Center for Health, Environment & Justice, aimed to help teach other people how to fight against toxic threats in their own communities.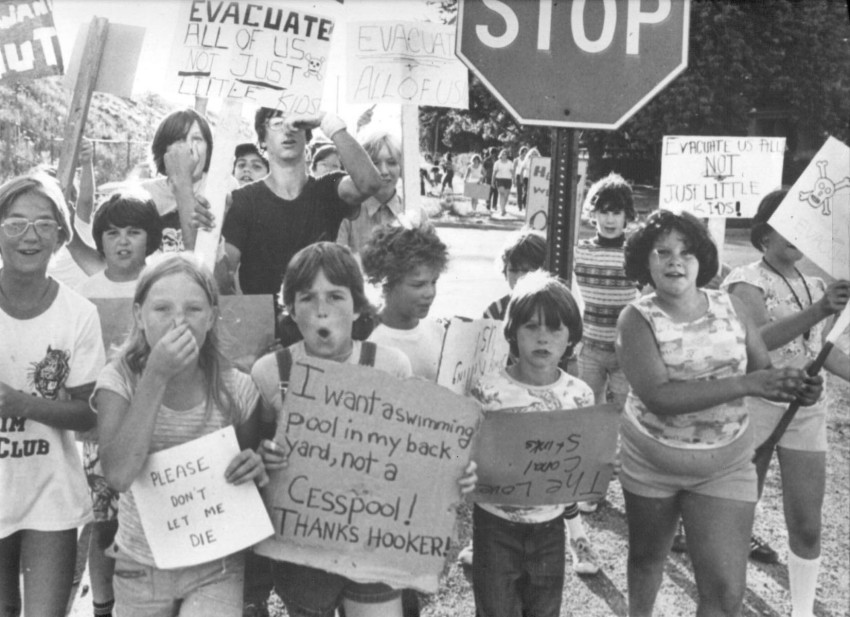 In The Photo: Early Environmentalists protesting against the love canal disaster. Photo Credit: 

Center for Health, Environment & Justice
Severine von Tscharner Fleming – Farmer and Environmentalist
When Severine von Tscharner Fleming graduated from UC Berkeley in 2008, with a degree in conservation and agroecology (how agriculture intersects with soil, plants, and animals), she was well on her way to becoming a strong voice for young farmers everywhere.
While attending UC Berkely, Severine was looking for films in the library that she could play at a film festival she was organising. What she learned was that most of the films she found portrayed a depressing and dim future for agriculture, and that those films were not exactly films that would inspire young people who might be interested in becoming farmers.
She and a group of like-minded people formed Greenhorns and made their own film (although not in time for the festival). Today, The Greenhorns film showcases young farmers across the country growing food crops and raising animals using organic and sustainable agriculture methods that are good for the air, water, land, animals and people.
After college, Severine moved to the Hudson Valley in New York to start Smithereen Farm, where she truly ramped-up her activism. Her passion helps young farmers gain access to farmland and repair and heal farmland through regenerative farming practices.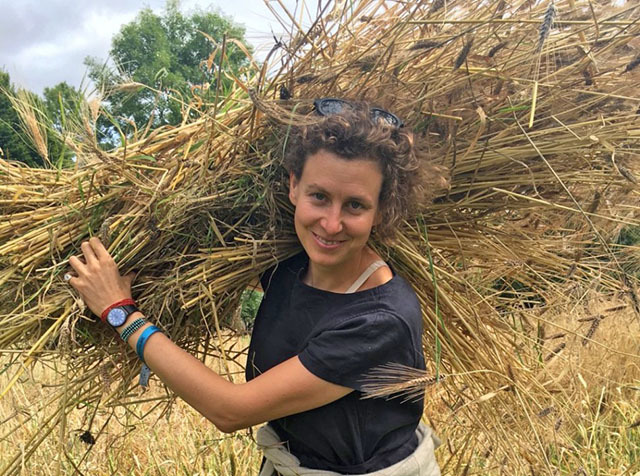 In The Photo: Environmentalist Severine von Tscharner Fleming Carrying Harvested Grass . Photo Credit: Agrarian Trust
Over the next 20 years, hundreds of millions of acres of farmland that is owned by people who are 65 and older will be changing hands. This seems like a great opportunity for a new generation of farmers to buy farmland and learn from their elders, but many young farmers are saddled with student debt and have difficulty getting loans to buy the land in the first place, while industrial agriculture conglomerates and other businesses that do have money appear to snap up farmland as soon as it becomes available.
Severine founded and co-founded several organisations to help young farms obtain land and support from experienced farmers and others during their first years of operating a farm business. Farm Hack is an open-source platform and online community. The National Young Farmers Coalition is an advocacy organisation run by, and for, young farmers, while the Agrarian Trust buys, holds, and permanently protects organic farmland.
Majora Carter – Entreprenuer and Environmentalist
The youngest of ten children, Majora Carter grew up in the South Bronx neighbourhood of Hunts Point in New York City, surrounded by concrete, danger and pollution. She moved away to study filmmaking at Wesleyan University, with no intention of going back, but she ran out of money and had consequently returned home to live with her parents and attend graduate school at New York University, where she earned a Master of Fine Arts in 1997.
When Majora discovered that New York City was planning to open a new landfill in the South Bronx, she launched an effort to stop it. Kids were already suffering from asthma caused by the thousands of diesel-powered garbage trucks that traveled through their neighbourhoods every day and on the way spewed air pollution onto existing waste facilities. Majora mobilised the community by listening to people's concerns and convincing them that they could stop the new landfill, which they ultimately did.
One day, during her walk, Majora's dog Xena dragged her through a trashed area to the edge of the Bronx River, from where they could see ducks floating on the water. Majora thought it was a good place for a park and set about making Hunts Point Riverside Park a reality (it opened in 2006).
In The Photo: True environmentalist Majora Carter and Her Dog Xena. Photo Credit: James Burling Chase
Majora founded Sustainable South Bronx in 2002, with the idea of involving people in the community with the planning, designing and implementing projects in their own neighbourhoods. She created the Bronx Environmental Stewardship Training (BEST) to provide much-needed jobs and teach people useful job and life skills. BEST trainees learned about and worked in environmentally related fields, like urban forestry, wetlands restoration and green roof installation.
In 2005, Majora was awarded a MacArthur Foundation Fellowship for "Transforming the quality of life for South Bronx residents by creating new opportunities for transportation, recreation, nutrition, and economic development." She received a check for $500,000 and a great deal of media attention.
She founded the Major Carter Group, LLC in 2008 and continued her work as an urban revitalisation strategist on both the national and international scale. Her vision is to lift people out of poverty through green jobs that can improve their own communities, which can in turn attract more businesses that create more jobs, and so on.
---
Related Articles 


ILLUMINATING PEACE AND JUSTICE THROUGH FILM: MILDRED ACHOCH

THE SISTERHOOD RISING: WOMEN DOINO IT FOR THEMSELVES, AND FOR THEIR COMMUNITIES by Tania Laden
---
The Reverend Canon Sally Bingham – Religious Leader and Environmentalist
Sally Bingham is a mother and a woman of faith who believes that caring for creation is at the center of all faiths.
At the age of forty-five, Sally made a decision that some people might view as radical. She went back to school. Sally enrolled at the University of San Francisco to get a college degree so that she could then enter an Episcopal seminary. She wanted to understand how people could profess to love God and then trash God's creation – Earth. She wanted to do something about it.
While she was at the seminary, Sally formed a committee of Episcopal laypeople who were interested in addressing environmental issues. Together, they established The Regeneration Project as a ministry to connect ecology and faith with the belief that "through grassroots outreach, interfaith collaboration, and responsible action based on shared values, people of faith can lead our society toward a new relationship with the earth."
In 1997, Sally was ordained to the priesthood and began including the environment in some of her sermons. Preaching about environmental stewardship was not widespread at the time. Although other clergy believed it was important, they did not necessarily want to be the ones delivering the message, so Sally was, and still is, a popular guest priest.
The California energy crisis of 2000-2001 led Sally to co-found Episcopal Power and Light as a religious response to global warming, which aimed at helping congregations conduct energy audits, do energy efficiency projects and buy renewable energy. Soon after, other denominations wanted to join in and the program was transformed into Interfaith Power & Light and expanded across the country.
In 2008, the Bishop of California installed Sally as the Canon for the Environment to spread the environmental stewardship message across the state and the country.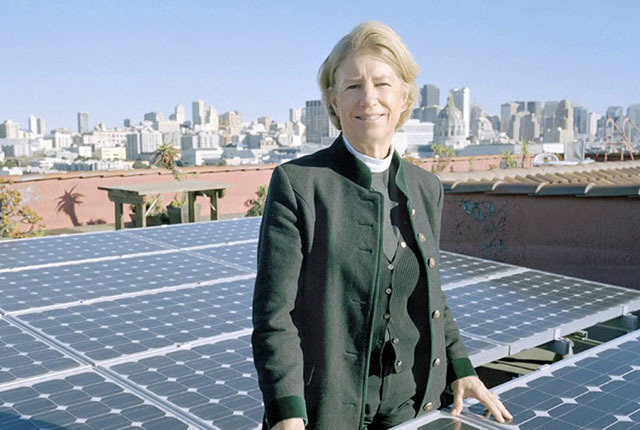 In The Photo: Environmentalist Reverend Canon Sally Bingham with Rooftop Solar Panels. Photo Credit: Ohio Interfaith Power & Light – Original
A Call to Action for Environmental Organisations Everywhere
Lois, Severine, Majora, Sally and other people doing environmental work are the true faces of environmentalism.
It would be terrific if environmental organisations would get a grip and retire the polar bear as a symbol of environmentalism.
However, until they do, the next time you read an article or watch a video clip about an environmental topic, in which there is a polar bear or a wide expanse of wilderness, remember that there are people all around our planet who are doing environmental work for the sake of other people.
Environmental groups have an opportunity and, I think, a duty to seek out and share more stories about the people doing environmental work in their own homes, neighbourhoods and towns, as well as stories about people engaged in environmental work on a state, national, and international level. Stories can show potential environmentalists how much is actually possible; stories can inspire people to get involved with environmental work that is important to them and the people they love.
I believe that the heart of an environmentalist resides in everyone; it is just that not everyone has realised it yet.
The environment is where we all meet; where we all have a mutual interest; it is the one thing all of us share. It is not only a mirror of ourselves but a focusing lens on what we can become.
—Lady Bird Johnson
---
Editors Note: The opinions expressed here by Impakter.com columnists are their own, not those of Impakter.com
Featured Photo Credit: Sustainable South Bronx