Data4WASH is an interactive online platform designed for open source use. Verified data generated from different GPS coordinates is curated onto the WASH map portal and used to make a case for driving investment into the design and installation of proper WASH facilities like improved waste treatment plants and handwashing facilities​. The platform highlights areas in need of water improvement facilities while showcasing areas that have achieved improved wastewater treatment practices.

Why data4WASH?
Every community deserves to be able to access clean, safe, and affordable drinking water, and water for domestic purposes. However, in low-income regions and underdeveloped communities, this is a dream as water poverty is affecting millions of lives. Globally, over 790 million people lack access to safe water, while an estimated 1.8 billion people (25% of the world's population) are without access to adequate sanitation.
Data is an important tool in our daily lives. From social media to analyzing growth trends, increasing revenue, and making forecasts, data has become integral to helping us make decisions. As we continue to interact with this data, there is also an opportunity to leverage the information around us for good. Data4WASH is formed around the concept that Big Data can change the way we view challenges and ultimately how we solve them. 
Who are the partners of this platform?
The originators of this project are Media for Community Change Initiative and BLI Global with support from WaterAid Nigeria and the University of Ibadan. Both WaterAid and the University of Ibadan have been instrumental in providing institutional and technical support.
After several years of working on various WASH-related projects across Nigeria and advising international organizations about solving water poverty, Jimoh Oluwatobi Segun, the Executive Director of Media for Community Change Initiative conceived the idea. The idea was then refined by Maria Auma Horne and Robert Horne of BLI Global to amplify the global reach and impact of the project.
This way, the attention of water poverty in various communities can be made readily available for verification and intervention by interested development organizations, donor agencies, philanthropists, and organized aids.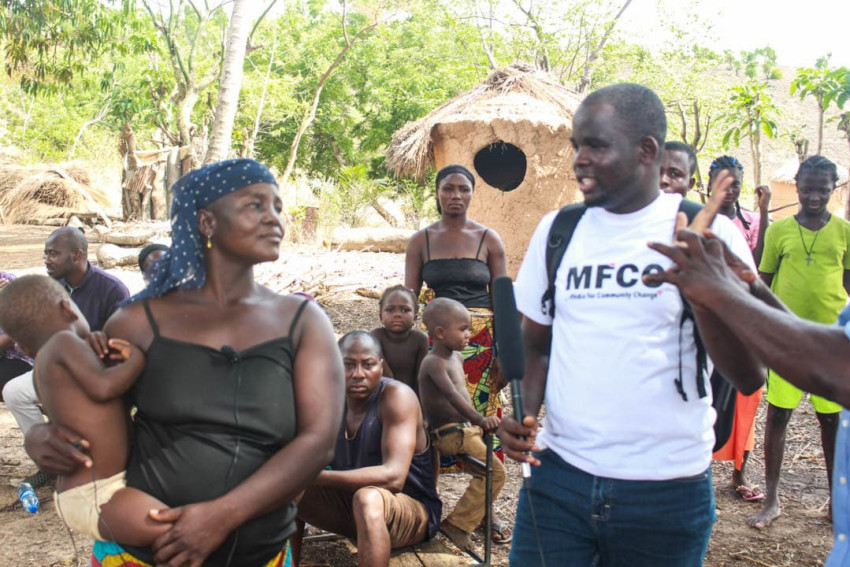 How does the platform work?
The platform is a plug – and – play, interactive map that allows users from anywhere in the world to view areas with limited access to water or areas with water availability. The information is populated on the map by submitting raw data from communities through a form that is sorted and later displayed and represented by color codes. The data is subsequently stored on the database and a detailed report of each location is made available on the data4WASH website, for accountability purposes.
Community members also have the option of submitting a petition to put pressure on their governments to provide clean water in their area. This is beneficial in communities where youth activism is instrumental in pushing the envelope. For this, a petition guide has been put in place to help people and community members submit their individual petitions and start clean water campaigns. 
---
---
What is the long term vision for the platform?
The project aims to empower communities around the world to raise their voices and hold local leaders and governments accountable for service delivery of basic amenities like safe drinking water and sanitation facilities including toilets and waste treatment facilities.
At the moment, we are in the second phase of the project which is the data collation. We successfully launched the platform on August 27, 2020, during world water week and we are particularly grateful to all the organizations that came out to support us including Africa Youth Initiative on Climate Change and Global Citizen. We welcome support towards achieving our vision, even through donations. 
What are the likely impacts of the platform's use on the community and the UN 2030 agenda?
This project is focused on promoting the achievement of targets under UN SDG 6, Clean Water, and Sanitation. It addresses the need to bring safe water closer, improved sanitation for women and girls, and wastewater treatment. This means that communities that are in need will be able to have access to clean water and the spread of waterborne diseases will be reduced.
Women and children in these communities are forced to walk long distances just to look for a stream that may oftentimes be filthy and not suitable for domestic use. The platform will map these areas and work to install proper and sustainable water supply systems together with the government in these regions and affordable innovative technology. 
In the cover picture: A place with problematic access to clean water. Picture Credit: Data4WASH.
---
Editor's Note: The opinions expressed here by Impakter.com contributors are their own, not those of  Impakter.com