In early 2022, during the resumed Fifth United Nations Environment Assembly (UNEA5.2), nation states agreed to establish a binding global plastics treaty by 2024, which should work towards ending plastic pollution.
The process to arrive at such a treaty would be led by the Intergovernmental Negotiating Committee (INC) which will convene several times, starting with the first round of negotiations in Uruguay in December 2022. INC-2 took place from 29 May to 2 June 2023, at the UNESCO headquarters in Paris, France.
For local and subnational governments, plastic pollution is a critical issue. According to Plastic Smart Cities, an estimated 60% of plastic marine debris originates in urban centers, as polluted waterways carry plastic pollution to the ocean.
A study by UN-Habitat found that 40% of the waste in the slums of Lagos, Nigeria, came from plastic compared to an average 10% for the whole city.
Cities Forum ahead of the INC-2 negotiations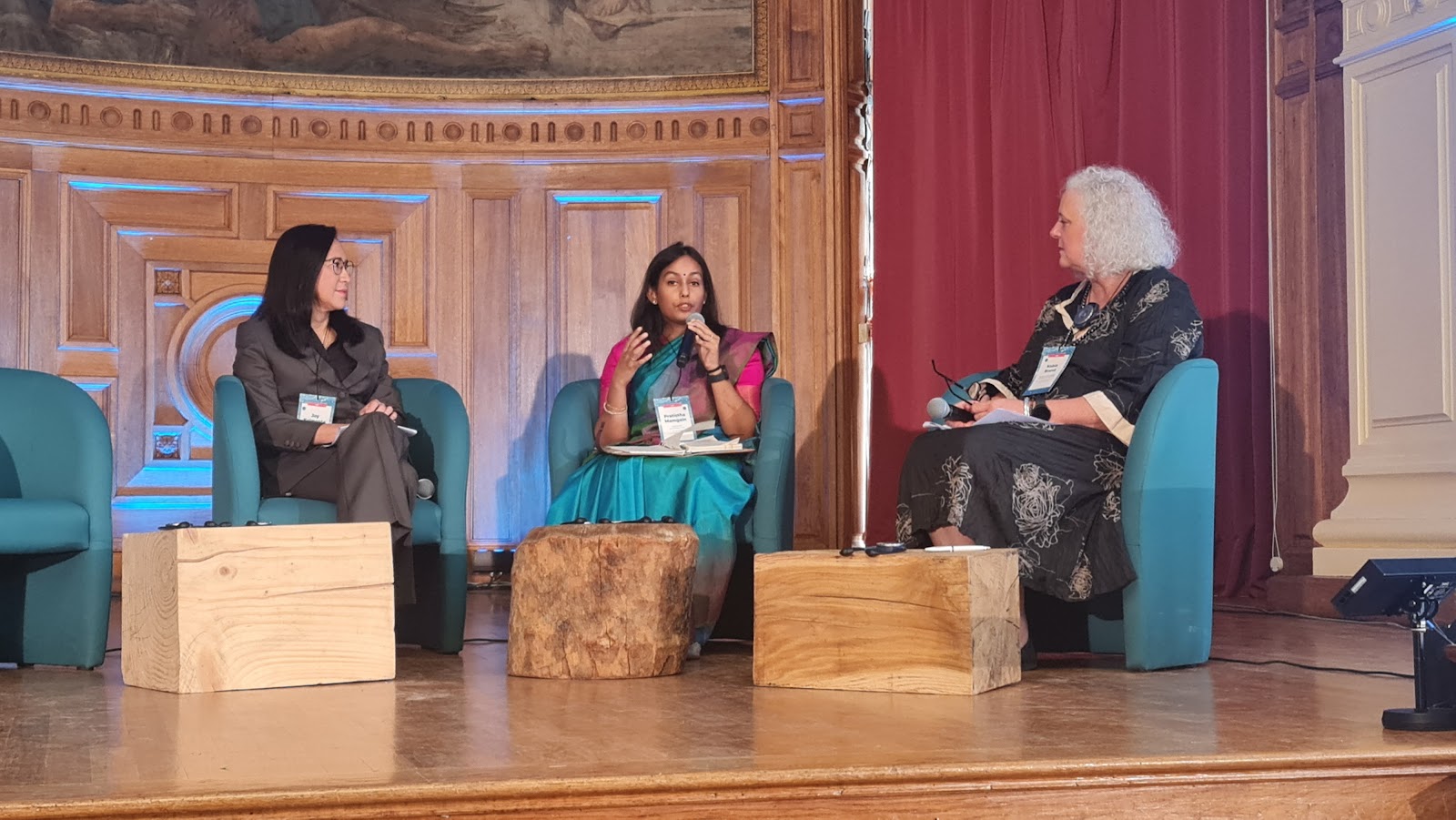 In order to increase visibility and engagement of cities and regional governments in this process, the United Nations Environment Program (UNEP) and the City of Paris brought cities and subnationals to the table by hosting the 'Paris International Forum to End Plastics Pollution in Cities' alongside INC-2. The Forum was co-arranged by ICLEI, UCLG, C40, WWF, GIZ, UN-Habitat and other stakeholders, and supported by Bloomberg Philanthropies.
Local and sub-national leaders from around the world shared their best practices for addressing plastic polluton, from single-use plastic bans in Quezon City, to a women-led initiative in the City of Ambikapur, exchanging plastic waste for meals. The message from the forum was clear, as stated by Paris Mayor Anne Hidalgo:
"Plastic kills, and the damages of plastic pollution have no borders. We cannot beat plastic pollution if we don't tackle climate change, environmental loss and food crises at the same time." 
The day concluded with a closed-door discussion between Mayors and the Executive Secretary of the INC, Jyoti Mathur-Filipp. This session was organised under the Global Task Force and facilitated by ICLEI and UCLG, as co-leads of the Local Authorities Major Group (LAMG), which represents local and subnational governments in this space.
The Mayors shared critical issues regarding the plastics challenge with the Executive Secretary. The collective message from Mayors was that holistic, just and inclusive solutions to the plastic crisis are urgently needed. This was highlighted by Mayor Minna Arve, Mayor of Turku, Finland:
"Circular development practices have to be adopted centrally. This will have lasting benefits for solving the plastics problem that we have, and at the same time lay the foundation for similar organic interventions in other sectors." 
Furthermore, the intersection of the plastics challenge at the city level with a just transition was also highlighted by Kobie Brand, ICLEI's Deputy Secretary General who stated:
"We know that around 75% of waste is generated in cities and approximately 90% of people living in informal settlements do not have access to formal waste collection services, and most often bear the brunt of plastic pollution. It is clear that equity and a just transition are vital."
Procedural discussions dominated at the start of the negotiations
As with any formal negotiation of this nature, procedural rules to guide the negotiating process are needed. The "rules of procedure" for the INC process were provisionally adopted during INC-1.
However, a grouping of countries subsequently identified a risk that the treaty could be steamrolled through, by allowing for a vote with a two-thirds majority decision to dictate the outcomes for the rest of the members.
This vote would only be triggered should consensus not be achieved. A detailed discussion on Section 38 of the rules of procedure ensued and culminated with members agreeing to acknowledge the differing positions on this clause, whereafter discussions on the further items commenced.
Cities are instrumental to the success of the treaty
Before the technical work of the contact groups began, opening statements were allowed by members and stakeholders. ICLEI's Head of Circular Development, Dr. Magash Naidoo, delivered the statement on behalf of the LAMG, which included a critical request to members:
"We call for cities and other subnational governments, their communities, and indeed, for all the major groups to be part of this important process, which must result in a cleaner, safer and healthier future for people and the planet alike."
In the discussions of INC-2, it became clear that there are two dominant approaches towards the Treaty. While several Parties advocated that the focus should mainly be on the management of plastics waste, suggesting that plastics are not inherently bad as a material, others advocated for a lifecycle approach, focusing not only on the management of plastic waste already in the environment, but also plastics leakage that continues in many ways. Parties also stated that the manufacturing of plastics and plastic alternatives should be undertaken in a responsible manner, advocating for a circular economy.
---
---
On the other hand, at the INC-2 side event titled "Enabling the change at Local, National and Regional levels" participants including Kitakyushu City, stressed that cities and other subnational governments need to be recognised as their participation is essential in a just transition for effective management of plastic waste.
Such views were shared amongst parties and were reflected in the statement by Japan, mentioning "With the involvement of all stakeholders, including local governments and industries, we need to establish a framework that promotes effective and progressive actions all over the world."
Dr. Jean Lemire, Quebec's Special Envoy for Climate Change, Nordic and Arctic Affairs delivered the official closing statement on behalf of the local and subnational government constituency, stating:
"The integrated nature of this plastics pollution challenge calls for integrated solutions. We have heard many opinions, many of which will ultimately result in implementation at a local and sub-national level. We thus call for effective multi-level governance considerations."
INC-2 concluded with Parties mandating the Secretariat to develop a Zero Draft of the Treaty in advance of INC-3, which is set to take place at the UNEP Headquarters in Nairobi, Kenya in November 2023.
Takeaways from INC-2 for local and sub-national governments
Two primary takeaways have become apparent from a local and sub-national perspective. The first is regardless of the specific thrust and core obligations agreed to by Parties, cities and sub-national governments are the closest level of government to residents, and manage many of the services that will be needed to address the plastics challenge.
This is true whether the focus is on waste management, beginning with effective waste separation at source, or on local social and economic stimulation that enables innovation and the replacement of plastics with alternatives.
Yet, over the course of the week, there was minimal mention of cities or sub-national governments by Parties and other stakeholders. Local and regional governments should be brought into consideration as early as possible to create conditions for ensuring local uptake and implementation of this Treaty, ICLEI remains committed to work with all partners, the Secretariat and  the Parties to continue our advocacy work and representation in the following INC processes towards the formulation and adoption of a legally binding Treaty.
Secondly, lessons should be learned from other global negotiations. For example, though the Paris Agreement of 2015 was heralded as a turning point in the climate agenda, almost 10 years later, negotiations are still taking place on the details of finance and loss and damage without substantial progress being made.
We cannot afford the same delays on plastics. It is the position of the LAMG that the negotiations on plastics need to be concluded within the stipulated time, with a high ambition, and that Parties and all stakeholders should commit to, and enable urgent implementation.
In line with ICLEI's multiple global leadership roles, we also support the UN Secretary General's International Zero Waste Advisory Board and in other related UN processes such as the newly adopted Kunming-Montreal Global Biodiversity Framework and our continued work within the UNFCCC context.
In a similar vein, ICLEI will continue advocating for city and sub-national considerations to be taken into account during the INC processes.
More information on cities' engagement in the Global Plastic Treaty negotiations can be found here.
— —
This article was originally published by ICLEI – Local Governments for Sustainability, and is republished here as part of an editorial collaboration with ICLEI.
---
Editor's Note: The opinions expressed here by the authors are their own, not those of Impakter.com — In the Featured Photo: Debris floating in the sea. Featured Photo Credit: Pexels.