The 2022 Daring Cities global virtual forum, hosted by ICLEI – Local Governments for Sustainability in partnership with the Federal City of Bonn, kicked off on October 3, 2022, World Habitat Day, and was attended by 1,800 bold, city and local government leaders.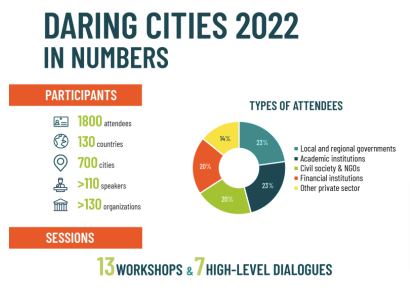 "Bonn is committed to climate neutrality 2035. Daring Cities 2022 again brought together a community of like-minded leaders, who shared insights on how to embed climate action across departments, how to engage all sectors to meet the goal of net zero emissions – and, equally important, how to finance this major transformation", said Katja Dörner, Mayor of Bonn, Germany, who co-chairs the Climate Action and Low Emission Portfolio within the ICLEI Global Executive Committee.
Cornerstone One – Exchange: The global virtual forum consisted of seven high-level dialogues and thirteen workshops focusing on the exchange of best practices, providing technical training, and sharing timely insights from leaders taking bold climate action and tackling the multifaceted challenges of climate emergency finance.
The global virtual forum showed once again that cities and regions are the epicenters of the climate emergency response. With perspectives from every region of the world, it was heard loud and clear that:
Now is the time to formalize climate emergency action in our city and regional processes.
More funding options are available to cities than ever before, yet access to those funds remains a challenge.
A just climate transition depends on multilevel action, the inclusion of traditionally underrepresented groups, direct local investments, and trust towards local communities.
Resilience and adaptation are top priorities for most local governments, especially in the Global South, where unprecedented climate impacts are being felt by their communities today.
COP27 will be a turning point for multilevel and cooperative action enshrined in the Glasgow Climate Pact adopted at COP26 through the launch of the SURGe Initiative of the COP27 Presidency for holistic, inclusive and multilevel action as well as the first-ever COP27 Ministerial Meeting on Urbanization and Climate Change.
Cornerstone Two – Disseminate: Throughout "Urban October" – 31 days to promote a sustainable urban future recognized by UN-Habitat – ICLEI gathered the knowledge exchanged during the global virtual forum and disseminated the learnings and perspectives from cities and regions at over ten events in order to reach broader, more diverse stakeholders. To learn more about these events, visit www.daringcities.org/cornerstone-two.
Cornerstone Three –  Advocate: ICLEI, as the United Nations designated focal point for Local Governments and Municipal Authorities Constituency (LGMA), will elevate the voices of cities and regions by hosting the Multilevel Action Pavilion in the blue zone with a broad diversity of partners at  UNFCCC COP27 in Sharm El-Sheik, Egypt, on Nov. 6-18, 2022.
"Sustainable urbanization and multilevel action are the game-changers as we move beyond commitments into the implementation of the Paris Agreement and meet this moment in the climate emergency," said Gino Van Begin, Secretary-General of the ICLEI World Secretariat.
---
---
At COP27, the Mayor of Utrecht in the Netherlands Sharon Dijksm will serve as the Special Envoy for UNFCCC COP27 Ministerial and Mohamed Sefiani, the Mayor of Chefchaouen, Morocco, will serve as the Special Envoy for Africa for UNFCCC COP27.
"I commend the UNFCCC COP27 Presidency for their focus on implementation at the local level through initiatives like SURGe and the first Ministerial on Climate and Urbanization. I invite cities and regions to support these initiatives and me in my mission to give multi-level action a central position during COP27. If successful, this will be the last COP where cities are not formally recognized voices on the agenda," said Sharon Dijksma, Mayor City of Utrecht, The Netherlands. City and regional representatives can support Mayor Dijksma's call to action here.
The schedule and virtual registration for the COP27 LGMA Multilevel Action Pavilion are now available here.
The LGMA's advocacy agenda will be released during a press conference at COP27 Blue Zone in Sharm El Sheikh on Sunday, November 6 at 12:00 CEST. In-person and virtual attendance options are both available.
---
Editor's Note: The opinions expressed here by the authors are their own, not those of Impakter.com — In the Featured Photo: An inner courtyard near Place Bellecour in Lyon, France. Featured Photo Credit: Ludovic Charlet