Skiing is a sport that not only relies on its athletes to perform, but also relies on outside forces that are uncontrollable. It relies on mother nature and the mountains around us. And in order for athletes to keep up with this sport they must be willing to expose themselves to that raw unforgiving force that is nature. What the majority of us do not realize is that the athletes are not the only ones that are exposing themselves. Behind the scenes are the production companies and individuals that are using a blend of technology, creativity, art, and a high level of skill within the mountains to capture these surreal moments.
I was fortunate enough to speak with Michael Hans of Matchstick Productions, one of the leading film production companies in the world. MSP Films was founded in 1992 by Steve Winter and Murray Wais and based in Crested Butte, Colorado. They have released films every year since their birth and are the most award-winning ski film company in history with with a number of awards including "Movie of the Year" and "Best Documentary." Below is a highlight of our conversation.
Can you talk a little bit about how your company came to fruition?
MSP came about because the sport of skiing demanded it. The advent of freeskiing in the early '90s was being largely ignored by potential sponsors and mainstream media. Skiers were starting to adopt snowboard-style attitudes and techniques, breaking away from the mainstream fundamentals of the sport (dominated at the time by racing programs and "extreme" promotional campaigns). There was a new type of skiing starting to develop, and MSP was there just in time to document its progression.
Who was the person behind this and what motivated them to start a ski film production company?
Steve Winter founded MSP in the early '90s when he decided to take his tuition money for college and spend it on a 16mm film camera instead. He and his friends (including soon-to-be partner Murray Wais) wanted to film each other skiing and figured they could do it differently than anyone else was doing it at the time.
Were you formally educated in film or were you self-taught over the years?
Everyone at MSP has a different background, but most of our production crew and field teams are primarily self-taught. The nature of shooting on snow in hazardous environments requires a certain type of person, and cinematographers straight out of film school don't always necessarily have the experience to be in that kind of situation – regardless of their knowledge behind the camera.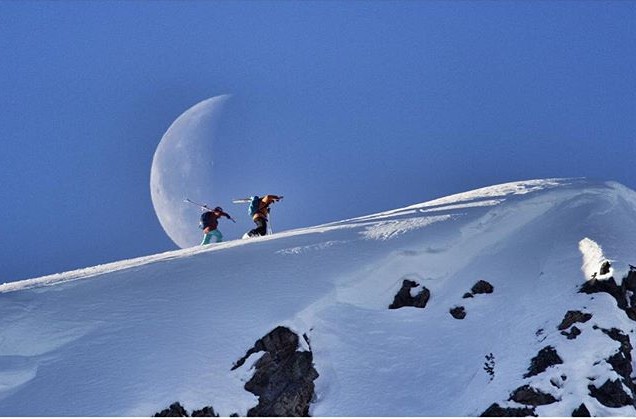 What was your career path? How did you go from being an aspiring film producer to actually doing it full time, for a living?
My professional experience prior to MSP was primarily in large-scale event production. Many of the same strengths that made me successful in producing events carried over into film production. That being said, I was a longtime MSP fan before I started working here full-time. I became friends with a few guys on the crew and started helping out with film shoots and premieres in 2003. I took a full-time role with the company when I relocated back to Crested Butte in 2006, and I've been here ever since.
Which filmmakers and films have influenced the company?
MSP draws inspiration from a lot of different filmmakers. In the early days, guys like Greg Stump really set the standard for documenting the early evolution of extreme skiing, and that had an influence on some of the early MSP movies. A lot of skateboard and snowboard movies from that era had a more "punk rock" vibe that MSP definitely borrowed from, too. These days, I think we all draw from different influences – some in the action sports world, but primarily big-budget productions and documentaries. If we see something we like – whether it's a cinematic effect or a particularly effective style of interview – we immediately think, "how can we apply that technique to a ski film?"
---
Related Articles: "BREAKING BARRIERS" by WALKER MORIARTY
---
What is your company's niche, and how do you get your films to express that niche?
MSP's niche is blending top-notch action, incredible cinematography, and compelling storylines. We rely on the athletes to provide the action, of course, and the cinematography is entirely up to us. Sometimes the storyline develops by itself and sometimes we have to craft an angle of our own to weave a narrative in between the action. In the end, the audience shouldn't notice any one of those three aspects by itself; instead, we want all three to mesh and leave the viewer with an overall impression of "WOW."
What makes a good ski movie?
As we learned last year, snow is a big factor. It sounds pretty basic, but we've always just counted on it being there – somewhere, anywhere – during the winter. Last year was a different story with really weird snow patterns around the globe. We worked extra hard to find the places with good snow, and all things considered we did really well under the circumstances. But it takes a lot more than that. It takes personable athletes who the audience can relate to, and it helps when they're really, really good at what they do.
People come back year after year to watch our movies because they want to see what the best skiers in the world are capable of.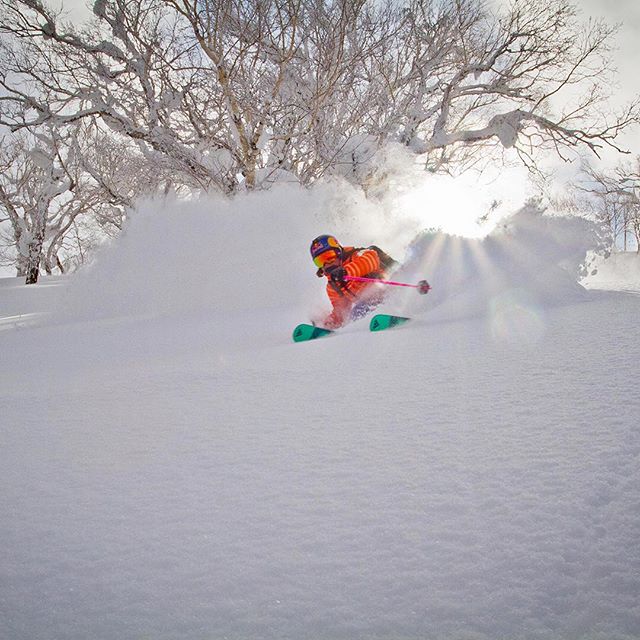 Featured: Michelle Parker
Who are some of your favorite subjects to shoot and what locations do you like shooting at?
Dynamic skiers are just as important as dynamic locations. Nobody wants to see a movie with dull characters in boring locations, so we always go the extra mile to find athletes and locations that can offer that "extra little something" to the film. We love working with skiers who are multi-dimensional and can excel at more than one style of skiing, but it's also important that we can capture their charisma and showcase their personality on-screen. Similar rules apply with locations. A wide-open, featureless field of snow isn't very interesting. But if the location is littered with terrain features in front of a stunning backdrop and waning daylight, that's a shot that's almost guaranteed to make the film.
What technology, software, or camera gear best fits your style?
We try new things every year because digital cinema technology changes from one season to the next. But RED camera platforms have proven very reliable as the workhorses of the MSP camera fleet. Sony Action Cams allow us to capture incredible point-of-view moments in 4K ultra high definition, and our Cineflex Elite system captures unmatched aerial shots. Of course, aerial drones are also becoming much more prevalent, and they do an amazing job of filling in for the Cineflex in situations where helicopters are unavailable or impractical.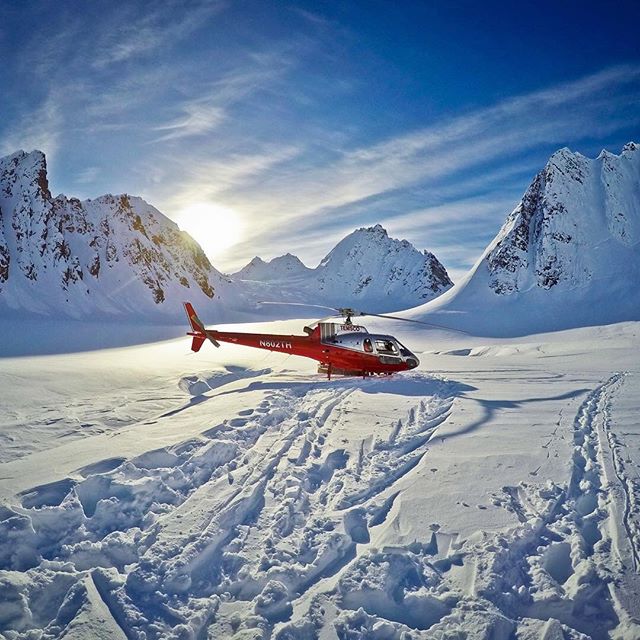 Haines, Alaska
How much of a presence has social media changed skiing and how much time do you have to put into it?
Social media has put professional skiers in the spotlight over the last few years. Several of them have massive followings, and it's a great way to make them more relatable to the skiing community at large. As a company, social media has evolved as a great tool to communicate with our fans on a regular basis and keep them informed about anything and everything going on at MSP. We've ramped up our efforts this year, but our focus remains on three platforms – Facebook (MSP Films), Twitter (@mspfilms), and Instagram (@mspfilms).
As a ski company, how involved are you in the issue of climate change and sustainability?
The nature of what we do is resource-heavy, but we've made very conscious efforts to minimize our impacts over the years. From small steps like recycled packaging material from our warehouse to bigger efforts like buying credits to offset the carbon emissions from our annual productions. We've also taken more of a human-powered initiative in each of our last few films, where the cast and crew push deep into the backcountry without the aid of snowmobiles and helicopters. It's infinitely more difficult, of course, but our audience has really responded well to those film segments.
We're also really excited to be working with The Climate Reality Project this year to help inspire people to take political action on climate change.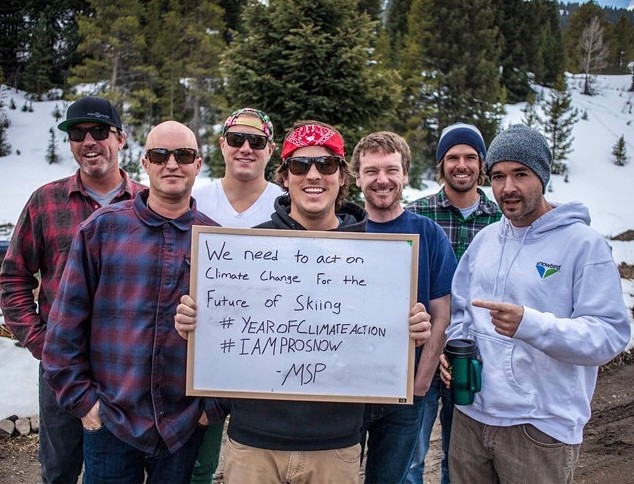 Have you noticed any differences in snow condition these past years?
We end up in so many different places each year that it's hard to say if we've really been able to pin down any consistent weather trends. But last year (2014-2015) was definitely a weird one and snowfall seemed to be pretty scarce worldwide. Places like California, which is widely acknowledged as being in the midst of a long-term drought, have clearly been hit the worst as of late. It's really important for people to take note of these things. We hope to see a significant change in weather patterns this coming season, but hope isn't enough. Everyone – MSP included – needs to be willing to make some changes to ensure that our winters are here to stay.
Is there anything ski enthusiasts should be on the lookout for?
Our new film, FADE TO WINTER, debuted in October. This is MSP's 23rd annual ski film and features several of the best athletes in the world.
Bobby Brown, Markus Eder, James Heim, and Michelle Parker all put together some really incredible performances this year, as did MSP veteran Mark Abma and returning MSP alum Tanner Rainville. We're also stoked to have a few newcomers in the movie this year, like Sean Jordan and Aaron Blunck, who both caught us off-guard with their impressively diverse skillsets. It all adds up to a film that we're really proud of, and we hope everyone gets a chance to see it!