Gary Baseman is an American contemporary artist who works in various creative fields, including illustration, fine art, toy design, and animation. Baseman's aesthetic combines iconic pop art images, pre-and post-war vintage motifs, cross-cultural mythology and literary and psychological archetypes. He is noted for his playful, devious and cleverly named creatures, which recur throughout his body of work.
Baseman's multifaceted career includes illustration for clients including the New York Times, Rolling Stone, and the Wall Street Journal. He is the creator of the Emmy-winning ABC/Disney cartoon series, Teacher's Pet, and the artistic designer of Cranium, a popular award-winning board game.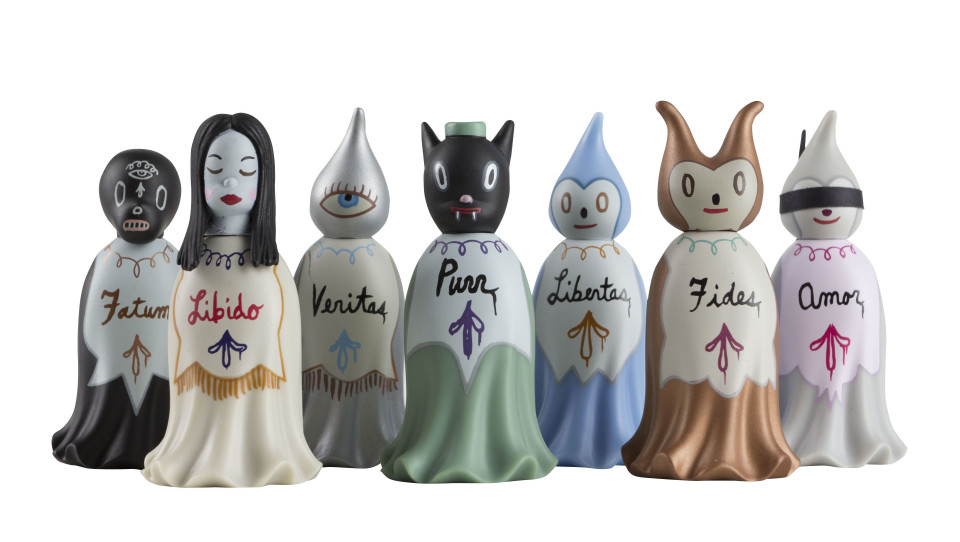 Artwork: Seven Sacred Magis
Tell me a bit about yourself. How did your life in art begin?
I am a Los Angeles-based artist that explores the "beauty of the bittersweetness of life" through painting, performance, film and fashion.
You describe you aesthetic and style as 'pervasive art.' Could you explain what you mean by that?
I use the term "pervasive art" as an alternative to the lowbrow or Pop Surrealism art label as a way to describe the strength of the artist as a visual message maker. For me, being a pervasive artist means staying true to a particular message and aesthetic no matter the medium employed. The goal is to be global and to make a powerful mark, even in the mainstream, as long as you stay true to the integrity of your art.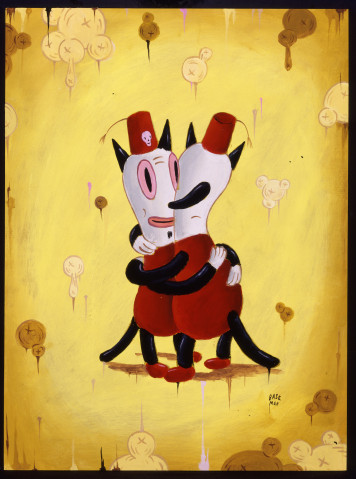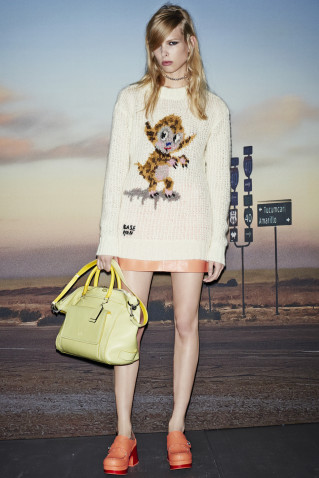 Artworks: I Am Your Mirror (L) & Coach SS'15 Lookbook (R)
You have worked in so many different mediums- from painting to animation to fashion and film. How does your approach and method change for each of them?
My goal is to blur the lines between fine art and commercial art, to create work that can find meaning in museums and art galleries, on TV and film, with performance and fashion, and even in the form of consumer products. I always think about how my art will visually connect to each audience. Today, everyone in the world has new access to each other, especially with the growth of social media. There is so much competition for one's eye. That is why I create strong imagery for each project and use my iconic characters to help keep a sense of humor and playfulness in my art, while also staying true to my personal voice.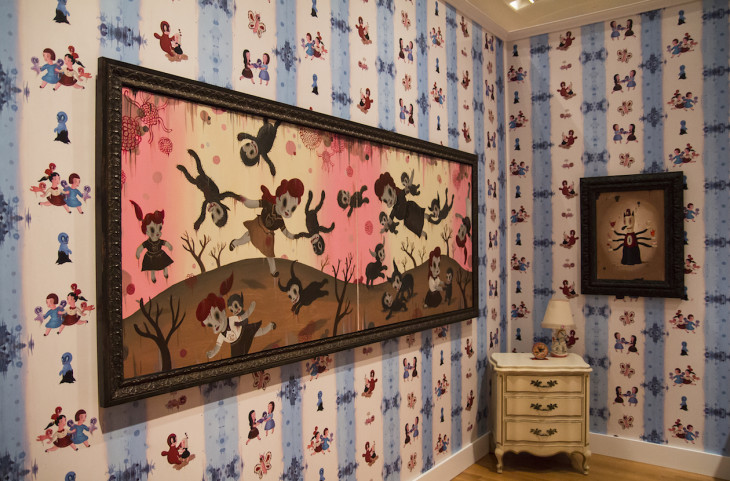 In the Photo: The One Point Eight 
What are the main themes or narrative you share through your work? What would you cite as the inspirations behind your work?
The human condition is what inspires me. We all go through life with rich emotional experiences, some beautiful while others are deeply painful. Whether it's love and lust or fear and anxiety, these can manifest in my art into different worlds and characters. As a kid, I saw these same things addressed in Warner Brothers cartoons or even MAD magazine. Different clever animals would talk and in many ways were more upfront and honest about what they were going through, or what they wanted.
The human condition is what inspires me.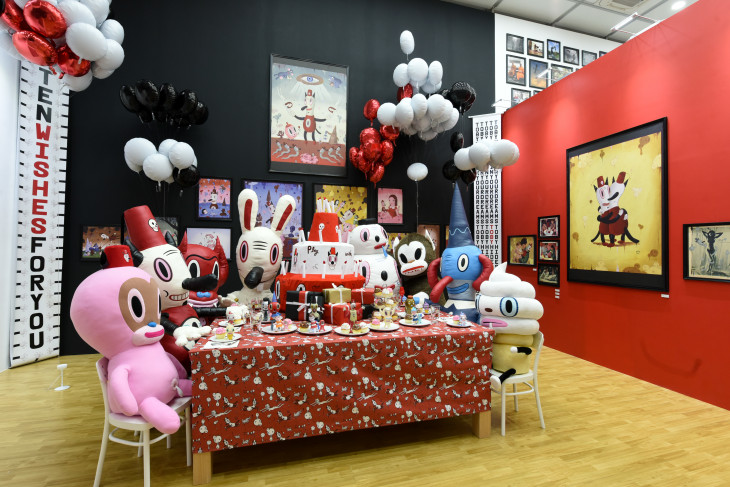 Which artists' work do you admire?
To name a few in no particular order:
Man Ray, Walt Disney, Andy Warhol, Charles Addams, Dr. Seuss, Leonard Cohen, Velvet Underground, Henry Darger, The Beatles, Jeff Koons, Yoshitomo Nara, David Bowie, Philip Guston, Charles Bukowski, Marcel Dzama, KAWS, and Eastern European cartoonists. 
Also, Bob Clampett, who was one of the first Warner Bros. Animation Directors, who did my favorite short, "Porky in Wackyland." And all my wonderful LA artist friends like Mark Ryden and Marion Peck, Rob and Christian Clayton, and Camille Rose Garcia.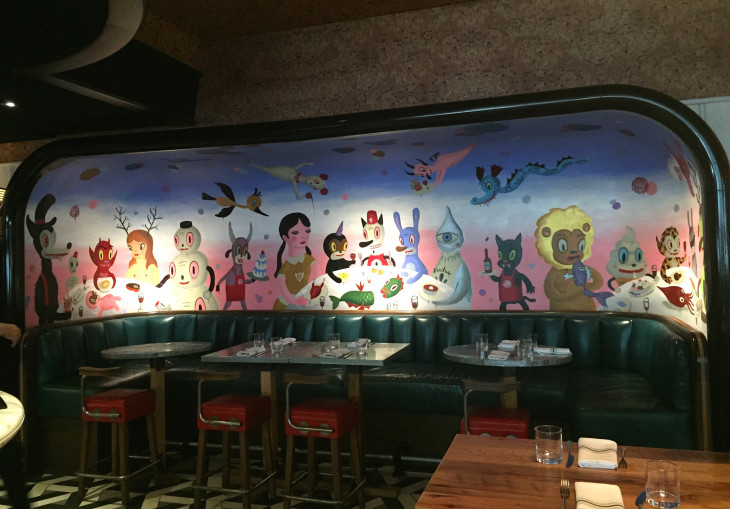 What would you say is your favorite piece of your own work and why? 
For the Love of Toby, Acrylic on wood panel, 2005, 24" x 18"
I've been drawing my whole life and creating my own characters. When I was a little kid, the first characters I created were Morris Mouse or the Blah Blahs. It wasn't until I moved away as an illustrator that I started drawing somebody like Toby-who became like my alter ego. I didn't name him until I wrote an unpublished children's book called, The Fish Tale Hat and he was a character in it. That was the official beginning of Toby, my iconic and adventurous cat character that loves unconditionally. He is named after one of my childhood friends and is the keeper of your secrets.
I didn't use Toby again formally for 12 years because I felt he was too precious to me. He was me, but I did not know how I wanted to present him, until I produced the For the Love of Toby exhibition in 2005.
For the Love of Toby (below)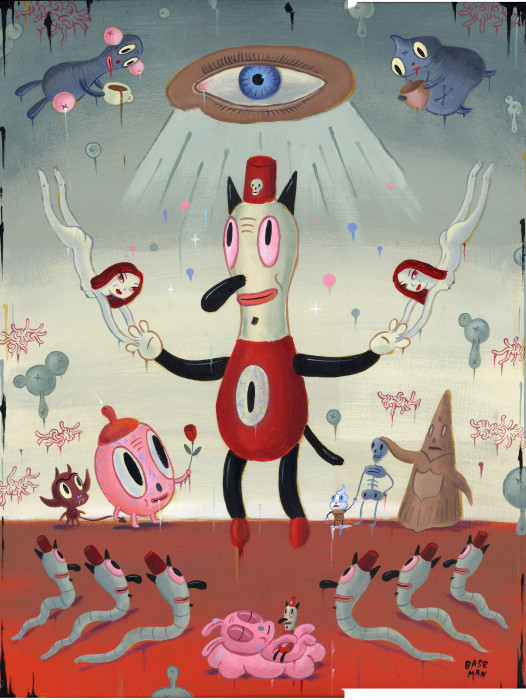 That was the official beginning of Toby, my iconic and adventurous cat character that loves unconditionally. He is named after one of my childhood friends and is the keeper of your secrets.
To learn more about Gary Baseman, follow him on Facebook, Instagram and Twitter.
 Photo Credits:  Gary Baseman
Cover Photo: The Explosion of Dream Reality