The energy sector workforce is characterized by a gender gap greater than most other sectors. As stated in the report "Renewable Energy: A Gender Perspective" by the International Renewable Energy Agency (IRENA), the energy industry is far from being gender-balanced with only 22% of women in the oil & gas sector workforce and 32% in the renewable energy workforce. According to Ernst & Young's Women in Power and Utilities Index, only 5% of board executives and 16% of board members of the top 200 utilities are women.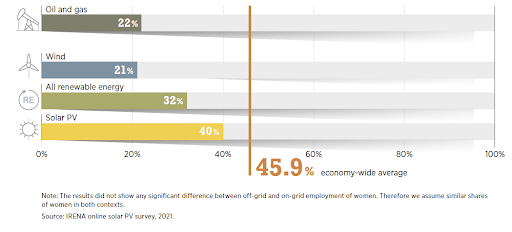 In the Global Roadmap for Accelerated SDG 7 Action in Support of the 2030 Agenda for Sustainable Development and the Paris Agreement on Climate Change,  published in early November 2021 and taking into account the UN GA High-Level Dialogue on Energy, UN Secretary-General Guterres emphasizes that "gender equality and women's empowerment must be prioritized, including empowering women in the design, production, and distribution of modern energy services, including for productive uses, as well as an equal representation of women in decision-making processes in the area of energy".
Women have a lot to offer for the sustainable energy sector. Scientific research has found that a diversified workforce delivers better results, not only in terms of increased creativity and innovation potential but also related to better decision-making and greater profits.
Initial research findings have also led to conclude that companies with more women on their board of directors are inter alia more likely to invest in renewable power generation, mitigate climate change and proactively address environmental concerns. Still, this potential has not yet translated into a substantially narrower gender gap in the energy sector. Considering that the workforce in the renewable energy sector is predicted to rise from 12,7 million jobs today to about 42 million jobs in 2050, the attraction of female talent will be crucial to ensure a thriving sector. 
---
---
With this in mind, a group of senior energy professionals got together in 2017 to create GWNET, the Global Women's Network for the Energy Transition, a global network aimed at empowering women working in sustainable energy in both developed and emerging/developing countries at different career levels from both the public and private sector through interdisciplinary networking, advocacy, training, and mentoring.
The network which currently consists of over 3.500 members from 150+ countries is open to individuals and corporations who are committed to gender balance in the energy sector and who wish to connect with their peers to advance the energy transition more rapidly.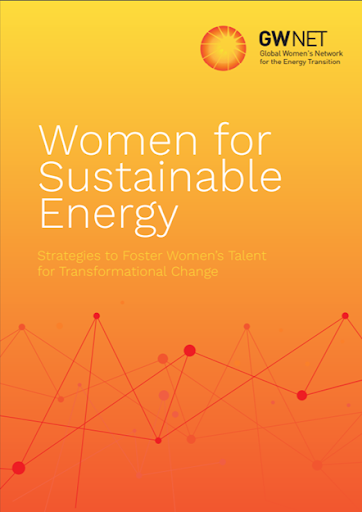 As solid data is fundamental for any political action, GWNET collaborates with international partners such as IRENA, the Worldbank, the Global Wind Energy Council, and others to generate data on the status and role of women in energy (e.g. Women for Sustainable Energy – Strategies to Foster Women's Talent for Transformational Change, both globally and in different sectors. Furthermore, GWNET collaborates with national and regional women in energy networks throughout the world to empower women in energy and exchange innovative concepts and approaches.
Last but not least, GWNET leads the development of several regional and global women mentoring programs, to advance the role of women as agents of change in society and promote best practices within the sustainable energy sector.
Throughout the last years, more than 600 women from 90+ countries have participated in one of these mentoring programs and GWNET has managed to build up a pool of over 700 mentors who agree to dedicate some time to empower junior and mid-career women in energy.
---
Editor's Note: The opinions expressed here by Impakter.com columnists are their own, not those of Impakter.com. — In the Featured Photo: GWNET three-day study tour in Munich, Germany: '"Energising Women to Advance the Energy Transition." Photo credit: GWNET.