With approximately 1.2 billion individuals aged 15 to 24, comprising 16% of the global population, there is an urgent need to prioritize investments in youth's skill development. These investments are not only vital for their personal growth and employment prospects but also play a pivotal role in advancing the Sustainable Development Goals (SDGs). Marked on August 12th each year, the International Youth Day serves as a poignant reminder of the often untapped potential of young people across the globe.
Although there are ample initiatives to research and provide valuable insights into the topic of youth employment, many fail to encompass the full extent of labour underutilization. This is highlighted in the fact that in addition to the employed and the active job seekers, a substantial pool of untapped labour resources exists, with a group of a staggering 41 million young individuals who are neither employed nor actively pursuing employment. Regrettably, this significant opportunity for expanding the labour force often goes unnoticed.
The United Nations Industrial Development Organization (UNIDO) recognizes the need for empowering the youth with the skills needed by the labour market while supporting their full potential to serve as transformative agents in combating economic disparities and inequality. Through various projects across the globe, UNIDO has demonstrated the budding opportunities that equipping the youth with industrial skills has provided for industrializing economies.
To celebrate this year's International Youth Day, discover some of our success stories from the Northern Technical College (NORTEC) and Kitwe Vocational Training Center (KVTC) in Zambia, which showcase how investing in youth may lead to flourishing communities and more sustainable industries.
NORTEC — Preparing Zambia's Youth for Sustainable Future
The importance of the transport sector in fueling economic growth cannot be underestimated, with its far-reaching impact at sub-national, national, regional, and global levels. Nevertheless, in the pursuit of progress, the environmental toll has become increasingly evident. According to UNEP, the transport sector contributes approximately one quarter of all energy related greenhouse gas (GHG) emissions.  This massive carbon footprint spotlights transportation's considerable contribution to today's pressing climate challenges.
As we stand at the crossroads of development and sustainability, it is imperative to explore innovative and eco-friendly solutions to pave the way for a greener and more resilient future. It is against this backdrop that the Zambian Industrial Training Academy (ZAMITA) project, being implemented at Northern Technical College (NORTEC), is stepping forward to bridge the skills gaps in the transport and heavy equipment sector while equipping youth with green competencies. Supported by the Embassy of Sweden in Lusaka, Volvo Trucks, the Government of Zambia and UNIDO, NORTEC focuses on providing high-demand training for commercial vehicle repair and maintenance.
The College's forward-looking curriculum goes beyond conventional training methods by incorporating practical sessions using the latest technologies, including Volvo Euro VI Truck which incorporates emission reducing technologies such as selective catalytic reduction (SCR) system and a cooled exhaust gas recirculation (EGR) system, alongside green skills such as fuel-efficient driving, emission reduction techniques, and proper disposal of hazardous automotive waste.
Through hands-on learning on modern equipment, trainees are prepared to enter the workforce as skilled professionals ready to support Zambia's transition to eco-friendly and sustainable transport solutions.
The impact of NORTEC's green skills training is evident in the experiences of its students. Emmanuel Sampa Chilangwa, a beneficiary, says that "The training has not only equipped me with technical expertise but is also preparing me to succeed in a future-focused, environmentally conscious automotive sector. I feel confident that I will contribute to Zambia's efforts towards a greener and more sustainable transport industry."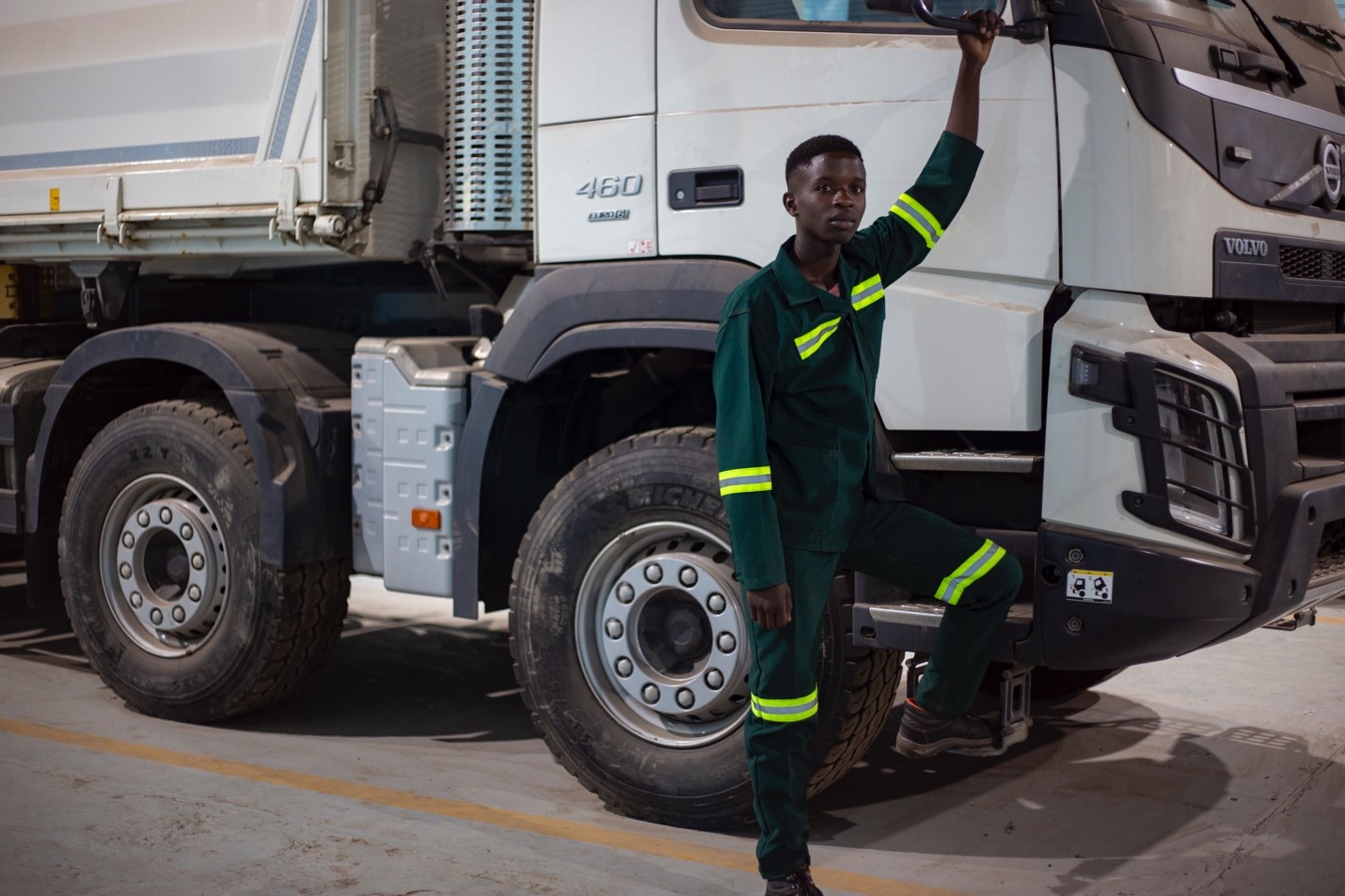 KVTC – Skills Initiative Aligns Heavy Equipment Operator Training with Sustainability
The Project for Promoting Youth Employment through Construction Equipment Operating Skills Training at Kitwe Vocational Training Centre (KVTC) is a dual-mission project that addresses the pressing issue of youth unemployment while also aligning with the global call for sustainability and environmental stewardship. The KVTC project will take this challenge head-on by offering specialized training in the soon-to-be-launched heavy equipment operator (HEO) courses while emphasizing the importance of green skills and eco-friendly practices.
At KVTC, a transformative approach to training young talents is set to make a positive impact. Not content with merely honing the skills of operating heavy machinery, KVTC is also taking the lead in promoting sustainable practices. Technical Education, Vocational and Entrepreneurship Training Authority's (TEVETA) newly developed standardized operator curricula for excavators, dump trucks, and front-end loaders serve as the blueprint for this transformative journey.
---
---
Under the program, beneficiaries at KVTC will not only become proficient operators but also well-versed in minimizing environmental footprints, reducing emissions, and implementing eco-friendly operating techniques in heavy equipment operation. By empowering youth with green skills in heavy equipment operation, KVTC is actively contributing to empowering young people with the skills needed for these global sustainability goals.
KVTC Principal Chrispin Kakoma says the college's goal is to develop professionals who are mindful of balancing development and ecological needs. He believes graduates will help steer the sustainability transition in the construction and mining sectors. With each skilled beneficiary, KVTC aims to foster a workforce of environmentally-conscious professionals who will lead the change in shaping a greener and more sustainable world. As these youth embrace the concept of green skills, they will become the catalysts for positive change and the architects of a brighter and healthier tomorrow.
Be part of the change
The Learning and Knowledge Development Facility (LKDF) is a platform by UNIDO that promotes industrial skills development among young people in industrializing economies. Working with the private sector through Public Private Development Partnerships, the LKDF supports the establishment and upgrading of local industrial training academies to help meet the labour market's increasing demand for skilled employees, ultimately contributing to inclusive and sustainable industrial development.
If you or your organization would like to take action, contact the LKDF team at lkd-facility@unido.org to learn how to engage in partnerships, projects, and advocacy activities. Together, we can empower young people while unlocking their full potential and fostering a better future.
---
Editor's Note: The opinions expressed here by the authors are their own, not those of Impakter.com — Featured Photo Credit: UNIDO.