Is the most important tennis tournament in the world a sustainability champion too? Wimbledon embarked on its sustainability journey long ago and, as usual, at SW19 they like to maintain traditions while also bringing exciting innovations. Wimbledon's sustainability initiatives are no exception to this rule.
From its pristinely manicured courts to the trim of the umpires' uniform, Wimbledon has long been associated with its visually striking green aesthetic. However, recently the All-England Lawn Tennis & Croquet Club has been actively working to make the oldest tennis tournament in the world genuinely green.
Through targeted initiatives and strategic partnerships, Wimbledon is striving to minimise its environmental impact and become a frontrunner in sustainable sporting events. Will a 'hawk-eye' review deem Wimbledon's sustainability initiatives are an ace or a double fault?
Wimbledon Sustainability Initiatives
Recognizing the need for sustainability, the AELTC enlisted the help of sustainability consultants as far back as 2009 to assess and reduce the tournament's environmental footprint. Building on this foundation, the AELTC signed up for the UN's Sports for Climate Action Framework in 2018, cementing its commitment to carbon neutrality. With ambitious targets set for 2030, including net-zero carbon emissions, zero-waste status, and biodiversity net-gain, Wimbledon has positioned itself as a leader in sustainable sports events.
Forehand winner down the line. 15-0
How has this translated into action? In 2019, Wimbledon achieved a significant milestone by sourcing 100% renewable electricity for the tournament, thanks to a supply contract with E.ON. The tournament has embraced electric mobility by using 100% electric lawnmowers, visitor transport buggies charged with renewable electricity, and integrating Jaguar iPace electric vehicles into its fleet. Plans are underway to transition to a fully electric vehicle fleet in the coming years.
Ace down the middle. 30-0
---
---
Wimbledon has made commendable progress in encouraging sustainable transportation practices. Visitor research indicates that approximately 80% of attendees used public or active transport pre-Covid-19, thanks to ongoing behaviour change initiatives and communications campaigns discouraging car and taxi travel. However, Wimbledon does report on emissions from flights taken by staff, players, and officials (around 2,500 tonnes of CO2 in 2019). Nor have they disclosed emissions associated with road or rail transport for these groups – or any emissions relating to fan travel. It has also not announced plans to do so.
High looping lob drops six inches out. 30-15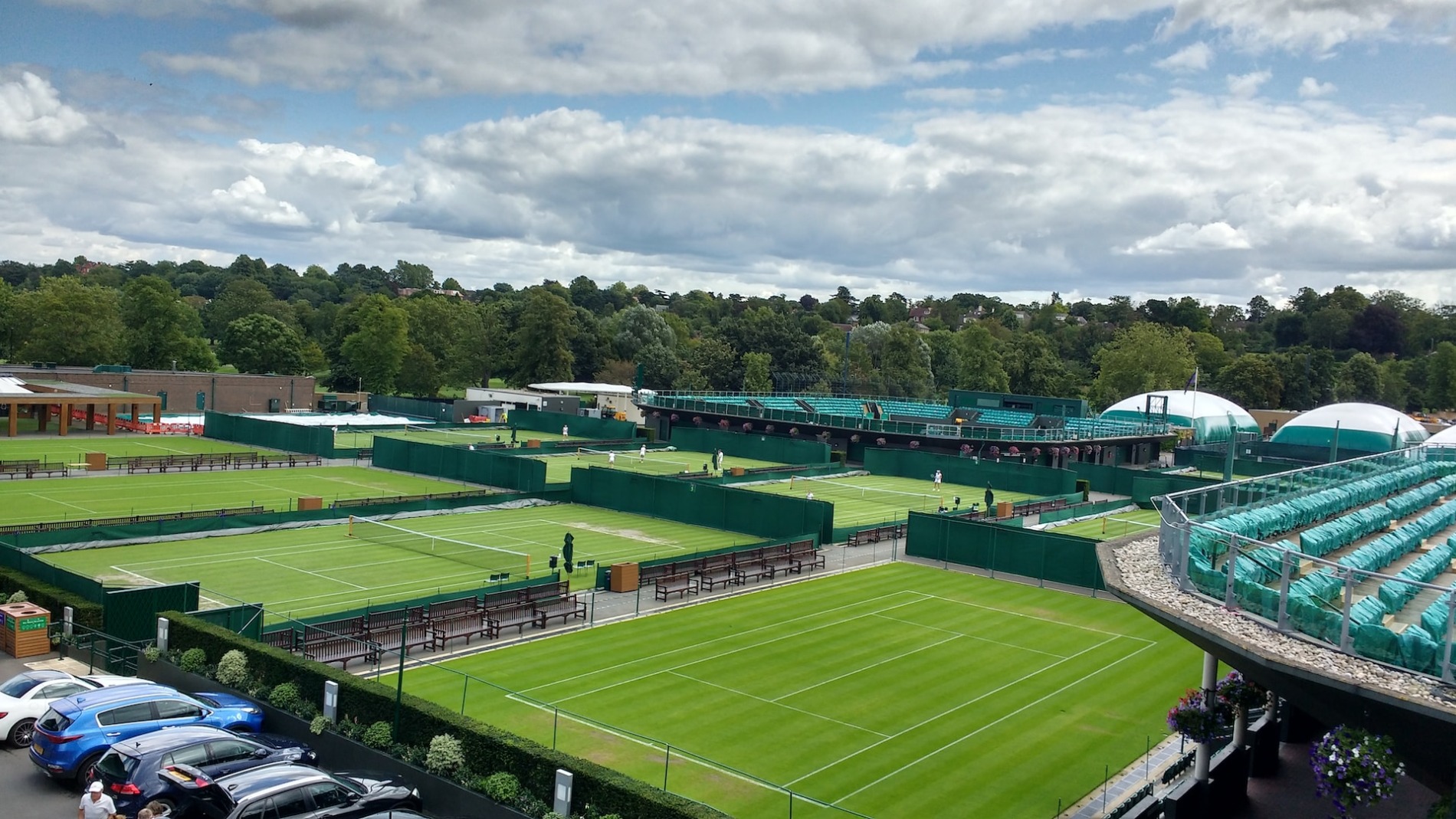 Wimbledon clearly recognises the importance of biodiversity and has taken steps to integrate it into its sustainability agenda. In 2019, the tournament introduced its first living wall on the No.1 Court, featuring a mix of flowering plants and grasses to attract pollinators. This initiative complements a wildflower bank situated behind the player practice courts. With biodiversity gaining prominence as a sustainability concern, Wimbledon's commitment to developing an overarching strategy indicates a proactive approach to protecting and enhancing local ecosystems.
Backhand slice dropshot. 40-15
There are those who feel this commitment is superficial though. Concerns have been raised regarding the potential environmental damage caused by the proposed development plans of the All England Lawn Tennis Club. The consequences of this development could have long-lasting and irreparable effects on the local ecosystem. The extensive construction work planned for eight years would disturb the habitats of numerous birds and mammals that currently thrive in the area, including protected species such as badgers and bats. Additionally, the removal of trees and grassland would be replaced with saplings and nearby common seed, potentially disrupting the delicate balance of the ecosystem.
Forehand straight into the net. 40-30
Critics also argue that despite Wimbledon's sustainability efforts, the tournament's fundamental nature contradicts environmental responsibility. The tournament's infrastructure, including temporary structures, lighting, and facilities, requires substantial energy consumption and material resources. To maintain the iconic grass courts, an estimated 38 million litres of water are used throughout the tournament, raising concerns about water conservation in an era of increasing scarcity. There are those who argue that the resources allocated to staging such a grand-scale event could be better utilised in addressing urgent environmental challenges beyond the realm of sports.
Serve down the middle. Umpire calls it out. "You cannot be serious right now!" Deuce.
Wimbledon Sustainability Journey a model for other sports events
Wimbledon's journey towards sustainability extends far beyond its visually green exterior. Through measures such as renewable energy adoption, electric mobility, and biodiversity initiatives, the AELTC has made significant strides. However, the tournament should focus on improving emissions reporting and expanding sustainability efforts to address transportation impact fully. By continuing to prioritise sustainability, Wimbledon can serve as a role model for the global sporting community, inspiring others to pursue environmental responsibility and contribute to a greener future.
Time will tell whether the coming years will be 'Advantage' Wimbledon or not.
---
Editor's Note: The opinions expressed here by the authors are their own, not those of Impakter.com — In the Featured Photo: Wimbledon Centre Court. Featured Photo Credit: Unsplash.